Penn State vs. Illinois: Live Scores, Analysis and Results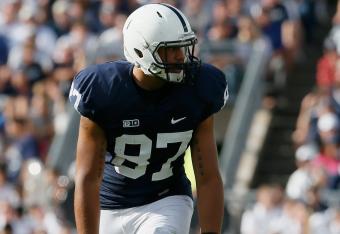 Rob Carr/Getty Images
Penn State 35, Illinois 7 -- Final
Game over. Penn State romped Illinois in their third straight win under Bill O'Brien.
The much anticipated handshake between O'Brien and Illinois coach Tim Beckman was short with no words exchanged.
The Lions looked strong in today's win, dominating on both sides of the ball and riding on the back of Zach Zwinak's 100-yards rushing.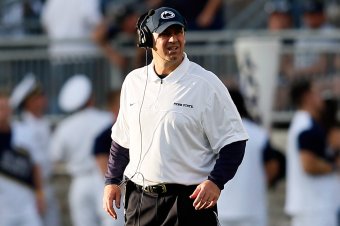 Rob Carr/Getty Images
Post-Game Handshake
It may be known as the quickest handshake ever.
This, ladies and gentlemen, was by far the fastest exchange I've ever seen two coaches make after a game.
O'Brien battled what I'm sure was a desire to blow of Beckman, and shook his hand before sprinting off field.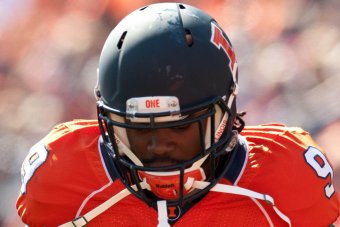 Bradley Leeb-US PRESSWIRE
Now We Wait
With less than a minute left, this game is just about over.
Most of the second team defense is in for Penn State, and Illinois isn't doing much.
Now all we can do is wait and watch Illinois's first team offense play Penn State's scrubs.
The third win under Bill O'Brien is only seconds away.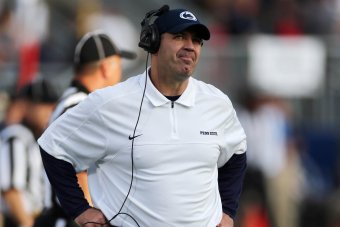 Rob Christy-US PRESSWIRE
Classy Bill
I couldn't agree more with ESPN's announcers.
After Illini coach Tim Beckman sent coaches to recruit Penn State players after the Sandusky scandal, O'Brien isn't running up the score.
As Griese and Pasch just said, Bill O'Brien is bringing class back to Penn State.
The media tried to make a big deal of possible bad blood between Beckman and O'Brien after Beckman sent assistant coaches to Happy Valley to recruit players to transfer.
O'Brien has downplayed this before the game, and now he's running the clock down and trying not to rub in the beat down that his team has delivered to Illinois.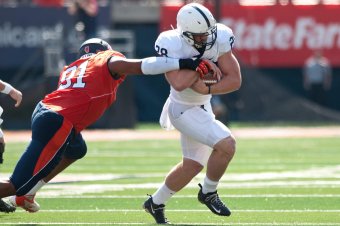 Bradley Leeb-US PRESSWIRE
Zwinak...with "Malice"
You've got to love the adjectives that ESPN announcers use.
As Zach Zwinak rumbles into the endzone for his second touchdown of the game, Penn State is starting to visibly overpower Illinois.
The Lions pounded the ball down the field with Zwinak, before eventually handing him the ball to drive his legs in behind the left side of the line.
Zwinak and the entire Penn State offensive line are just manhandling the Illini right now.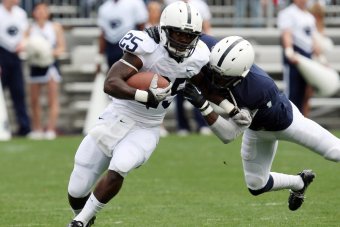 Rob Christy-US PRESSWIRE
That's Two For Mauti
This guy is good.
If you didn't know before, now you know: Michael Mauti is the real deal.
Another interception for the fifth year senior, except this one wasn't returned for 99 yards.
Mauti gets the ball back for McGloin, who is now tied with former Penn State running back Silas Redd with four rushing touchdowns.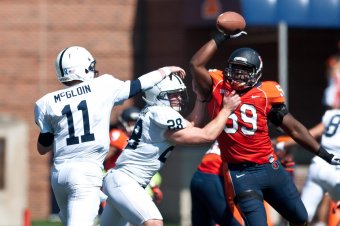 Bradley Leeb-US PRESSWIRE
Another McGloin Touchdown
Matt McGloin leads Penn State in rushing touchdowns.
Yes, rushing touchdowns.
Granted this one, like almost every other one was a sneak near the goal line.
Now the Lions are up 28-7, with Sam Ficken hitting another extra point!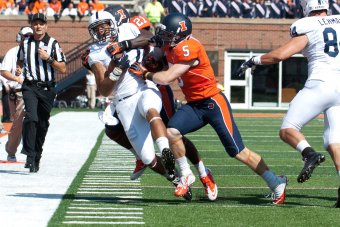 Bradley Leeb-US PRESSWIRE
Penn State Slowly Falling Apart
What a change of events.
In the first half Penn State ruled the momentum and basically controlled the game.
The second half is telling a different story.
After a trick play touchdown, the Illini have the momentum and now the ball.
The Nittany Lions were driving in on Illinois until a fourth down play turned into a debacle.
Although the Illini are now punting, there is definitely momentum behind their defense after their last stop.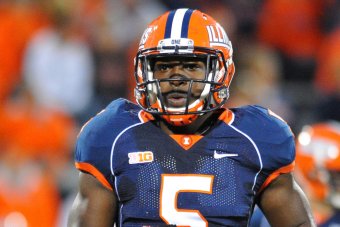 Bradley Leeb-US PRESSWIRE
TOUCHDOWN!!
Illinois needed that.
What a play call, and what a play.
After struggling to get anything going in the first half, the Illini finally get on board on that trick play. This can give Illinois the confidence they need to make this a game.
Again...what a play!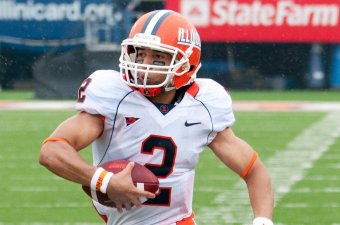 Bradley Leeb-US PRESSWIRE
HALFTIME: Scheelhaase Needs to Ignite the Illinois Offense
Illinois has struggled on both sides of the ball today, there is no doubt about it.
But the Illini offense is better than what they've shown.
Nathan Scheelhaase has been battling an ankle injury over the past few weeks, and it is probably a contributing factor to the mediocre showing by Illinois's offense.
But the Illini need Scheelhaase to step up in this second half. A big part of their offense involves Scheelhaase running, whether it's on designed option runs or just in broken plays.
Scheelhaase hasn't shown the explosive running he's capable of yet in today's game.
The game is still in reach at 21-0. If Illinois wants to keep it close and have a chance to win, Scheelhaase needs to lead his team back.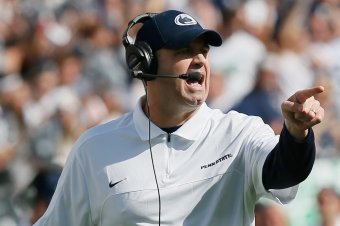 Rob Carr/Getty Images
HALFTIME: O'Brien Out-Coaching, Out-Classing Beckman
In the second quarter, ESPN's announcers brought up the idea of O'Brien being mentioned in the names of potential coaches of the year.
Although Brian Griese downplayed that idea, one fact still remains from this first half of football.
Bill O'Brien has out-coached Tim Beckman so far in this game.
Beckman has been making some questionable calls while O'Brien's offense is mixing a pounding run game with play action passing.
Beyond the play calling Beckman's coaching has been questionable. As Griese alluded to in the second quarter after a ferocious hit put on Matt Lehman, the coaching styles of O'Brien and Beckman couldn't be more different.
With the Illini launching themselves in plays like the hit on Lehman, Penn State has clearly been taught to tackle cleanly. Gerald Hodges could have taken Scheelhaase's head off on a roll out play in the second quarter, but instead didn't launch himself the Illinois quarterback.
Through the first 30 minutes of this game, O'Brien's team has outplayed the Illini and O'Brien has out-coached Beckman.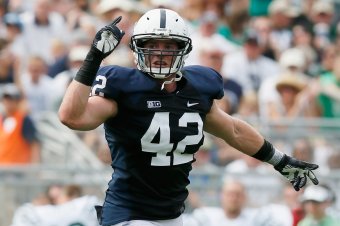 Rob Carr/Getty Images
99-Yard Interception Return
Wow.
Michael Mauti is 6'2" and 232 pounds. This guy rumbling and bumbling 99 yards down the field is an awesome sight.
Mauti waited for his blockers and brought the ball back to the 1 yard line, what a play.
But will Sam Ficken make this chip shot?
No.
The Penn State kicking saga continues...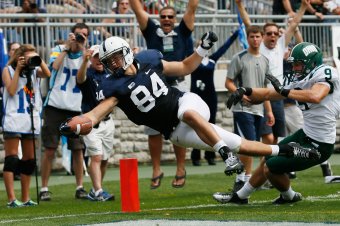 Rob Carr/Getty Images
EJECTED!
Sophomore Earnest Thomas has been ejected for a helmet-to-helmet hit on Penn State's Matt Lehman.
It was a tough call to eject him, I don't know if I saw intent to hurt Lehman.
That being said, it was an unquestionably illegal hit.
Penn State goes up 21-0.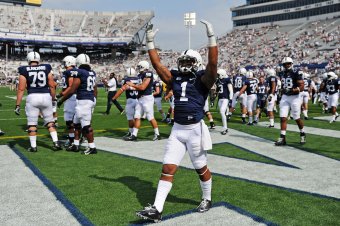 Patrick Smith/Getty Images
This is Penn State Football
With everything that has happened in Happy Valley over the past year, Penn State's identity on the field is seeming to return today.
This "nascar," no huddle, run it down your throat style is reminiscent of the old Nittany Lion teams that would come out and smack you.
Zwinak is leading this charge as he chugs downfield. It will be interesting to see how Belton will do as a change of pace against this Illini defense.
Belton is a homerun threat, but O'Brien seems to like Zwinak's grind it out mentality.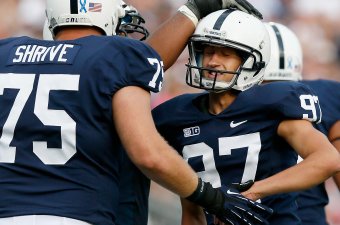 Rob Carr/Getty Images
The Penn State kicking saga continues...
Maybe Sam Ficken's missed field goal didn't have the game riding on it, but there has to be a line that O'Brien will draw.
Penn State needs to find a reliable kicking game, and so far Ficken hasn't been the answer.
I'm being a little harsh on a 40-plus yard missed field goal in the second quarter, but kicking is a huge part of the game.
And who knows, that three points might be a game changer later on in this game.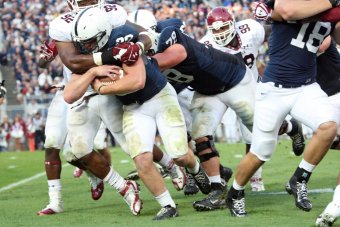 Rob Christy-US PRESSWIRE
Old School Zach
Not only is Zach Zwinak not your prototypical running back, but he plays with that old school swag.
No wristbands. No gloves. No visor. Just a towel hanging out the back of his pants.
This kid runs hard downhill, and you have to love his style of playing.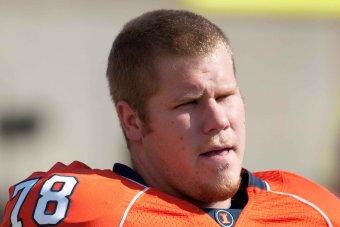 Bradley Leeb-US PRESSWIRE
Illinois Mistakes
As ESPN just highlighted, the Illini are shooting themselves in the foot.
A muffed punt return and mental miscues on penalties have helped put Illinois in the hole their in early in the second quarter (a missed field goal doesn't help either).
Tim Beckman and his coaches are going to need to coach their players up and get their team to wake up if they don't want Penn State to start pulling away.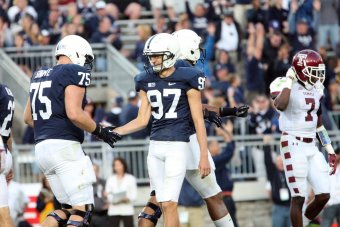 Rob Christy-US PRESSWIRE
Wide Right!
Looks like a page out of the Penn State special teams play book.
That missed field goal really hurts for the Illini.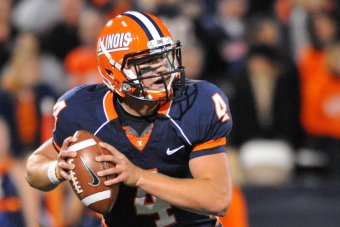 Bradley Leeb-US PRESSWIRE
New Digs
Not only is the Illinois offense looking good on this drive, their jerseys are looking good as well.
All black helmets with an "I"? Yeah those are cool new digs.
Scheelhaase's feet still present a threat to Penn State's defense, who obviously didn't have their eyes on Donovonn Young on that option play.
Illinois needs to get points on the board here.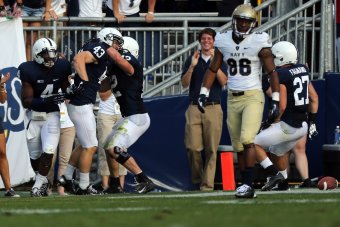 Rob Christy-US PRESSWIRE
Linebacker U
Scheelhaase can move and extend plays, but these linebackers for Penn State are good.
The break up by Mike Hull on Scheelhaase's third down throw was an athletic play.
Even with everything that has happened this year in Happy Valley, the Nittany Lions are still strong at 'backer.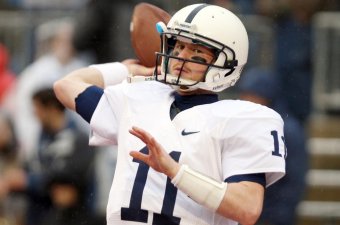 Mary Langenfeld-US PRESSWIRE
Lions Go Up 14
McGloin scores his third (I'm surprised too) rushing touchdown on a sneak.
Too bad Belton didn't get in though, you gotta love the second effort on the play before.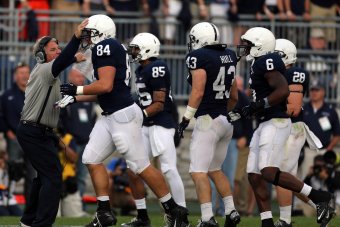 Rob Christy-US PRESSWIRE
Free Agency?
ESPN loves bringing up how 8 Illinois assistant coaches came to Happy Valley after the Sandusky scandal.
O'Brien claims that this isn't a motive to win today, but it has to been in the back of his mind. I'm sure a win today would be a little sweeter knowing what Illinois did.
Here's an article on ESPN.com laying out what happened with the Illini sending 8 assistant coaches to Penn State to draw players to Champaign.
Rob Christy-US PRESSWIRE
Touchdown!
Zach Zwinak rumbles into the endzone from basically the endzone.
What's even better though? Ficken nails the extra point.
Justin K. Aller/Getty Images
The turnovers begin.
Lions catch a break here with the muffed punt.
I guess their special teams need could use a break every now and then.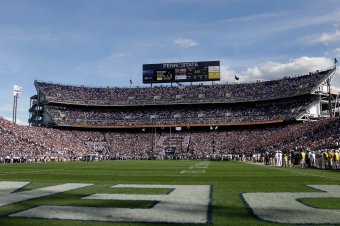 Rob Carr/Getty Images
Saturday Selections: Lee - PSU Kirk - PSU Desmond - PSU
Looks like the Lee, Kirk, and Desmond all agree.
The Illini's "pants were pulled down" last weekend. Everyone has the Lions.
This article is
What is the duplicate article?
Why is this article offensive?
Where is this article plagiarized from?
Why is this article poorly edited?

Penn State Football: Like this team?