The NFL's Free Agent All-Star Team
Streeter Lecka/Getty Images
This list looks at the set of offensive skill players available on the free-agent market. The best quarterback, running backs, wide receivers and tight ends without a home will make up this team.
The team will be constructed of one quarterback, three wide receivers and two running backs and tight ends, much like a fantasy football team.
Just because these players are teamless doesn't mean they won't be able to compete against an NFL defense. Here is the NFL's top free-agent offense.
Quarterback: Vince Young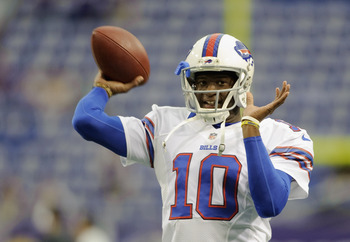 Hannah Foslien/Getty Images
Vince Young may be bankrupt and potentially done in the NFL, but the guy is still as athletic as they come.
Before Young gets too much credit for winning the starting spot, remember that he was cut from a team that kept four quarterbacks on their 53-man roster. Young's athletic ability simply gives him the nod over the abundance of subpar quarterbacks on the market.
Maybe Young would still be a starting quarterback if he could learn a playbook or sharpen up his decision-making. He has all of the intangibles and has been a successful NFL quarterback in the past. Young's career may be over, but he earns the job for this team.
Honorable Mentions: David Garrard, Donovan McNabb, Seneca Wallace
Running Back: Tim Hightower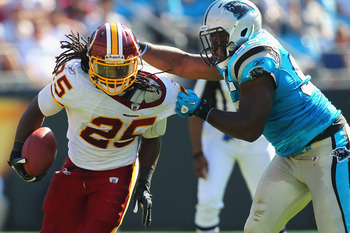 Dilip Vishwanat/Getty Images
Tim Hightower is out of the crowded backfield in Washington, but still finds himself without a team. He has had success in the NFL in the past, and at only 26 years old, he still has several seasons left in him.
In 2010, Hightower started 13 games and ran for 736 yards and five scores. His 4.8 yards per carry average was very impressive and led to him signing with Washington heading into 2011.
After five starts and 321 yards on the ground, Hightower was injured and done for the season. Mike Shanahan continued his running back shuffling and Hightower was the odd man out.
Hightower is still a solid running back who deserves to be on an NFL roster. But because he is without a franchise, he is the No. 1 running back on this free-agent team.
Running Back: Joseph Addai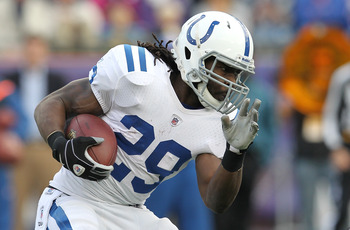 Jim Rogash/Getty Images
Joseph Addai was one of a handful of veterans to be let go during the rebuilding of the Indianapolis Colts. He is no longer a quality starter, but like most teams with two quality running backs, he would be a solid role player.
As a rookie, Addai became the first player to rush for 1,000 yards without starting a game. He has made the Pro Bowl and complemented Peyton Manning's pass game very well.
After a brief tenure with New England turned sour, Addai finds himself without a team. He is the ideal fit for the No. 2 spot on this team because he is a great pass-blocker and can be a threat in the passing game. He would be a nice complement to the tough runner that Tim Hightower is, and would make the quarterback's job much easier.
Honorable Mentions: Chester Taylor, Derrick Ward, Thomas Jones, Cadillac Williams
Wide Receiver: Plaxico Burress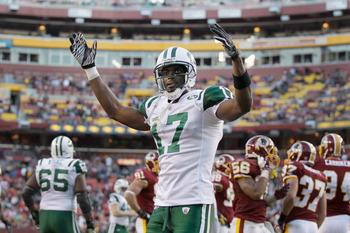 Rob Carr/Getty Images
Plaxico Burress has been linked to numerous teams since March, but the reality is that his career is likely over, regardless if Burress thinks he can still play or not.
However, Burress is a solid selection for this free-agent team for many reasons. He is a monster threat at 6'5''. He is clutch, having caught the game-winning touchdown with seconds left in a Super Bowl. Though he is 35, he still managed to produce 45 receptions for 612 yards and eight touchdowns last year after spending two years away from the game.
He might not be the Burress of old, but his size and history makes him a valuable addition to this team. Burress is arguably the best wideout on the market and still will be able to make plays. But unless he signs somewhere, the extent of his potential production will be unknown.
Wide Receiver: Jabar Gaffney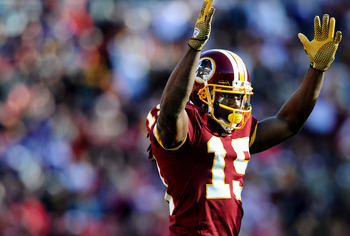 Patrick Smith/Getty Images
Jabar Gaffney had a solid 2011 with 68 receptions for 947 yards and five touchdowns. His presence on the free-agent market is somewhat of a mystery, but his presence on this free-agent all-star squad is a must.
Gaffney is only 31 and has 443 career receptions for 5,622 yards and 24 scores. He has visited a few teams since his August release, but remains without a home.
His recent success, three consecutive seasons of 730+ yards, lands him a spot on this team. He is experienced, but not old. He should get another shot in the NFL before he calls it a career, but for now he makes this team.
Wide Receiver: Mark Clayton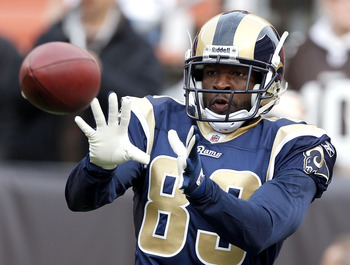 Matt Sullivan/Getty Images
Mark Clayton is not exactly the biggest wide receiver name on the free-agent market, but he is ideal for this team.
Clayton is relatively young at age 30. He was having a stellar start to the 2010 season with 306 yards and two touchdowns before suffering a season-ending injury in Week 5. He has a career total of 260 yards for 3,448 yards and 14 touchdowns.
He makes sense to pair with Plaxico Burress and Jabar Gaffney because at 5'10'', he brings a totally different skill set to the table than what the remaining free agents have to offer. And the free-agent market for wide receivers is the most loaded of the positions.
Honorable Mentions: Terrell Owens, Chad Johnson, Lee Evans, TJ Houshmandzadeh, Donte' Stallworth
Tight End: Jeremy Shockey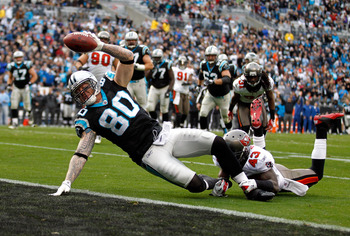 Streeter Lecka/Getty Images
Jeremy Shockey may be controversial, but the guy can play.
He had an average 2011 with 37 receptions for 455 yards and four touchdowns, but even at age 32, he can still be a factor on a team. The former Pro Bowler has 547 career receptions for 6,143 yards and 37 touchdowns.
Shockey's mouth and actions may have scared some teams away, but he is the No. 1 free agent at his position. Maybe if there is an injury, Shockey will return to the NFL. But for now, he is a stud on the free-agent all-stars.
Tight End: Bo Scaife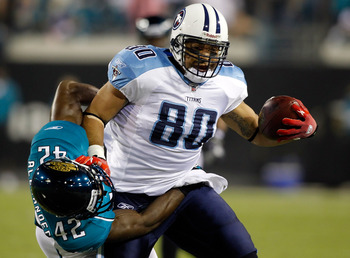 J. Meric/Getty Images
Bo Scaife is more of a blocker than he is pass catcher, but he does catch what is thrown his way.
Scaife, 31 years old, has career statistics of 251 receptions, 2,383 yards and 12 touchdowns. He last played in the NFL in 2010, but his blocking ability makes him a decent add on this team.
He has virtually no chance of retuning to the NFL, but a weak group of free agent tight ends gives Scaife a blocking role. Simple as that.
Honorable Mention: Anthony Becht
Keep Reading