UFC on Fuel 5: 8 Fights to Make After Stefan Struve vs. Stipe Miocic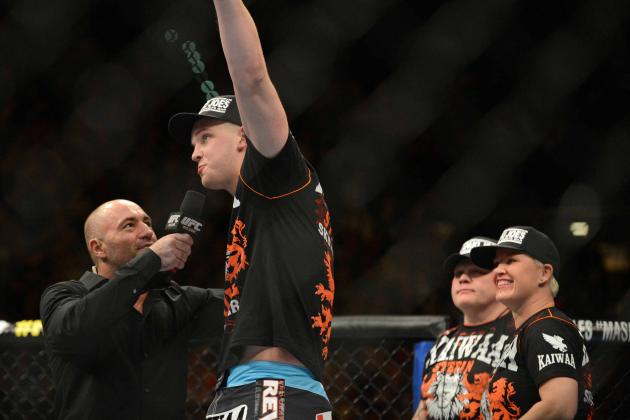 Ron Chenoy-US PRESSWIRE

You know, I could really get used to this whole "MMA in the middle of the day" thing. Americans get to wake up, take care of a few chores in the morning and then watch some fighting while the sun is still shining (or not shining, if you were in Texas on Saturday). After that, there's plenty of time to go out and enjoy a few adult beverages at the bar while not forcing yourself to pay attention to the dudes fighting on TV. It's the perfect situation.
The UFC should hold more shows in England, is all I'm saying. I can get behind it.
Saturday's event wasn't the biggest in UFC history, but the live show from Nottingham brought us plenty of action, and now it's time to take a look at what's next for some of the competitors from UFC on Fuel: Struve vs. Miocic.
Begin Slideshow

»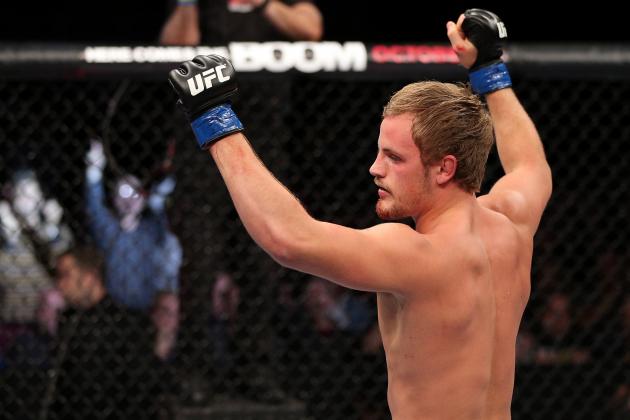 Photo by Josh Hedges, Zuffa LLC via Getty Images
It feels like it's been forever since I first heard about Gunnar Nelson, and so getting the chance to finally see him make his UFC debut was a good thing.
And he lived up to my expectations entirely, overwhelming the overmatched DaMarques Johnson with superior grappling on the ground before securing the rear-naked choke near the tail end of the first round. And after that, he proceeded to display a stellar lack of microphone skills in one of the more boring post-fight interviews I can remember.
Yeah, Nelson may not be Chael Sonnen on the mic. But he's a wizard on the ground, with serviceable enough stand-up skills that he'll probably rocket quickly to the upper echelon of the division. I'd still rather bring him along slowly, though, which is why I'd pair him with Kyle Noke for his next outing.
Noke made his welterweight debut at UFC 152 and scored a somewhat-disputed win over Charlie Brenneman; he'd provide a decent stepping stone for Nelson, and that's primarily what I'm looking for at this point.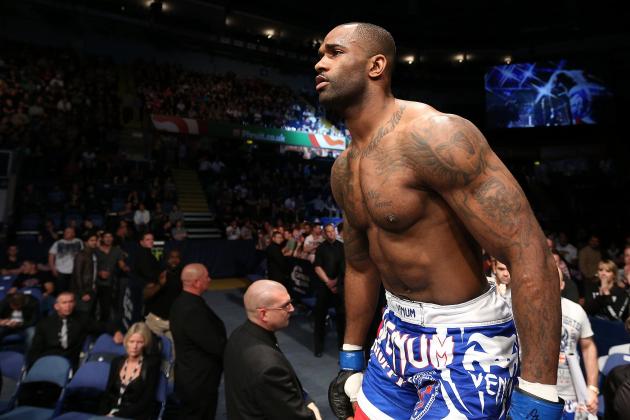 Photo by Josh Hedges, Zuffa LLC via Getty Images
I almost feel bad for suggesting this, because I feel like anyone who goes up against Jimi Manuwa is due for a violent beating much like the one we saw him unleash on Kyle Kingsbury (in the first round before he gassed out in the second).
But then again, it's Rampage. It's his last fight in the UFC, and he wants to fight someone who won't wrestle him. If that's the case, Manuwa is your man. He's more than happy to stand and trade strikes with you. And more than happy to land that nasty left hook, and more than happy to swell up your eye to the point of closure. Sorry, Kyle.
Tell me you wouldn't want to see this fight. You can't. And especially now that Dana White has put the kibosh on the Jackson/Mitrione groundswell, Rampage will need another fight. I want to see this one, and I know you do, too.
Maybe it's too big of a leap in competition. But I don't think so. If Jackson is truly on his way out, you need to use him to make a star who can make you money going forward. Pairing him with Manuwa can make that happen.
Photo by Josh Hedges, Zuffa LLC via Getty Images
A TKO by way of a knee injury to his opponent probably wasn't the way Che Mills wanted to win this fight. But in all honesty, the fight didn't look like it was going to go very well for Duane Ludwig, even if it had continued beyond the point where Ludwig suffered his injury.
Mills is an interesting fighter to me. Outside of his loss to Rory MacDonald, he's looked good in the UFC, and you can't really blame him for a poor outing against MacDonald.
You want to avoid rushing him, though, which is why a bout with Sean Pierson makes perfect sense. Pierson just won his last fight at UFC 152, so the timing is good, and it's an interesting stylistic matchup.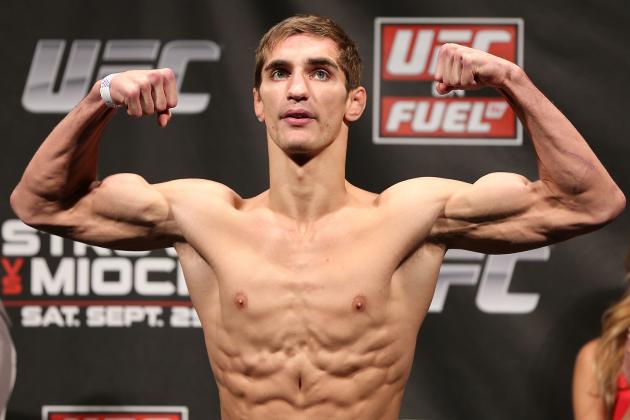 Photo by Josh Hedges, Zuffa LLC via Getty Images
It's hard to believe John Hathaway once beat Diego Sanchez.
Those days are long gone, but that's not to say Hathaway is a bad fighter. He's back to his winning ways, with three consecutive wins after defeating John Maguire by unanimous decision, but I still feel he's just not very impressive. I don't know exactly what I mean by that, other than to say it's just a feeling that he's not ready to start heading back up the ladder.
That's why I'd match him with Seth Baczynski in his next fight. Baczynski notched a win at UFC 152, so it makes sense from a timing perspective. And I just feel like Hathaway needs a little more...seasoning?...before he's ready to get another push against top-level competition.
And there's also a pretty good chance that Baczynski will do his best to turn the affair into an exciting fight, which is a whole lot more than you can say about the Hathaway/Maguire bout.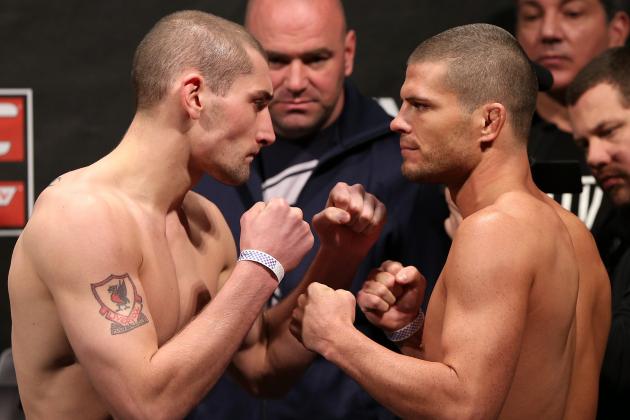 Photo by Josh Hedges, Zuffa LLC via Getty Images
That was quite the little win for Matt Wiman, wasn't it?
Beating Paul Sass and breaking his undefeated record is one thing, but doing it by submission during an excellent back-and-forth grappling battle? That's style, playa.
Wiman said after the fight that he was extremely nervous going into the cage to face such an accomplished grappler. I was worried for him, mostly because he had no sponsor banner and just two people in his corner—one of whom was his wife. But if he was nervous, you couldn't tell at all. Wiman stayed cool under pressure and put together an excellent performance.
I'd like to see him face T.J. Grant in his next fight. It's a good style fight and a good test to see where both guys are in the division.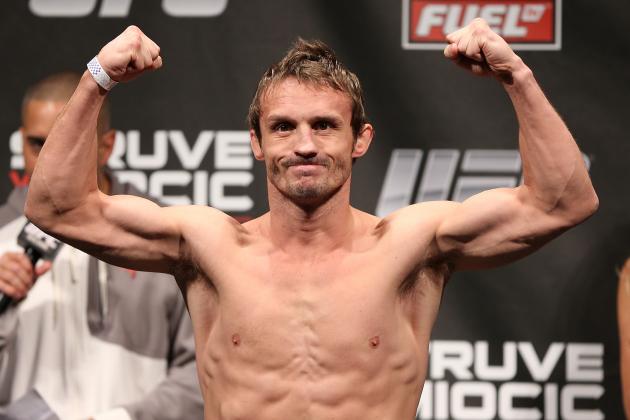 Photo by Josh Hedges, Zuffa LLC via Getty Images
Look, Dominick Cruz is on the shelf until next summer. That means interim champion Renan Barao, if he's going to wait for a title unification bout, has to sit on the shelf until then.
I hate that idea. I hate it because the idea of an interim title is to give the division something to shoot for, a title to be defended, while the champion is out with an injury.
So I'm going to go with the idea that Barao will defend that belt, mostly because I feel like it. And I think he should defend that belt against Michael McDonald, who was just cleared to train and is awaiting a fight offer.
That seemingly leaves Pickett out in the cold, but I've got a good matchup for him: Brian Bowles. Sure, Bowles lost his last fight, but he's still a top contender. And as Pickett said after his video game uppercut KO of Yves Jabouin, he needs to fight someone ranked higher than him. Bowles fits that profile.
Plus, you would likely end up with a striking battle that finishes with a nasty knockout of some sort, and everyone loves a good knockout.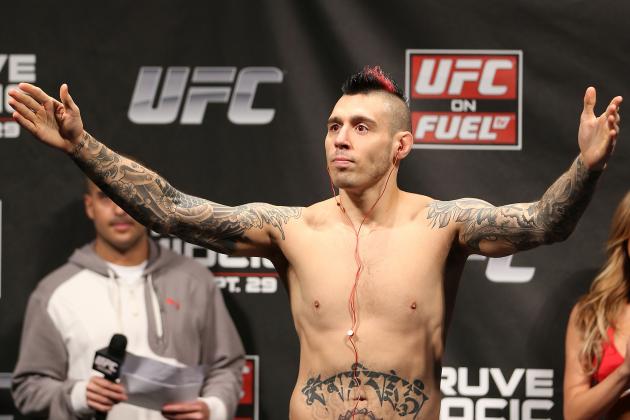 Photo by Josh Hedges, Zuffa LLC via Getty Images
Yeah, I know it doesn't make a lot of sense, at least from a rankings perspective. Diaz will likely get a top contender when he returns from his drug suspension, and Hardy doesn't fit that profile.
But I don't care, because I think Hardy vs. Diaz would be an awesome fight.
And not only would it be an awesome fight, it would have some of the most intense pre-fight build ever seen in the UFC. Hardy is a master of playing the game and selling fights, and Diaz has a propensity for coming unglued when he feels like his opponent is disrespecting him.
How would Hardy fare against Diaz in the actual fight? I know he'd make it exciting. I don't think he'd win the fight, and he'd likely wilt under a massive assault of volume punching from Diaz.
But again, it would be an exciting fight, and sometimes you need one of those.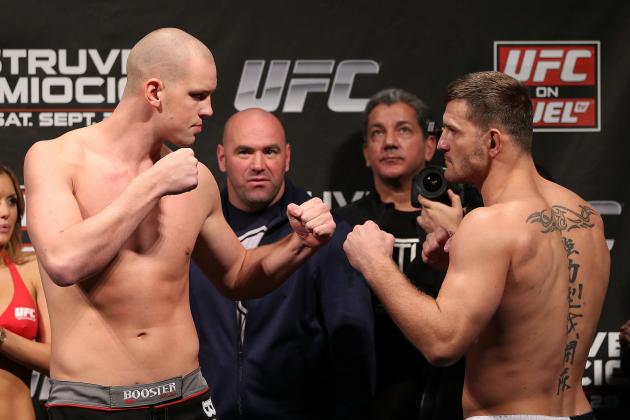 Photo by Josh Hedges, Zuffa LLC for Getty Images
I'm going to go ahead and extend the boundaries of my fantasy booking rules here to include Strikeforce.
After all, Josh Barnett needs an opponent for his final fight in the promotion, and there are no heavyweights remaining in the company besides Daniel Cormier. So they're either going to sign someone to come in and face Barnett, or they need a UFC heavyweight to make the jump over for one fight.
Stefan Struve, after his TKO win over the previously undefeated Stipe Miocic, made a big jump up in the heavyweight rankings, and I think he's a great candidate to face Barnett.
Sure, Barnett lost his last fight, but he remains a top ten heavyweight, and that's the guy of guy Struve needs to face in his next fight. And after Struve's big win on Fuel, he's got a big enough name to fill that void for Showtime.
This was Struve's fourth win in a row, and it was a good one. Now it's time to see how he does against ranked heavyweights.