Tiger Woods at 2012 Ryder Cup Tracker: Day 2 Highlights, Updates and More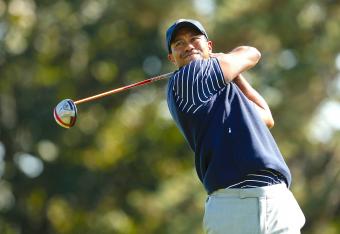 Team USA takes a 5-3 over Europe into this morning's foursome session at Medinah Country Club in Medinah, Ill., on the second day of the 39th Ryder Cup.
Tiger Woods should return this afternoon for the four ball play, but like you this morning, he is a very interested spectator.
Keep it here for all the action.
Mike Ehrmann/Getty Images
The last match has reached the last green as the sun sets with Poulter in the best shape to make a birdie.
Rory has a winning putt from the collar of the fringe.
He never hits it and leaves it short.
Par conceded.
Dufner is next from about six feet.
It goes in so it is up to Poulter to win the match with a birdie.
He has 10 feet down the hill from the right side of the hole.
If he makes this, it would be five straight birdies.
He does and the session is split.
USA 10 EUROPE 6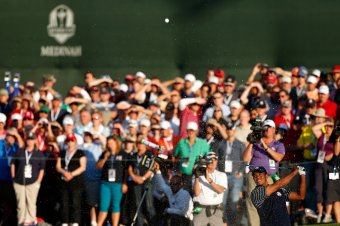 Jamie Squire/Getty Images
It lips out and Europe wins!
GARCIA/DONALD WIN ONE-UP OVER WOODS/STRICKER
Tiger raps his birdie putt just left of the hole and has par conceded.
Garcia helps Donald read his putt.
Right all the way from 20 feet.
Par is conceded.
Sergio needs to make this to win the match.
He backs off and the crowd roars.
He now resets and has 18-20 feet.
That misses right and Stricker can halve this match from 10-15 feet below and left.
Donald found a fairway bunker left and had a horrific lie on an upslope.
He can only advance it 80 yards.
Stricker has 162 from the fairway.
He hits a beauty.
About 10 feet below and left of the pin for a birdie try.
Sergio has 153 now.
He finds the green, but he has 20-25 feet left and down the hill for a birdie.
Tiger leaves it on the right side on the fringe. He is shorter than Sergio, but in that 15-20 foot range.
Poulter birdies 17 to ensure at least a half point for Europe there.
Zach Johnson matches and they go to the last.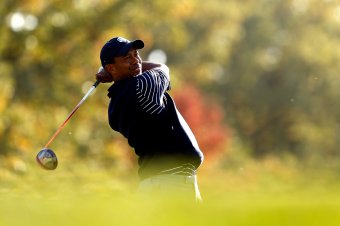 Jamie Squire/Getty Images
18th hole sees Tiger twirl a driver down the right side.
Stricker is in the rough.
Garcia out drives Tiger.
Meanwhile on 17, Poulter and Zach Johnson nearly mirror Woods and Donald respectively.
Poulter birdies 16 and Europe now leads that match one-up.
Stricker will be first.
This will come down the hill.
Left all the way, he cannot get it inside Donald's marker.
Garcia's putt misses left edge.
Tiger and Donald now.
About five feet. This will break towards the water or right-to-left for Tiger.
It goes in and Donald must make his tapper.
He does and we go to 18.
GARCIA/DONALD ONE-UP ON WOODS/STRICKER AFTER 17
USA WINS 2
EUROPE LEADS 1
ALL SQUARE IN 1
Tiger has an eight-iron from 178 yards that lands five feet left of the hole on the par-three 17th.
He yells at the ball to "Gimmie some!"
It did.
Stricker finds the back of the green on the left.
Sergio also hits a good iron shot.
It is not as close as Tigers, but is on the same side.
Donald goes to the right of the pin and lands it a couple feet away!
A Donald birdie guarantees a half point for Europe.
Stricker has his par conceded, so we are waiting for Tiger's nine foot birdie putt to win the hole.
He points the finger and it goes down.
GARCIA/DONALD ONE-UP ON WOODS/STRICKER AFTER 16
USA WINS 2
EUROPE LEADS 1
ALL SQUARE IN 1
USA 10.5 EUROPE 5.5
MAGIC NUMBER: USA 4
McIlroy and McDowell have squared up their match on the 15th hole against Dufner and Zach Johnson after Dufner fails to make a birdie.
Kuchar and Dustin Johnson win one-up.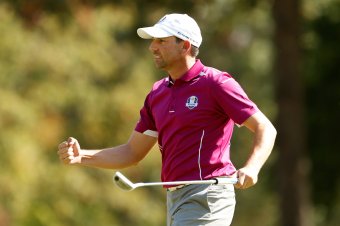 Jamie Squire/Getty Images
Stricker is on the green, but is 20 feet right of the hole.
Still in better shape than Europe.
From 155 yards, Tiger was long and straight on the fairway and has hit this green pin-high on the left. He has 10 feet for a birdie that probably will cut the deficit back to one-down.
Garcia and Donald have both missed the green.
Sergio is 25 yards short and Donald hit his second near a grandstand long.
Luke Donald is also in the fairway while Sergio has found the deep rough.
Stricker and Tiger are in the fairway on this long par-for 16th hole.
They must halve this hole at worst to keep the match going.
We have about 50 minutes of daylight left.
Dustin Johnson birdies the 17th hole and Team USA has guaranteed a half point as they now lead this match with Lawrie/Colsaerts one-up.
Garcia leaves his birdie putt short and par is conceded.
Stricker first for birdie.
That broke right from the get go and we are down to Woods and Donald.
Tiger has eight feet up the hill.
He starts it too far left and leaves it short.
Donald can win the hole now.
It goes down and a big hole for Europe.
GARCIA/DONALD TWO-UP ON WOODS/STRICKER AFTER 15
USA WINS 1
EUROPE LEADS 1
USA LEADS 1
ALL SQUARE IN 1
Garcia had to be tentative with his bunker shot as anything long could be wet.
He leaves it left and well short for a birdie.
Donald is in better shape.
Tiger had a better lie and his ball releases to past the hole.
He is lucky that it stops about 10 feet away for a birdie try.
Stricker has the best lie, but he hit it very heavy and lands it well short.
Colsaerts and Lawrie have squared their match with Kuchar and Dustin Johnson.
Donald hits a very nice punch shot and rolls it a few feet past the hole for a par try.
How did Tiger cut the deficit to one-down? Here you go:
At 306-yards today the green on this par-four 15th hole can be reached.
Stricker finds the bunker left of the green off the tee.
Tiger has the three-wood.
He finds that same bunker, but looks to have a downhill lie.
Garcia has the driver.
Three for three in that bunker and has an awful lie in the back of that bunker.
Donald takes the driver.
He misses that bunker short and has pitch from the left side.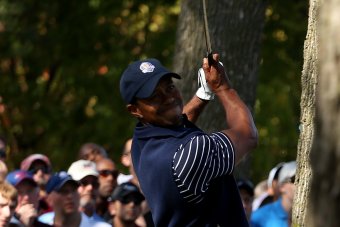 Jamie Squire/Getty Images
Stricker missed his birdie putt and Sergio leaves his effort a couple feet short.
So Woods and Donald left.
Woods will go first.
He pours it downhill and in.
Now Donald has to make his putt to stay in the lead.
Only three feet for Luke and he matches.
GARCIA/DONALD ONE-UP ON WOODS/STRICKER AFTER 14
USA WINS 1
USA LEADS 2
EUROPE LEADS 1
USA 11 EUROPE 5
Sergio's effort caught the hole, but spins 10 feet past. A long birdie putt to come.
Tiger is right up on the collar of thicker rough and into the sun.
His flop is pretty good as he is within five feet or so for birdie below the hole.
Stricker also has driven this green fro the fairway, so unless Donald either hit it or laid up, they will all have similar pitches to come.
This article is
What is the duplicate article?
Why is this article offensive?
Where is this article plagiarized from?
Why is this article poorly edited?