UFC on Fuel TV 5 Results: Questions Heading into UFC on FX 5: Browne vs. Silva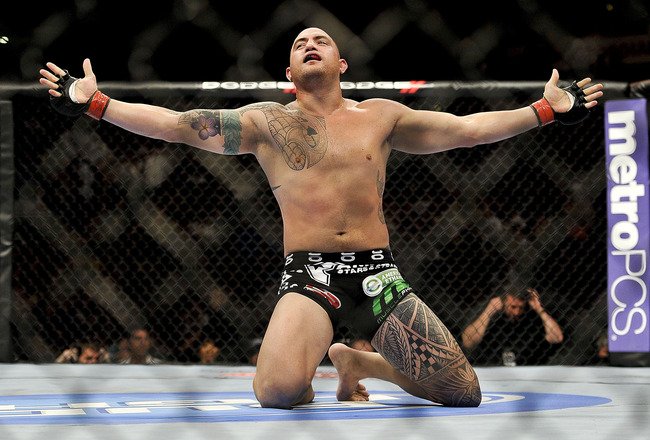 Paul Abell-US PRESSWIRE
UFC on Fuel TV 5 is in the books and the fight card featured its share of memorable moments. Robbie Peralta got things started with an early knockout, Gunnar Nelson and Jimi Manuwa had solid debuts, Matt Wiman ended Paul Sass' winning streak and Brad Pickett lived up to his nickname of "One Punch," and those were before the headlining bouts took place.
Dan Hardy showed some evolution to his game, using takedowns to mix things up on his way to defeating Amir Sadollah. As for the main event, Stefan Struve continued his march up the heavyweight rankings with a TKO win over Stipe Miocic.
Below are the full results from the Sept. 29 fight card:
Stefan Struve defeats Stipe Miocic via TKO at 3:50 of Round 2
Dan Hardy defeats Amir Sadollah via unanimous decision (29-28, 29-28, 30-27)
Brad Pickett defeats Yves Jabouin via knockout at 3:40 of Round 1
Matt Wiman defeats Paul Sass via submission at 3:48 of Round 1
John Hathaway defeats John Maguire via unanimous decision (30-27 x 3)
Che Mills defeats Duane Ludwig via TKO at 2:28 of Round 1 – Ludwig could not continue after injuring his left leg
Jimi Manuwa defeats Kyle Kingsbury via doctor stoppage at 5:00 of Round 2
Akira Corassani defeats Andy Ogle via split decision (29-28, 27-30, 29-28)
Brad Tavares defeats Tom Watson via split decision (30-27, 28-29, 29-28)
Gunnar Nelson defeats DaMarques Johnson via submission at 3:34 of Round 1
Robbie Peralta defeats Jason Young via knockout at 0:23 of Round 1
The UFC will return to the States for its next card, another free television event that will be broadcast on FX on Friday, Oct. 5. That card, which will take place from the Target Center in Minneapolis, will be headlined by a heavyweight bout between Travis Browne and Antonio "Bigfoot" Silva.
What follows are a handful of questions we have heading into that event.
Who Is Jussier Da Silva?
Jussier da Silva is a monster, sorry, couldn't resist, but seriously the 27-year-old Brazilian enters the UFC's flyweight division pretty much one win away from a title shot when he faces John Dodson at UFC on FX 5.

The 14-1 Da Silva's only loss came to Ian McCall in February 2011, dropping a unanimous decision while fighting for Tachi Palace. Since that loss, Da Silva has put together a five-fight winning streak with the last four of those wins coming via submission.

Da Silva is a member of Nova Uniao, a team that also features UFC featherweight champion Jose Aldo and interim UFC bantamweight champion Renan Barao, two fighters that can help prepare the UFC debutant for his first foray into the Octagon.
Will the Winner of Dodson vs. Da Silva Fight for the Flyweight Title?
The George Washington of the UFC's flyweight division, Demetrious Johnson, will undoubtedly be watching UFC on FX 5 with more than just a passing interest.
That's because Johnson, the freshly crowned UFC flyweight champion, feels that his first title defense will come against the winner of the Jussier da Silva-John Dodson fight.

Johnson appeared on UFC Tonight and offered the following take on the upcoming bout, "I know the next No. 1 contender will come out of the fight (Jussier da Silva) 'Formiga' vs. John Dodson on Oct. 5. So, I'll be watching that fight very closely to see who my next challenger will be."

As for his analysis of the bout, Johnson would not offer a pick, " It's hard to say 'Formiga' has a very legit ground game and he's been working hard on his hands. John Dodson, he's pretty fast, he has a lot of speed like I do and he's a great southpaw and he's finished some guys in his time. It'll be interesting to see who wins that fight."

Johnson is most likely correct in his assessment of who his next opponent will be, as the other top contender for the title would be Ian McCall, a fighter that Johnson defeated by unanimous decision in June of this year.
How Will Jake Ellenberger Respond to Adversity?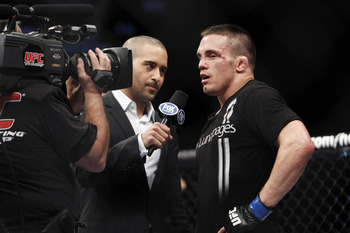 Matt Ryerson-US PRESSWIRE
Between January 2010 and February 2012, Jake Ellenberger fought six times, winning each of those fights, including a 53-second knockout of Jake Shields and unanimous decision "Fight of the Night" performance over Diego Sanchez.
With those victories came whispers that Ellenberger was riding hot rails toward a shot at the UFC welterweight crown, and then he ran into Martin Kampmann.

Ellenberger looked good early in the bout with Kampmann, but he was unable to put him away when he had him hurt. Kampmann worked through the rough spots and was able to earn the TKO win over Ellenberger, handing him his first loss since Ellenberger dropped a split decision to Carlos Condit in his UFC debut.

On Oct. 5, we will find out just how Ellenberger deals with adversity as he faces Jay Hieron in his first fight since that loss to Kampmann. Ellenberger will enter his fight against Hieron as a heavy favorite, but he will be fighting an opponent with nothing to lose.
Hieron was brought into this fight to replace an injured Josh Koscheck, so he will essentially be freerolling in his first fight with the UFC since leaving the organization in 2005.

This fight will tell a great deal about the future of Jake Ellenberger.
Will Jay Hieron Make the Most of an Opportunity?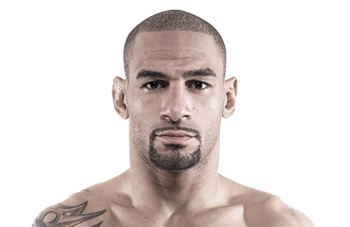 Jay Hieron has had some hard luck as of late. On Oct. 29, 2011, he entered his bout against Ben Askren on a 10-fight winning streak. The contest, for Askren's Bellator welterweight crown, ended in a split decision victory for Askren.

Hieron then asked Bellator for a rematch with Askren. The promotion responded by telling Hieron to go back through the next welterweight tournament, something Hieron was not at all interested in doing so he asked to be released from his contract.
Bellator agreed to Hieron's request, but at a price, "I had to pay them back my signing bonus," Hieron told NBC Sports, "but at this point in my career, I would rather do that than sit on the shelf."

Hieron would then sign with Legacy and defeat Romario da Silva via technical submission in July of this year.

The door to the UFC then opened for Hieron when Josh Koscheck, Jake Ellenberger's originally scheudled opponent for UFC 151, injured his back. That fight fell by the wayside when the fight card was cancelled.
Hard luck Hieron was asked if he thought perhaps he was cursed, "I hope not," he told MMAFighting.com. "I don't think like that. I just think it's circumstances. I try to find positives in everything. I still got a UFC contract, which is good. I guess the next time I'll have a full camp. I don't know, man. I don't know what it is."

Pending any last minute voodoo, Hieron will make his way to the Octagon on Oct. 5. Will he be able to give this long saga a happy ending?
Who Is the Real Antonio Silva?
The main event at UFC on FX 5 will feature a heavyweight scrap between Antonio Silva and Travis Browne. Silva is most famous for absolutely pummeling Fedor Emelianenko in February 2011 in the first stage of the Strikeforce World Heavyweight Grand Prix Tournament.

After that upset win, he dropped his next two fights, getting knocked out by Daniel Cormier and then falling via TKO to Cain Velasquez in a bloodbath of a bout at UFC 146.

So, the question is who is the real Antonio Silva? Is he the beast that sat on Fedor's chest and turned his eye socket to pulp or is he the overmatched fighter that faced Cormier and Velasquez?

Browne is not on the level of a Cormier or Velasquez, but he is not a fighter that can be taken lightly either, especially by Silva, someone that may very well be in need of a win to save his UFC career.
A win from Silva won't fully establish where he stands in the heavyweight rankings, but a loss will tag Silva as a gatekeeper at best, as a former Zuffa LLC employee at worst.
Can Travis Browne Take the Next Step?
Many MMA outlets have Travis Browne ranked in the top 10 of the heavyweight division. Running up a record of 13-0-1 and dispatching fighters such as Stefan Struve and Chad Griggs in the first round will get you that type of attention.

On Oct. 5, we'll see if Browne can take the next step and add another victory to a unbeaten streak that began with his professional MMA debut in early 2009.

Browne is a heavy-handed fighter with nine knockouts to his name, but he also has two submission victories as well, the last one being his "Submission of the Night" win over Griggs at UFC 145.

Antonio Silva may or may not be Browne's biggest test to date, but he is the biggest name he has faced. A win over Silva will solidify Browne's ranking in the heavyweight division and may very well lead to a bout against a top-five opponent in his next fight.


Keep Reading