New England Patriots vs. Buffalo Bills: Live Score, Video and Analysis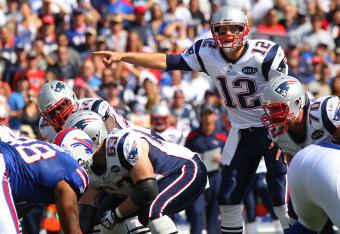 Tom Szczerbowski/Getty Images
PATRIOTS STICK IT TO THE BILLS
After a shaky first half, the New England Patriots came out swinging in the second half and defeated the Buffalo Bills in their own backyard.
Final Score: 52-28 Patriots
Thank you everyone for tuning in, we'll try to do it again real soon!
Injuries to monitor:
Bills: Starting left tackle Cordy Glenn (ankle) and starting right guard Kraig Urbik (leg) both left the game with injuries and did not return. These are both important pieces of the Bills offense.
Patriots: Starting strong-side linebacker, rookie Dont'a Hightower left the game in the first quarter with a hamstring injury. The Patriots are thin at linebacker, so hopefully the youngster is OK.
Sharing some closing thoughts:
Patriots running game is explosive — The Pats ran the ball with authority with Brandon Bolden and Stevan Ridley both running for over 100 yards each. The Pats haven't had a running game like this in a while.
Bills were way too sloppy — While the Patriots had their share of turnovers early in this game, the Bills never stopped turning the ball over. If you want to beat an offensive powerhouse like the Patriots, you can't turn the ball over.
Pats defense — The Patriots defense made a lot of plays tonight, including a bunch of interceptions and some forced fumbles. It is a little concerning how many passing yards they gave up though.
Pats offensive line — This unit played great against a good Buffalo front four, despite being without their Pro Bowl left guard Logan Mankins. Got to tip your hats to those guys up front.
PATRIOTS WIN
FINAL SCORE: 52-28
PATRIOTS FIELD GOAL IS GOOD
Gostkowski gets his first field goal of the day after missing a couple earlier in the game.
Score: 52-28
2 minutes left in the game
It looks like the Patriots will avoid the three-game winning streak.
Impressive outing from the offense. The defense had its ups and down, but gave up too many yards through the air.
As for the Bills, too many mistakes and bad defensive play.
4th Quarter, 3:54
PATRIOTS GRAB YET ANOTHER INT
Rookie safety Tavon Wilson grabs his second INT of the season.
TOUCHDOWN PATRIOTS
Ridiculous deep touchdown pass to Brandon Lloyd. Lloyd made a diving catch into the end zone.
That was fun to watch. Wow.

Again, what is all this talk that Brady can't throw the deep ball!?!
Extra point is good.
Score: 49-28 Patriots

4th Quarter, 4:09
The Buffalo Bills are now out of time outs.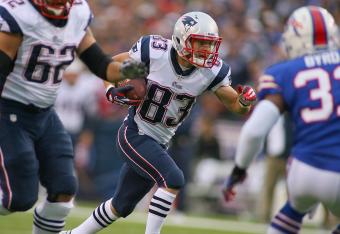 4th Quarter, 5:00
Tom Brady connects with Welker on third-and-9 for the first down.
Pretty pass and catch.

4th Quarter, 6:31
Patriots recover Bills' onside kick, putting them in great field position to close out this game.

TOUCHDOWN BILLS
Fitz finds Smith for a touchdown pass. The Bills aren't going away just yet.
Extra point is good.
Score: 42-28 Patriots

4th Quarter, 8:20

Bills convert on third-and-long down for the first time in a while.
4th Quarter, 10:29
Quick everyone! Go pick up Brandon Bolden on your fantasy team!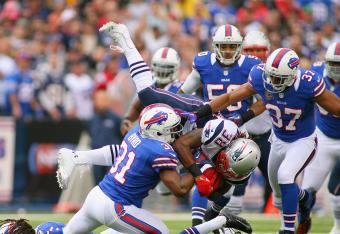 TOUCHDOWN PATRIOTS
Brandon Bolden is having the game of his life: 134 yards and two touchdowns. He just ran through Gilmore for the score.
Extra point is good.
Score: 42-21 Patriots
4th Quarter, 11:19
PATRIOTS GRAB ANOTHER INT

That was a jaw-dropping interception from Devin McCourty.
McCourty has two interceptions in this game.
Is the Pro Bowl version of DMAC finally back???

4th Quarter, 11:37
The Patriots have quickly taken control of this game, now up by two touchdowns.

4th Quarter, 11:42
The Patriots haven't had two running backs with over 100 rushing yards in the same game since 1982!

Both Stevan Ridley and Brandon Bolden have over 100 yards rushing today.
When is the last time you could say that about two Patriots running backs?
TOUCHDOWN PATRIOTS
The running game continues to shine as Stevan Ridley pounds it in for the score.
Extra point is good.
Score: 35-21 Patriots
4th Quarter, 12:00
The Patriots running game looks exceptional today. Bolden and Ridley are getting it done on the ground.
Bolden has 120 rushing yards on the day. Again, this guy wasn't drafted.

4th Quarter, 13:00
The Patriots are knocking on the door, looking to go ahead by two touchdowns.
4th Quarter, 13:26

BRANDON SPIKES FORCES FRED JACKSON FUMBLE
The Patriots have recovered the ball.
4th Quarter, 14:49
It looks like C.J. Spiller may have just re-injured his shoulder on the run.
Bills fans are holding their breath.
This article is
What is the duplicate article?
Why is this article offensive?
Where is this article plagiarized from?
Why is this article poorly edited?