They may not always admit it, but most NFL players have an idea of the betting lines placed on their games.
Especially when they're underdogs.
For a head coach, there's no better bulletin board material than a line featuring a sizable margin in the opposing team's favor, because they know that there's no better way to get a team to play with a chip on its shoulder than to show them when they're being counted out before the game even begins.
From Robert Griffin III's debut performance against New Orleans to Minnesota's stunning victory against the 49ers in Week 3, there have been an impressive collection of upsets through the first three weeks of the 2012 season, and that trend will continue in Week 4.
Here are some of this weekend's games featuring underdogs who will beat the odds and pull off upsets at the expense of heavily favored teams.
New Orleans at Green Bay
According to Sportsbook.com, the current line is Green Bay -7.5, which makes sense considering the 0-3 Saints have been wildly disappointing through the first three weeks of the season.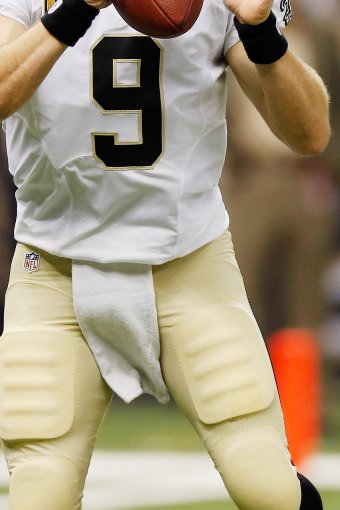 Chris Graythen/Getty Images
However, Drew Brees and the Saints are simply too talented and too experienced to drop four in a row, even on the road against a perennial contender such as Green Bay.
The Packers will be hungry after having a surefire win over Seattle nullified due to the absence of qualified referees, but the Saints will at least temporarily silence their critics by getting a big win at Lambeau Field.
No one would've though that these two heavyweights would each be sitting on 1-3 records after four weeks, but that's what type of season it's been for these two proud franchises thus far.
Prediction: Saints 30, Packers 24
Miami at Arizona
Heading into the season, the Cardinals weren't considered by many to be Super Bowl contenders, but after taking down a pair of powerhouse teams in the Patriots and Eagles, Arizona suddenly looks postseason-bound.
That's why the line for the Cardinals' game on Sunday against the Dolphins is currently set at -6 in Arizona's favor.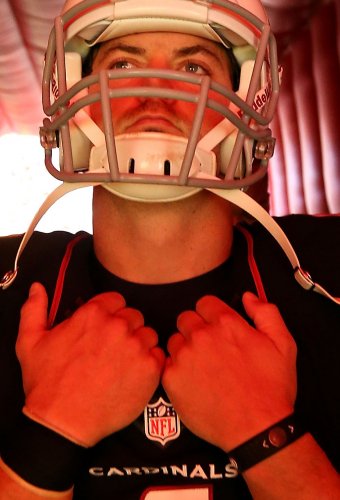 Christian Petersen/Getty Images
Unfortunately for those who have hopped on the Kevin Kolb bandwagon, Reggie Bush and the Dolphins will deal the Cardinals their first loss of the season.
After a lopsided loss to Houston in Week 1, the Dolphins were impressive against both the Raiders and Jets, and though they sit at 1-2, the Jets know they were fortunate to leave Florida with a victory last week.
With Bush healthy, and Ryan Tannehill steadily progressing, Miami will get a much-needed win on the road in the desert on Sunday.
Prediction: Dolphins 24, Cardinals 21
San Francisco at New York
With the 49ers coming off a shocking defeat at the hands of the Vikings, Alex Smith, Vernon Davis and co. will be eager to get back in the "W" column in Week 4, but that won't be easy against the Jets.
At -4.5, the 49ers are obviously expected to leave the Meadowlands with a victory, but after San Francisco's defensive effort against Minnesota in Week 3, Mark Sanchez and the Jets are primed to pull off the upset.
Justin K. Aller/Getty Images
No, Sanchez wasn't good against the Dolphins last weekend, but outside of their 10-point outing against the Steelers, the offense has consistently put up points and that will continue in Week 4.
On Friday, The San Jose Mercury News reported that Davis had been added to the team's injury report, and though he's still probably for Sunday, the 49ers' offense will struggle if their top offensive threat isn't at full strength.
Either way, if New York moves the ball like they did against Buffalo in Week 1, it won't be the 49ers that leave Sunday's game with a 3-1 record, it'll be the Jets.
Prediction: Jets 27, 49ers 20