Updated Scores and Standings from MLB Playoff Race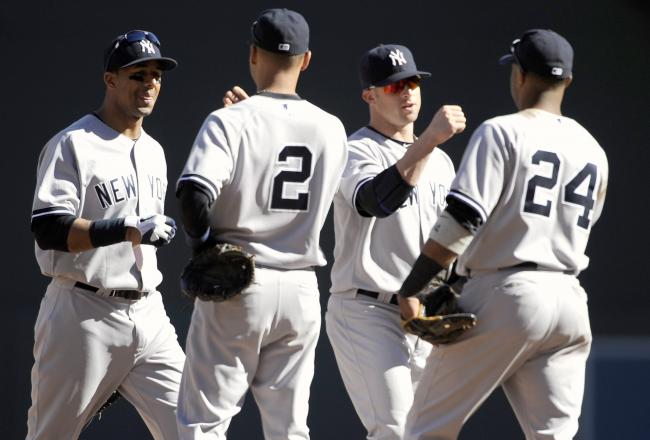 Hannah Foslien/Getty Images
With just six days of action remaining in the MLB regular season, time is quickly running out for teams trying to make a late-season playoff run.
Though some of the races have long since been finished, squads in the AL East, AL Central and both wild-card races have an every-night fight ahead of them the rest of the way.
There are cavalcades of talented squads that are still mathematically eligible for the postseason, but Friday proved to be the elimination date for the Philadelphia Phillies.
Phillies officially eliminated from the postseason with tonight's loss.

— Todd

Zolecki

(@ToddZolecki) September 29, 2012
With some eligible teams still in play, here's a look at the important action happening on the day (all times EDT).
American League
Baltimore Orioles 9, Boston Red Sox 1 - F
Behind a brilliant performance from starting pitcher Chris Tillman, the Orioles put the pressure directly back in the Yankees' laps on Friday night.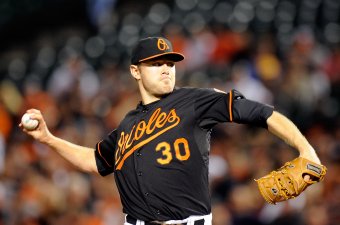 Greg Fiume/Getty Images
Tillman went eight innings strong, allowing just one hit and an unearned run while fanning four Red Sox hitters.
Also showing up big were the Baltimore bats, which shelled Boston starter Aaron Cook and scored six runs in the first inning to put this game away before it even started. Especially brilliant offensively was second baseman Ryan Flaherty, who mashed his sixth home run of the season and had five big-time RBI.
With this being the series opener, the Orioles will look to keep the momentum going over the rest of the weekend.
Red Sox: 69-88 (tied for last in AL East)
Orioles: 90-67 (second in AL East; first in AL wild card)
New York Yankees 11, Toronto Blue Jays 4 - F
The offense mashed the ball and Hiroki Kuroda pitched a fine 5.1 innings as the Yankees held onto their one-game lead over the Orioles on Friday night.
Hannah Foslien/Getty Images
New York started the night off right with a two-run first inning and never really looked back as each starter in the lineup got at least one base hit. The offensive onslaught chased Blue Jays starter Chad Jenkins out of the game after just 3.2 innings, but the bullpen did not fare much better.
Following a 6-0 loss in the series opener, it was critical that the Yankees get back on the winning track. With two more games left over the weekend against a basement-dwelling team, New York is in a great position to take another AL East crown.
Yankees: 91-66 (first in AL East)
Blue Jays: 69-88 (tied for last in AL East)
Los Angeles Angels 7, Texas Rangers 4 - F
Scattering two runs over five hits in seven innings, Angels ace Jared Weaver became the American League's first 20-game winner Friday night.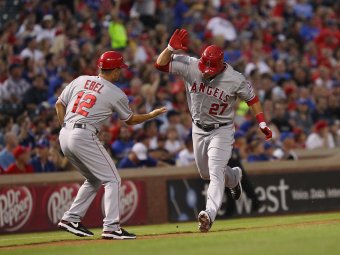 Rick Yeatts/Getty Images
The game was Weaver's fourth straight victory and puts him in even a better position in the Cy Young race. More importantly, the win keeps Los Angeles mathematically in the division hunt while putting more pressure on Oakland to stay ahead.
As for the Rangers, this loss likely just delays their inevitable AL West championship. Nevertheless, with their final six games coming against the Angels and Athletics, things could get interesting if Texas doesn't get back in the win column soon.
Texas is coming off splitting a four-game series against the Oakland Athletics and will look to move closer to securing the AL West title. It would take a mighty collapse for the Rangers to lose the crown, but with their final six games coming against bitter rivals, it could happen.
Angels: 87-70 (third in AL West; third in AL wild card)
Rangers: 92-65 (first in AL West)
Chicago White Sox 3, Tampa Bay Rays 1 - F
Desperate for a win after losing eight of its last nine games, Chicago got a brilliant performance from Gavin Floyd in a strongly contested, low-scoring contest.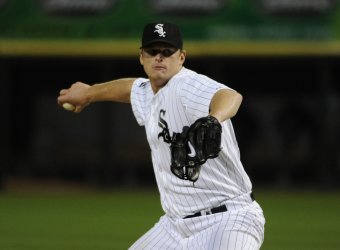 David Banks/Getty Images
Struggling all game with his control, Floyd managed to continually get out of trouble as Chicago slowly accumulated its three runs. With the Tigers' loss earlier in the night, the White Sox are now just one game behind in the AL Central.
The game stops Tampa's eight-game winning streak dead in its tracks and puts the team in a dire playoff situation with just five games remaining. It's likely that the Rays will need to win all of their remaining games just to have a shot at the second wild card spot.
Rays: 86-71 (third in AL East; fourth in AL wild card)
White Sox: 83-74 (second in AL Central; fifth in AL wild card)
Minnesota Twins 4, Detroit Tigers 2 - F
Despite a strong performance from last-minute starter Drew Smyly, the Tigers lost a critical game due to anemic hitting and some big-time bullpen gaffes.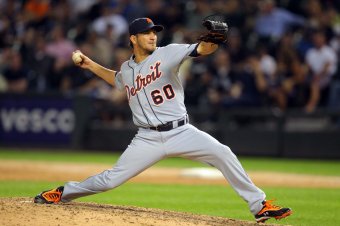 Dennis Wierzbicki-US PRESSWIRE
After falling behind 2-0 in the bottom of the seventh inning off a two-run home run by catcher Ryan Doumit, Detroit stormed back with at two-run shot of its own by Omar Infante in the eighth.
Nevertheless, the win was not to be for the Tigers. Reliever Brayan Villarreal came to keep the score tied in the bottom of the eighth, but struggled mightily with his control, walking three batters and giving up the game-winning runs to Minnesota.
Tigers: 84-73 (first in AL Central)
Twins: 66-91 (tied for last in AL Central)
Oakland Athletics 8, Seattle Mariners 2 - F
Behind a solid performance by A.J. Griffin and the A's bullpen, Oakland took home the win over the lowly Mariners.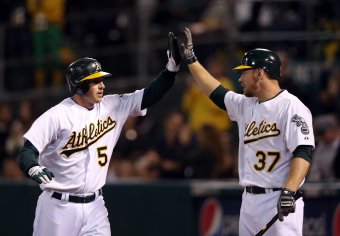 Ezra Shaw/Getty Images
Griffin went 5.2 innings, allowing one run on four hits with two walks and four strikeouts. The A's 'pen allowed one run on two hits over 3.1 innings of work.
Stephen Drew (two-run homer) and Josh Donaldson (two-run single) both contributed a pair of RBI in this game on top of the two runs the Mariners handed the A's with errors.
With this win, Oakland remains in second in the AL Wild Card standings and will stay just three games back of the Rangers for the AL West crown.
Mariners: 73-84 (last in AL West)
Athletics: 89-68 (second in AL West; second in AL wild card)
National League
New York Mets 3, Atlanta Braves 1 - F
While Atlanta's playoff ticket has already been punched, its dream of coming away with the NL East crown is looking bleaker than ever with Friday's loss.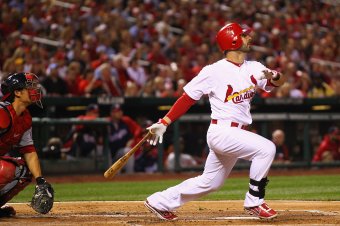 Dilip Vishwanat/Getty Images
Spurred by a seven-inning systematic shutdown of the Braves' lineup by Jonathon Niese, the Mets came away victorious after a three-run home run by Lucas Duda put the team ahead for good.
The Mets have long been eliminated from the playoffs, but playing spoiler to a heated rival has to feel nice in the New York clubhouse.
Down four games with just five remaining, the Braves might be best served to give up in the division chase and focus on winning their upcoming wild-card battle.
Mets: 73-84 (fourth in NL East)
Braves: 91-66 (second in NL East; first in NL wild card)
Houston Astros 7, Milwaukee Brewers 6 - F
A loss on Friday all but ends the Brewers' shot at making the playoffs, as the team sits five games of the final National League wild card spot with as many remaining
Starting pitcher Yovanni Gallardo struggled throughout his six innings of work, giving up eight hits and five runs (four earned) in what was his most important game of the season.
Mired in a meaningless losing season, this win will likely serve as a nice late-season coup for the Astros, but little more.
Astros: 52-105 (last in NL Central)
Brewers: 80-77 (third in NL Central; fourth in NL wild card)
St. Louis Cardinals 12, Washington Nationals 2 - F
The Cardinals stayed red-hot on Friday, shelling Nationals starter Edwin Jackson for nine runs in 1.1 innings and coming away with yet another late-season victory.
Kevin Liles-US PRESSWIRE
St. Louis hit Jackson early and often as the first six men to step up got on base in the first inning and the team relentlessly kept going.
For the Cardinals, this win puts them nearing playoff lock status with just five games to go. Barring an unforeseen collapse, they should easily slide into that second wild card spot and battle the Braves in baseball's new one-game format.
Nationals: 95-62 (first in NL East)
Cardinals: 85-72 (second in NL Central; second in NL wild card)
Los Angeles Dodgers 8, Colorado Rockies 0 - F
The Dodgers got exactly what they expected from their ace, Clayton Kershaw. The left-hander was dominant against the Rockies, going eight innings without allowing a run while he struck out 10 and walked only two.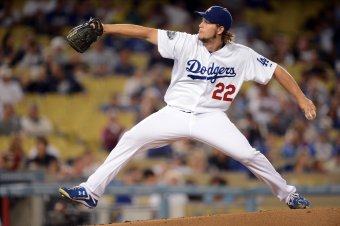 Harry How/Getty Images
Altogether, the Rockies offense was non-existent and only able to muster up five hits against the 24-year-old.
Offensively, Shane Victorino's three-run homer was the biggest hit of the night for Los Angeles and proved to be all the Dodgers would need to win this game.
With the win, the Dodgers will remain three games back of the Cards, who won their game against the Washington Nationals on Friday.
Rockies: 62-95 (last in NL West)
Dodgers: 82-75 (second in NL West; third in NL wild card)
On Deck for Saturday

*All times EDT
NY Yankees at Toronto 1:07 p.m.
Tampa Bay at Chicago White Sox 4:05 p.m.
Detroit at Minnesota 4:05 p.m.
Seattle at Oakland 4:05 p.m.
LA Angels at Texas 4:05 p.m.
Boston at Baltimore 7:05 p.m.
Houston at Milwaukee 7:10 p.m.
NY Mets at Atlanta 7:10 p.m.
Washington at St. Louis 7:15 p.m.
Colorado at LA Dodgers 9:10 p.m.
American League Standings
AL West

| | | | | |
| --- | --- | --- | --- | --- |
| TEAM | W | L | PCT | GB |
| Texas Rangers | 92 | 65 | .587 | -- |
| Oakland Athletics | 89 | 68 | .567 | 3.0 |
| Los Angeles Angels | 87 | 70 | .554 | 5.0 |
AL Central
| | | | | |
| --- | --- | --- | --- | --- |
| TEAM | W | L | PCT | GB |
| Detroit Tigers | 84 | 73 | .535 | -- |
| Chicago White Sox | 83 | 74 | .529 | 1 |
AL East
| | | | | |
| --- | --- | --- | --- | --- |
| TEAM | W | L | PCT | GB |
| New York Yankees | 91 | 66 | .580 | -- |
| Baltimore Orioles | 90 | 67 | .573 | 1 |
| Tampa Bay Rays | 86 | 71 | .548 | 5.0 |
AL Wild Card
| | | | | |
| --- | --- | --- | --- | --- |
| TEAM | W | L | PCT | GB |
| Baltimore Orioles | 90 | 67 | .573 | -- |
| Oakland A's | 89 | 68 | .567 | -- |
| Los Angeles Angels | 87 | 70 | .554 | 1.5 |
| Tampa Bay Rays | 86 | 71 | .548 | 3.0 |
| Chicago White Sox | 83 | 76 | .529 | 5.5 |
National League Standings
NL East
| | | | | |
| --- | --- | --- | --- | --- |
| TEAM | W | L | PCT | GB |
| Washington Nationals | 95 | 62 | .606 | -- |
| Atlanta Braves | 91 | 66 | .580 | 4 |
NL Wild Card
| | | | | |
| --- | --- | --- | --- | --- |
| TEAM | W | L | PCT | GB |
| Atlanta Braves | 91 | 66 | .580 | -- |
| St. Louis Cardinals | 85 | 72 | .541 | -- |
| Los Angeles Dodgers | 82 | 75 | .522 | 3.0 |
| Milwaukee Brewers | 80 | 76 | .513 | 4.5 |
This article is
What is the duplicate article?
Why is this article offensive?
Where is this article plagiarized from?
Why is this article poorly edited?