Ohio State at Michigan State: What We Could Learn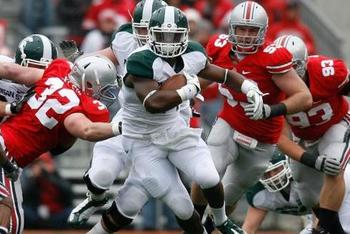 Mostly due to the allure of Urban Meyer, my expectations were massive for this season. Finish 12-0. Put the Big Ten on notice. Treat Brady Hoke and TSUN to some good old fashioned blunt force trauma. Anything else would be a massive disappointment. For most OSU fans, those are pretty much ALWAYS the expectations. But under Meyer, however, we were all more confident than ever.

Unfortunately, anyone who's suffered through these first four games knows that's not the path we're on.
A month in, we as fans find ourselves knee-deep in missed tackles, elementary-level offensive lapses, and a coaching staff that can't quite seem to figure out who they want their team to be.
I'll get into all of that in more detail shortly, but it suffices to say that this much has been clear: Ohio State football is not where we want it to be. Nor is it where we THOUGHT it would be at this point. And frankly, at times it is completely unrecognizable.

Yet, tomorrow the Bucks will take the field in East Lansing to open up the Big Ten season. They'll face a Michigan State team that has myriad problems of their own, yet will probably still pose one of the tougher tests of the season (keep up the good work, Big Ten!). Cupcake season is over, and stuff is about to get real.
Here are three things we know about our beloved Buckeyes, three things we're about to find out, and one confident prediction for tomorrow's outcome...
What We Know, Part I: We'd Go 0-12 Without Braxton Miller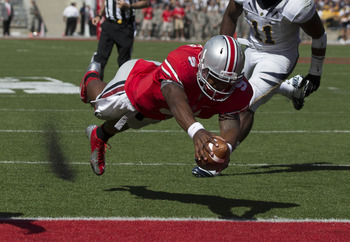 Greg Bartram-US PRESSWIRE
Ok so maybe that's a bit of a stretch.
1-11 would be possible. 2-10 might be in reach.
But let's face it, what's impressed you about this team, besides No. 5? John Simon's massive biceps? Devin Smith's Spiderman catch? The absence of Joe-frickin'-Bauserman?

Alright, I guess that last one's pretty cool, but we've gotta be honest here—this season has basically been Exhibits A through G of the B-Rax Trade Show, and nothing else besides POSSIBLY the emergence of Bradley Roby has given us anything to be excited about.
We should cherish every moment of Miller, because when it's all said and done, he'll finish with better numbers than Troy Smith, one Heisman (at least), and the somewhat-less-than-prestigious distinction as the best OSU quarterback of all time.
What We Know, Part II: Defense Needs Playmakers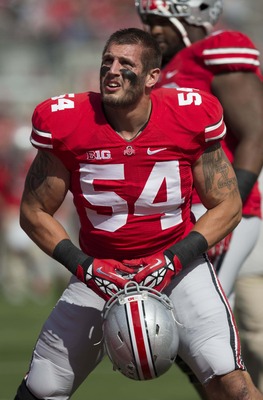 Greg Bartram-US PRESSWIRE
Remember that one time when we played Florida in that semi-big game a while back and they walked all over our face?
Well, as if it hasn't been said a trillion times, that game was decided in the trenches, and by that I mean Florida's fast, agile front seven made Ohio State look like fat kids wrapped in bacon. They ran around us, through us, and basically right over top of us for 60 minutes, and probably single-handedly robbed Troy Smith of a few mil in draft dollars.
Well, that rotation of thoroughbreds was recruited and coached up by none other than Urban Frank Meyer, and from the looks of it, he's got some more of that special sauce brewing in C-bus.

Despite the best efforts of co-defensive coordinator/charity case Luke Fickell, Meyer's prized recruits Noah Spence and Adolphus Washington have been working their way into the D-line rotation, and have looked good doing it.
Spence is the pure pass-rusher. Washington is the "I look like I'm a five-year NFL vet" tackle. Together, they're showing already why they'll be one of the best D-line tandems OSU has seen.
Simply put, Fickell (who is also the D-line coach) needs to take a couple swigs of whiskey and just agree to roll with these guys, for better or worse. Toss Garret "obligatory run-stuffing white dude" Goebel in on rush downs if need be, but this D-line's core needs to be Simon at the strong side, Spence at the weak side, and Washington/Jonathan Hankins at the tackles.
As has been shown umpteen times over, this defense will make mistakes anyway. You may as well get your most electric playmakers on the field.
What We Know, Part III: Urban Meyer Is Not Unstoppable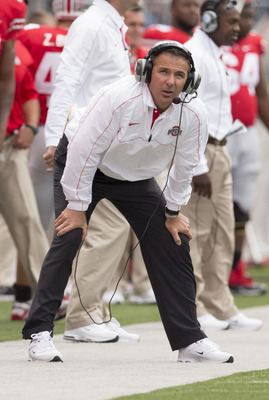 Greg Bartram-US PRESSWIRE
Put down your potato guns, Buckeye fans, I'm not about to bash the Urb.
In fact, I love the Urb. I have an Urb shirt. I have the Urb plastered all over my computer screen at work. I even own one of those Urban Meyer bobbleheads that Donatos gave out, even though the closest Donatos is about six hours away.
However, I don't think I was alone in thinking that just by stepping on campus, UFM would turn last year's 6-7 atrocity back into a national powerhouse. As it turns out, it's more complicated than that.

Sure, the undefeated season (something we at one point all assumed to be an inevitability) is still in play. We're 4-0, after all, and the Big Ten is currently terrible.
But this team has holes. Massive, giant, drive-a-car-through-em holes. The offense disappears for quarters at a time. The special teams had a punt blocked by UA-freaking-B.
And the defense may as well line up in a 4-1-6 umbrella formation 'cuz Etienne Sabino and Curtis Grant have treated the linebacking position like an 8 a.m. art history class. (Seriously, the fact that Storm Klein is seeing time in there should be enough to make all of us want to kick something.)
So what I'm saying, I guess, is that any time a coaching staff turns over, there's going to be really evident growing pains. Even if the new guy does spend his spare time mounting unicorns and curing cancer.
What We'll Learn, Part I: Is the D Really That Bad?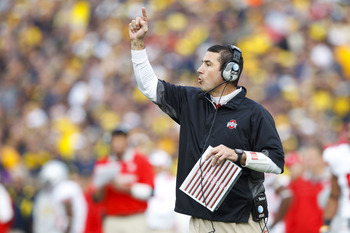 Rick Osentoski-US PRESSWIRE
To put it really plainly, DEAR GOD I HOPE NOT.
In case anyone is still reading this that isn't a Buckeye fan (bravo to you, by the way), the OSU defense has been subpar by most standards and downright pukey by tOSU standards (which, incidentally, are the only standards that matter, ever.)
What all of us Bucknuts are used to is a defense that does three things really well.
One, they completely smother the run. And while a lot of what's been throw at this team so far is three-step drop, spread-passing type stuff, they also allowed a third-string sophomore from Cal named Brendan Bigelow to run for 160 yards and two touchdowns, making everyone from Dayton to Akron wonder what-the-Biakabutuka was going on.
Two, they swarm to the football. Seriously guys, all this really requires is energy and an unwillingness to quit on a play. Just run over there and jump on the damn pile, please. All of us will feel a lot better.
And three, every Buckeye defense that I can remember has known how to tackle. I sat with my wife for one defensive series against UAB and counted seven missed tackles. Seven. On one series. Against UA-freaking-B (not bitter about that game at all, btw).
Put me, my one-armed cousin, and my malfunctioning ipod out there and I guarantee you we'll whiff less.
This weekend, OSU will be butting heads with a 240-pound wrecking ball by the name of Le'Veon Bell. It's all MSU really has, so it shouldn't be hard to stop if we've got the talent on defense that we thought.
What We'll Learn, Part II: Who Are Our Playmakers?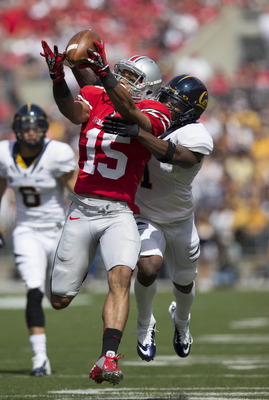 Greg Bartram-US PRESSWIRE
To be fair, we may never really answer that question, or at least not until next season.
We could spend the next eight games flirting with the inconsistent skill sets of Jake Stoneburner (disappears at times), Philly Brown (good, not great) and Devin Smith (catches one, drops two) and never truly carve out an offensive identity.
So far, Braxton Miller has zero consistent, reliable targets. For every offensive possession that clicks, there are about four that stall because people weren't in the right place or just couldn't come down with the ball.
However, I'm a firm believer in the old adage that big players emerge in big games. Ideally, Carlos Hyde would channel his inner-Beanie, Stoneburner would be the reliable possession guy, Smith would be that fly-pattern flash and dazzle man, and Jordan Hall/Philly Brown would make moves in the flats.
And while consistent production in all those areas may be a bit much to ask (especially by tomorrow), I think we'll at least begin to see who's ready to shine and who's going to fade into that OSU recruit Gotye oblivion.
What We'll Learn, Part III: How Will We Remember This Team?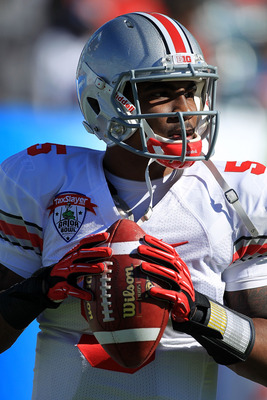 Scott Halleran/Getty Images
Again, the answer to that question certainly won't come clear after tomorrow.
We could go winless for the next eight weeks, but as long as we beat TSUN 70-2 we'll be talking for decades about "that team that caused Brady Hoke's first of seven coronaries yet still somehow gave up a safety."
However, this team needs an identity badly. Every OSU team has had one. Even last year's team had one, even if it was best characterized by the look of abject confusion/frustration on the face of Luke Fickell.
Coming in, I was hoping Urb's first team would be exciting, cutthroat and fundamentally sound (possibly a carryover from the teachings of Tress). So far, they've been disjointed on offense, boring on special teams and, well, a mess on defense. Still, I'll revert back to my earlier assertion: The games are just now beginning, and big players emerge when the bright lights come on.
With Braxton at the helm, this offense still has a chance to really define the team as a run and gun, blow-em-out squad. The receivers just need to pick up some slack. On the other side of the ball, for every big lead the O puts up, there's a talented group of defensive linemen and two NFL-caliber corners waiting to feast on a passing attack (assuming one of those even exists in today's Big Ten).
That's what I'm hoping to see, until Fickell/Meyer/Everett Withers can coax the linebackers/safeties into stopping a nose bleed. I say take no prisoners on offense and throw caution to the wind on D. Win games 49-27 if you have to.
Don't worry, traditionalists Jim Tressel/Woody Hayes aren't here anymore, so you won't have to worry about someone telling you to "do a better job" and/or punching you in the neck.
The Prediction...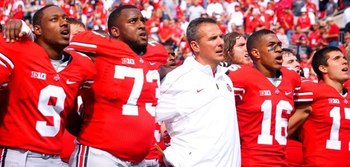 I think that the Scarlet and Gray will come to play tomorrow, despite what they've shown.
If there's one thing I've always hated (before) and loved (now) about Urban Meyer, it's his obvious competitive zeal. He hates to be shown up, especially in the big games. It's a refuse to lose mentality, and he just exudes it.
I think the slog-fest vs. UAB was a wake-up call. My feeling is Meyer sat down with his coaches Sunday and told them exactly what needed to happen should this team want to win in the Big Ten.
I say Braxton manages the game well, converts third downs when he needs to, and the special teams units (Meyer's baby) will come up big, even if the defense can't quite contain Bell. As they often do, Ohio State silences upstart MSU, and the Urban Meyer era officially begins.

Ohio State 31, Michigan State 20
For more from Reed Domer-Shank, visit his blog: J O U R N E Y M E N . You can also follow Reed on Twitter: @ReedDS20, or contact him directly at Reed.Domershank@gmail.com.
Keep Reading

Ohio State Football: Like this team?