Green Bay Packers: 4 Players Who Need to Step Up for the Pack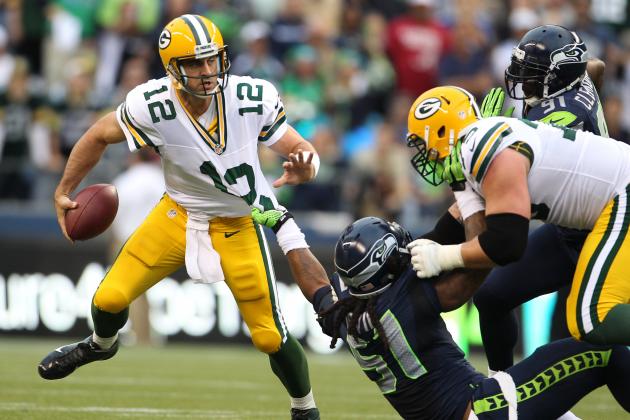 Kevin Casey/Getty Images
Pass protection involves both the O-line and QB.
Oh, Green Bay Packers: how you must be feeling right now after Monday's debacle.
Following the most egregious missed call in the history of the NFL, the Pack find themselves at 1-2 instead of 2-1, dropping them into a tie for last place in the NFC North.
"Touch-ception" or not, the Packers have underperformed in areas where they usually dominate, and outperformed expectations in areas where they typically fail.
The high-powered offense ranks 26th when it scored the most points in the league last season. On the other side of the ball, the total defense occupies the No. 3 slot—made all the more astonishing when one considers its historical futility in 2012.
That defensive strategy in this year's draft has clearly paid dividends.
But that's just one of the few positive developments for Green Bay this season.
Let's move to the pessimistic side of things and identify the four players who need to step up for the Packers.
Begin Slideshow

»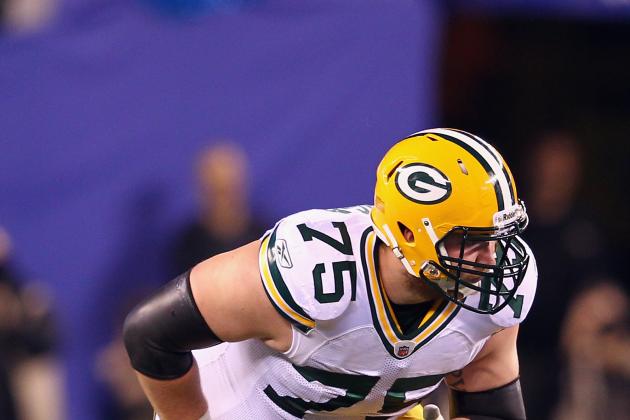 Al Bello/Getty Images
The former Iowa lineman has struggled mightily.
As far as right tackles are concerned, there haven't been many—if any—who have played as poorly as Bulaga.
The three-year vet out of Iowa has allowed three sacks, two QB hits and 12 QB hurries. Add those together and you have one of the lowest-rated quarterback protectors in all of football.
Seahawks rookie Bruce Irvin absolutely manhandled Bulaga with power moves on Monday. He twice allowed Irvin to get to Rodgers—all in the fourth quarter, mind you.
The powerful pass-rusher burned Bulaga again in the second quarter. At least this time he kept Irvin from getting to Rodgers, albeit via an obvious hold and takedown.
To be fair, Bulaga stepped up in the second half and didn't allow another sack.
Overall, however, the Packers' right tackle must improve immensely in both pass protection and as a run-blocker.
He can't have rookies like Jonathan Martin, Bobby Massie and Kelechi Osemele taking him to school in just their first NFL campaign.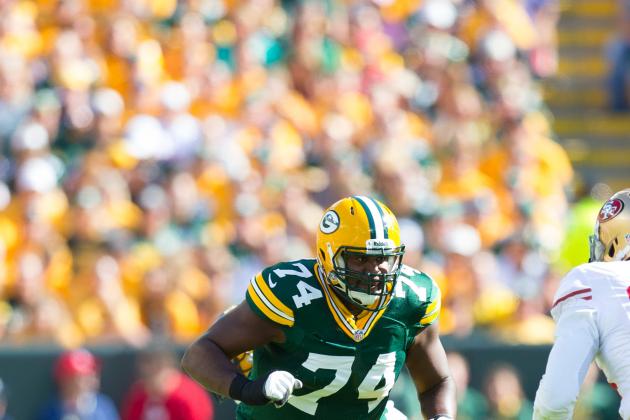 Jeff Hanisch-US PRESSWIRE
Newhouse prepares for a 49ers' pass rush.
The theme of underachieving offensive tackles continues with Marshall Newhouse.
On the one hand, the left tackle has performed substantially better than his counterpart on the right side.
That said, Newhouse hasn't been any sort of a stud himself. His three sacks allowed rank second most out of NFL tackles.
Chris Clemons made him look well overmatched on an inside move for a sack of Rodgers on Monday night. Newhouse could also have hustled more from the backside during a sack on the very next play (Rodgers' complicity notwithstanding).
Although, what's more concerning is his work in run blocking.
It goes without saying that Green Bay is a pass-first offense, having thrown the ball twice as much as designed run plays. Yet, with the offensive line having allowed a ghastly 16 sacks through three games, it is imperative that the Packers create some balance.
Newhouse must shore up his issues in clearing lanes for his running backs for the Pack to achieve this balance. He must expand his repertoire beyond pass protection so as to make an honest unit out of opposing defenses.
A successful run game will prevent pass-rushers from pinning their ears back and focusing solely on Rodgers. It'll also increase the effectiveness of play action, which will then bolster the passing attack.
Killing multiple birds with one stone—if Newhouse becomes a better run-blocker, that old proverb will come to fruition on the NFL gridiron for the Pack.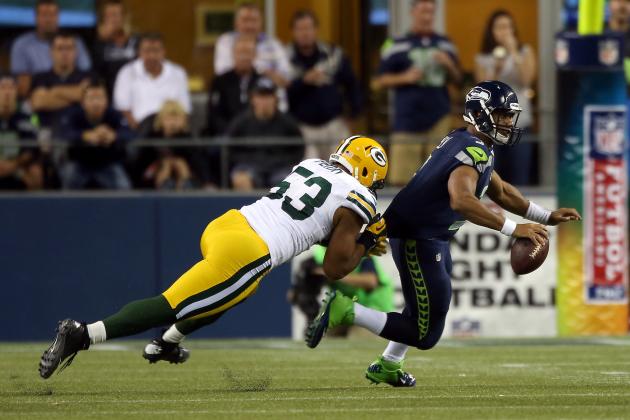 Otto Greule Jr/Getty Images
Again, Perry doesn't have any difficulty getting after the QB.
Evaluating Perry as a player in need of stepping up involved more considerations than his O-line brethren.
First of all, Perry's mere presence has worked wonders for this Packers defense.
He provides another pass-rushing dynamic opposite Clay Matthews. It frees him up by shifting the defense's lone focus (as with defenses and Rodgers) from just one pass-rusher to two.
Matthews has absolutely thrived with Perry on board to the tune of seven sacks, a combined 10 QB hits/hurries and a shutdown role in the run game.
Speaking of which, that is one of the areas that Perry must improve. He rates as the second worst against the run among 3-4 outside linebackers, according to Pro Football Focus.
Moreover, PFF has him as the lowest-ranked OLB when it comes to performance in coverage. Quarterbacks are 5-of-5 with a rating of 116.7 when throwing in Perry's direction.
Taken together, these were the two knocks against Perry coming out of USC. Could he do more than just rush the passer? Could he stop the run and cover backs and tight ends?
Well, in the early goings, Perry has done a fine job getting after the QB.
But he still needs to provide more satisfactory answers to those questions.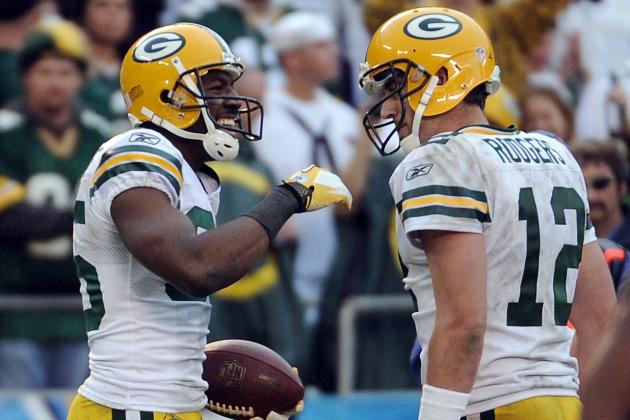 Harry How/Getty Images
Jennings and Rodgers need to step up their respective games.
This facet of the Packers simply contains too many moving parts to confine it to one player.
We've already identified some of the deficiencies in the offensive line. Now it's time for an evaluation of the quarterback.
Aaron Rodgers has been okay thus far in 2012, but not anywhere near his established performance standards of the past. Through three games last season, Rodgers totaled 917 yards, eight touchdowns (one INT) and a rating of 121.1.
Video game-type stuff—this we realize.
In comparison, he's thrown for 745 yards, four touchdowns, two interceptions and a rating of 87.0 this year. Quite the downgrade—this we also surely understand.
He's also taken unnecessary sacks and completed far fewer passes this year. The second of which amounts to a 67.8 versus a 71.3 completion percentage.
Rodgers simply needs to step up his game. The higher quality of defenses he's faced this season isn't a viable excuse—especially for the league's reigning MVP.
As for his top two receivers, they also have been less than stellar in the early goings of the 2012 campaign.
Jordy Nelson has been solid but not great so far. In Week 2, he posted a six-catch, 84-yard day against the Bears. When looking back to 2011, however, Nelson had that output with one catch, not to mention the touchdown passes he hauled in through three games.
Greg Jennings—although hobbled a bit by a groin injury—has not performed up to expectations either. He racked up 263 yards and two scores last year compared to just 69 yards, zero scores and a measly 6.3 average per catch through two games this season.
He's also caught just 11 of his 19 targets. Some of this is on Rodgers, but Jennings is far from his usual self.
Thankfully, the Packers square off against the 0-3 Saints at Lambeau Field on Sunday.
One should expect all of these aforementioned players to indeed step up and officially put the kibosh on New Orleans' season.
Follow me on Twitter @jlevitt16.