UFC on Fuel TV 5 Results: Live Reactions and Play-by-Play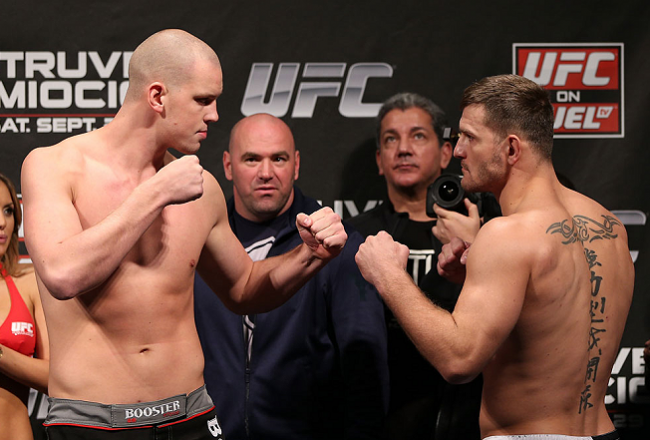 (Photo by Josh Hedges/Zuffa LLC/Zuffa LLC via Getty Images)

Stay tuned here for live coverage and reaction for UFC on Fuel TV 5 on Saturday in Nottingham, England. In the meantime, here's a rundown of the main and preliminary cards...
Main Bouts (on Fuel TV)
Stefan Struve vs. Stipe Miocic
Dan Hardy vs. Amir Sadollah
Brad Pickett vs. Yves Jabouin
Paul Sass vs. Matt Wiman
John Hathaway vs. John Maguire
Che Mills vs. Duane Ludwig
Preliminary Bouts (on Facebook)
Kyle Kingsbury vs. Jimi Manuwa
Andy Ogle vs. Akira Corassani
Tom Watson vs. Brad Tavares
Gunnar Nelson vs. DaMarques Johnson
Jason Young vs. Robert Peralta
UFC Nottingham Start Times
Preliminary Bouts on Facebook: 1:30 p.m. ET/10:30 a.m. PT
Main Card Bouts on Fuel TV: 4 p.m. ET/1 p.m. PT
Stefan Struve vs Stipe Miocic
Official Result: Stefan Struve defeats Stipe Miocic by TKO. The stoppage came at 3:50 in the second round.
Stefan Struve vs Stipe Miocic
Round 2: The round begins and an inside legkick lands to the groin of Stipe. Miocic landing well tothe body and when he looks for a single leg, Struve grabs for a choke. Struve finally starts to use his reach and fires off some jabs. Struve has round his range and lands punches that force Miocic to literally run away. Struve follows in pursuit and lands two huge uppercuts. More uppercuts from Struve. Struve is leaving his chin wide open and Miocic lands a big hook over the top that rocks Struve. Several right hands wobble Miocic. Miocic is hurt and Struve pours it on with uppercuts. Miocic tries to survive but he's out. Impressive round from Stefan Struve.
Stefan Struve vs Stipe Miocic
Round 1: Body punch from Miocic lands cleanly. Struve lands a big knee down the middle. Nice 1-2 combination from Miocic. Miocic is attacking the body early. Head kick from Struve and then he pushes forward. More bodywork from Miocic. Knee down the middle from Struve. Struve steps in with another knee and Miocic takes him down and lands a big punch from the top before stepping out. Struve is rocked by a hook and slips a bit into the cage. Miocic really going after the body. Struve with a knee to the midsection and then an outside leg kick. Miocic responds with an outside legkick of his own. 10-9 Stipe Miocic
Amir Sadollah vs Dan Hardy
Official Result: Dan Hardy defeats Amir Sadollah by Unanimous Decision. The scores from the judges were 29-28, 29-28, 30-27
Amir Sadollah vs Dan Hardy
Round 3: These guys are still going at it. This is a great display of conditioning and heart. They trade punches and Sadollah clinches up against the fence. They break and Hardy lands a big knee and elbows to the face that bloody Sadollah up. Hardy scores another takedown and he finally has Sadollah flat on his back. That was his best takedown yet and he's being very active from the top with punches and elbows. Sadollah's face is a mess. Sadollah is able to get back to his feet but takes a knee to the face. Hardy lands a combination and then drives for another takedown. Easy round for Dan Hardy who looked as good as we've seen him in the UFC. 10-9 Dan Hardy
Amir Sadollah vs Dan Hardy
Round 2: They're right back to it as the second round begins. Hardy with a hard chopping leg kick to the outside of the knee. Sadollah lands a counter left hand. Hardy lands to the body with a straight. Nice right hand backs Sadollah up. Hardy throws punches and then lifts Sadollah up before slamming him to the mat. Sadollah is back to his feet and has an awkward body lock. Hardy turns Sadollah into the fence and then breaks. Sadollah responds with punches and knees. As Sadollah comes forward Hardy changes levels and scores the takedown. Big punch form the top for Hardy but Sadollah is working for submissions. Short shots form Hardy to close the round. 10--9 Dan Hardy
Amir Sadollah vs Dan Hardy
Round 1: Sadollah takes the center of the cage and fires off two right hands. Combination form Sadollah is blocked. Hardy counters a body kick with two punches. High kick from Sadollah. Nice work from Hardy to keep from range and land a couple solid left hooks. Sadollah working kicks to the body. Inside leg kick from Amir. Two left hooks from Hardy as Sadollah comes in. Quick jab from Hardy. Sadollah comes forward and gets a bodylock against the cage. Hardy reverses and turns Sadollah into the cage. Nice inside elbow from Hardy as well as knees to the body. Sadollah lands an uppercut on the break. Hardy lands a combination that stuns Sadollah but Amir fires back with uppercuts. Hardy looks for a double leg and they clinch against the cage. More dirty boxing from clinch. 10-9 Dan Hardy
Yves Jabouin vs Brad Pickett
Official Result: Brad Pickett defeats Yves Jabouin by knockout. The stoppage came at 3:40 in the first round.
Yves Jabouin vs Brad Pickett
Round 1: Accidental eyepoke as they start the fight. Pickett lands to the body and Jabouin responds with punches. His boxing looks good early on. Pickett stalking but not moving as well as Jabouin. Knees form Jabouin slow Pickett down. Nice left hook from Pickett as he slips a punch. Awesome exchanges as they both land hard hooks. Beautiful knee to the body from Jabouin. It's tough keeping up with their output. Jabouin is finding a home for his right hook. Spinning back kick from Jabouin lands to the body. Pickett tries a takedown but can't get him down. Massive uppercut from Pickett drops Jabouin. Two punches on the ground and Yves Jabouin is OUT COLD.
Paul Sass vs Matt Wiman
Official Result: Matt Wiman defeats Paul Sass by armbar. The submission came at 3:48 in the first round.
Paul Sass vs Matt Wiman
Round 1: Wiman throws a kick and Sass gets the quick takedown. Wiman locks up guard and is doing well to control posture. Elbows from the bottom from Wiman. Sass tries to pass to moutn and Wiman sweeps. Sass uses an omoplata to sweep and Wiman controls by threatening a guillotine. Wiman has a triangle and Sass escapes. Sass throwing big punches from the top. Wiman throws his legs up and threatens with an armbar. Sass rolls and Matt Wiman locks up the arm. WOAH! Paul Sass taps!
John Hathaway vs John Maguire
Official Result: John Hathaway defeats John Maguire by Unanimous Decision. All three judges scored the fight 30-27.
John Hathaway vs John Maguire
Round 3: Hathaway back on the attack and Maguire continues to press the fight. Maguire really isn't doing ANYTHING. Hathaway with a beautiful knee to the body. Hathaway runs in and Maguire lands a counter hook but he doesn't follow up. Straight right hand down the pipe for Hathaway. Hathaway has decided to just throw elbows and lands two of them cleanly. Maguire finally decides to press the action but that's short lived. Maguire shoots a single and puts Hathaway on his back. He has a minute and twenty seconds to finish this fight. He passes to side control and throws some punches but that's not enough to steal the round. 10-9 John Hathaway
John Hathaway vs John Maguire
Round 2: Maguire continues to back away and Hathaway charges forward and clinches up against the fence. Hathaway powers his way to a bodylock takedown and starts working from halfguard. Hathaway is landing small punches before standing. Maguire throws his legs up in a triangle but it's not much of a threat. Hathaway landing punches from the top and then stands again. He's trying to find a good position and settles into guard again. Hathaway fully postured up and landing punches to the face and body. 10-9 John Hathaway
John Hathaway vs John Maguire
Round 1: Outside leg kick for Hathaway. Maguire is keeping distance well but lands a clean left hand down the pipe. Inside leg kick from Hathaway. Hathaway closes the distance and lands a step knee. Connects on a head kick as well. Hathaway walking Maguire down and he lands another head kick. Maguire hasn't done much at all. Hathaway closes the distance again and Maguire lands a nice uppercut. Pretty good round so far for Hathaway but Maguire isn't looking good. Can't find his range and keeps circling into Hathaway's power hand. Maguire connects on a counter right hand as Hathaway steps in. 10-9 John Hathaway
Che Mills vs Duane Ludwig
Official Result: Che Mills defeats Duane Ludwig due to injury. The stoppage came at 2:28 in the first round.
Che Mills vs Duane Ludwig
Round 1: Mills throws a jab. He then grabs a clinch and throws uppercuts and knees before taking Ludwig to the ground. Mills working from sidecontrol but Ludwig stands. Ludwig drags it right back down and is back to working elbows to the head and knees to the body. Ludwig regains guard and as Mills stands and Ludwig is back to his feet. Ludwig tries a takedown and falls to his back and taps. Looks like a leg injury. Bummer, I was looking forward to this fight.
Kyle Kingsbury vs Jimi Manuwa
Official Result: Jimi Manuwa defeats Kyle Kingsbury by Doctor Stoppage (TKO). The fight was called in between rounds two and three.
Kyle Kingsbury vs Jimi Manuwa
Round 3: There's no round 3. Kyle Kingsbury can't see out of his left eye. His face is a mess. Good call from the doctor.
Kyle Kingsbury vs Jimi Manuwa
Round 2: Apologies, my computer froze up the first round and just unfroze. Kick to the body from Manuwa that drops Kingsbury. He's getting completely nuked. Manuwa sets up a Peruvian necktie but can't finish it. Manuwa lazy as he stands and Kingsbury takes him down. Left hook from Manuwa. And another. And a right hand. Kingsbury hits a double leg but that's all heart. He's getting tooled in this fight on the feet. Short elbows from Kingsbury to the head as the round comes to a close. 10-9 Manuwa
Andy Ogle vs Akira Corassani
Official Result: Akira Corassani defeats Andy Ogle by Split Decision. The scores were 29-28 Corassani, 30-27 Ogle, 29-28 Corassani
Andy Ogle vs Akira Corassani
Round 3: Corassani lands to open the third. Ogle shoots a lazy double and abandons it quickly. Ogle drops for another takedown and as he comes up Corassani lands a high kick. Ogle back to the takedown and he gets it. Corassani is warned for grabbing the fence. Ogle is working to take his back and Corassani is trying to stand up. Ogle is throwing elbows to the side of the head which makes Corassani drop down. Corassani can't escape this position, he's just getting peppered with elbows and punches. He's bleeding all over the mat . More elbows from Ogle and he's just dominating Corassani on the ground. He's totally trapped. Ogle ending this round strong and this is a domination. 10-8 Andy Ogle.
Andy Ogle vs Akira Corassani
Round 2: Ogle goes downstairs with a punch to the body and then attacks the head. Corassani isn't as active this round as Ogle is pushing the action with punches. Ogle drops for a takedown and Corassani just rag dolls him aside. Corassani finally pushing the action and he's landing clean with combinations. Ogle leaves his chin open and Corassani lands flush with a hook. Ogle throws one punch and then drops for a takedown. He gets a double leg and is controlling the head but not doing much to do damage. Corassani is staying calm as Ogle has a guillotine set up. Ogle gives up on the choke and starts throwing punches. He gets dropped as the round ends by Corassani. 10-9 Akira Corassani.
Andy Ogle vs Akira Corassani
Round 1: Neither fighter wants to commit early as they keep a ton of distance. Very tentative opening. Corassani lands the first significant strike with a nice right hand. Corassani attempts a high kick and Ogle counters with a left hook. Corassani has a small cut over his eye. Ogle has a knot on his head likely from an accidental clash of heads. Ogle drops Corassani with a right hand and dives forward to stop the fight. Corassani is back to his feet and lands punches to the body. Corassani with a spin kick. Akira lands a right hand that has Ogle retreating. Combination from Corassani. He follows up with a clean right hand. And again. Ogle's head is looking ridiculous with that gigantic lump. Akira is stalking and Ogle keeps circling away. 10-9 Akira Corassani.
Brad Tavares vs Tom Watson
Official Result: Brad Tavares defeats Tom Watson by Split Decision. The judges scored the bout 30-27 Tavares, 29-28 Watson, 29-28 Tavares.
This article is
What is the duplicate article?
Why is this article offensive?
Where is this article plagiarized from?
Why is this article poorly edited?