10 MLB Prospects Who Could Be the Next Miguel Cabrera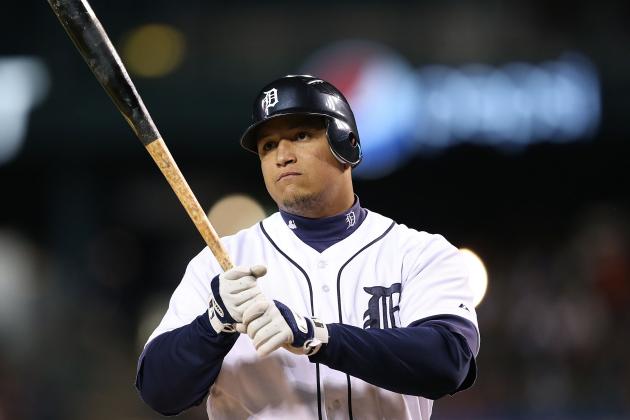 Leon Halip/Getty Images

With only six games remaining in the regular season, Miguel Cabrera isn't only chasing a playoff berth; the 29-year-old is also chasing baseball history.
Headed into Friday's game against the Minnesota Twins, Cabrera is on the verge of capturing the Triple Crown. He leads the league with a .326 batting average and 133 RBI, and is one home run shy of tying Josh Hamilton's present total of 43.
Since breaking into the major leagues with the Florida Marlins as a 20-year-old in 2003, Cabrera has been regarded as one of the top hitters in the game. With one quick glance at his career stats, you can understand why: .318/.394/.560, 1,759 hits, 386 doubles, 319 home runs, 1,117 RBI and 1,104/708 K/BB in 1,506 career games.
If we now turn our attention towards the future of the game, I ask you this, loyal Prospect Pipeline readers: Is there a prospect with the potential to be the next Miguel Cabrera?
It's doubtful, as Miggy is a rare breed of hitter.
However, there are plenty of third-base prospects—some are future third-base prospects that will likely need to move from their current position—with tons of upside, especially at the plate.
Begin Slideshow

»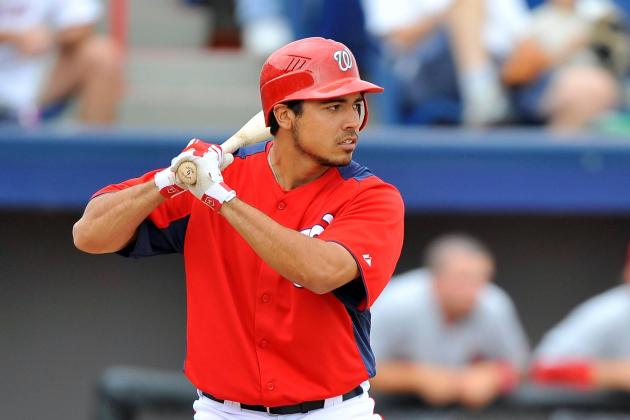 Brad Barr-US PRESSWIRE

2012 Stats (Rk, SS, A+, AA): .233/.363/.489, 18 XBH (6 HR), 29/23 K/BB (43 G)
Regarded as the top hitter in the 2011 draft class, Rendon entered the 2012 season on the Nats' 40-man roster and seemingly already on the fast-track to the major leagues.
However, he broke his ankle in the second game of the year with High-A—his third ankle injury in as many years—and was sidelined until late-July. However, in what is considered a lost year, the 22-year-old still managed to finish the season at Double-A.
If he's able to stay healthy in 2013, expect to see him on the Nationals' infield later in the season.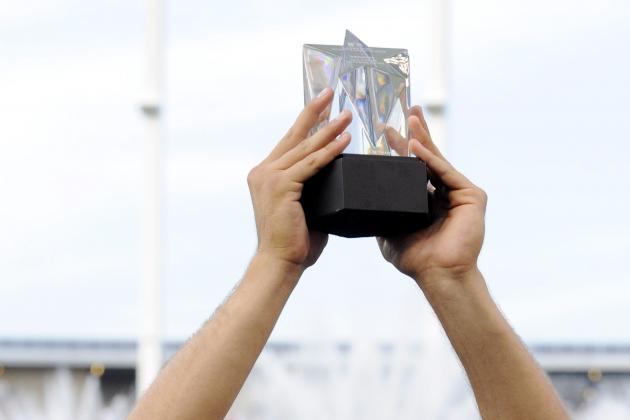 H. Darr Beiser-USA TODAY

2012 Stats (A+, AA): .320/.365/.451, 46 XBH (10 HR), 118/36 K/BB (134 G)
After leading the Midwest League (Low-A) in hits as a 19-year-old in 2011, Castellanos began this past season at High-A, where he absolutely raked. With a .405 batting average over 55 games, he was promoted to Double-A and challenged for the first time as a professional.
Still, the 6'4", 210-pounder had a phenomenal overall campaign, and he even saw extensive playing time in right field in preparation of a potential September call-up. Third base is still his best position, but the ability to play a corner outfield position could have him in the major leagues next season.
Courtesy of scout.com
2012 Stats (A-): .258/.373/.521, 62 XBH (28 HR), 100 RBI, 144/80 K/BB (129 G)
Now regarded as the top power-hitting prospect in the minors—following Bryce Harper's promotion to the major leagues in late April—the 6'3", 195-pounder possesses absolutely robust power to all fields.
While strikeouts will likely always be a part of his game, he'll need to cut down on his 2012 total (144) to succeed at more advanced levels. However, it's encouraging that the right-handed hitter is already adept to drawing walks.
As he gets stronger, Sano's power will only continue to improve. If he can make improvements in his plate discipline, the 19-year-old has the potential to be a very, very special hitter.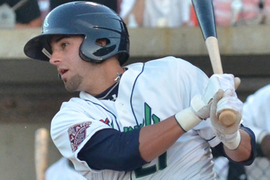 Courtesy of MiLB.com
2012 Stats (A-, A+): .276/.358/.452, 54 XBH (16 HR), 103 RBI, 14 SB, 111/67 K/BB (135 G)
Over the course of the season, Cowart, in his age-19 season, went from a fringy prospect to an easy top-100 overall player.
A switch-hitter with raw power and a quick bat from both sides of the plate, he vastly improved his plate discipline this season and proved to be a legitimate run-producer (103 RBI). He also began to show more frequent power at both Low-A and High-A, as his ringing doubles started clearing more walls.
Cowart also received looks as a pitcher as an amateur—he was also the 2010 Gatorade National Player of the Year, in case you were interested—thanks to a mid-90s fastball. That arm is more than enough to stick at the hot corner, and he should retain his athleticism as he matures physically.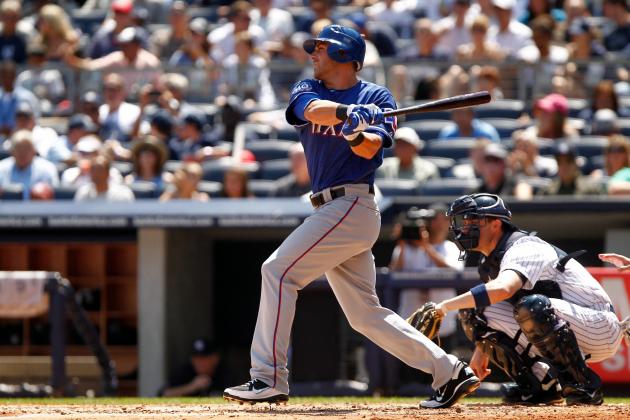 Debby Wong-US PRESSWIRE

2012 Stats (AA): .288/.398/.579, 46 XBH (28 HR), 82 RBI, 101/61 K/BB (95 G)
MLB: .156/.256/.188, 5 RBI, 13/5 K/BB (15 G)
Since entering the Rangers' system in 2010, Olt has done nothing but raise his already high ceiling. The 6'2", 210-pound right-handed hitter has plus power to all fields, and should actually hit for a higher average than is currently expected.
Even though he's an above-average defensive third baseman, Olt's athleticism should also give him the opportunity to play either right field or first base on occasion.
Promoted from Double-A Frisco to the major leagues in early August, the 24-year-old has appeared in only 15 games and is currently sidelined with plantar fasciitis.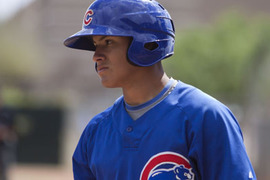 Courtesy of MiLB.com
2012 Stats (A-, A+): .294/.346/.543, 35 XBH (16 HR), 24 SB, 69/14 K/BB (80 G)
The ninth overall pick in the 2011 draft, Baez was considered one of the better amateur hitters in the class. He swings the bat with authority at all times and boasts raw power that should grade out as above-average when he reaches the major leagues.
However, he's a free swinger who rarely sees a pitch he doesn't like, and will therefore need to refine his plate discipline as he ascends the Cubs' system.
While his quietly-good athleticism, sure hands and above-average arm are enough to stick at shortstop at the moment, Baez will likely end up at third base as he fills out and presumably loses a step.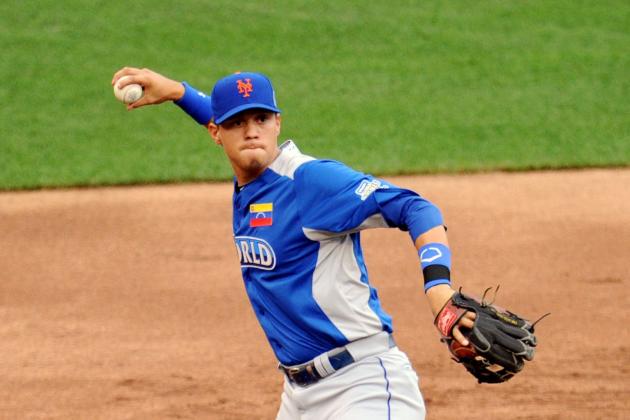 Peter G. Aiken-US PRESSWIRE

2012 Stats (A+, AA): .300/.349/.479, 50 XBH (18 HR), 75 RBI, 60/38 K/BB (130 G)
At 6'3", 190 pounds, Flores has been slow to develop in all facets of the game. A shortstop when he entered the Mets' system in 2008, the 21-year-old adapted to a new position this year, third base, and has seen his error total reduced by half.
Beginning the season at High-A St. Lucie, his third straight year at the level, Flores showed substantial improvement in both his bat and plate discipline, even thriving at Double-A following a midseason promotion.
Courtesy of yankees101.com
2012 Stats (A-): .248/.322/.331, 30 XBH, 46 RBI, 94/44 K/BB (122 G)
Bichette was named the Gulf Coast League MVP last season after batting .342/.446/.505 with 23 extra-base hits, 47 RBI and 41/30 K/BB in 52 games.
The 19-year-old received an aggressive promotion to Low-A Charleston this season and saw his production deteriorate across the board. Given his track record as an amateur hitter and favorable bloodline (yes, he's the son of the former Rockies' masher of the same name), I think this was simply a learning year and expect him to rebound nicely when he presumably repeats the level in 2013.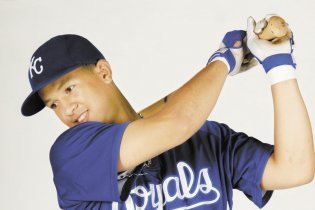 Courtesy of pinetarpress.com
2012 Stats (A+): .240/.296/.322, 25 XBH (7 HR), 59 RBI, 80/37 K/BB (124 G)
After posting a .742 OPS in his full-season debut for Low-A Kane County in 2011, the 19-year-old never quite found his rhythm at the plate in the Carolina League (High-A).
A 6'1", 190-pound right-handed hitter, Cuthbert employs plate discipline beyond his years and has the potential to develop an above-average hit tool with solid-average power by the time he reaches the major leagues.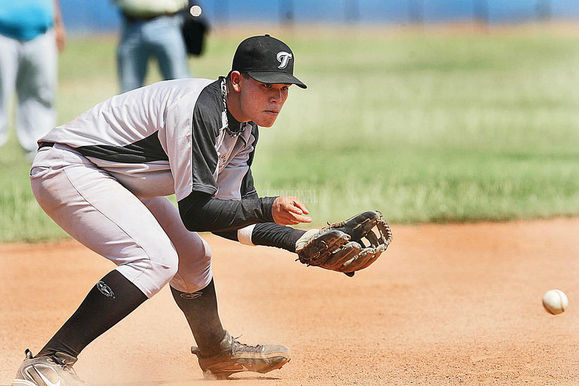 Courtesy of athleticsfarm.com
2012 Stats (Rk): .325/.403/.550, 25 XBH, 42 RBI, 32/17 K/BB (42 G)
Signed out of Venezuela for $2.2 million in 2010, the 18-year-old made an impressive stateside debut this season by posting a .953 OPS in 42 games in the rookie-level Arizona League.
At 6'1", 185 pounds, the right-handed hitter showcases a promising hit tool and the potential to hit for above-average power as he fills out.