Los Angeles Dodgers: Next Season's Starting Lineup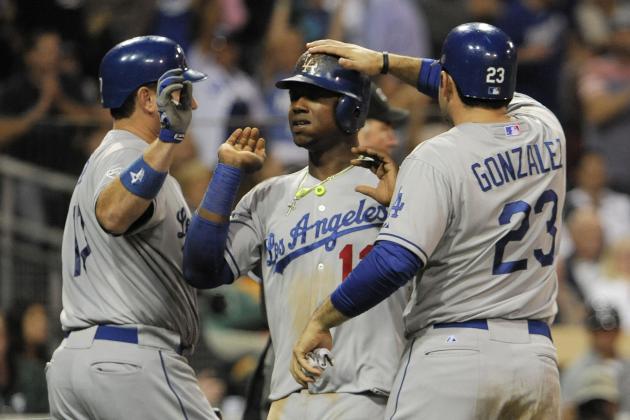 Denis Poroy/Getty Images
Who will be starting next year for the Dodgers?
Now that the Los Angeles Dodgers' season is over, we can look at their starting lineup for next year.
That's right, folks, perhaps the wackiest, up-and-down, guess-who-we-got-on-our-side-now, who's-gonna-be-on-the-DL-next, look-what-all-the-money-can-buy team's time is up. There are six games left and the Dodgers are within three games of St. Louis which owns the wildcard second spot right now. But, do you really think they can catch them?
If you remember, the Dodgers led the Majors with a record of 32-18 on May 30th and entered the second half of the season in first place in their division. Things have gone down hill since then and, in many ways, it is amazing they are still in the hunt for a wildcard berth.
This was the season that saw new management lay down the cash in order to secure some really big names. They are now a marquee team with marquee names.
Yet, before this weekend, the lineup that features Adrian Gonzalez, Hanley Ramirez, Matt Kemp and Andre Ethier was batting less than .225 and they just could not seem to buy a hit with men in scoring position.
We will not go into the whys and wherefores of their feeble offense, but at least we can look forward.
There are some big questions regarding this unit: Will Hanley play SS or Third Base? Will Dee Gordon make it back into the starting lineup? Will Ethier, who cannot hit lefties, be platooned? Will Kemp get over his injuries and regain his MVP-like form? Can Adrian Gonzalez hit homers in Dodger Stadium? Will it be Shane Victorino or Carl Crawford in left field...or neither?
It would be great if the Dodgers made the postseason, but let's not get all dreamy just because they are scoring runs and winning a few games right now. They still have to play the Giants in the last three games and it is doubtful their archrivals, who have already secured the top spot in the West, are going to lay down.
It just ain't gonna happen this year, so let's look to next.
Begin Slideshow

»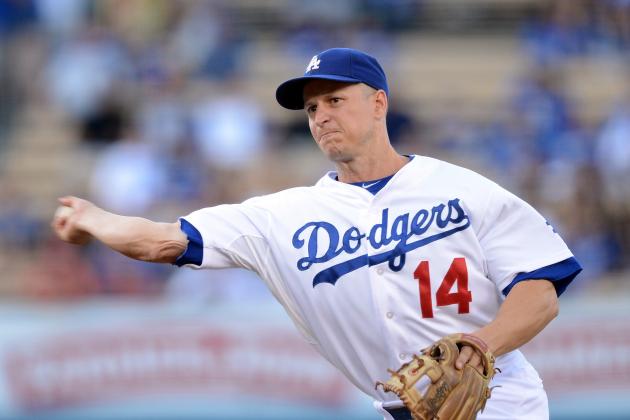 Harry How/Getty Images

It was actually a pretty good move to put Mark Ellis in the leadoff spot late in the year.
The veteran second baseman is a contact hitter with a solid approach at the plate. While batting only .259, he has also struck out only 68 times in 443 at-bats. He consistently puts the ball in play.
He may not be the fastest guy on the team, but would you rather have the speedy but weak-hitting Victorino in this spot?
Ellis is a shoe-in at second next season with his .991 fielding percentage, ranking him second among active players at the position.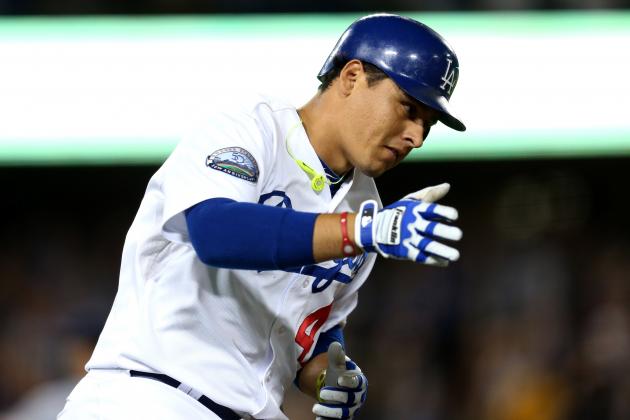 Stephen Dunn/Getty Images

Luis Cruz gets the vote for MVP of the Dodgers this year.
The guy who got his chance in the Bigs this year after 11 years grinding it out in the minors has been remarkably clutch and consistent at the plate.
Currently, he is batting .302 and continues to drive in runs and keep rallies going at essential points of the game.
In September alone, he is batting .333.
But, for most of that month and before, Mattingly had him batting seventh. You need a contact hitter, someone who sees pitches and can hit to the opposite side batting second. Cruz is the perfect choice. Much better than Ethier.
Play him at third base and bat him second. Let him set the plate for the big boys coming up.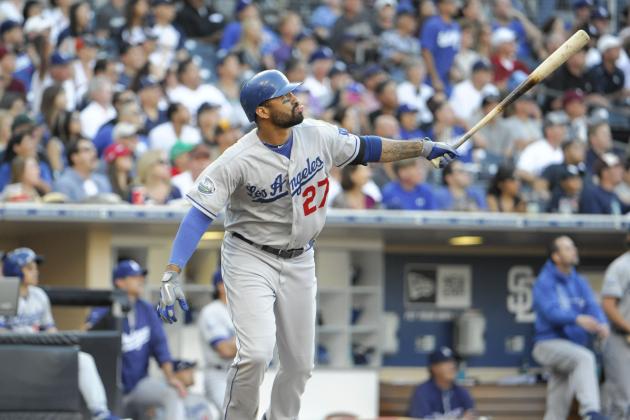 Denis Poroy/Getty Images

This has been a very tough year for Matt Kemp and one that I am sure he will look to forget.
After a prolific start to the season, hamstring injuries kept him on the DL. Then he injured his shoulder when banging into a fence in Colorado. The injury has blunted the power and speed of one of the game's best all-around players.
But Kemp is a fighter and assuredly will approach next season with a vengeance.
Look for him to return to form batting over .300, knocking in over 110 RBI and perhaps even stealing 30-plus bases.
Kemp will be in his customary center field position and batting third.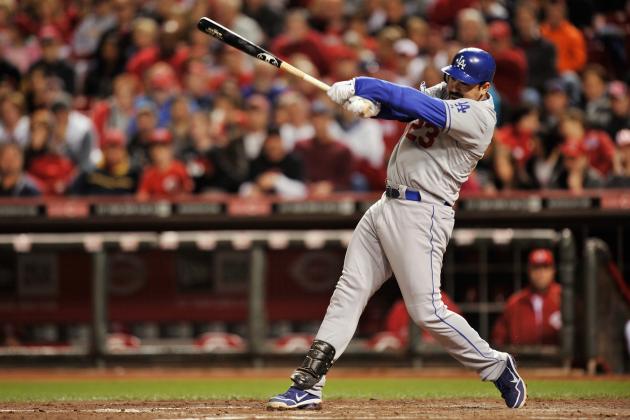 Jamie Sabau/Getty Images

Adrian Gonzalez is one of the premier hitters in the Majors and the Dodgers are lucky to have him.
Here's a guy who hits for power and average and is stellar at the bag (.995 fielding percentage). His career batting average is .293 and he averages 30-plus homers a year. Prior to this season, he knocked in 117 RBI or more for five out of six years.
The guy's a machine and batting behind a healthy Kemp should help match his career numbers next year.
Look for him to battle Kemp for MVP honors.
Batting clean-up and playing first, Adrian Gonzalez.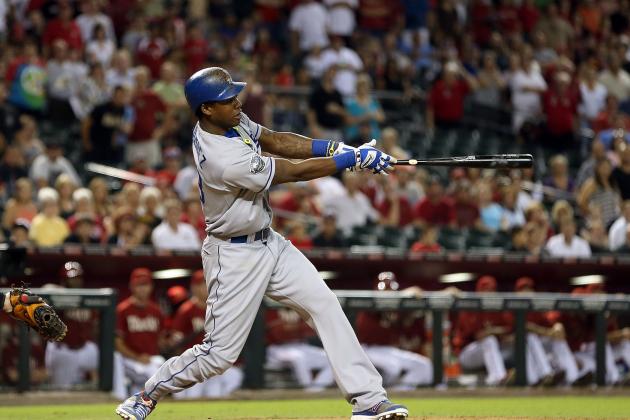 Christian Petersen/Getty Images

Hanley Ramirez has not quite lived up to his billing.
Although his .261 average is better than than the .250 he posted in Miami earlier this year, Hanley is not quite the superstud many had hoped for.
While he does have 43 RBI in 58 games with the Dodgers and has hit 10 home runs, he also has struck out 58 times (a total of 130 times this season).
Hanley is a free-swinger. He has never met a pitch he didn't want to hit and that is not what you want from a guy who often gets up with men in scoring position.
There has been some talk of moving Hanley to third base and bringing back Dee Gordon to shortstop. But that makes no sense at all with the way that Luis Cruz is playing. Gordon is a weak hitter and he made 18 errors at short before going on the DL. The Dodgers don't have time to continue to train him. He'd be better as trade bait for a strong reliever.
Leave Hanley at shortstop where he is happy and bat him fifth. Let him show what he can do in a full season batting among some other offensive powers.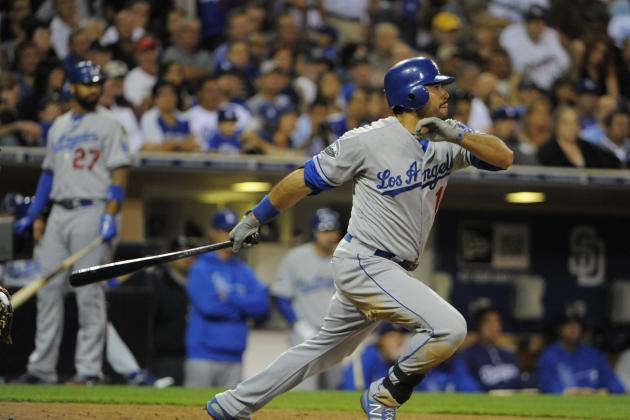 Denis Poroy/Getty Images

Sweet-swinging Andre Ethier runs either hot or cold, in part because he bats great against righties (.322) and poor against lefties (.214).
He drives in runs, and actually led the majors in RBI for much of the first half of the season. He is also an excellent right fielder with a very strong arm.
With a new contract that secures him for many years in a Dodger uniform, the highly popular Ethier will have a chance to continue his run-producing ways next season.
Bat him sixth and let him pound away.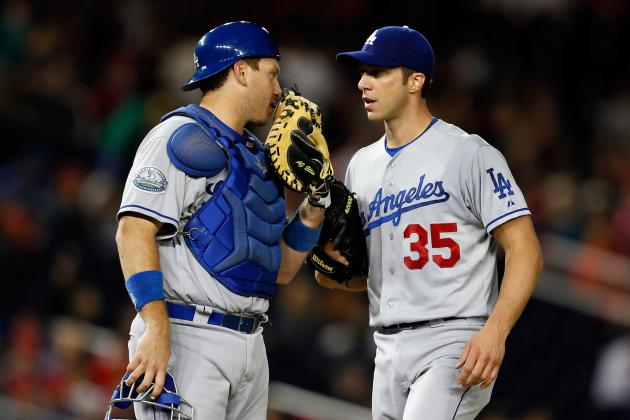 Rob Carr/Getty Images

What a relief for the Dodgers to finally have a solid catcher in A.J. Ellis.
He has played in 126 games and it is hard to separate the Dodger's pitching staff's success from the guy who catches them. He has obviously been great at guiding his pitchers and making them feel confident on the mound.
Ellis' .265 is plenty good and he has 11 home runs this season.
Most importantly, he brings stability to a position that is extremely important.
Batting seventh and playing catcher, A.J. Ellis.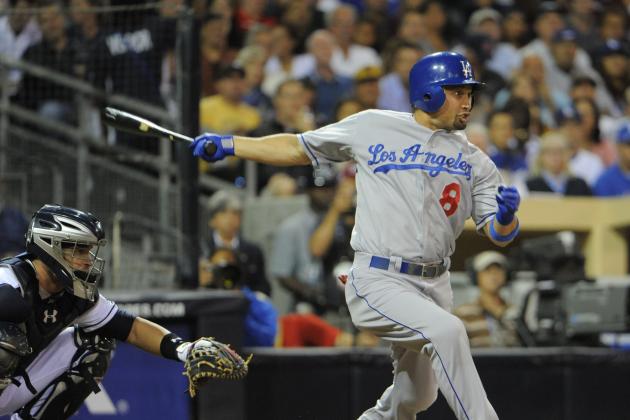 Denis Poroy/Getty Images

This is a bit of a tough call since who knows if Shane Victorino will even be in the starting lineup next year. If Carl Crawford finally gets better, there is little doubt he will challenge Victorino for left field.
Both men come with fine pedigrees, but neither has done much in the past few years.
In many ways, Crawford, who has been injured most of this season, is a lot like Hanley Ramirez - a great athlete who has not lived up to his reputation.
Crawford will have a lot to prove if he returns healthy next season, but for now, it is Victorino whose prime asset is his glove and his speed in the field.
He is also a pretty nifty base-stealer and has averaged 30 steals or more over the last six seasons. That would be a plus if he could only get on base.
There is also a young and strong Cuban, Yasel Puig, waiting to make his way to the Bigs and he could push Shane onto the bench.
Victorino hasn't shown much in the way of clutch for the Dodgers so let's just put him in the eighth spot playing left field and see what happens when the season starts.