Fantasy Football: Updated Targets Leaders for Receivers, Tailbacks, Tight Ends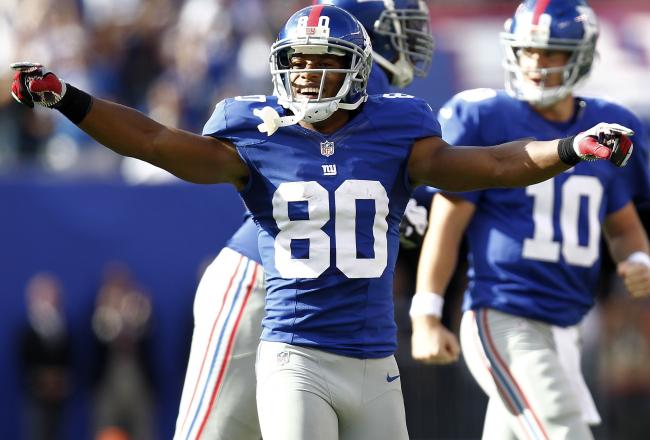 Giants wide receiver Victor Cruz (23 catches, 279 yards, 1 TD) has posted double-digit targets in two games and six-plus catches three times this season.
Jeff Zelevansky/Getty Images
Wide Receivers

The following 32 receivers have accrued 20 or more targets through the first three weeks of NFL action.

For the sake of consistency, we'll separate Anquan Boldin (28 targets), Torrey Smith (28 targets) and Greg Little (25 targets) from the crowd, since all three wideouts have played four games.

Noticeably absent from the list: Marques Colston, Greg Jennings, Jordy Nelson, Steve Smith, Andre Johnson, Jeremy Maclin.

1. Reggie Wayne, Colts—40 Targets
2. Dwayne Bowe, Chiefs—37 Targets
3. Victor Cruz, Giants—36 Targets
4. Danny Amendola, Rams—34
5. A.J. Green, Bengals—34
6. Santonio Holmes, Jets—33
7. Brandon Lloyd, Patriots—33
8. Percy Harvin, Vikings—32
9. Calvin Johnson, Lions—31
10. Brandon Marshall, Bears—31
11. Antonio Brown, Steelers—29
12. Brian Hartline, Dolphins—29
13. DeSean Jackson, Eagles—29
14. Demaryius Thomas, Broncos—29
15. Donnie Avery, Colts—27
16. Vincent Jackson, Buccaneers—27
17. Roddy White, Falcons—27
18. Eric Decker, Broncos—26
19. Steve Johnson, Bills—26
20. Wes Welker, Patriots—26
21. Larry Fitzgerald, Cardinals—25
22. Kendall Wright, Titans—25
23. Michael Crabtree, 49ers—24
24. Miles Austin, Cowboys—23
25. Nate Burleson, Lions—23
26. Malcom Floyd, Chargers—23
27. Julio Jones, Falcons—23
28. Lance Moore, Saints—22
29. Mike Wallace, Steelers—22
30. Hakeem Nicks, Giants—21
31. Davone Bess, Dolphins—20
32. Dez Bryant, Cowboys—20
Tight Ends

The following 26 tight ends are averaging five-plus receiving targets per game:

1. Dennis Pitta, Ravens—33 Targets (four games)
2. Jimmy Graham, Saints—31 Targets
3. Tony Gonzalez, Falcons—28 Targets
4. Brandon Pettigrew, Lions—26
5. Brent Celek, Eagles—25
6. Greg Olsen, Panthers—24
7. Martellus Bennett, Giants—23
8. Owen Daniels, Texans—22
9. Jermichael Finley, Packers—21
10. Vernon Davis, 49ers—20
11. Jermaine Gresham, Bengals—20
12. Heath Miller, Steelers—20
13. Jacob Tamme, Broncos—19
14. Jason Witten, Cowboys—19
15. Anthony Fasano, Dolphins—18
16. Rob Gronkowski, Patriots—18
17. Kyle Rudolph, Vikings—18
18. Jared Cook, Titans—16
19. Fred Davis, Redskins—16
20. Coby Fleener, Colts—16
21. Antonio Gates, Chargers—15 (in two games)
22. Scott Chandler, Bills—15
23. Jeff Cumberland, Jets—15
24. Brandon Myers, Raiders—15
25. Todd Heap, Cardinals—13 (two games)
26. Tony Scheffler, Lions—11 (two games)
Running Backs

These 24 tailbacks are averaging three-plus receiving targets per game:

1. Ray Rice, Ravens—30 Targets (four games)
2. Darren McFadden, Raiders—27 Targets
3. Darren Sproles, Saints—25 Targets
4. Trent Richardson, Browns—21 (four games)
5. LeSean McCoy, Eagles—15
6. Chris Ogbonnaya, Browns—13
7. Pierre Thomas, Saints—13
8. Jamaal Charles, Chiefs—12
9. Chris Johnson, Titans—12
10. Curtis Brinkley, Chargers—11
11. Reggie Bush, Dolphins—11
12. Matt Forte, Bears—11 (two games)
13. Arian Foster, Texans—11
14. Maurice Jones-Drew, Jaguars—10
15. Doug Martin, Buccaneers—10
16. DeMarco Murray, Cowboys—10
17. Marcel Reese, Raiders—10
18. Mike Tolbert, Panthers—10
19. Cedric Benson, Packers—9
20. Ronnie Brown, Chargers—9
21. James Casey, Texans—9
22. Felix Jones, Cowboys—9
23. Kevin Smith, Lions—9
24. Ryan Mathews, Chargers—8 (one game)


Jay Clemons can be reached on Twitter, day or night, at @ATL_JayClemons.
This article is
What is the duplicate article?
Why is this article offensive?
Where is this article plagiarized from?
Why is this article poorly edited?