Boise State Football Player Power Rankings: First Quarter of the Season Edition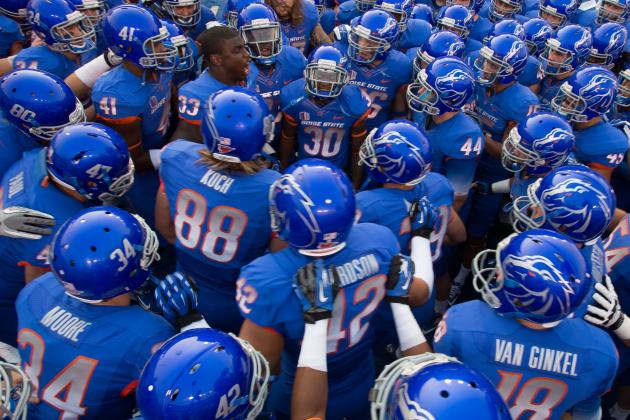 Otto Kitsinger III/Getty Images

Boise State is off to a 2-1 mark heading into the first Mountain West Conference game of the season. Through three games, there have been players that have distinguished themselves through exceptional performances on the field.
With that in mind, it's time, at the one-quarter mark, to pick out some of the top players for Boise State in the 2012 season. Consider it sort of a short list of those, whose play has earned them consideration for most-valuable player honors.
Yes, it is early in the season, and players still have plenty of time to leap up and join the list.
What are the criteria for being on the list?
Well, statistical performance is the first thing that jumps to mind; second comes the intangibles.
For example, if a defensive back plays such tight coverage that the ball is rarely thrown in his direction, or a defensive lineman is so strong that the ball is rarely run to his side of the field, those would be intangibles. Or if a nose guard drops off into pass coverage and actually intercepts the ball and then sprints 36 yards for a touchdown…well, that's a blend of stats and intangibles.
Keeping all that in mind, here is the list, in no particular order…
Begin Slideshow

»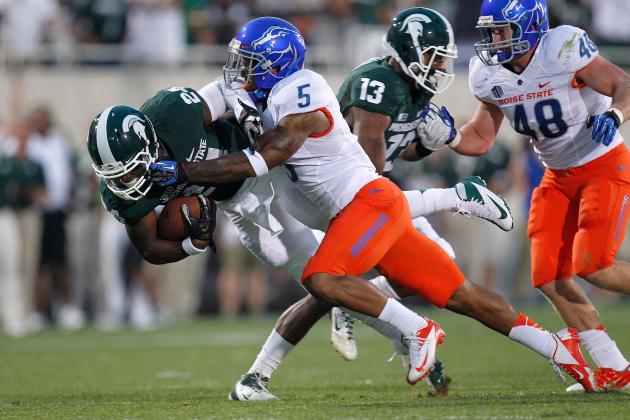 Gregory Shamus/Getty Images

He jams receivers at the line of scrimmage to break the rhythm of the pass pattern. He chases quarterbacks down from behind and forces fumbles. He has two interceptions on the season, a pass break-up and two pass deflections.
He also has 18 total tackles, 12 of them solo and 1.5 tackles for a loss. A redshirt senior, Jamar Taylor has been a leader on the field for the Bronco defense, and one of the ways he does that is by example.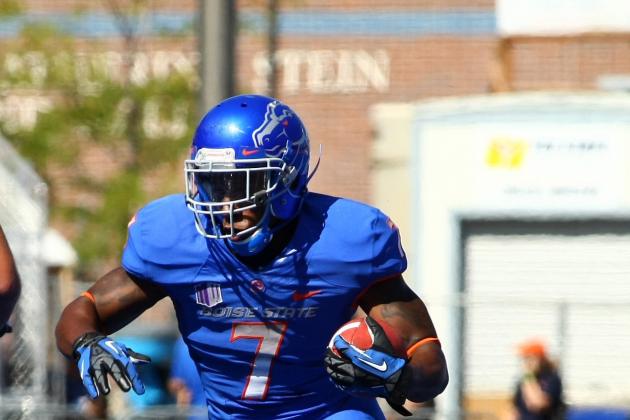 Brian Losness-US PRESSWIRE

Sixth-year senior D.J. Harper recorded only eight rushing yards against Michigan State in the season opener. Harper worked hard for those yards against a strong defensive unit—maybe the best that Boise State will face all year.
In spite of that, though, Harper is still ranked No. 33 in the nation in all-purpose yards with an average of 133.67 yards per game.
Harper has three rushing touchdowns and one receiving touchdown on the season—accounting for all but three of the Bronco touchdowns. He also does a decent job in pass protection.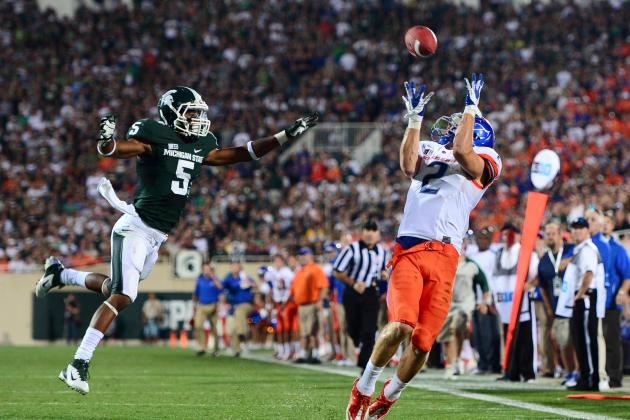 Andrew Weber-US PRESSWIRE

There seems to have been a concentrated effort to get the ball to Miller in recent weeks, and the redshirt sophomore has responded with a season-leading 16 grabs for 200 yards. Miller is, at this point, a primary threat to receive the ball, as he is the only Bronco receiver to break triple digits in reception yards.
To make it more interesting, Miller entered the season a marked man.
He was on several lists as one of the top returning Broncos after his outstanding freshman season. He still manages to find space to catch the ball, and Bronco quarterback Joe Southwick has been able to get the pigskin to him.
While he has yet to find the end zone, that seems to be only a matter of time.
Miller is currently ranked No. 78 in the nation in receiving yards.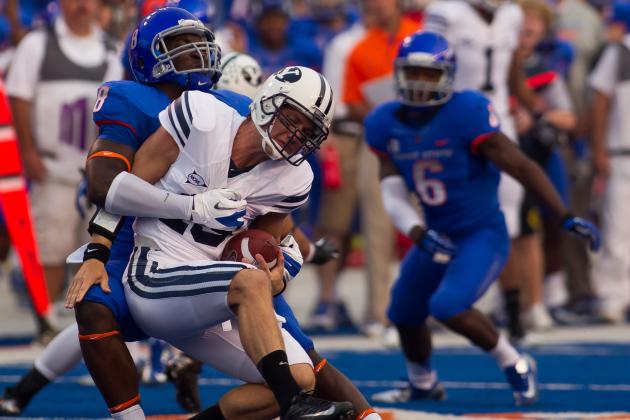 Otto Kitsinger III/Getty Images

DeMarcus Lawrence is not a prototypical defensive lineman in terms of size.
The redshirt sophomore is listed at 6'3", and 242 lbs. That means he is typically giving up 40-to-60-plus pounds per game against those lined up opposite him.
He counters that with speed, though.
Lawrence leads the Bronco defense with 3.5 sacks on the season, and he is also the second-leading Boise State tackler with 20 total tackles—seven of those are solo.
Lawrence is also credited with two quarterback hurries, and he is a handful on the defensive front and one of the reasons the Bronco defense has done so well.
Lawrence is ranked No. 16 in the nation in sacks.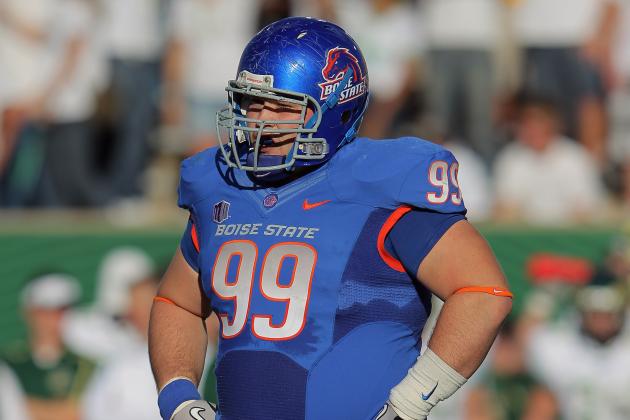 Doug Pensinger/Getty Images

A nose tackle intercepting a pass is a rarity.
A nose tackle intercepting a pass and sprinting 36 yards to the end zone, for the only Boise State score of the game, is pure fantasy stuff.
Mike Atkinson also has 14 tackles on the season, one tackle for loss and one pass deflection.
His job in the trenches is certainly not glamorous, but Atkinson has been a strong part of the stout Bronco defense that has allowed only 133.7 yards rushing by opponents so far this season.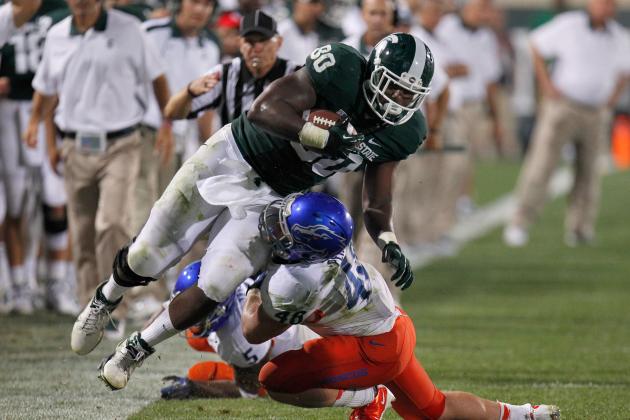 Gregory Shamus/Getty Images

J.C. Percy, a redshirt senior linebacker, was one of the top tacklers for the Broncos in 2011. He has started 2012 with a bang, leading Boise State's defense with 25 total tackles through three games—good enough to rank No. 79 in the nation.
Thirteen of Percy's tackles are solo, he has one tackle-for-loss and has posted a pass deflection, as well as a break-up and quarterback hurry so far in the young season.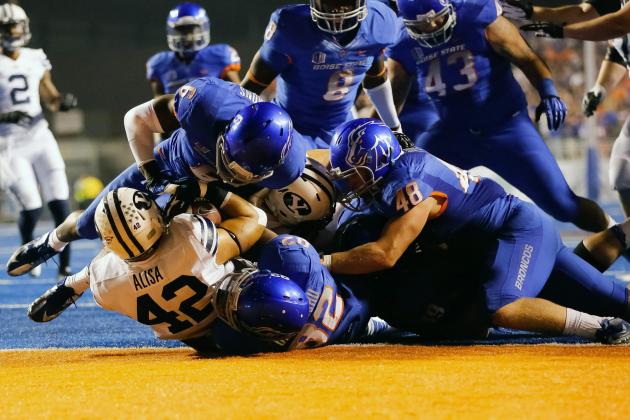 Otto Kitsinger III/Getty Images

Honorable mentions have to go out to Tommy Smith, Jeremy Ioane and Lee Hightower, as well as the rest of the Bronco defense, pretty much.
Smith is the third top-tackler on the Broncos with 18 tackles, while Ioane has two interceptions, including a pick-six.
Hightower has an interception, also, and is the fifth-leading tackler, while he has two pass deflections and a pass break-up as well.
As a defensive unit, the Broncos are holding opponents to 296 yards of total offense and have nine takeaways on the season. In addition, the Boise State defense has scored two touchdowns via pass interceptions.
The Bronco defensive unit is ranked No. 18 in the nation in total defense.