Texas vs. Oklahoma State: Live Scores, Analysis and Results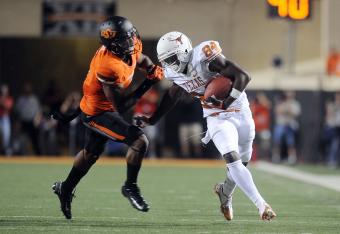 Mark D. Smith-US PRESSWIRE
Texas 41 Oklahoma State 36 -- FINAL
The Longhorns and Cowboys got tied up in quite a showdown in Stillwater Saturday night. Both squads demonstrated tremendous resiliency, but Texas got the final say after some gutsy performances.
Offense dominated the beginning and end, and defense took control in the middle, but there was little doubt that this matchup would turn into a barn burner.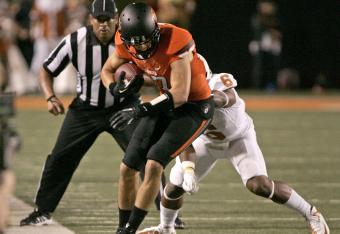 Final Thoughts
So after collecting my brain matter that was splattered across the room, as well as my breath that escaped me for the better part of the final minutes of this game, here are some final thoughts.
-David Ash took the next step in this game. Period.
-Oklahoma State is for real. Defensively, the Cowboys are just as vulnerable as any team in the Big 12, so they have no disadvantage there. But offensively, J.W. Walsh is something special and Joseph Randle is an absolute star.
-I kept talking about the one mistake or the one defining play that really highlighted the game. Ash's fourth down pass to D.J. Grant could not have been placed any better. Last season, that pass is incomplete.
-The Cowboys will be back. They are very tough at home, and they will be a handful of really good Big 12 teams. Walsh is a budding star.
-How awesome was it to see the way the game evolved? Early on, it was all offense. During the grind of the game, it was all defense. Then late, the two teams traded blows again and again. This is an instant classic.
-The Big 12 will be a highly competitive conference, and it boasts some of the country's best offenses.
-Huge win for Texas.
-Very tough loss for Oklahoma State.
-The season is far from over, but this is a step in the right direction for the Longhorns.
-The Cowboys will come back stronger from this loss.
And we're final.
Texas 41 Oklahoma State 36
What a game. Wowzers.
Final thoughts coming up.
Oklahoma State may be able to run the ball with the best, but the Pokes are not equipped to just drop back and chuck it in desperation, especially with the Texas defensive line pinning its ears back and bull-rushing the quarterback.
So as we tilt back and forth on this endless roller coaster ride, the Cowboys have one final chance to steal this win back from the Longhorns.
Let's see who wants it more.
Touchdown Texas
David Ash leads a brilliant drive down the field as the Longhorns take the lead after Joe Bergeron pounds it in. The review was upheld.
UT 41 OSU 36 -- :29 4th QTR
The tentative call is a touchdown, but the story is very incomplete if Joe Bergeron really coughed that one up. Mind-blowing stuff.
Mike Davis just made the play of his career with that catch.
How much is Texas PK Nick Jordan thinking right now?
David Ash makes a stone cold throw to his tight end D.J. Grant, his first catch of the night. Huge conversion on 4th and six. This is gut-wrenching stuff right now. What a game!
Texas has to be really happy that OSU scored so quickly, and now the Longhorns get to show what their worth.
24-YD Field Goal: Good for Oklahoma State
Another easy drive for the Pokes, and they take the lead with under three minutes to go.
UT 34 OSU 36 -- 2:34 4th QTR
OSU RB Joseph Randle simply drilled Texas DB Josh Turner. How about that for a defining moment?
Replay really looks like the call will be overturned.
Very fortunate bounce for the Cowboys on that kickoff. The Pokes will really challenge the Texas defense now, and this is probably the prevailing series of plays that will determine the victor.
That was a determined and resilient drive from the Longhorns, and it has put them in a position to hold on for a big road win in the Big 12.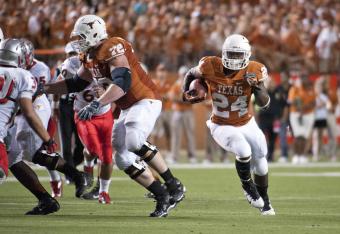 Touchdown Texas
The Longhorns ride their ground game all the way down the field, finished by a Joe Bergeron touchdown run. Texas goes for a two-point conversion, but it is well covered and the pass falls incomplete.
UT 34 OSU 33 -- 5:48 4th QTR
Texas looking to test the physicality of OSU's defense. The Horns all about the ground game right now, and it is working to a tee.
Johnathan Gray is only a handful of touches away from ripping off a huge run. He has been on the cusp of that big one for some time now.
If David Ash is a legitimate contender for the Maxwell Award, right now would be a good time to showcase that argument.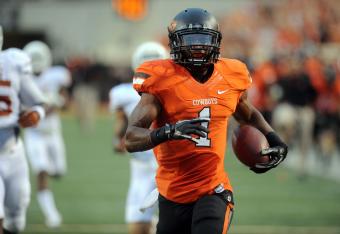 Touchdown Oklahoma State
Big plays by Joseph Randle and J.W. Walsh result in a touchdown scamper from the running back.
UT 28 OSU 33 -- 9:36 4th QTR
With all the talk about Texas being the physical offensive unit, Oklahoma State is really giving the Horns a run for their money.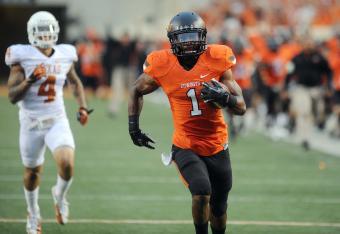 What a block by Joseph Randle. That is the kind of effort you want from the best player on your team.
Anyone else feel like the Longhorns are slipping out of this game? It will take a big play from someone to solidify a victory.
Otherwise, Oklahoma State have come out very strong in the second half on offense. The Cowboys have been moving effortlessly. This comes as J.W. Walsh takes a draw play for a huge gain.
Oklahoma State finally gets a good stop when Texas was driving. Let's see how the Longhorns respond defensively with the Cowboys deep in their own zone.
This article is
What is the duplicate article?
Why is this article offensive?
Where is this article plagiarized from?
Why is this article poorly edited?