Ryder Cup 2012 is here, and the three-day biennial event will capture the attention of golf fans around the world. The battle between Europe and the U.S. can be watched live here. You can also follow the event at RyderCup.com, or check the current match results courtesy of FoxSports.com.
The Ryder Cup dates back to 1927. It originally started as the United States vs. Britain, but in 1979, Team Britain turned into Team Europe. The fact that the U.S. had only lost three times since 1927 may have factored into the change.
Change has been good, though, as Europe has provided a much tougher challenge for the U.S. Team Europe has a winning record since 1979, and it has won six of the last eight tournaments. Europe's most recent victory came at The Celtic Manor Resort in Wales, as Europe defeated the U.S. by one point.
Team U.S.A. is hoping for a different result in 2012, as the tournament is held on their own turf. The Ryder Cup is at Medinah Country Club located in a suburb of Chicago, Illinois.
But the U.S. will have a difficult task on their hands as the team features four rookies.
Brandt Snedeker, Webb Simpson, Keegan Bradley and Jason Dufner are hardly rookies when it comes to golf experience. They are rookies, though, when it comes to playing in a tournament with as much pressure as the Ryder Cup carries.
As American captain Davis Love III described (via Steve Keating of the Chicago Tribune), "The Ryder Cup to me is the last nine holes of a major when you've got a chance to win, except it starts Friday morning on the first tee, and it never lets up."
That's quite a bit of pressure to think about as a rookie, especially with the 2010 tournament being decided by one point.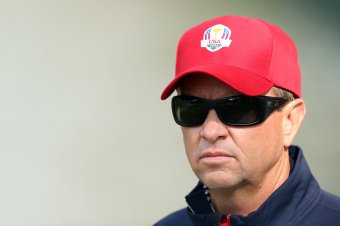 Andy Lyons/Getty Images
Fortunately, this group of rookies has had success on the big stage. Brandt Snedeker is coming into the tournament having just won the FedEx Cup. Simpson and Bradley also have Major wins to their names.
While the rookies have been successful, the Americans will still rely on their veterans to bring home the title. Key veterans include Jim Furyk, Steve Stricker, Phil Mickelson and Tiger Woods.
Mickelson and Woods could be the key to the Americans' success. Both have struggled in this tournament, and another poor performance could mean a loss for the U.S.
Mickelson has played in international competition the last 17 years, but that has not translated into success at the Ryder Cup. His overall record is 11-17-6, and Mickelson is 3-12-3 in his last four Ryder Cups.
Mickelson believes the energy and momentum provided by the crowd in Chicago will help him and the rest of the U.S. team play well (via Bob Harig of ESPN.com).
Woods could use some of that energy, as he too, has struggled at the Ryder Cup tournaments.
This is Woods' seventh appearance in the Ryder Cup, but he has only been on one winning team in 1999. Woods is 13-14-2 at the event, and he places the blame on himself.
In response to his poor record, Woods said, "I certainly am responsible for that because I didn't earn the points that I was out there for." He later went on to say, "I needed to get points for my team, and I didn't do that" (Via Bob Harig of ESPN.com).
Who needs to have a better Ryder Cup for the U.S. to win?
Woods and the rest of the U.S. team will have to get points this year in order to avoid a European domination. The European team may be one of the strongest in the last ten tournaments.
Team Europe includes captain Jose Maria Olazabal, Sergio Garcia, Lee Westwood and Graeme McDowell. But you can bet all eyes will be on the world's No. 1 golfer, Rory Mcllroy.
Mcllroy is the youngest golfer in the tournament by three years, and he has won four tournaments this year. However, Bob Harig of ESPN.com writes that Rory does not think of himself as the No. 1 player in the world, not this week anyway. Rory said, "I'm one person on a 12-man team, and that's it. It's a team effort."
He may be part of a 12-man team, but golf is still an individual sport. And on this stage, expect Mcllroy to draw a huge crowd, especially when the singles play begins.
Ryder Cup 2012 will be a star-studded battle between the U.S. and the Europeans, make sure you don't miss a second of it.