NHL Free Agency: 7 Top Players Still Without Contracts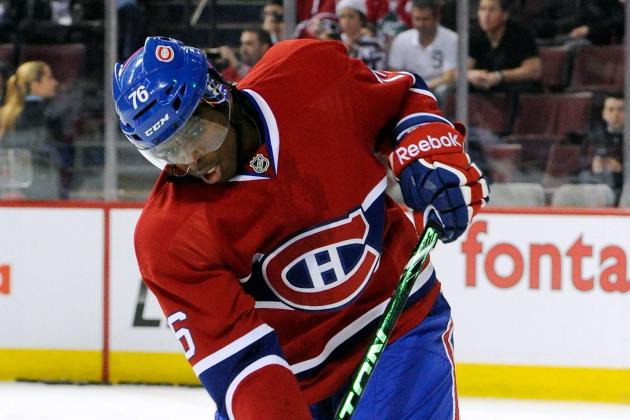 Richard Wolowicz/Getty Images
Montreal defenseman P.K. Subban is a restricted free agent.
There is still business at hand for NHL teams—once the lockout comes to an end—in terms of signing free agents.
Of course, the majority of the top free agents signed in July, headlined by the Minnesota Wild's blockbuster activity.
Minnesota general manager Chuck Fletcher hit two home runs when he brought Ryan Suter and Zach Parise into the fold.
There are still deals to be made with players who can make a difference.
Restricted free agents like P.K. Subban and Jamie Benn are not "free." Any team that signs a big-money restricted free agent will have to compensate the original team with draft picks.
A restricted free agent who signs for $8.41 million per year or more would also cost his new team four first-round draft picks.
Begin Slideshow

»
Ryan O'Reilly has a chance to be a superstar in the NHL.
O'Reilly, 21, scored 55 points for the Avalanche last season and should be one of the key players for the franchise. In addition to his productivity, O'Reilly plays with energy and can take a hit, pick himself up and then continue to make the play.
Avalanche beat writer Adrian Dater of the Denver Post said that he expects a deal between O'Reilly and the franchise to get done rather quickly once a new Collective Bargaining Agreement is signed.
The Avs were under the cap floor of $54.2 million at the time of the lockout and they should have plenty of salary cap room to keep him in the fold once the lockout ends.
P.K. Subban is one of those players you keep your eye on every time he is on the ice.
He can help you with his ability to carry the puck and unleash his deadly slap shot, but he can also hurt you with inconsistent play on defense.
Subban, 23, has the potential to be a strong No. 1 defenseman for the Montreal Canadiens, but they have not signed him to a long-term deal yet.
Prior to the lockout, there was talk that the Philadelphia Flyers were interested in acquiring Subban (source: Yahoo.com). Don't expect them to sign the restricted free agent.
Instead, look for the Flyers to attempt a trade for him. The Nashville Predators surprised the hockey world when they matched Philadelphia's offer for Shea Weber. The Canadiens would do the same. Philadelphia would try to make a deal that is acceptable for all parties rather than make a hollow attempt to sign Subban.
Petr Sykora has scored some big goals in his career, although it would be hard for him to top the triple overtime score he had for the Pittsburgh Penguins in the 2008 Stanley Cup Finals against the Detroit Red Wings.
Sykora, 35, is in his second tour of duty with the New Jersey Devils. He scored 21 goals for New Jersey during the regular season. He also scored two goals last year for the Devils during the playoffs.
The two-time Stanley Cup champion is still a valuable contributor. He's an unrestricted free agent who could fill a key role for any contending team.
The Dallas Stars were hoping to sign restricted free agent Jamie Benn to a bridge contract before the lockout started, but Benn did not go for that.
Benn, 23, will certainly be a top priority for the Stars once the labor unrest comes to an end, but he will cost them a lot of money.
Alan Muir of Sports Illustrated says that Benn may seek a contract that pays him more than the $6 million that Taylor Hall of the Edmonton Oilers signed for earlier in the summer.
Benn has already played three years for the Stars and he has never scored fewer than 22 goals in any of those seasons. He appears to be a future NHL star. If anyone signs the restricted free agent, it seems the Stars would match the offer in a heart beat.
Tomas Holmstrom has been a key role player for the Detroit Red Wings throughout his career, which began in the 1996-97 season.
Holmstrom, 39, has been with the Red Wings throughout his career. He has indicated that if he plays in 2012-13, it will still be with the Red Wings.
However, there is no guarantee that Holmstrom will be back. He is strongly considering retirement. His decision is not necessarily going to be based on the lockout, but the longer it goes, the more likely he is going to make the decision to walk away from the game.
The Red Wings already lost Nicklas Lidstrom to retirement, and it would sting if Holmstrom called it a career as well.
The 36-year-old Ty Conklin has seen a downturn in his game the past two season. His save percentage has dipped below the .900 mark in 2010-11 and 2011-12.
That may make it difficult for a team to give Conklin strong consideration for a big contract, but Conklin has had his moments in the NHL.
His best season was in 2007-08, when he was 18-8-5 with a 2.35 goals against average and a .923 save percentage with the Pittsburgh Penguins. He followed that with a solid 2008-09 season for the Detroit Red Wings with a 25-11-2 record and a 2.51 GAA.
Michael Del Zotto is one of the future stars of the National Hockey League.
He's going to be a key part of the New York Rangers' run in 2012-13 if the season gets underway.
Del Zotto, 22, is coming off a season in which he scored 10 goals and had 31 assists. He has an excellent shot and can also set up his teammates with accurate passes.
Del Zotto plays with effort and the Rangers are not about to let him go. While Rangers general manager Glen Sather would like to sign Del Zotto on his terms, he's too valuable to the team's future to let him go. "He'll come to his sense," Sather told the New York Daily News regarding Del Zotto's future.