Ohio State vs. Michigan State: Why the Spartans Have the Better Defense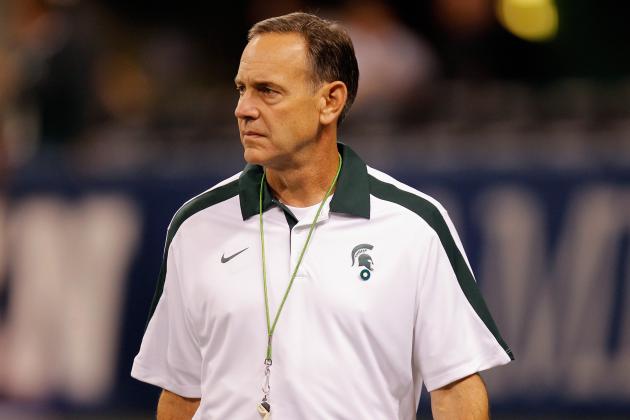 Gregory Shamus/Getty Images

One of the bigger matchups of Week 5 will be when the Ohio State Buckeyes travel to East Lansing to play the Michigan State Spartans. These are the two highest-rated Big Ten teams at the moment and should provide us with a terrific battle. Six of the last eight meetings have been decided by 14 points or less.
Many eyes will be focused on quarterback Braxton Miller and how he is able to handle the pressure of the Michigan State defense. But the Buckeyes defense isn't too shabby, as a total of nine starters returned from a unit that ranked fifth in the conference last season. Still, the Spartans have the best defense of any other team in this conference, including the team they host this weekend.
Let's break down both squads and see why Michigan State has the advantage on the defensive side of the ball.
Begin Slideshow

»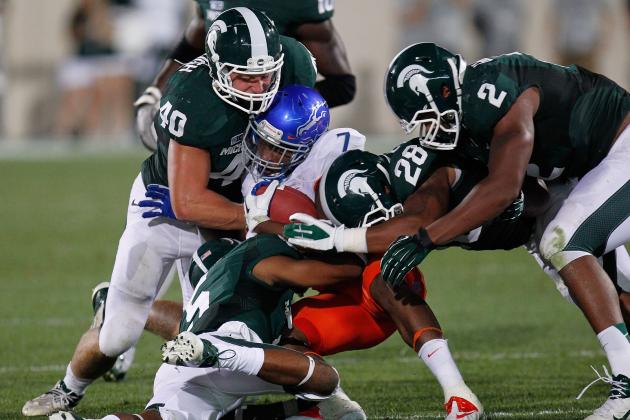 Gregory Shamus/Getty Images

Michigan State
The Spartans have one of the best defensive lines in the entire country—forget about just the Big Ten. Defensive end William Gholston has quickly become the star of this unit, but you also can't forget about Marcus Rush coming off the other side. Rush is everything you look for in a true pass-rusher. Anthony Rashad White is a big body in the middle of the line at 6'2", 320 pounds who helps clog up the running lanes in a hurry.
Overall, this is one of the more talented groups in the country, and a big reason why the Spartans have the best run defense in the Big Ten and 10th best in the country. Michigan State is currently allowing less than three yards per carry this season.
Ohio State
Defensive tackle Johnathan Hankins has a future at the next level with his combination of size and athleticism. John Simon is one of the more experienced players on this side of the ball and has racked up 11 sacks since the 2010 season. Garrett Goebel is a fifth-year senior in the middle of the line who has played in 40 games since 2009.
While the Buckeyes have potential with this unit and the talent is there, they are allowing 117 yards on the ground a game, which is good for seventh in the conference.
Edge: Michigan State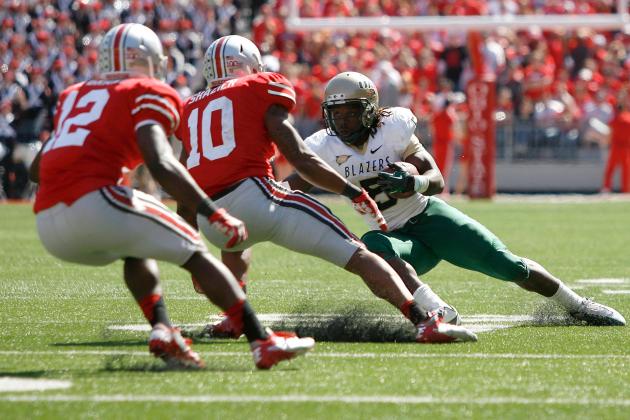 Kirk Irwin/Getty Images

Michigan State
Much like the defensive line of the Spartans, the linebacker corps is very aggressive and fast on the football field. Denicos Allen, Max Bullough and Chris Norman are all upperclassmen and returning starters from a year ago. They have combined for 61 tackles and four passes broken up in the first four games.
Norman is the speedster who makes plays all over the field, while Bullough is the playmaker, who forced two fumbles and picked up 3.5 sacks last season. These guys may not have the biggest names in college football, but they simply get after it every Saturday.
Ohio State
Ryan Shazier really made an impact on this team as a true freshman last year, and he has picked up exactly where he left off. In the first four games, he has racked up 39 tackles, one sack and a forced fumble. He has quickly emerged as the playmaker when it comes to this group. Etienne Sabino has been somewhat of a disappointment throughout his career, but he has gotten off to a great start in the 2012 season.
And while those two players seem to have improved early on, the linebacker position is not the strength of this defense. Unlike Michigan State, the Buckeyes don't have those veteran players who can be counted on to make a game-changing play.
Edge: Michigan State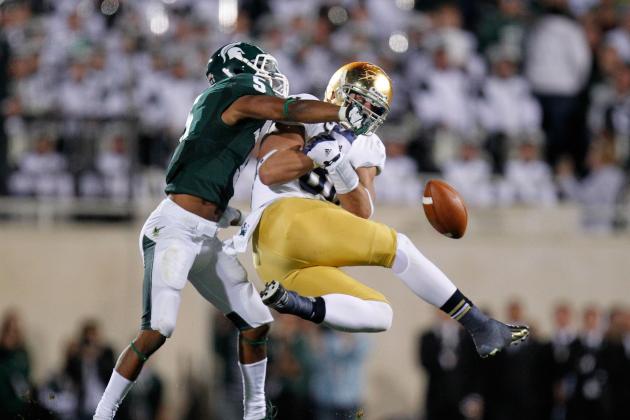 Gregory Shamus/Getty Images

Michigan State
Johnny Adams is a fifth-year cornerback, who is starting his third season at the position. He is a shutdown corner, has terrific ball skills and racks up a fair amount of tackles for somebody his size. Darqueze Dennard is another experienced cornerback, who was considered a preseason All-Big Ten selection by Phil Steele's College Football Preview.
While the cornerback position is in good hands, the safety spots remain toss-ups with many players rotating and receiving playing time. This includes young players such as Jairus Jones, Kurtis Drummond and RJ Williamson. Still, this unit is only allowing 164 passing yards a game, which is second best in the Big Ten.
Ohio State
The Buckeyes secondary is talented and experienced. Cornerback Travis Howard is a ball hawk with seven interceptions in his career, including three this season. Bradley Roby is the other corner, who lacks experience, but has terrific cover skills and has already broken up six passes in the first couple games.
Safeties Christian Bryant and C.J. Barnett are some of the hardest hitting players in the conference and make their presence felt in the defensive backfield. Overall, the Buckeyes may allow more passing yards, but have more talent in the secondary, as the Spartans are thin in the safety department.
Edge: Ohio State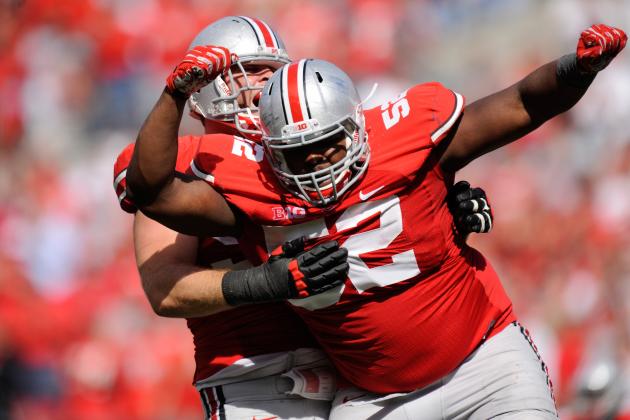 Jamie Sabau/Getty Images

Michigan State NFL Defensive Draft Prospects: William Gholston, Johnny Adams and Anthony Rashad White.
Although Gholston has yet to really showcase his full potential, he does have a lot that NFL scouts love. His athleticism and quickness off the ball make him a solid defensive end or linebacker prospect for the next level. He is a physical player who has tremendous upside and will likely be taken in the first round next year, if he decides to leave school early.
Like mentioned in the secondary slide, Adams isn't the biggest corner at 5'11", 178 pounds, but he plays much bigger than his size and has shown that he has the makeup of a potential shutdown corner. White isn't a top NFL draft prospect, but with his size at 6'2", 330 pounds and his motor, he will receive a hard look late in the draft.
Ohio State NFL Defensive Draft Prospects: Johnathan Hankins and John Simon
Johnathan Hankins is somebody who will be a Top 10 pick in next year's draft, possibly Top 5. Linemen who are 6'3", 330 pounds, and have his type of athleticism don't grow on trees. He has quick feet, a great motor and will demand double teams even at the next level. He still has a year of eligibility remaining, but he will instantly provide some lucky NFL team with a defensive player to build the next 10 years around.
Simon is a hard worker, who will bring energy to your football team and make everyone around him better. He is a bit small for the defensive line at the next level, but he could turn into a solid linebacker as he is a sure tackler.
The Spartans may have more prospects, but both of the Buckeyes defensive players are likely going to be taken within the first two rounds, including a high first-round pick in Hankins.
Edge: Ohio State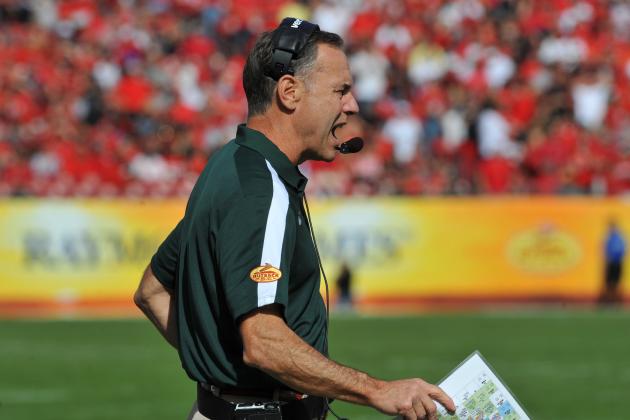 Al Messerschmidt/Getty Images

You really can't go wrong with either defense. They have NFL-caliber players, are well coached and are easily two of the best units in the Big Ten Conference. But as far as overall defense, Michigan State is one of the best in the entire country, which is why it should be considered better than the Buckeyes.
The combination of size, athleticism and physicality really makes this arguably the scariest defensive unit outside the SEC. Everybody flies to the football, and there are usually at least two helmets on the ball-carrier at all times. It's nearly impossible to run on this front seven, while the cornerbacks are some of the best in the Big Ten.
Michigan State is currently first in the conference in scoring defense, rushing defense, total defense, second in passing defense and has allowed only three touchdowns through the first four games. Meanwhile, Ohio State has allowed 10 plays of more than 30 yards, is dead last in the Big Ten in total defense and is eighth in the conference in opponent third-down conversions.
Both units have all of the talent and potential, but there is one team that is actually making it happen on the football field, and they are the Michigan State Spartans.