Miami Football: Grading All 22 Starters from the Wolfpack Game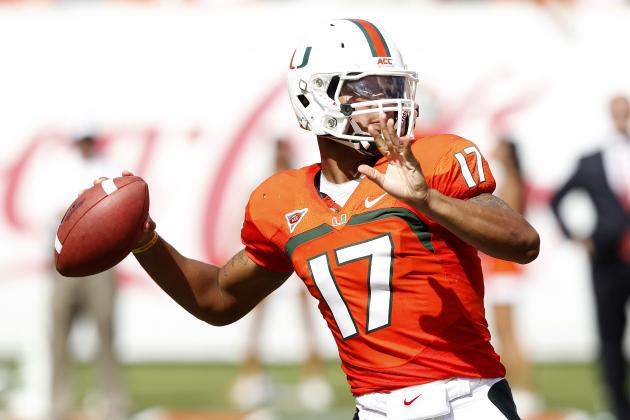 Joel Auerbach/Getty Images

Once again, the Hurricanes defense showed vulnerability, but the offense ripped it up for the second straight week as Miami beat North Carolina State, 44-37, on Saturday.
Although the Hurricanes gave up 37 points, they were able to create six turnovers, giving them 12 for the season. In comparison, Miami only created 15 all of last season.
The offense also showed they are much improved, as the Hurricanes racked up 651 yards of total offense, marking the second time in as many weeks in which the offense finished with over 600 yards.
Here are my grades for every Hurricane starter from Saturday's game.
Begin Slideshow

»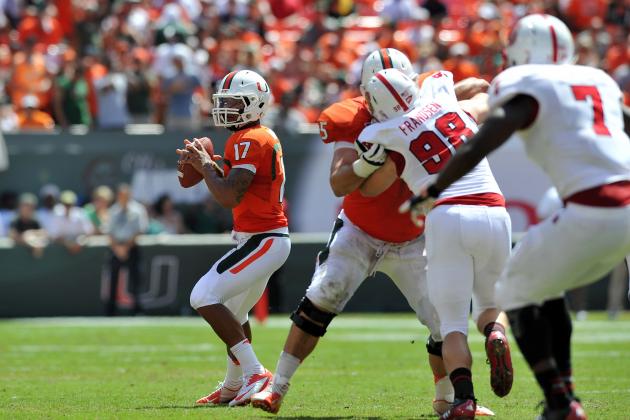 Steve Mitchell-US PRESSWIRE

Against Georgia Tech, Stephen Morris threw for 436 yards, fifth-most in school history. On Saturday against North Carolina State, he decided to break the school record with 566 yards passing.
Morris also broke the ACC record for most passing yards in a game.
On the day, Morris completed 26 of 49 passes with four touchdowns and an interception. After the first quarter, Morris already had 279 yards through the air.
Morris proved to everyone that he has one of the strongest arms in the country when he hit Phillip Dorsett on a 62-yard game-winning touchdown pass with just 19-seconds to play.
Morris dodged a couple tacklers and threw it 60 yards in the air—while on the run—for the game-winning score.
Final grade: A+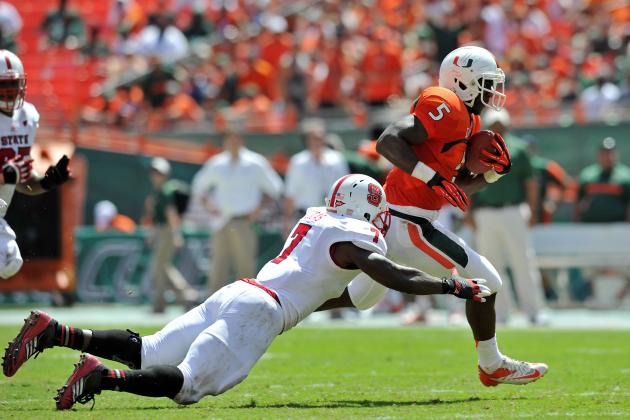 Steve Mitchell-US PRESSWIRE

Mike James didn't have an amazing game like he did when he played Georgia Tech, but he still came away with 84 all-purpose yards.
James rushed for 31 yards on 13 carries while catching three passes for 53 yards.
The most important aspect of James day was blocking for quarterback Stephen Morris—which he did flawlessly.
Final grade: B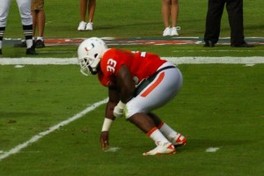 Although Maurice Hagens never ran or caught the ball, he continues to show his tremendous ability in blocking for the Hurricane running backs and quarterback.
He had another solid game, and when called upon, Hagens delivered.
Final grade: B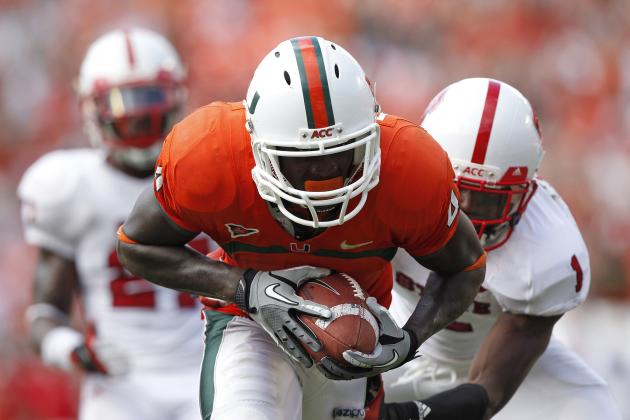 Joel Auerbach/Getty Images

Phillip Dorsett continued to make huge plays for the Hurricanes, as he finished the game with 191 yards on seven receptions and two touchdowns.
He also caught the game-winning 62-yard touchdown from Morris with just 19 seconds left in the game.
Dorsett played another great game, blowing by any defensive back that tries to cover him. He has the chance to break a lot of Hurricane records this season.
Final grade: A+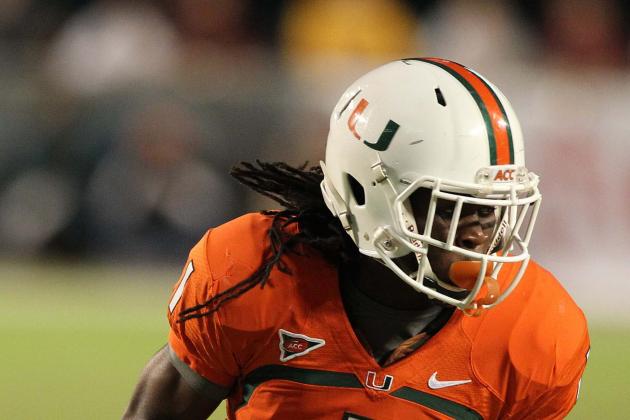 Robert Mayer-US PRESSWIRE

Allen Hurns caught just two passes for 54 yards and a touchdown, but it was the score that was most impressive, as he tiptoed the sideline on a throw from Morris seven yards in the end zone.
Hurns has great hands and is an excellent possessive receiver, but with the way Rashawn Scott and Phillip Dorsett are playing right now, he has moved to the back burner.
Final grade: B+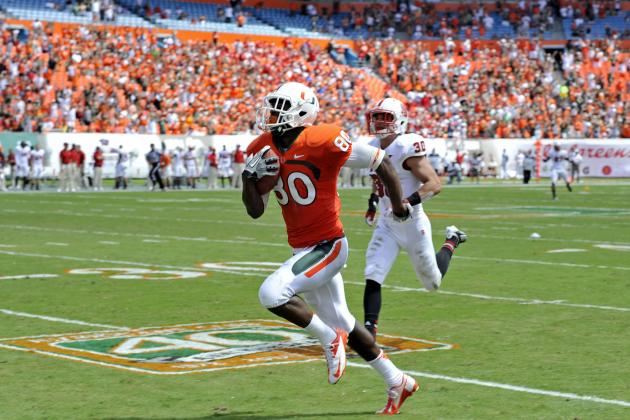 Steve Mitchell-US PRESSWIRE

Rashawn Scott caught six passes for 180 yards and two touchdowns, including a 76-yarder in the first quarter.
Scott, much like Phillip Dorsett, is a playmaker with tremendous speed and quickness. The best part of Scott's game was the fact that he never dropped a pass, something that has haunted him in previous games.
Final grade: A+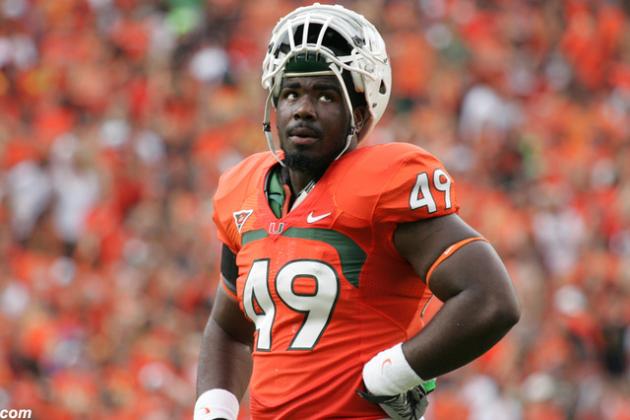 Dyron Dye started the game, but never recorded any catches. In fact, all of the tight ends struggled to catch passes, as Clive Walford caught the only one—for four yards.
After re-watching the game, Dye did make some key blocks for Mike James and Duke Johnson, so all was not lost.
Either way, Dye and the rest of the tight ends need to get better, especially in the red zone.
Final grade: D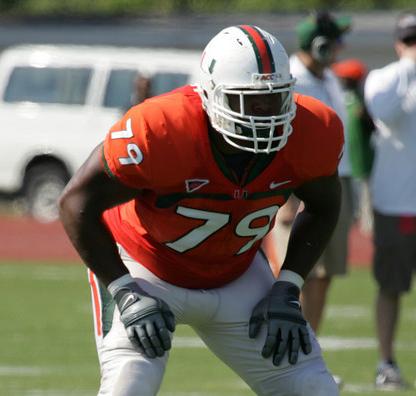 Malcolm Bunche kept the defensive ends and tackles off of Stephen Morris blind-side all game long. He never allowed a sack and continues to improve at the left tackle position.
Bunche played great, like most of the offensive linemen did.
Final grade: A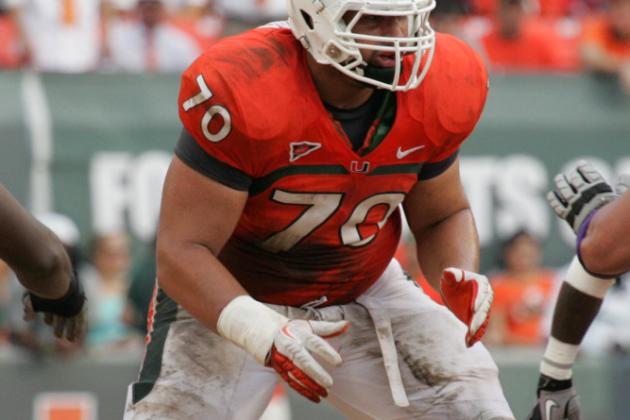 Jon Feliciano is one of the leaders on the offensive line and had another solid performance on Saturday. Like the rest of the starters, Feliciano never gave up a sack.
Final grade: A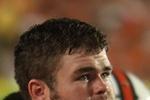 Shane McDermott, in my eyes, is the most consistent offensive lineman the Hurricanes have, and he played very well for the fourth straight game.
I honestly believe McDermott is one of the best centers in the ACC.
Final grade: A+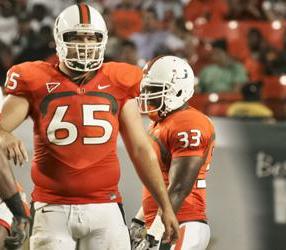 Brandon Linder never allowed a sack and did a great job on both passing and running plays. Linder, much like Jon Feliciano, is having a very consistent season.
Final grade: A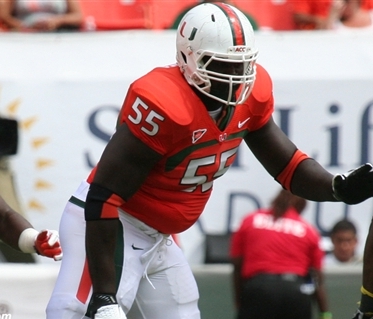 Senior Ben Jones got his first career start on Saturday, but injured his knee in the first half and never returned.
Jones was playing great before the injury forcing the Hurricanes to rotate Seantrel Henderson and Ereck Flowers throughout the game.
Final grade: B+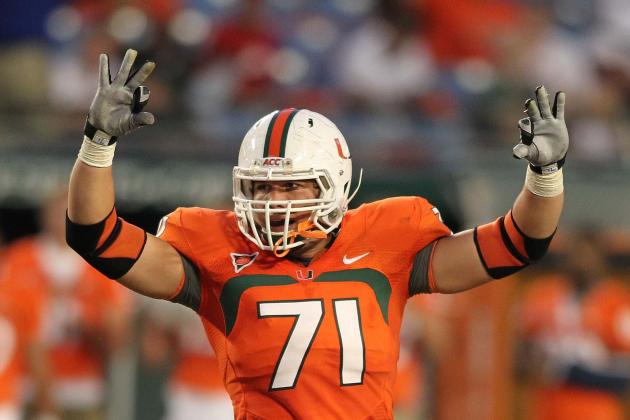 Robert Mayer-US PRESSWIRE

Anthony Chickillo had a pretty quiet game, recording just five tackles with one quarterback hurry.
I am not sure if the added weight has hindered his performance—he gained 20 pounds over the summer—but either way, the Hurricanes need him to get better.
The defensive line continued to struggle against the run and allowed North Carolina State's quarterback, Mike Glennon, too much time in the pocket.
Final grade: D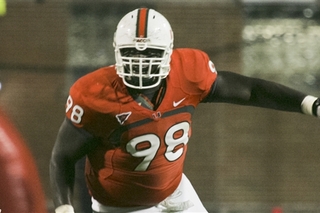 Much like the rest of the defensive line, Darius Smith struggled against the Wolfpack's offensive line. He recorded just three tackles for the game and seemed to get pushed around at will.
Final grade: D-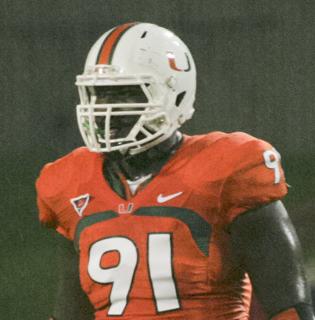 Olsen Pierre was almost non-existent, making only one tackle all game long. Much like Darius Smith, Pierre was owned by a makeshift Wolfpack offensive line.
The coaches really need to re-evaluate the defensive tackles.
Final grade: D-
Shayon Green was the best defensive lineman on Saturday, but that isn't saying much considering the defensive line is poor at best.
Green finished with seven tackles and a fumble recovery and continues to be the only constant the line has had all season.
Final grade: B+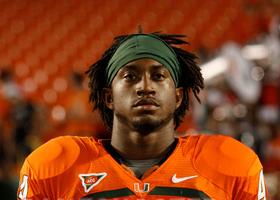 Eddie Johnson's stock keeps rising, and he has quietly grown into one of the best linebackers in the ACC. He plays tremendously hard, and you never see him give up on a play.
Johnson finished with seven tackles, a sack, two forced fumbles and a pass breakup.
He was, hands-down, the best defensive player on Saturday.
Final grade: A+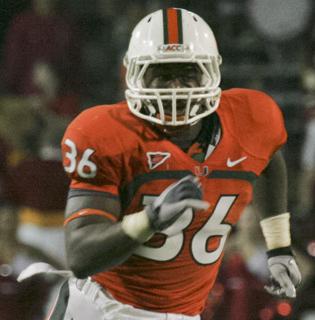 Gionni Paul's first tackle attempt was a bust, as he forgot to wrap up, allowing Wolfpack running back Tony Creecy to gain 43 yards on the play.
It was about the only thing he did wrong, as he led all Hurricanes with 11 tackles and a forced fumble.
Paul was all over the field and played a very solid game. He started ahead of Denzel Perryman, who missed his second straight game of the season.
Final grade: A-

Tyrone Cornelius finished with five tackles for the Hurricanes, but missed a few easy tackles on Saturday. He definitely needs to work on his pass coverage, but is a solid tackler with a great motor.
With Ramon Buchanan out of the season, Cornelius should have plenty more opportunities for the Hurricanes.
Final grade: C+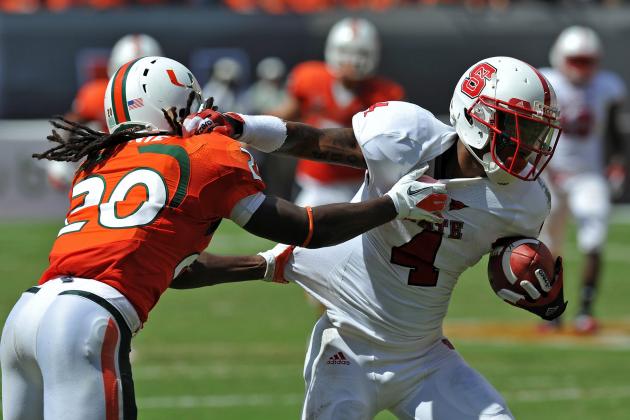 Steve Mitchell-US PRESSWIRE

Thomas Finnie finished Saturday's game with one tackle and one interception. Finnie, much like the entire defense, struggled, as the unit allowed 440 yards through the air.
Finnie is the second-best cornerback Miami has, but that really doesn't mean anything.
He needs a lot of work, and if Miami can not resolve the defensive back issues its having right now, it could end up haunting it later in the year.
Final grade: D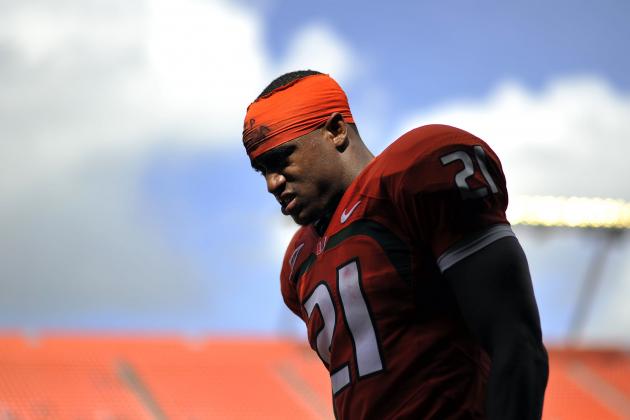 Steve Mitchell-US PRESSWIRE

Brandon McGee had an overall solid game finishing with two tackles, a fumble recovery and a pass breakup. He is the Hurricanes only defensive back that has been somewhat consistent all season long.
Against the Wolfpack, he did give up one big play but played an overall good game. Many teams do not throw the seniors way, including North Carolina State.
Final grade: B+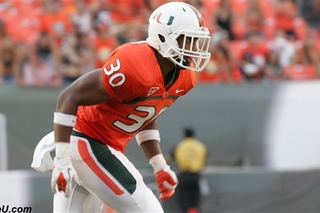 A.J. Highsmith started in front of Vaughn Telemaque, and it was the best decision the Hurricane coaches could have made on Saturday.
While Telemaque continues to struggle, Highsmith stepped in and finished second on the team in tackles with eight. He would also recover a fumble and pick off a Mike Glennon pass.
Not bad for an ex-quarterback. If there is one thing Highsmith needs to work on, it's pass coverage, as he seemed lost out there on some of the big pass plays.
Final grade: B-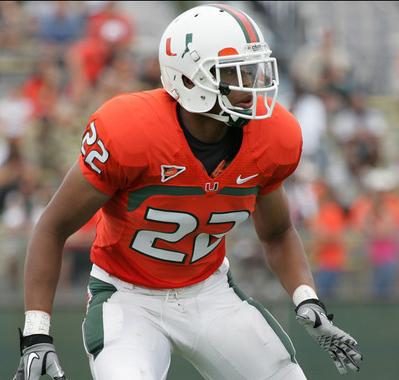 Kacy Rodgers got the start ahead of Deon Bush and finished with five tackles. Much like the rest of the defensive backfield, Rodgers is not that great of a coverage safety.
He possesses great athletic ability, and with more time, he should be able to improve his coverage skills.
Final grade: D