San Diego Chargers vs. Kansas City Chiefs: Live Score, Video & Analysis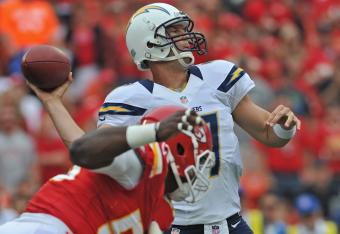 Peter Aiken/Getty Images
In San Diego's final drive, Ryan Mathews single-handedly stomped out the last iota of hope for Kansas City.
Philip Rivers' output (18-23, 209 YDS, 2 TD, 1 INT) wasn't eye-opening, but it was efficient. The Chiefs offense regularly laid eggs, and the Chargers defense catapulted them at the window of opportunity until it shattered.
Three familiar miscues—penalties, turnovers and subpar pass defense—echoed from the same broken record throughout Arrowhead Stadium. The Chiefs aerial attack was anything but, and Matt Cassel's passes repeatedly lagged behind receivers or sailed overhead.
The San Diego Chargers are now sitting comfortably atop the AFC West, while the Kansas City Chiefs remain basement dwellers.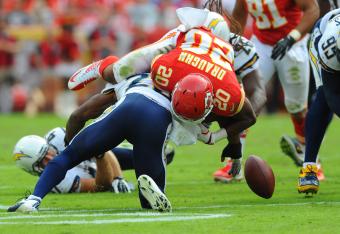 Post-Game Wrap-Up
The 17-point differential doesn't remotely depict how one-sided the game turned out to be.
In the end, one word summarized the matchup in a nutshell: turnovers.
When the last second ticked off of the game clock, Kansas City had committed six turnovers to San Diego's one. Jamaal Charles was stripped twice but eventually redeemed himself with two touchdowns.
Matt Cassel, however, gift-wrapped two interceptions (one resulting in a pick-six). Dexter McCluster whiffed and added another under Cassel's name. But the quarterback's play was, at times, reprehensible.
His first interception derived from eyeing his receiver like a birdwatcher—there wasn't a hint of effort in disguising his intention. The second pick arrived after a pass trailed behind Tony Moeaki, ricocheting off of his outstretched hands and hanging in the air for San Diego defenders.
Penalties often extended drives for the Chargers and halted any sign of offensive progress for the Chiefs. With the exception of Brandon Flowers and Stanford Routt, Kansas City's pass coverage oozed with mediocrity.
The Kansas City Star's Sam Mellinger outlined the general consensus at Arrowhead Stadium today:
A paper airplane gets thrown onto the field at Arrowhead as Draughn fumbles, meaning there is both literal and figurative garbage out there.

— Sam Mellinger (@mellinger) September 30, 2012
Kansas City's critics were partially silenced after the team's comeback victory over New Orleans. It's safe to assume that the local media will trade in its muzzle for a megaphone tomorrow morning.
The San Diego Chargers will travel to New Orleans and clash with the Saints next Sunday. The Kansas City Chiefs will host the Baltimore Ravens in a 2010 wild-card rematch.
1:07, fourth quarter:
Romeo Crennel needs to wave the white flag.
At this point in the game, no lesson is going to resonate with his players. The risk clearly outweighs any potential reward.
3:39, fourth quarter:
Kansas City's players—both on and off the field—look emotionally deflated.
Despite a lackluster effort through the first three quarters, Ryan Mathews picked up a sledgehammer in the fourth and pounded the final nail in the Chiefs' coffin.
If he managed to stay healthy, Mathews would be a legitimate force to be reckoned with on a weekly basis.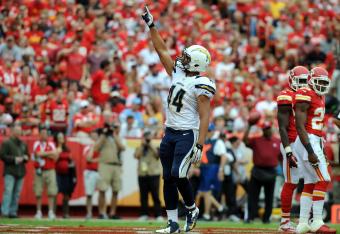 6:56, fourth quarter:
Philip Rivers' poise paid off on San Diego's last trip to the end zone.
Kansas City's linebackers, safeties and backup cornerbacks look like they're ice skating when dropping into coverage. Flowers and Routt are the only members of the secondary that bring any sense of consistency to the table.
Adversely, San Diego's defenders swarm to the ball like it just knocked their hive to the ground.
12:33, fourth quarter:
San Diego's defense keeps punching the Kansas City offense in the mouth. Somehow, after allowing six turnovers, the Chiefs still find themselves in a two-possession ballgame.
Kansas City doesn't deserve to win this.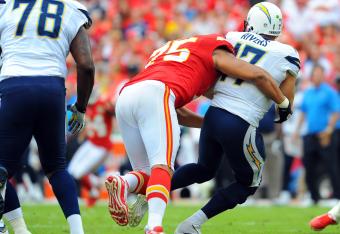 1:10, third quarter:
Tamba Hali, Justin Houston and Ropati Pitoitua deserve a round of applause—the trio has relentlessly bothered Rivers throughout the day.
Dorsey will be looking over his shoulder. As a starter, Pitoitua has applied more pressure in three quarters than Dorsey has in the same amount of games.
In other news: Cassel's inaccuracy continues to be the leading cause of laryngitis throughout the Kansas City area.
5:07, third quarter:
Expect San Diego to go back to Mr. Reliable, Antonio Gates.
Excluding Brandon Flowers' interception, Philip Rivers has put on a solid performance. But, as he displayed in the clubs' last meeting at Arrowhead, things can change in a heartbeat.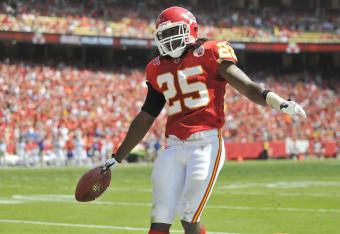 7:52, third quarter:
While Kansas City scored, the last drive still lacked consistency and was elongated by Donald Butler's pass-interference penalty.
But it breathed some life into the Arrowhead crowd—that's the last thing that Philip Rivers wants to witness.
9:33, third quarter:
The Chiefs need to implement Jon Baldwin (and others) into the gameplan. Offensively, Jamaal Charles and Dwayne Bowe are the only players to provide any significant production on a regular basis.
San Diego will consider this opening drive of the second half a win if it ends in a field goal.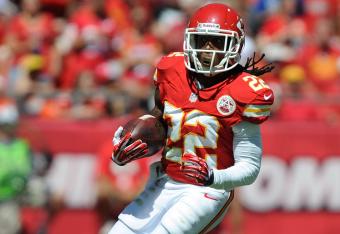 Halftime:
There's more than enough blame to go around on Kansas City's sideline.
Fans will see this game's score scroll by on the ticker and assume that the Chiefs defense has been carved like a Thanksgiving turkey. But, while the defense hasn't impressed, the offense is responsible for the majority of San Diego's 27 points.
Two of the three interceptions fall on the shoulders of Cassel—McCluster caused the last pick.
Although Charles was the sole source of points for the Chiefs, he also fumbled deep in Kansas City territory twice.
San Diego's linebackers and safeties are outclassing their Kansas City counterparts in pass coverage. Antonio Gates is taking full advantage of man-to-man coverage, and it continually results with Eric Berry being left in the dust.
1:47, second quarter:
Throughout the first four games of 2012, it's clear that Cassel's days are numbered as Kansas City's starter. He left his receivers out to dry against New Orleans, and the ball flails with Shaq-like accuracy when it leaves his hands, time and again.
At times, Charles performs like an athletic demigod, but he's only one person. If Kansas City can't find a rhythm passing the ball, it's going to be a long year for the Chiefs.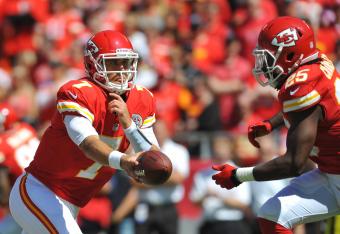 5:09, second quarter:
Jamaal Charles arguably recorded the best performance of his career in Week 3. Midway through the second quarter, he appeared to be assembling one of his worst.
However, he seems to be on the road to redemption with his last highlight.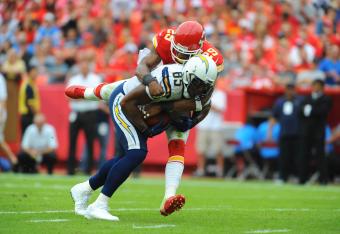 11:01, second quarter:
Different week, same story.
Kansas City keeps shooting itself in the foot via penalties and turnovers.
Somebody might want to text Brian Daboll and inform him that his running back rushed for 233 yards one week ago. Cassel has had nine passing attempts, and Charles has rushed the ball three times.
For whatever reason, Crennel is still refusing to add an extra defender on Gates, and No. 85 is making the most of it.
13:27, second quarter:
Philip Rivers is toying with his opposition.
Three things are certain in life: death, taxes and Travis Daniels getting torched every time he laces cleats up.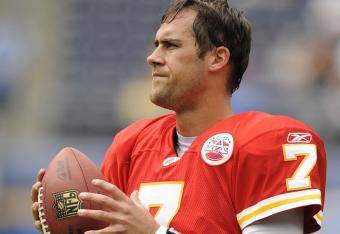 3:35, first quarter:
Kansas City came into Week 4 with the league's No. 1 offense. But the name of the game is points, and the Chiefs struggle to produce them due to turnovers.
Don't let last week fool you, the Chiefs roster isn't constructed to come from behind.
All of Cassel's throws have been short and conservative. He needs to take a shot downfield and force the defense to pick its poison. Right now, the Chargers have no reason not to stack the box in an effort to stop Charles.
It's still early. Depending on your perspective, that can be good or bad news.
6:43, first quarter:
Kansas City hoped to blindside San Diego with consecutive throws on its opening possession. Then, Eric Weddle did what Eric Weddle does—intercept passes.
If Antonio Gates continues to the trend of burning Eric Berry, Romeo Crennel should consider taking a page out of the history book and double-covering the tight end on every passing down.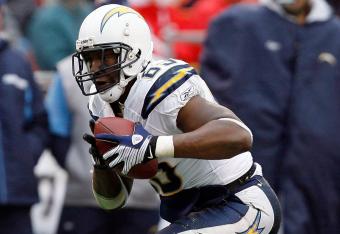 10:05, first quarter:
Justin Houston looks just as relentless as he did against New Orleans in Week 3.
However, Eric Berry's bailing out San Diego's offense—he's already been the culprit of two pass-interference flags. In 2010, Gates repeatedly exploited Berry's inexperience in coverage. Thus far, it's more of the same.
If San Diego leaves with a win, Gates will stuff the box score.
11:07, first quarter:
In an intriguing move, San Diego started Jackie Battle at tailback.
His first two rushes sparked flashbacks in the minds of Chiefs fans. Too many times, Battle hesitates in the backfield, which is a recipe for disaster for a back of his size.
Emotionally, Kansas City's defense looks like it has a little more bounce in its step.
However, San Diego's receivers are having their way with the Chiefs secondary.
To refreshen memories, here is video of the infamous fumble by Philip Rivers that cost San Diego the victory last season.
Safe to say that No. 17 will attempt to exorcise the Arrowhead demons that have haunted him for the past year.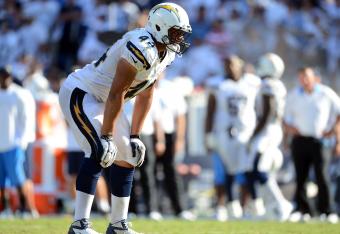 What to Watch for
There are a number of story lines surrounding today's game.
Jackie Battle will have a vengeful mindset after Kansas City opted not to re-sign the 240-pound bulldozer this offseason.
To a lesser extent, the same can be said for offensive tackle Jared Gaither, who was released by the Chiefs in 2011. According to Ricky Henne, Gaither, who was questionable throughout the week, is expected to break the starting rotation today:
Jared Gaither is expected to start for the Bolts today.

— Ricky Henne (@ChargersRHenne) September 30, 2012
Nate Kaeding's absence could prove to be critical by game's end. In 2011, both contests between the two clubs were determined by field goals. Kaeding has converted all seven of his attempts this season.
Chiefs starting defensive tackle Anthony Toribio will see his first action of the regular season today. However, his partner in crime, Glenn Dorsey, will be watching from the sideline. It will be interesting to see how the defensive line fares following both tidbits of news.
Jamaal Charles will try to duplicate his well-documented success (33 carries, 233 yards) from a week ago. But San Diego's defense is a different animal than New Orleans'. The Chargers currently boast the No. 4 rushing defense in the NFL, allowing only 202 yards in the team's first three games.
The inactive list for Week 4 is out, and each team has seven members that will not be participating in today's game (ESPN).
San Diego Chargers
RB Brinkley, Curtis
DT Garay, Antonio
TE Green, Ladarius
K Kaeding, Nate
LB Mouton, Jonas
S Taylor, Brandon
CB Wright, Shareece
Kansas City Chiefs
TE Boss, Kevin
DE Dorsey, Glenn
RB Hillis, Peyton
S Lewis, Kendrick
C Mattison, Bryan
QB Stanzi, Ricky
WR Wiley, Devon
This article is
What is the duplicate article?
Why is this article offensive?
Where is this article plagiarized from?
Why is this article poorly edited?