Bengals: Stat Projections for Cincinnati's Week 4 Game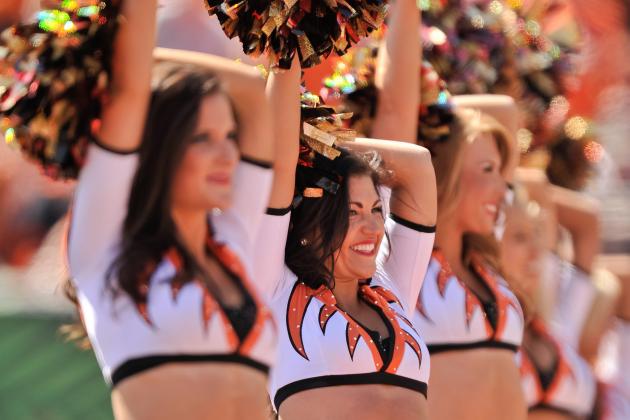 Jamie Sabau/Getty Images

Andy Dalton and the receiving corps have been on fire over the first three weeks but the defense has struggled. The bottom line, of course, is that the Cincinnati Bengals take a 2-1 record into their Week 4 matchup with the 1-2 Jacksonville Jaguars on Sunday.
Can Dalton continue his hot pace? Will BenJarvus Green-Ellis and the running game finally get going? How many sacks will Michael Johnson get this week?
Let's take out our crystal ball and try to project how some of the Bengals will do this week against Jacksonville. These of course are just guesses—educated guesses to be sure—so don't be too critical.
Begin Slideshow

»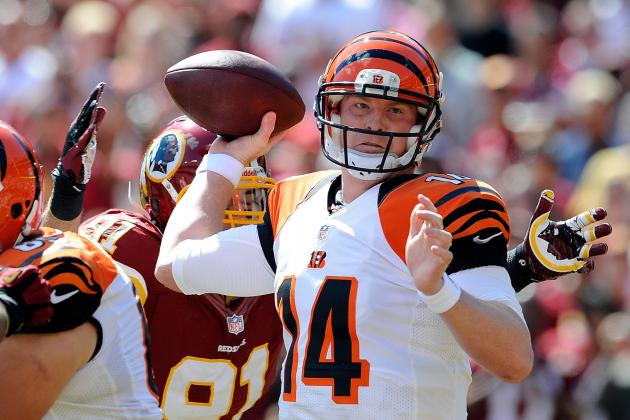 Patrick McDermott/Getty Images

The Jaguars have allowed opposing quarterbacks to complete 68 of 108 passes for 774 yards in three games. Dalton has completed 68.4 percent (65-for-95) for 867 yards by himself.
Jacksonville's pass defense hasn't been all that bad but the Jaguars have also faced a second-year quarterback in Minnesota's Christian Ponder and a rookie in Indianapolis' Andrew Luck. The Jags have also given up over a 120 yards per game on the ground.
Dalton continues to get more and more comfortable with his young cadre of receivers and his numbers have gotten better each game. Expect those big numbers to continue against a suspect Jacksonville secondary.
Projection: 21 of 32, 312 yards, 2 TDs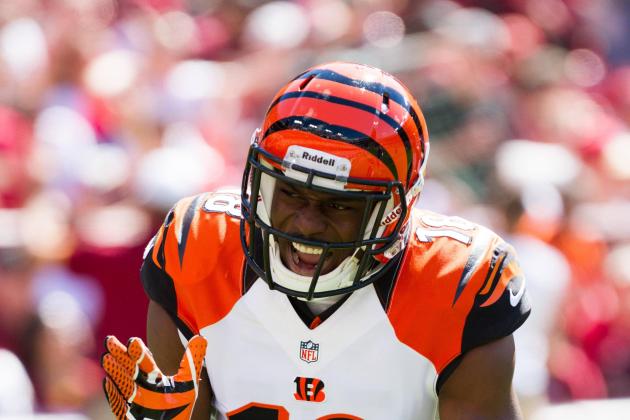 Paul Frederiksen-US PRESSWIRE

Washington decided that it could cover Green 1-on-1 in last week's game and it came back to bite them as the second-year receiver had nearly 200 yards on nine catches.
Green is only going to get better and better and as the other receivers get better, Green's numbers will only go up. Jacksonville, however, won't make the same mistake the Redskins did and will try to take Green out of the game. He'll still put up nice numbers.
Projection: 7 catches, 109 yards, TD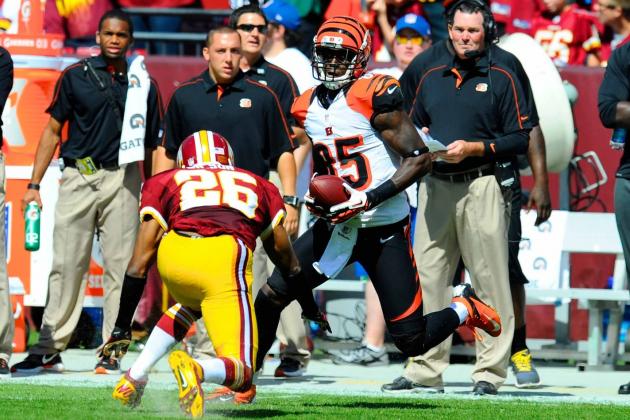 Dale Zanine-US PRESSWIRE

With his first career touchdown and an impressive overall game, Binns certainly turned some heads last week against Washington.
On the season, the rookie has 12 receptions for 157 yards. Binns and fellow receiver Andrew Hawkins are benefiting from the amount of attention paid to superstar A.J. Green, but the pair have also done their part to make defenses pay for the double teams.
Projection: 4 catches, 65 yards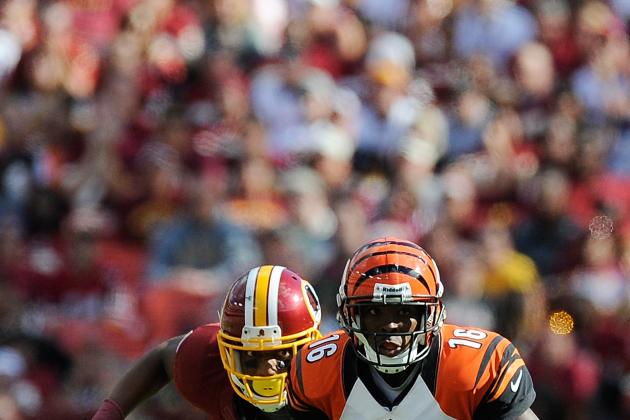 Patrick McDermott/Getty Images

Arguably no player has been as big of a surprise this season than the small and speedy Hawkins, a refugee from the CFL.
Hawkins has excelled in the slot, catching 12 passes for 208 yards and two touchdowns. Both of Hawkins' scores have come on long runs after catches as the rookie showcases his athletic skills.
Projection: 5 catches, 87 yards, TD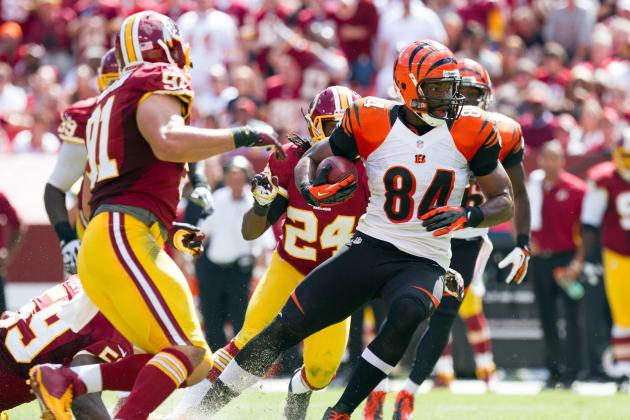 Paul Frederiksen-US PRESSWIRE

After a slow start, Gresham finally had a nice game last week against Washington. On the season, Gresham has 12 catches for 131 yards and a score.
As Gresham gets more comfortable, he should become more of a target for Dalton. Against the Jaguars, Gresham should get plenty of chances as the wide receivers draw most of the attention.
Projection: 6 catches, 54 yards, TD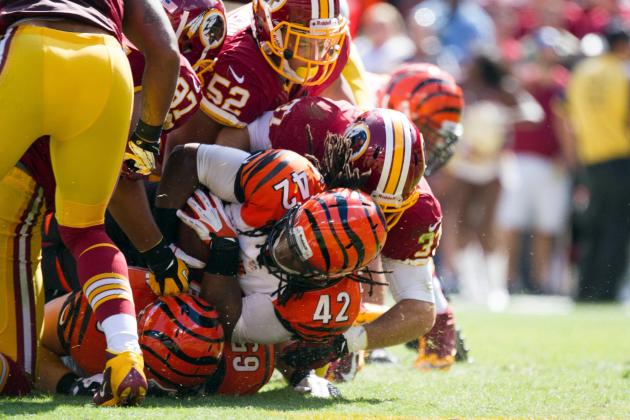 Paul Frederiksen-US PRESSWIRE

Green-Ellis had his best game of the season last week against Washington—despite losing a fumble for the first time ever—but he has yet to truly have a big game. Still, his 204 yards rushing and two touchdowns have all seemed to come at the times when the Bengals needed them the most.
Jacksonville has given up 363 yards rushing through the first three games and although the Bengals have become a pass-oriented offense, the thinking here is that Green-Ellis could emerge with a big game against a suspect Jaguars defense.
Projection: 22 rushes, 110 yards, TD (and zero fumbles)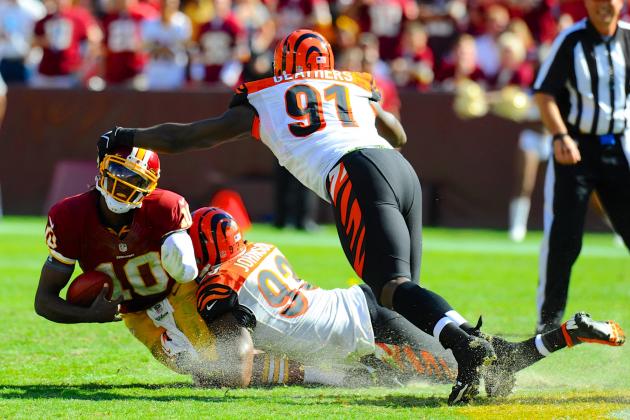 Dale Zanine-US PRESSWIRE

Johnson earned the AFC Defensive Player of the Week award with his three-sack performance against Washington, although sacks could be hard to come by this week
The Jaguars have allowed only six sacks in three games, thanks mainly to the running of Maurice Jones-Drew, who has 314 yards in three games. But here's thinking Johnson will still have a nice game.
Projection: 6 tackles, 1 sack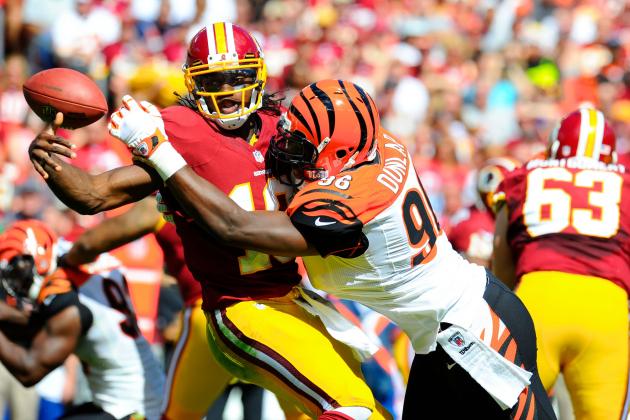 Dale Zanine-US PRESSWIRE

Dunlap made the most of his return to the team, getting a sack and forcing a fumble on the same play. More importantly, he put constant pressure on Washington quarterback Robert Griffin III and allowed Johnson to roam free on the other side of the field
Like Johnson, Dunlap may not rack up many sacks because he will be chasing Maurice Jones-Drew all day. But he will still have an impact.
Projection: 5 tackles, 1 sack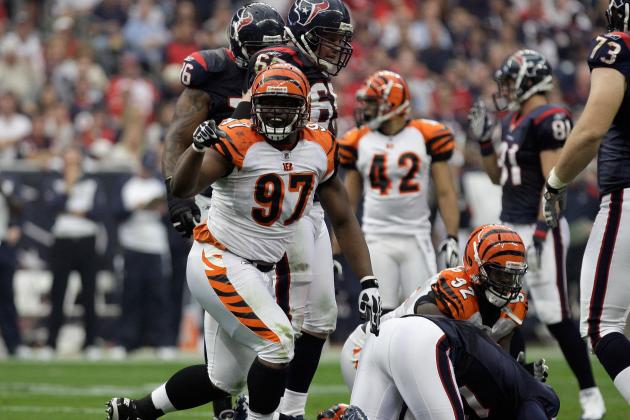 Thomas B. Shea/Getty Images

Atkins has quietly emerged as one of the top-five interior defensive lineman in the entire league.
He's quick, he's big and he's smart. Atkins will need all of those skills against Maurice Jones-Drew, who is still one of the best backs in the league. But Atkins has proven he is up to the task.
Projection: 4 tackles, 2 for loss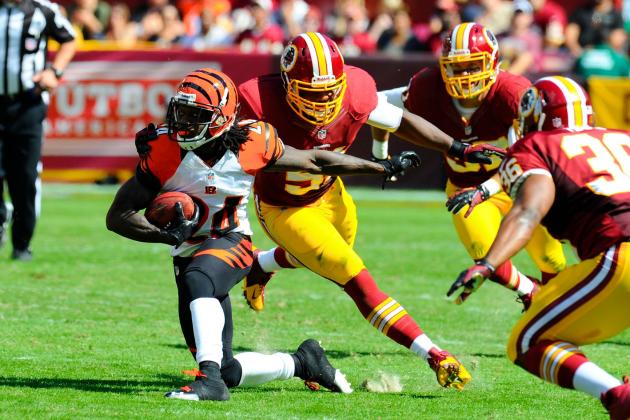 Dale Zanine-US PRESSWIRE

Jones has shown his value with a punt return for a touchdown and is averaging 19.6 yards per return. The Jaguars are allowing opponents only 10.7 yards per return so something has to give.
Jones' biggest presence may come in the passing game. Both starting corners Leon Hall and Nate Clements are ailing and Jones may start at corner.
Projection: 3 punt returns, 38 yards. 3 tackles, INT