Washington Redskins: Stat Projections for Starters and Key Reserves vs. Bucs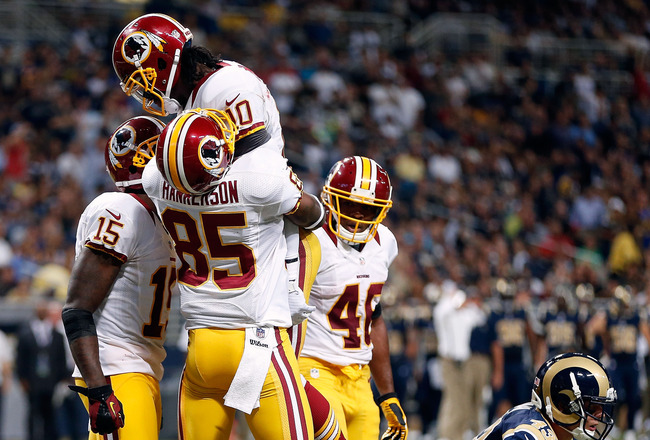 Jamie Squire/Getty Images
Throughout the NFL, teams like to approach their season in quarters. The first quarter of the season is coming to end in Tampa on Sunday afternoon.
Both teams are in a rebuilding process and are standing at 1-2 respectively. The Redskins have felt the highest of highs in an emotional victory in New Orleans, while the Bucs have lost consecutive games. However, they held their own against the superior Giants and Cowboys.
So, when looking at the Redskins' opponent for this week, do I consider them better than Tampa Bay right now? Yes. Does that guarantee a win? Of course not.
Is this a must-win game? Technically, no; there is still plenty of football left to play. I would consider a 2-2 record after the first quarter of the season to be a success.
The past two games for the Redskins have been downright sloppy. There have been careless mistakes, big plays and a lot of "what ifs".
Mike Shanahan knows football, but his development of this organization has not yet translated to wins. This is a game that should be won.
The Skins and the Bucs both have poor defenses, against which opposing quarterbacks have torched both secondaries. Josh Freeman has not been impressive thus far, and this might be the game where he snaps out of it.
The same can be said for the Redskins defense. I can't sugarcoat it: the defense is awful. The Bucs have an offense that can be stopped, so this might be a game where the defense can make a statement.
Anyway, just like the past three games, I expect this to be a high-scoring and entertaining game. As usual. Below are my statistical predictions for the skill position players for the Burgundy and Gold.
Quarterback: Robert Griffin III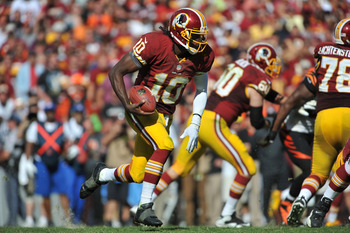 Larry French/Getty Images
Nationwide, analysts, fans and experts of the game have been very critical of Kyle Shanahan's offense. It has certainly been impressive, but Robert Griffin has taken a beating.
The problem is that he's been virtually unstoppable. Whether it's with his legs or arm, RGIII has been as advertised.
That said, I'm sure the Redskins coaches know they can't subject their star player to such brutality again. This isn't an indictment on Griffin's toughness either—the man is tough as nails.
Of course I don't want to baby the face the franchise, but he needs a fair opportunity at playing a full season and career; taking hits like he took against Cincinnati can't happen again.
To Griffin's advantage, the Buccaneers do not have a good defense. They are currently 26th in the NFL in total defense. (http://espn.go.com/nfl/statistics/team/_/stat/total/position/defense)
With that considered, I expect another good game from Robert Griffin. I foresee a 300-yard passing game in which the Redskins will focus on Griffin making more plays with his arm than with his running capabilities.
He'll throw at least two touchdowns and finally take more shots in the passing game in the red zone.
Running Backs: Alfred Morris, Evan Royster and Ryan Grant
Dilip Vishwanat/Getty Images
Dear Alfred Morris, the ball is in your hands for the duration of the season—barring an injury, of course. With second-year player Roy Helu, Jr. being put on injured reserve and Evan Royster still nursing some injuries, Morris appears to be your stereotypical workhorse running back.
I don't expect a lot from Ryan Grant as of now. I wouldn't be surprised if they give him a couple carries on Sunday, but nothing too special.
Although Tampa is 26th in overall defense, they do have the No. 1 rushing defense in the NFL— they are allowing only 47 yards per game thus far.
It's unlikely that the Bucs are going to be able to keep that up throughout the season, but Alfred Morris slyly finds a way to get the job done.
Alfred Morris will get 25-plus carries, especially with the injuries to Helu and Royster. He's been very effective in the red zone, so he'll get another touchdown again—making him a fantasy football commodity.
Tight Ends: Fred Davis, Niles Paul and Logan Paulsen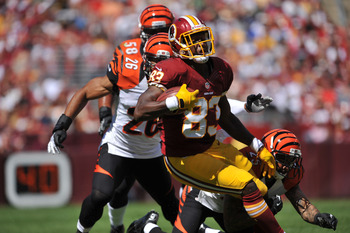 Larry French/Getty Images
In the first two years of the Mike Shanahan era, tight ends have played a vital role in the offense. Chris Cooley and Fred Davis both were highly effective.
In the third year, the tight end position appears to be a misnomer. Yes, I know Fred Davis had a good game last Sunday, but I'm still not buying into it.
Just to be nit-picky for a second, the Redskins obviously think the world of Niles Paul as a tight end, since Chris Cooley essentially lost a job because of it. What have we seen out of him so far? Other than some good special teams plays, I can't think of anything.
In addition to that, Logan Paulsen has been solid as the team's third tight end. He's been effective in run-based formations on play-action fakes. He could contribute with a reception as he's done in the past.
Anyway, I envision Fred Davis having a modest day in Tampa Bay. I'm guessing four catches for 40 yards. I'm not really knocking on Fred Davis either. He's been open, but Griffin has looked elsewhere.
I've stated this before, but Davis is best utilized downfield. This might be an issue with the Skins potentially relying on Jordan Black to protect Griffin's blindside.
Wide Receivers: Leonard Hankerson, Santana Moss, Aldrick Robinson, Josh Morgan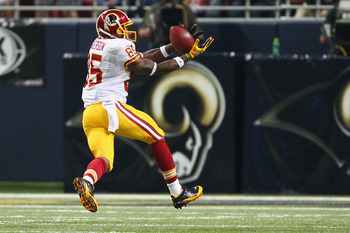 Dilip Vishwanat/Getty Images
We have been given no assurance of Pierre Garcon playing on Sunday. After only playing one half of football this season, it is evident that Garcon is the team's most talented pass catcher and has developed an obvious connection with the quarterback.
Even with Garcon out, the Redskins have still succeeded in the passing game, and this is where the Skins will need to excel against the Bucs defense.
I've been waiting for a breakout game for Leonard Hankerson. Mike Shanahan has been very complimentary of him thus far. This could be his best opportunity.
Santana Moss hasn't been a major feature in this offense, Aldrick Robinson has regressed from his Week 1 performance and Josh Morgan might still be in the doghouse.
Leonard Hankerson should be the featured receiver in this game. Kyle Shanahan has proven that receivers are open in his offense. Hankerson should have his second career 100-yard game.
Other than Hankerson, Santana Moss should be given additional opportunities. To re-emphasize, the Bucs pass defense is not good; the Redskins will attack that. Moss will be given an opportunity to reaffirm his position as a valued slot receiver.
Of course this is entirely dependent on if Garcon is playing or not, so please note that I am assuming that he is not at the moment.
Additionally, Brandon Banks is a mystery. After two years primarily as a kick/punt returner, Banks was used in last week's offense.
The problem with that is that he was used in the much-scrutinized, but effective option. It will be interesting if they can continue to utilize the speedster in some form.
I doubt they will run that offense again, so don't expect much from Brandon in this game. At the most he'll get a screen pass or two and see if he can make a play on his own.
I have been overly critical of Brandon Banks in recent articles. What I like about him is that he could be a great decoy. Have him run a go-route every time and he'll get the attention of both the cornerback and safety.
Special Teams: Billy Cundiff and Brandon Banks
Rob Carr/Getty Images
Billy Cundiff has been great so far—what an upgrade from Graham Gano, and just about every other kicker the Redskins have had since Chip Lohmiller. (That is my first Chip Lohmiller reference in my journalistic career—I've reached a new low.)
Cundiff could have a busy day against the Bucs' impressive red zone defense. He's been a viable fantasy football option— I could see him getting three field goals of his own on Sunday.
Brandon Banks seemed to finally pick up the momentum that we've been looking for for a while. I can see him getting a good punt return in. I won't go as far to say he'll take one to the house, but he will at least put the offense in good field position.
Keep Reading

Washington Redskins: Like this team?