An Early Look at Barcelona's Potential Starting XI in Sunday's El Clasico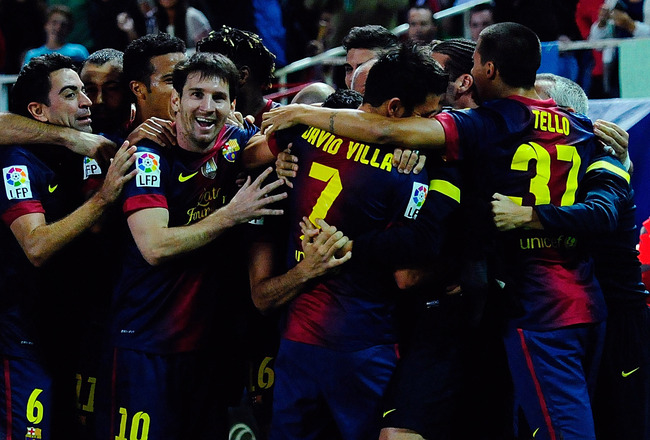 Barca celebrate a late win over Sevilla.
Gonzalo Arroyo Moreno/Getty Images
It is that time of the year again. We are just a week away from the first Clasico of this season's La Liga, as Real Madrid travel to the Camp Nou on Sunday to take on Tito Vilanova's FC Barcelona.
First blood this season might have gone to Los Blancos in the UEFA Super Cup, but it is a whole different story in the league. Manager Tito Vilanova has hit the ground running as the new man behind the Catalan giants, with six wins in as many games.
Meanwhile, manager Jose Mourinho's side have struggled to find their feet, having lost to Sevilla and neighbours Getafe already.
Barcelona, however, have injury problems and Madrid could be poised to close the gap with the three points on offer at the Camp Nou.
Let us take a look at who Vilanova could start, as Barca look to ensure they maintain their early lead in the league.
GK: Victor Valdes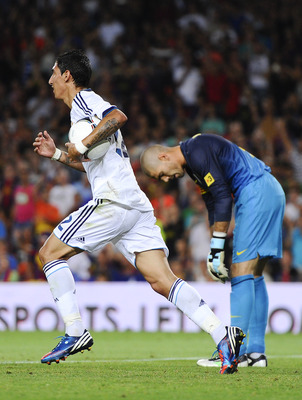 Valdes hangs his head in shame after gifting 'that goal' to Angel Di Maria.
David Ramos/Getty Images
A no-brainer.
Barca's No. 1 was subject to plenty of criticism after his horrible blunder against Los Blancos in the Supercopa. In all honesty, it probably cost his team a trophy. Seriously, what was he doing?
However, Valdes has proven an excellent keeper, and for every act of villainy, he has saved his side a hundred times over.
That, and the alternative is Jose Manuel Pinto. Perhaps what Valdes really needs is some decent competition.
RB: Dani Alves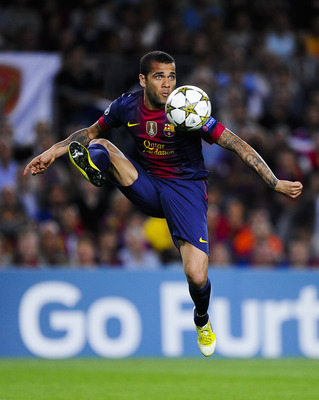 Alves' influence often goes undervalued.
David Ramos/Getty Images
Alves was injured in warm-up prior to the last Clasico, and what a difference that made.
The Brazilian's presence on Barca's right flank is often incredibly undervalued. He offers a passing outlet, width and attacking presence, all without neglecting his defensive responsibilities.
The idea that Dani Alves cannot defend is quite simply a myth.
In the last Clasico, Adriano Correia took his place on the right, played poorly and was sent off after just 28 minutes.
Expect another excellent performance from Barca's No. 2.
CBs: Alex Song and Javier Mascherano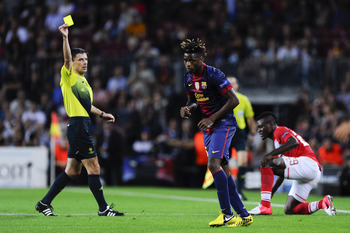 Song's impulsive decision making could prove a problem against the likes of Ronaldo.
David Ramos/Getty Images
Here is the problem area for Barcelona, and one cannot help but feel that the club's decision not to sign a centre-back will come back to haunt them.
Gerard Pique (ankle) is battling to be fit for Sunday's game, but it looks increasingly likely that Vilanova will have to go with the makeshift pairing of Alex Song and Javier Mascherano.
Xavi has voiced his confidence in the two ex-Premier League midfielders, but I am not convinced.
Song has impressed in the "Busquets role," but alongside Mascherano in defence, he has looked shaky, to say the least.
It is a wonder why young Marc Bartra, an actual centre-back, has not been given an opportunity this term. On the back of an impressive preseason, it appeared the Catalan had won the confidence of his coach, but apparently these days you have to be a midfielder from England to play in Barca's back four.
Breaking News:
After being declared fit this week, Carles Puyol dislocated his elbow in Tuesday night's Champions League clash with Benfica and will now miss the weekend's Clasico.
LB: Adriano Correia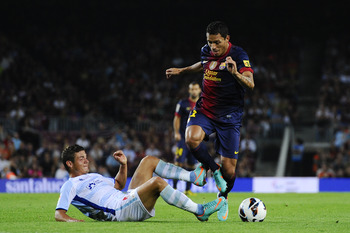 The Brazilian No. 21 has been in superb form.
David Ramos/Getty Images
The versatile fullback has welcomed new signing Jordi Alba to Barcelona but has made it clear that he has no intentions of giving up his starting berth.
With two goals in three excellent La Liga performances, Adriano has proven to be one of Blaugrana's best this season and will surely start against Los Blancos next weekend.
Defensively, he has offered far better balance on the left than the diminutive Spaniard, and his contribution to attack has been equally as impressive. Where the combination of Alba and Alves on Barca's flanks has often left the Catalans exposed at the back, Adriano has offered cover.
He missed Saturday's trip to Sevilla, but the club has assured this was a precautionary measure.
DM: Sergio Busquets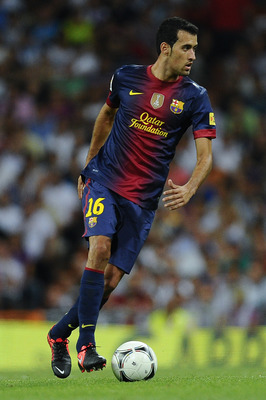 Sergio Busquets, ungainly and graceful at the same time.
David Ramos/Getty Images
Pep Guardiola once said that Sergio Busquets was the first name on his teamsheet and that if he was "reincarnated as a player, I'd like to be like him."
Love him or hate him, Busquets is a genius and the best in his position that world football has to offer. His combination with Xavi and Iniesta is what could get Barca over the line in this game.
CM: Xavi Hernandez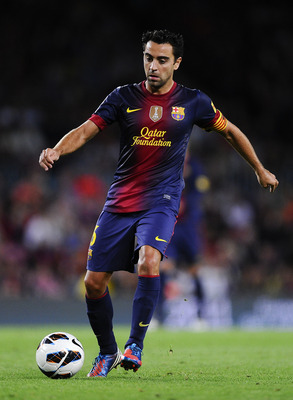 Xavi will take the captaincy in Puyol's absence.
David Ramos/Getty Images
"Mr. Clasico." Xavi has proven to be the difference time and time again for Barcelona in these famed matches.
In a recent article, I waxed lyrical about many of Xavi's best qualities. Like all the best players, "El Maestro" saves his best for the biggest games.
This wonderful goal in 2004 won the game for his side, and this one began the famed 5-0 romp at the Camp Nou in 2010.
Expect him to buzz around the midfield, conducting the game as usual.
CM: Andres Iniesta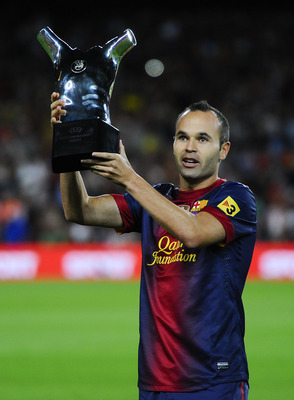 Iniesta with his UEFA Best Player award.
David Ramos/Getty Images
According to FCBarcelona.com, the cerebral midfielder is back in training and should be available for Barca's midweek clash against Benfica. Vilanova would, however, be wise to rest the Spaniard for that game and let him focus on Madrid in a week's time.
Iniesta's influence is pivotal. When he does not play, Barca just do not quite look exactly the same team.
His gift is creating space for his teammates, just as he did in the first leg of the Super Cup earlier this season.
When fit, there are few better than Barca's pale No. 8.
RF: Pedro Rodriguez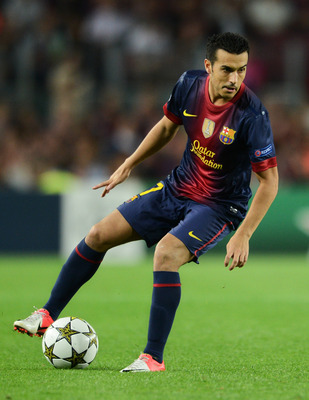 Pedro is a rejuvenated player this season.
Jasper Juinen/Getty Images
Last season, the Canarian struggled for form as he was blighted by injuries and a lack of consistent game time. He looks, however, a rejuvenated player after an excellent start to this campaign.
With all the big stars on Barca's roster, one can easily forget players like Pedro, but his hard work is invaluable. For many of his side's games this season he has looked the liveliest attacking threat.
He is a big-game player as well. Definitely worth tipping him for a goal in this game.
CF: Lionel Messi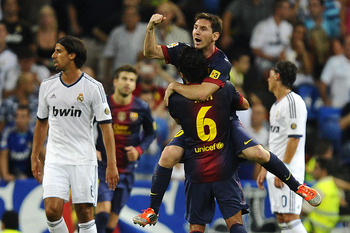 The Argentine celebrates his wonderful free-kick in the Super Cup.
David Ramos/Getty Images
An explanation of why he should play is hardly needed, so let us just take a look at what the world's best player has managed against Real Madrid over the years.
To be exact, he has scored 15 goals and assisted 10 times in just 21 games against Los Blancos. An incredible record against Iker Casillas, a goalkeeper many regard as one of the best of all time.
Need I say more?
Note: stats courtesy of @BarcaStat & WhoScored.com
LF: David Villa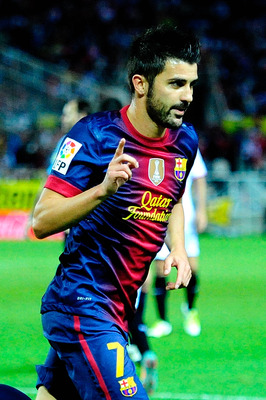 Villa celebrates his late winner against Sevilla.
Gonzalo Arroyo Moreno/Getty Images
Oh, how we have missed you, David Villa, and what a comeback you have made.
Is it possible that his six months off were a good thing? "El Guaje" is currently playing like a man possessed, and his hunger for goals appears insatiable. He is proving just why his career is far from over at the Camp Nou.
Despite starting in just one game so far, he has managed 3 goals in just 108 minutes. An incredible strike rate for a player returning from a leg-break.
Villa is ready to start in this game, and his presence could be the difference.
Other Options
In Alexis Sanchez and Cristian Tello, Vilanova has two other options in attack.
Alexis, however, has been poor this season, and B/R's Michael Cerna recently explained why he does not deserve to start for the Blaugrana.
Cristian Tello could be an influence as an impact sub, but he is still young and has plenty to learn.
It is about time "MVP" (Messi, Villa, Pedro) is reunited.
Note: stats courtesy of WhoScored.com
Formation: 4-3-3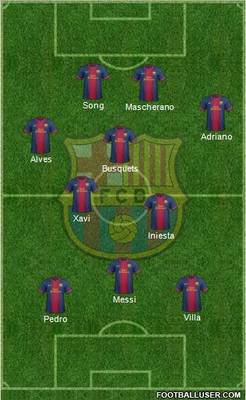 Keep Reading

FC Barcelona: Like this team?