Buffalo Bills: Stat Projections for Starters and Key Reserves vs. New England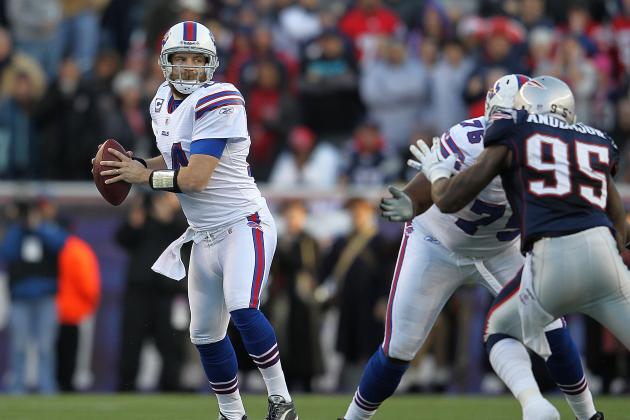 Jim Rogash/Getty Images

It wasn't long ago that the New England Patriots had beaten the Buffalo Bills 15 times in a row. Some of that was due to Buffalo misfortune, but mostly it was because the Bills have never been able to find an answer for future Hall of Fame quarterback Tom Brady.
In Week 4 of last season, the Bills completed a comeback for the ages to end the miserable streak in front of a packed crowd at Gillette Stadium. Unfortunately the Bills weren't able to start a streak of their own, as they lost to a surging Patriots team in Week 17 at "The Ralph."
The Bills are home once again to take on the Patriots after a Week 3 win in Cleveland against the Browns. Last week's win wasn't without a cost, as the Bills lost the electric C.J. Spiller to a shoulder injury that will likely keep him out of this week's pivotal AFC East matchup.
The Bills will need a big day from their other playmakers on both sides of the ball to upset the AFC East kings
Begin Slideshow

»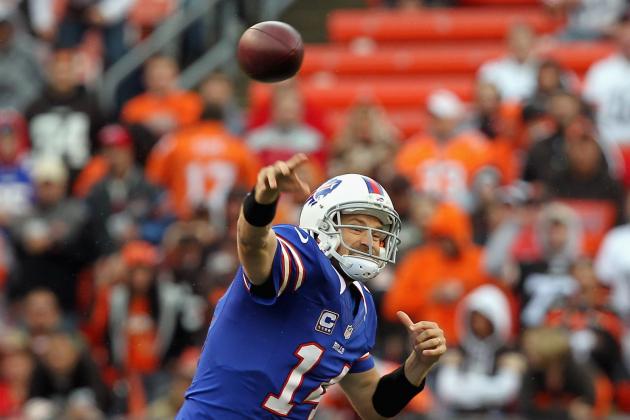 Matt Sullivan/Getty Images

Ryan Fitzpatrick is one of the unquestioned leaders of this year's Buffalo Bills squad. The unfortunate thing is that Fitzpatrick has yet to prove he can fulfill those responsibilities on a consistent basis.
The team goes with how well Fitzpatrick plays. If he minimizes his mistakes, which he has done over the past two weeks, then all aspects of the team flourish. When he struggles with his accuracy, the team struggles mightily.
Nothing is more frustrating than the sight of Fitzpatrick dawdling off the field with slouched shoulders and a hung head. Those are signs that Fitzpatrick is not yet ready to carry a team on his own.
The question for this Sunday, and every one for that matter, is which Fitzpatrick will show up?
The Patriots defense hasn't had any dominating performances, but they have been opportunistic with a plus-four turnover differential. Fitzpatrick will need to take some shots downfield against a Patriots secondary which has been vulnerable to the occasional big play.
The Forecast:
250 yards passing, 15 yards rushing, two TD, two INT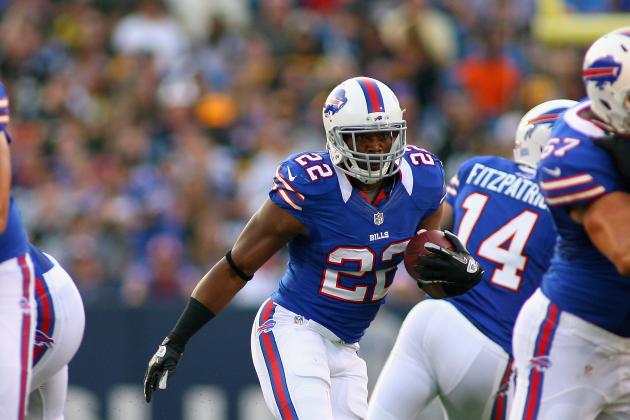 Rick Stewart/Getty Images

Fred Jackson practiced for the second straight day on Thursday, leading him to declare that he would indeed be suiting up against the Patriots on Sunday afternoon.
Jackson has been a major catalyst of the Buffalo offense for the last three seasons, but injuries have slowed him down since the middle of last season. Jackson will be donning a knee brace if he does play against New England.
Tashard Choice was on the roster bubble in August, but has proved his worth with 131 yards on the ground in the first three weeks of the season. He had a strong performance last week, totaling 91 yards on 20 carries behind a Buffalo offensive line that has opened up gaping holes all year.
The left side of the line, including rookie Cordy Glenn, Andy Levitre and Eric Wood, should be able to open some decent-sized holes against a smaller Patriots defense. The key will be eliminating the obvious exception to that statement, Vince Wilfork.
The Forecast:
Jackson: 10 carries, 45 yards, TD, three catches, 30 yards
Choice: 14 carries, 60 yards, one fumble lost, one catch, five yards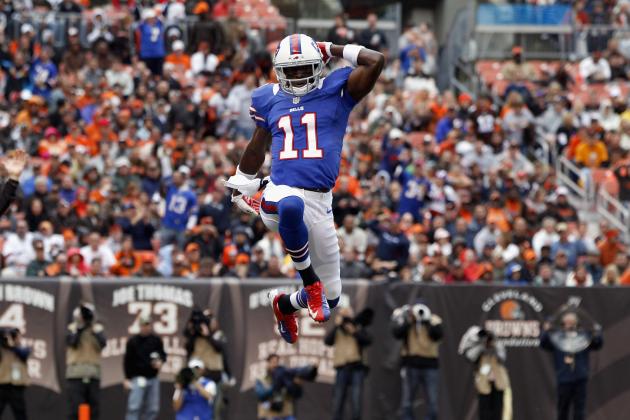 Matt Sullivan/Getty Images

Stevie Johnson has become the household name in the Buffalo receiving corps. After that the unit consists of a bunch of guys that the average NFL fan wouldn't be able to name without a roster sheet.
Johnson hasn't looked his explosive self, despite piling up a touchdown a week for the last three weeks. He'll need to be more than explosive for the Bills to succeed on offense this week. Former Pro Bowler Devin McCourty will likely be assigned to Johnson, who will need to use his superior route-running ability to find soft spots in the zone.
T.J. Graham scored his first NFL touchdown a week ago, but is only two weeks removed from being a healthy scratch. Graham has to grow up faster than coaches may have planned due to the season-ending injury suffered by David Nelson. The speedy rookie has a chance to be a game-breaking outside threat that the team hasn't had in quite some time.
The Forecast:
Johnson: six catches, 90 yards, TD, two drops
Graham: two catches, 57 yards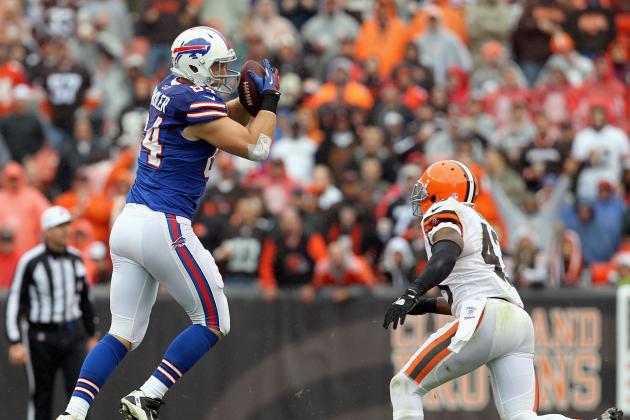 Matt Sullivan/Getty Images

I remember looking at a list of the top players at each position before the season and not being able to find Chandler's name among the top 50 at tight end. I wish I had marked down the publication somewhere, if only to write them a smug letter about how wrong they were.
Chandler is never going to be a top-10 player at tight end, but he does possess the skills to be a dominant red-zone target. Chandler has a 6'8" frame to go along with a pair of mitts that don't drop a ball thrown within his vicinity.
Brandon Spikes and Jerod Mayo will have the pleasure of dealing with Chandler should the Bills get within the Patriots' 20-yard line.
The Forecast:
Three catches, 50 yards, TD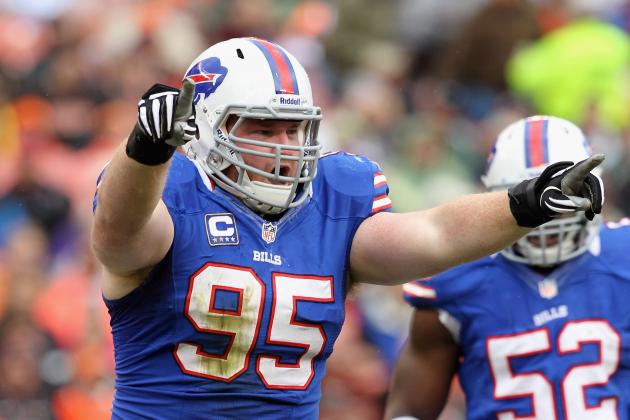 Matt Sullivan/Getty Images

The additions on the Bills' front four of their defense says only one thing; they want to be built to beat the Patriots. The only way to beat the Patriots is to put pressure on Tom Brady and hope that he makes a mistake.
Kyle Williams has had a resurgence in 2012 with three sacks already in the young season. The 2010 Pro Bowl selection at defensive tackle played in only five games a year ago, leaving a gaping hole in the Buffalo defense.
Mario Williams, the high-priced free agent, tasted his first sack as a Buffalo Bill last week with 1.5 sacks of Brandon Weeden. Mark Anderson also recorded his first sack as a Bill against Cleveland and has flashed some impressive run-stuffing ability.
Not to be forgotten is Marcell Dareus, the 2011 first-round draft pick, who has 1.5 sacks of his own from the defensive tackle spot. Kyle Williams and he make a formidable duo up the middle in both aspects of defense.
If the unit can built upon their successes last week, they can change the outcome of this game on their own. However, if they are unable to get pressure on Brady or contain Stevan Ridley, then it might be another easy New England victory in front of the Buffalo faithful.
The Forecast:
Two sacks, five hurries, two tackles for loss, one tipped pass