SF Giants: How Does Bruce Bochy Set Up the Pitching Staff for the Playoffs?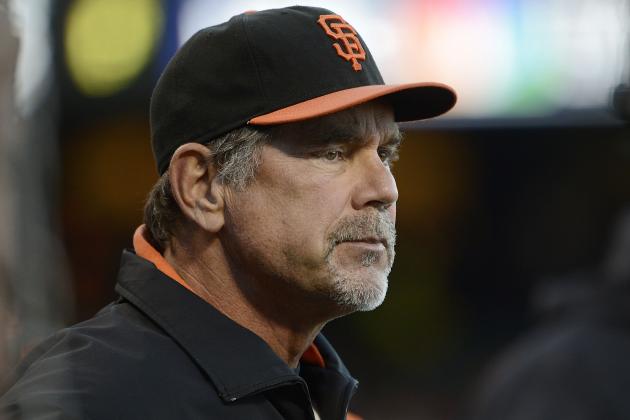 Thearon W. Henderson/Getty Images
Bruce Bochy must decide on his starting rotation for round-one of the playoffs
The San Francisco Giants are steaming towards the playoffs and their first-round matchup against either the Washington Nationals or Cincinnati Reds. Giants' manager Bruce Bochy has a tough decision to make regarding how he sets up his starting pitching rotation.
The Giants plan to use four starters among Matt Cain, Madison Bumgarner, Tim Lincecum, Ryan Vogelsong and Barry Zito. Who will be the odd-man out?
In addition to that first question, in what order will Bochy start the remaining four?
We can be fairly certain that the Giants will be the third seed in the NL playoffs, which means they will play the first two games at home and the remaining games on the road.
Will the Giants' specific opponent have any influence on Bochy's decision?
Let's take a closer look at who should be in the starting rotation and in what order they should pitch. How Bochy ultimately decides to put this together could very well determine the Giants' fate in the playoffs.
Begin Slideshow

»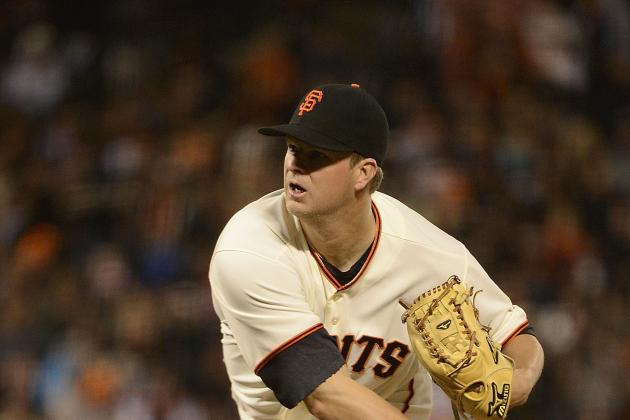 Thearon W. Henderson/Getty Images
Matt Cain will pitch in Game 1 of the playoffs.
Matt Cain will start the first game of the playoffs, regardless of who the opponent is. Cain has been the Giants' most reliable and consistent pitcher over the course of the season.
He has a record of 16-5, with an ERA of 2.77. In 214.1 innings, Cain has allowed only 173 hits and 50 walks. This calculates to an outstanding WHIP of 1.040. In addition, Cain has struck out a career-high 191 batters this year.
Cain has also proven himself in the postseason. In the Giants' World Series-winning year of 2010, Cain started and pitched in three games, going a total of 21.1 innings. He went 2-0 and did not allow an earned run.
Starting Cain in this first game also enables the Giants to start him in Game 5, if necessary. There is no pitcher the Giants would want on the mound in a series-deciding contest than Cain.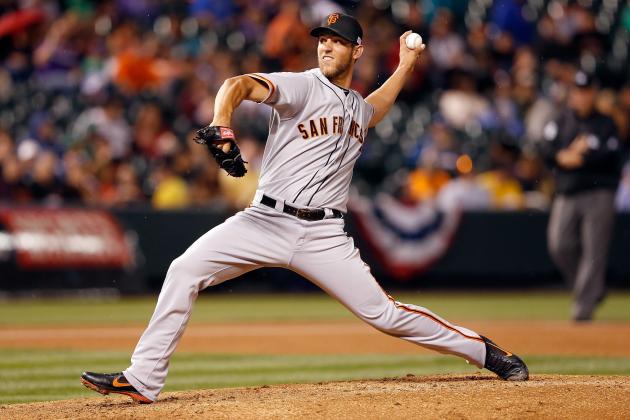 Doug Pensinger/Getty Images
Madison Bumgarner pitches like a wily veteran at the age of 23.
The second game of the series is much more difficult to project. All of the Giants' starters have fared better at home than on the road.
I believe the potential for a game to get out of hand on the road is greatest for Tim Lincecum and Barry Zito. Ryan Vogelsong's home vs. road splits also favor him pitching at home.
This Giants' home field of AT&T Park is extremely pitcher-friendly as the ball does not typically carry well there, especially at night. Both Lincecum and Zito are fly-ball pitchers and it would make sense that they would not do as well on the road, especially in the bandbox at Cincinnati.
Nevertheless, I believe the Giants should start Madison Bumgarner in the second game of the series, whether that be against the Reds or the Nationals. Bumgarner is the Giants' second-best pitcher and if the Giants can win the first two games at home, it will put a tremendous burden on their opponent.
Bumgarner has a record of 10-3 at AT&T Park, with an ERA of 2.38. His road record is 6-7 with an ERA of 4.21.
Bumgarner also has proven himself in the postseason, having pitched very well in 2010. He threw 20.2 innings in three starts and one relief appearance. Bumgarner went 2-0 and compiled and ERA of 2.18 and a WHIP of 1.113.
Rather than out-smart themselves and go with Vogelsong, Lincecum or Zito, I believe the Giants should go with the pitcher that gives them the best chance to win this specific game, and that would be Bumgarner.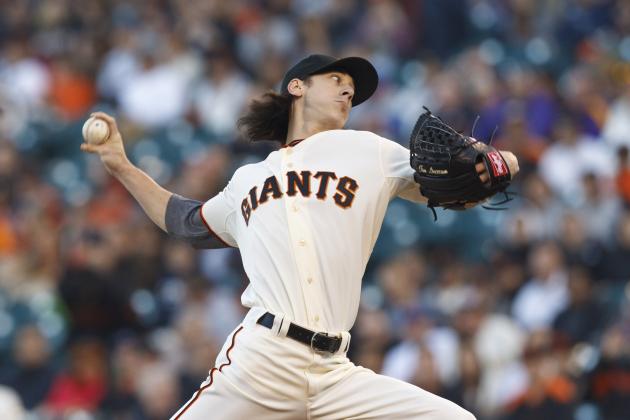 Jason O. Watson/Getty Images
Tim Lincecum has had a disappointing season.
Lincecum had a terrible first half of the year, but has been better since the All-Star break. Unfortunately, Lincecum had another poor outing his last time out, giving up seven earned runs in four innings.
Prior to this debacle against Arizona, Lincecum had been throwing the ball well. In his 10 most recent outings, he was 6-3 with an ERA of 3.02.
Lincecum also pitches much better at AT&T Park, where he has an ERA of 4.15, compared to 6.16 on the road. Because of this disparity, I have heard many people suggesting the Giants should start Lincecum in Game 2 at home, as opposed to Game 3 on the road.
Although this makes sense to some degree, there is no guarantee that the Giants will win Game 2, if Lincecum starts. There is also no guarantee with Bumgarner, but as I mentioned earlier, I do believe Bumgarner gives the Giants the best chance to win that second game.
With Lincecum starting the first game on the road, he will be on a short leash. He has been victimized by the big inning this year and Bochy will not hesitate to remove him if he falters early on.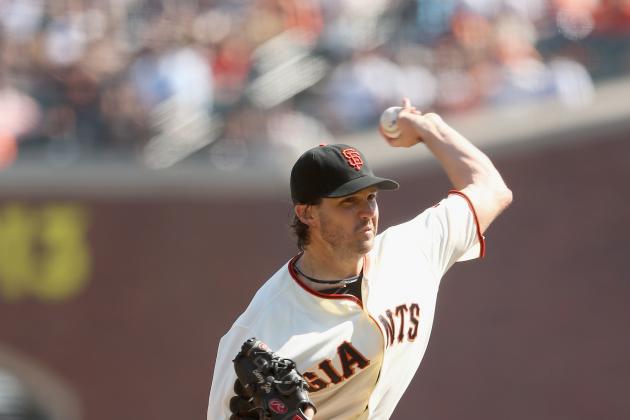 Ezra Shaw/Getty Images
Barry Zito has won 14 games for the Giants this year.
Earlier this season, Ryan Vogelsong was a shoo-in to start one in the playoffs. However, Vogelsong has been extremely shaky in his recent outings and may have pitched himself out of the postseason rotation.
The beneficiary of these recent developments is Barry Zito, who is having his best season as a Giant. Zito is 14-8 with an ERA of 4.19 and WHIP of 1.40.
The delta between Zito's home and road starts is not as great as it is for the Giants' other starters. At home, Zito is 8-5 with an ERA of 4.00. On the road, he is 6-3 with an ERA of 4.44.
Zito has come through in some big games for the Giants this season. He's earned the opportunity to start in the postseason, which is quite a contrast to 2010, when he wasn't even active.
The other thing about Zito's starts is that when he doesn't have it, Bochy will know right away. Similar to Lincecum, the left-hander will have very little margin for error.
Thearon W. Henderson/Getty Images
Ryan Vogelsong has struggled in the second-half of the season.
Ryan Vogelsong started the season very well and appeared to be a lock for one of the postseason starting assignments. However, he tailed off badly and struggled in the second-half of the year.
At the age of 35, many were theorizing that Vogelsong's arm was tiring and he could no longer locate his pitches as effectively. Prior to Vogelsong's most recent start this past Saturday, when he allowed only one run in six innings, the right-hander was getting lit up.
In his previous nine starts, since the beginning of August, Vogelsong had thrown 43 innings and allowed a whopping 38 runs, an ERA of 7.95. His WHIP of 1.65 over that same period was also extremely high.
Vogelsong starts on Friday and could have one additional start remaining in the regular season. If he pitches well, Giants' manager Bruce Bochy may opt to have Vogelsong start in place of Zito or Lincecum.
One thing that may work against Vogelsong is that he has a lot of experience pitching in relief, while Barry Zito has only six relief appearances in his entire 13-year career.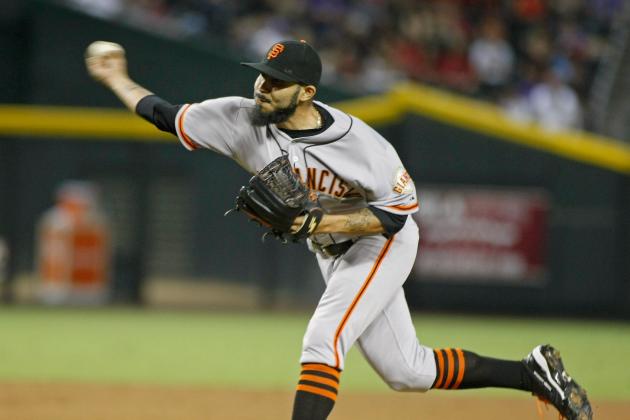 Ralph Freso/Getty Images
Sergio Romo has handled the majority of the save opportunities of late.
The Giants will face either the Washington Nationals or the Cincinnati Reds in the first round of the playoffs. Both teams are extremely powerful offensively and can score runs in a hurry.
The Giants must have excellent pitching in order to win the series. In addition to the starters, the bullpen will be critical to the Giants' success.
Manager Bruce Bochy has used a bullpen-by-committee approach over the past couple of months after Santiago Casilla began struggling. Jeremy Affeldt and Javier Lopez have gotten a few opportunities to close-out games, but the majority of the chances have gone to Sergio Romo.
Romo has been very effective and he and his bullpen mates must continue to be strong if the Giants hope to win it all again this year. The chemistry in San Francisco is feeling a lot like the Giants' world championship team of 2010. We'll soon see if they can have another victory parade.