How the NBA Offseason's Top Storylines Played out
Kevork Djansezian/Getty Images

With training camp just around the corner, the return of NBA basketball is fast approaching.
While fans were left yearning for more action after a scintillating Miami-Oklahoma City Finals match-up, the offseason of 2012 certainly offered up plenty of compelling storylines to keep both fans and analysts busy during the most insufferable months for hoops fans.

Though this crop of free agents was not stuffed with marquee names like the Summer of 2010, it did feature several high profile players testing the market and a number of players on contract switching ball clubs for a myriad of reasons.

From the resolution of the Dwight Howard debacle to the future of three of the league's most dynamic point guards, waves were made this offseason by everyone from rookies to veterans and contenders to cellar-dwellers.

It is safe to say that, coming off of a harried and severely delayed 2011 offseason, having a summer filled with NBA action was a welcome sight to fans of the sport. As we eagerly await tip-off in October, here are some of the biggest storylines from the 2012 offseason and how they ultimately played out.
Begin Slideshow

»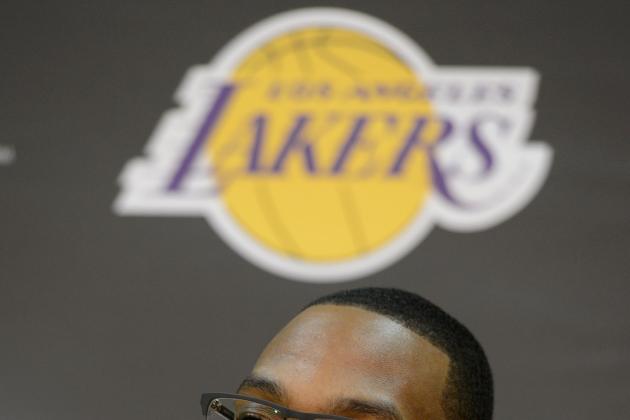 Kevork Djansezian/Getty Images

Easily the highest profile moment of the 2012 offseason was when Dwight Howard was officially traded to the Los Angeles Lakers. The four-team deal also involved the Philadelphia 76ers, Denver Nuggets and of course the Orlando Magic and saw several high profile players, including Andre Iguodala, Andrew Bynum and Arron Afflalo, all switch cities.

Initially, Dwight expressed little desire to play for the Lakers, showing far more interest in the Brooklyn Nets and, to a lesser extent, the Dallas Mavericks, but clearly he warmed up to Los Angeles life after spending the offseason rehabbing his back there.

Although many questioned whether the package Orlando received, which was highlighted by the additions of Afflalo, Nikola Vucevic, Maurice Harkless and Al Harrington along with a few first-round picks, was worth parting with the franchise center, but ultimately he proved to be too detrimental to keep on the team any longer.

Now, many are pegging the Lakers as a title favorite because of their elite talent and sheer star power. Howard joined an L.A. Squad that also features Kobe Bryant, Pau Gasol, Antawn Jamison and Steve Nash, all veteran players that should have a positive impact on Howard both on and off the floor.

His public image was severely tarnished due to his constant media statements, demands and flip-flopping, but in the end it is difficult to see the situation possible working out better for Howard. He finds himself in a major media market, surrounded by top shelf talent that know how to close a game and has a point guard that will make him much more of an offensive threat than he was in the past.

Though his back injury may keep him out of the early part of the season, when he finally dons purple and gold it is safe to say not just the league, but the entire world will be watching.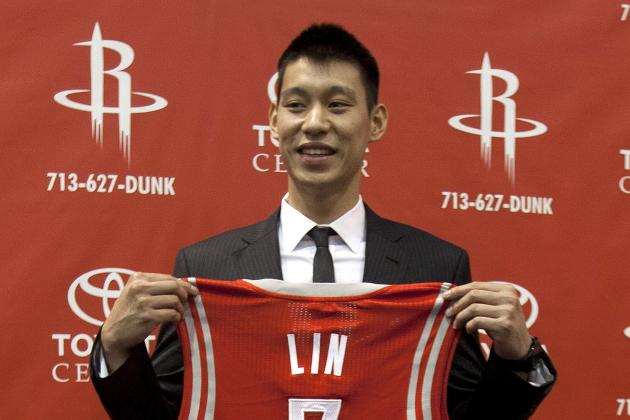 Bob Levey/Getty Images

Despite interest from a myriad of point guard-starved teams, it was widely expected that the New York Knicks would spare no expense in bringing back Jeremy Lin, the budding superstar that captured the minds and hearts of basketball fans across the planet; both for his performance on the court and his marketing value off the court.
However, the Houston Rockets had other ideas, and snapped up the former Harvard standout on a three-year, $25 million deal.

Obviously the Knicks wanted to retain Lin, although rumors swirled immediately following his departure about what prompted the team not to match the offer. Most likely, it was the contract's third year, which featured a $10 million salary increase so that Lin will earn a staggering $15 million in 2014-2015.

If New York had signed Lin to that deal, they would have had the brunt of their salary for the foreseeable future tied up in just four players and had very little spare cap room to field a deep and competitive roster.

In Houston, Lin will be asked to spearhead a rebuilding project of epic proportions. The Rockets' GM Daryl Morey went for broke attempting to acquire a franchise big man and ended up either dealing or simply shedding much of his veteran talent in order to bring in young assets and draft picks.

What this leaves Houston with is a team that features very few known commodities, Lin included. The 24-year-old point guard will do the brunt of the ball handling and will be asked both to handle and make plays and score consistently.
Though the Rockets feature a slew of intriguing, athletic pieces it is very unlikely they have any meaningful success next season as they transition to a new era and test out their personnel to see who is worth keeping for the long haul.
This next season will be a critical one for Lin, as he looks to prove naysayers wrong about whether or not he can be a quality starting point guard in the NBA and make an impact for an entire 82-game season. He has a tough road ahead of him, but the next chapter of Linsanity will be among the league's most compelling stories in 2012-2013.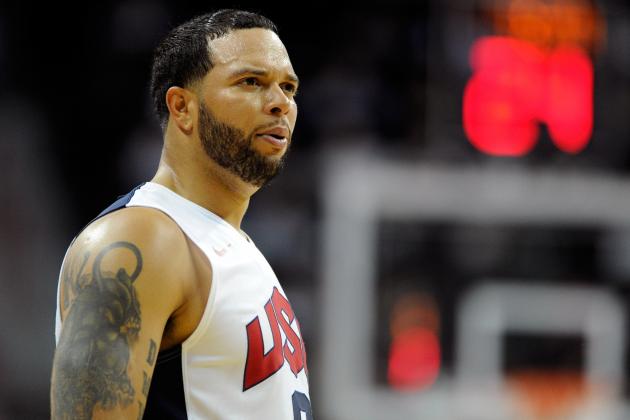 David Becker/Getty Images

Heading into the summer, the only story that could rival the Dwight Howard saga was whether Deron Williams would remain with the Nets franchise as they moved from New Jersey to Brooklyn, or if he would opt to return to his hometown of Dallas in order to play in front of his family and alongside Dirk Nowitzki.

Ultimately, Williams decided to stay with the franchise that traded their future for his services. In addition to a more lucrative deal with an extra fifth year, the Brooklyn front office proved that they were serious about building a playoff caliber team by trading for Joe Johnson and re-signing Gerald Wallace, Kris Humphries and Brook Lopez all to expensive new deals.

With Dallas clearly in a state of flux and Nowitzki's production declining over the past year or so, it made sense that Williams went for the team with the younger core and brighter future. Should Nowitzki decide to hang up his high-tops in the next couple seasons, Williams understandably did not want to have to carry a team yet again that did not have the talent to be a true contender.

Now, Williams, who has missed the playoffs the past two seasons playing with the Nets, has the opportunity to lead the franchise back to the postseason and relevance during their first year in New York. The fan base is energized, the talent is there and what the team needs now is for Williams to be playing at his All-Star best.

It will not be easy, with the team battling the New York Knicks, Boston Celtics and Philadelphia 76ers in the Atlantic Division and a slew of other talented teams within the Eastern Conference, but with Williams at the helm, Brooklyn has the ability to not just make the playoffs, but earn a high seed and potentially win a series or two.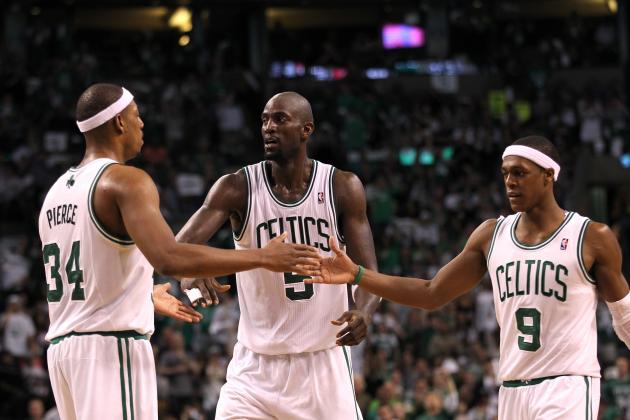 Jim Rogash/Getty Images

Coming off of a heartbreaking Game 7 loss to Miami in the Eastern Conference Finals, the question of whether the Boston Celtics would opt to begin a rebuilding process centered around Rajon Rondo or to retool around their core of Rondo, Kevin Garnett and Paul Pierce by bringing in veteran talent was at the center of the Celts' offseason.

Much to the delight of Boston fans, who hope to see the team raise Banner 18 sooner rather than later, Danny Ainge and the Celtics' front office made moves to keep the team competitive for the next few seasons, while also adding young pieces that could be on the squad for the long haul.

Though Ray Allen jumped ship to join the reigning champion Heat, Boston quickly snapped up Jason Terry to fill the role of veteran three-point shooter and sixth man off the bench. Terry should thrive in the Celtics veteran-laden locker room and is also going to see some time playing point guard behind Rondo.

The team also re-signed Jeff Green, Brandon Bass and Chris Wilcox, all of whom were with the team for the 2011-2012 season, although Green did not play a single game due to an aortic aneurysm.
Bass thrived as the team's starting power forward thanks to his mid-range jump shooting, hustle plays and rebounding instincts, while Wilcox, who ultimately sat out the end of the season due to his own heart ailment, gave the C's good minutes at center off the bench.

Boston managed to finagle a sign-and-trade for defensive 2-guard Courtney Lee, who will likely start at shooting guard with up-and-comer Avery Bradley missing the early part of the campaign due to shoulder surgery. Lee, who came over from Houston, is a stout perimeter defender, can hit open shots and provides another athlete to run the floor with Rondo.

With Rondo officially reaching franchise point guard status after leading the league in assists last season and the team still having two of the league's elite players in Kevin Garnett and Paul Pierce to go with their improved depth, the Boston title window should remain open for at least another couple of seasons.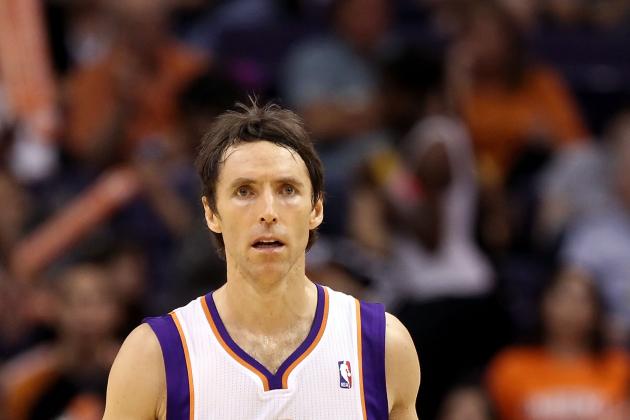 Christian Petersen/Getty Images

When Steve Nash's contract ended this Spring, it was unclear just where the perennial All-Star would play out the last few productive years of his NBA career.
Everyone from the Toronto Raptors to the New York Knicks were rumored as potential destinations for the Canadian superstar, but ultimately a dark horse suitor emerged in Los Angeles that snatched him up in a sign-and-trade.

Toronto was an intriguing option because of their young talent and the fact that it gives him a chance to play in his home country, and New York made sense due to their point guard needs and the fact that Nash resides in New York City, but as it has with so many free agents before, the allure of Los Angeles, both as an organization and a place, to live simply proved too great.

The Lakers sent four draft picks, two first-rounders and two second-rounders, and, in exchange, now have Nash locked up for the next three years on a $27 million contract. L.A. has lacked a dominant playmaker at the 1 for years now, but finally has someone that can both shoot and facilitate alongside Kobe Bryant (no offense to Derek Fisher or Ramon Sessions).
In L.A., Nash will have the option of running the pick-and-roll with both Dwight Howard and Pau Gasol, kicking the ball out to an open Kobe Bryant or Jodie Meeks on the wing or even looking for his own shot on occasion, given how rarely he will see traps or double teams.

With two MVP awards, several assist titles and a bevy of All-Star appearances, the only thing missing from Nash's list of career accomplishments is an NBA championship, which he is now in the perfect position to change.
This Lakers squad is easily the most talented team Nash has ever played with and as long as he can read a defense, make the proper play and keep the offense running smoothly, it will not be a surprise at all to see Nash wind up with a ring before he leaves the game.

The 38 year-old point guard may not have a ton of time left in the league, but for at least the immediate future, he will be an instrumental part in the Lakers' championship runs.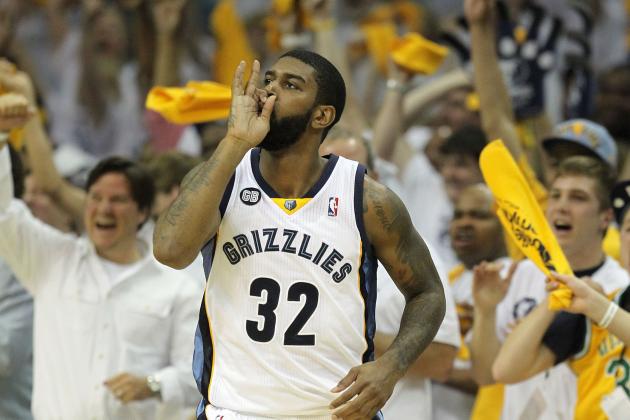 Andy Lyons/Getty Images

The Dallas Mavericks put most of their eggs in the Deron Williams basket, and after the star point guard opted to remain with the Nets, the front office was left to quickly formulate a back-up plan.
Surprisingly, Dallas was actually able to pull off a number of solid moves to keep their team competitive for the 2012-2013 season while also preserving cap room to take another run at marquee free agents next offseason.

The Mavs got an injection of youth in their backcourt by signing O.J. Mayo away from Memphis and trading for Indiana's Darren Collison. Mayo has seen his minutes dwindle in the past two seasons and has primarily played off the bench, but his scoring talent is undeniable.
Collison is a capable passer that ran the Pacers' offense well during his tenure as a starter.

Dallas also shored up their frontcourt by plucking Elton Brand off amnesty waivers once he was cut from Philadelphia and reaching a one-year deal with former All-Star Chris Kaman.
Though Brand and Kaman are both veterans that have dealt with serious injuries, they are two of the league's more polished offensive big men and give the Mavs a rotation that can cause serious problems for size-strapped opponents next season.

Both Brand and Kaman can line up at center alongside Nowitzki and stretch out a defense. Brand has also made significant strides as a defender recently and Kaman is always good at clogging up the lane and blocking a few shots. The pair will also be able to give Nowitzki more time on the bench and keep him from being too worn down by the start of the playoffs.

Though many have criticized the Mavericks for essentially putting themselves in the same situation of having to go for broke on players like James Harden and Chris Paul or risk falling into irrelevancy in the summer of 2012-2013, Dallas deserves recognition for finding a way to field a playoff-caliber team while also retaining the option to completely remake their roster around younger pieces within just one short season.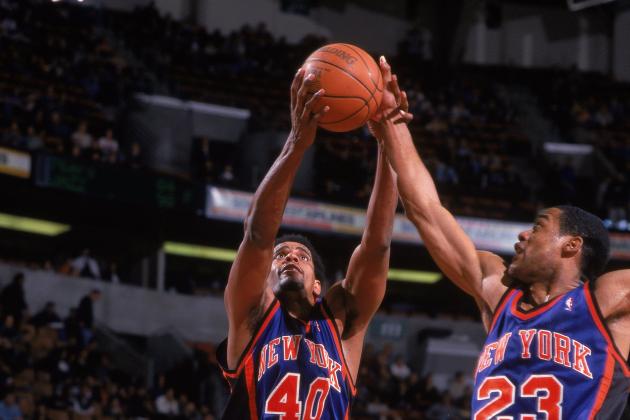 Otto Greule Jr/Getty Images

The New York Knicks struggled through a controversy-and-injury riddled 2011-2012 season that ended in a disappointing 4-1 first round playoff loss to Miami, but heading into the 2012 offseason believed they had the pieces necessary to contend in the Eastern Conference.
As any contender, or would-be contender, is wont to do, the team spent the summer looking for affordable veteran role players capable of contributing while also focusing on keeping their own players on the team.

However, Jeremy Lin's unmatchable contract left the Knicks scrambling at the point guard spot and ultimately having to pull a sign-and-trade for Raymond Felton with Portland while hoping Jason Kidd can give the team consistent, quality minutes off the bench.

To round out the roster the team also acquired veteran big men Kurt Thomas and Marcus Camby, who will provide rest for Amar'e Stoudemire and Tyson Chandler as well as provide rim protection, help on the glass and veteran voices for the Knicks' dysfunctional locker room.
Though they will not be counted on to be key contributors, the play of Thomas and Camby will go a long way in determining how successful of a season this New York team can have.

At shooting guard, the team lost Landry Fields to Toronto as a restricted free agent, but was able to steal Ronnie Brewer after his option was declined by Chicago.
Brewer is not as gifted of a scorer as Fields, but he is a very physical perimeter defender that can cover 2-guards and small forwards, has great athleticism and has improved his jump shot over the past couple of years.

While the Knicks appear to be in solid shape to host and potentially win a playoff series in 2012-2013, their decision to rapidly age up their team has effectively sealed their title window around when the contracts of Stoudemire and Carmelo Anthony retire, at which point the team will have to begin yet another rebuilding process.

There is no denying that with their talent and a defense-first system, New York has the talent to be a factor in the East, but after this offseason they may not have many opportunities with their current nucleus.