A Hater's Guide to NFL Week 4: Why Your Team Is Bound to Lose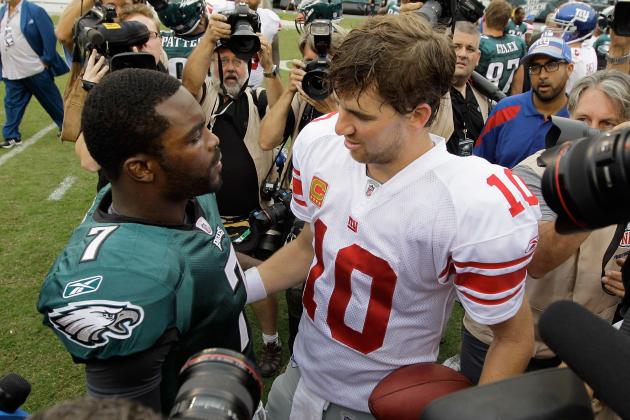 Rob Carr/Getty Images

With the replacement referee debacle finally over, NFL fans have to find new targets for their hatred.
Week 4 is a great time for the real refs to come back, however, as many teams face off against divisional opponents. Hopefully things are "back to normal." Parity is one thing, but things were getting ridiculous. Down was up. Up was down. Cats and dogs were living together. It was nonsense.
Thankfully, each week in the NFL provides us all with countless opportunities to baselessly attack countless targets—from opposing players and coaches, to the media, to the new refs who should have a honeymoon period of roughly 12 minutes before getting booed for a perfectly fine call.
Of course, the perfect way to keep the hate going is to hate every team, every player and every coach equally.
Here's why your team will lose in Week 4.
Begin Slideshow

»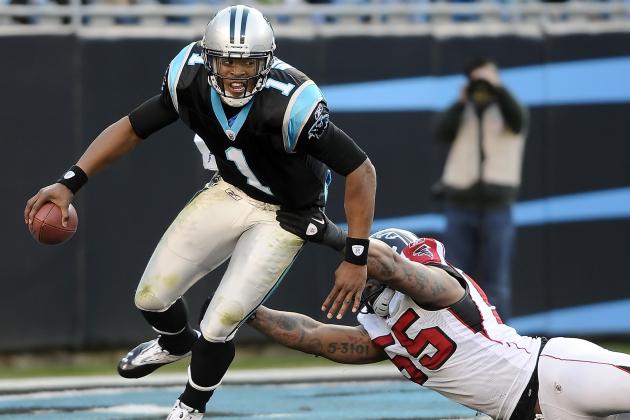 Jared C. Tilton/Getty Images

Panthers
I don't know what the problem with Cam Newton is. Why is the hometown newspaper picking on him? We expected him to join the NFL's elite quarterbacks this season and there he is! Right alongside Drew Brees and Matthew Stafford in passer rating.
What's that? His passer rating is only 78.3 and he's ranked 23rd in the NFL? Oh...Yeah, "Hello Kitty" sounds about right.
Falcons
Way up on the top of that passer rating list is Matt Ryan, which makes sense, if this were the ACC.
The only logical explanation is that Ryan and Michael Turner did some Freaky Friday mumbo jumbo at some point and Ryan took all of Turner's athleticism and natural, you know, talent.
The other possible scenario is that Ryan has an absolute embarrassment of riches around him and has won the NFL talent lottery like no other mediocre quarterback in history and that he's due for a massive letdown. So, why not against a divisional opponent like the Panthers?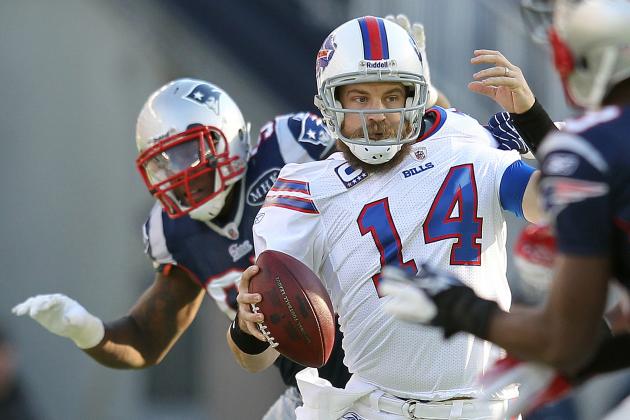 Jim Rogash/Getty Images

Patriots
Have the Patriots realized the season has started? Maybe Bill Belichick is confused by this whole replacement ref thing and just assumed that if he didn't see Mike Carey, the real football hadn't started yet.
That is, unless the Patriots have gotten to the point where Belichick is just outthinking himself and essentially throwing darts at the wall with all of his personnel moves. Which overrated and washed up tight end will the Pats sign next week? The anticipation is killing me!
Bills
Remember that quaint time a few months back when Bills fans thought they were contenders? I assume that was following a city-wide gas leak.
Wins against Kansas City and Cleveland are impressive if we all conveniently forget how good Kansas City and Cleveland are. Brandon Weeden isn't walking through that door, Bills fans. Get ready for the pain.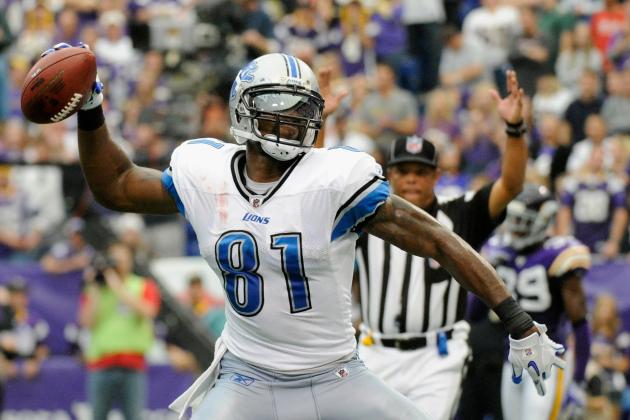 Hannah Foslien/Getty Images

Vikings
After beating the San Francisco 49ers last week, word out of Minnesota is that the Vikings will never lose again! Everyone will just forfeit against the terrifying might of the same team that lost to the Colts and got taken to overtime by the Jaguars.
If the Vikings players have anywhere near the hubris of their fanbase right now, they're walking into a slaughterhouse.
Lions
Last weekend, the Lions made Jake Locker and Chris Johnson look far better than they actually are. This will be a problem against Christian Ponder and Adrian Peterson.
Who would've guessed that an offseason filled with arrests and marijuana usage wouldn't have them ready for the season? Maybe if this were the penal league...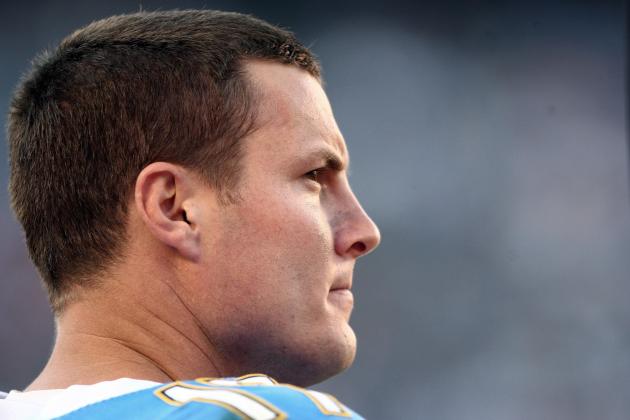 Donald Miralle/Getty Images

Chargers
The Chargers are clearly better this season.
No, not at football, at crushing the hopes and dreams of their fanbase. They've essentially mastered the process, like a strange mixture of Kabuki Theater and bad reality TV. In most seasons, the Chargers would start slow, heat up and then collapse right when it matters.
This year, they're raising expectations early with a 2-1 start. These guys...
Chiefs
Matt Cassel still the quarterback? OK...moving on.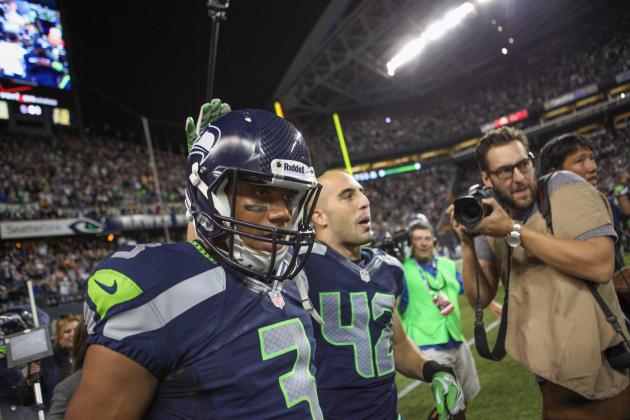 Otto Greule Jr/Getty Images

Seahawks
Quickly, every Seattle Seahawks fan rush to the comments and tell me how you deserved to win on Monday night! It's only you against the world. It must be some vast media conspiracy to keep you down. Maybe Zapruder was filming the reverse angle.
It took a Fail Mary to get Wilson over 100 yards passing on Monday night, against a defense that gives up 100 yards in its sleep. It's also the second time in three games that Wilson has had under 100 late in the game.
This isn't the Big Ten, and there aren't anymore replacement refs to save you.
Rams
The Rams have taken a huge step forward in talent this season, which is impressive, until one remembers where they've been for the last, I don't know, let's say decade.
What do you think Sam Bradford was thinking as he was watching the Seahawks tee off on Aaron Rodgers on Monday night? Wait, let me rephrase that...what do you think Sam Bradford was thinking as he was weeping in his bathtub, imagining every bone-crushing hit because his offensive line doesn't belong in the NFL?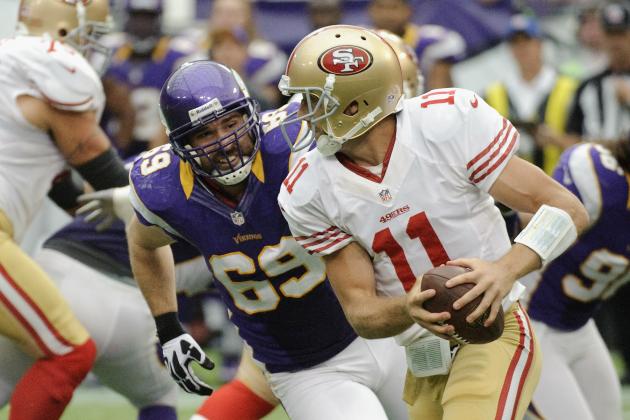 Hannah Foslien/Getty Images

49ers
Apparently Alex Smith hadn't realized the real football had started yet either, until last week. Smith would like to apologize for impersonating a capable NFL quarterback and for all of the people he may have offended along the way. He promises it will never happen again, vowing to spend the weekend on Revis Island, even after constant reminders that Revis is out injured.
"Revis can stand on the sidelines all he wants, I'll just keep throwing him the ball until the refs call one an interception. It may take all day, but I am committed."
Jets
Without Revis, the Jets will be able to rely on their fantastic safety play...oh, wait. So, who cares if the back four can't get it done, the Jets' pass rush will be able to...nevermind. Maybe the defense won't have a good week, the running game can certainly...crap. Um...Tebow?
That's how every coaching meeting starts at Jets HQ. It ends with 25 straight minutes of studying a playbook from a local high school without realizing they're holding it upside down.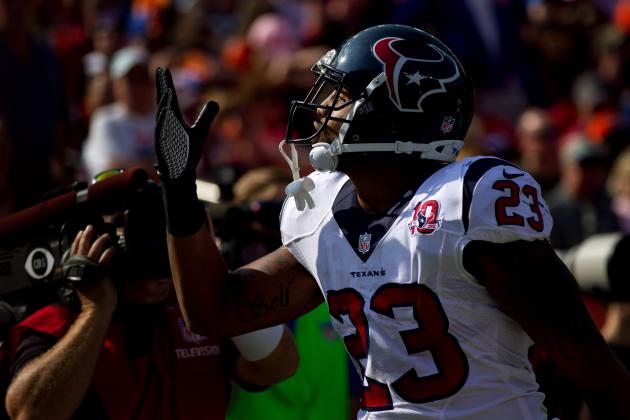 Justin Edmonds/Getty Images

Titans
The Titans, utterly terrified of Gary Kubiak's squad, put all their eggs into one basket this week, filing an injunction claiming they are the real Houston football team and the Texans should just forfeit. When the legal gambit fails, Jake Locker goes missing. Actually, he's just sitting in the film room, but since no one else on the team has any idea where that is, Matt Hasselbeck is forced to start, promptly breaking his hip.
Texans
After watching the Patriots lose to Arizona and the Vikings beat San Francisco, the Texans figure this is a new trend among elite teams. Convinced they should lose this game, the Texans make a last-minute trade to bring Matt Leinart back, because losing is just that easy.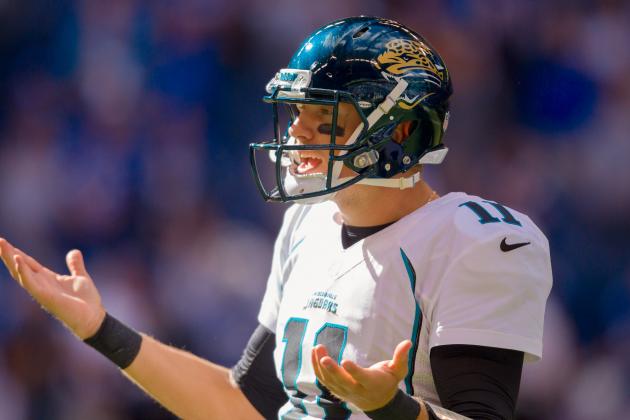 Michael Hickey/Getty Images

Bengals
Originally, the Bengals had planned to win this weekend, but a week-long propaganda campaign convinces them that Jacksonville is actually a good team. Once the Bengals believe that, the game is practically over as Maurice Jones-Drew rumbles to 200 yards rushing, aided mostly by Bengals defenders leaping out of his way.
Jaguars
Convinced the Bengals' new tactic is a trick, Blaine Gabbert responds by rifling the ball into the ground an NFL-record 37 times. After the game, Mike Mularkey commends Gabbert for his vast improvement, and Gene Smith is seen counting his money while laughing maniacally.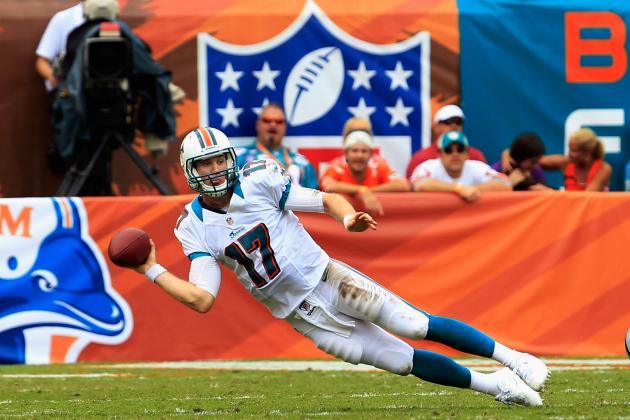 Chris Trotman/Getty Images

Dolphins
After realizing his side arm release isn't working, Tannehill unveils his new side body throwing motion. Although it is a clear improvement, the Dolphins aren't able to overcome his 2-for-19 performance.
In related news, Legedu Naanee is shocked to learn he leads early Pro Bowl voting, until he realizes the crowd mistook him for a Cardinals defensive back.
Cardinals
You know what, there's no reason the Cardinals should lose this game. They really shouldn't, but I believe that the world is a good place and at some point this madness has to stop. With all the other craziness going on around us, how dare the Cardinals take away the peace and security of knowing that they are a terrible football team. How can we raise our children in such a topsy-turvy world?
Please Arizona, think of the children.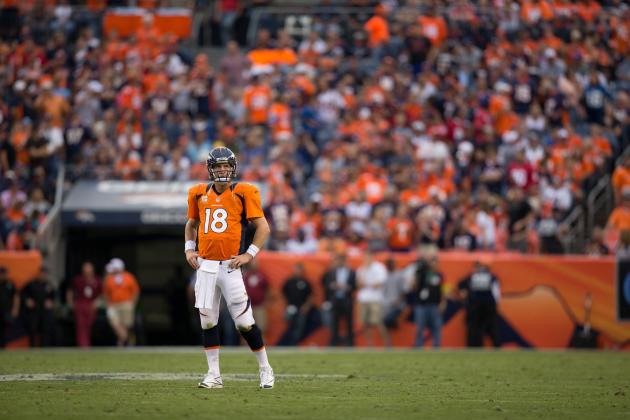 Justin Edmonds/Getty Images

Raiders
The Raiders sideline falls into disarray when Dennis Allen sneaks over to the Broncos locker room, clubs Jack Del Rio and steals his clothes. No one is fooled, of course, when Allen's game plan involves running ball 100 times with Tim Tebow and hoping for the best.
Sent back to the Raiders, dejected, Allen lets out a heavy sigh. The gust of wind tears right through Darren McFadden's ACL.
Broncos
Peyton Manning knows this is the week. A game against the 1-2 Oakland Raiders is the perfect way to get back on track. He's all hyped up to get to the stadium and heads to the stadium before anyone else. Going through his normal routine, just like clockwork, he doesn't even realize he's at Lucas Oil Stadium and completely misses the "Andrew Luck" nameplate on his locker.
With the Colts on a bye, Manning still manages to put up 250 yards passing after finding three white guys on the street to throw to. Bill Polian applauds the move.

Stacy Revere/Getty Images

Saints
Is that the Smoke Monster? Because the Saints are LOST this season! Get it? Because...nevermind.
You know what's worse than bad jokes with references from years ago? The effort the Saints have put forth the first three weeks of the season. Honestly, on paper this team should beat anyone, but I guess it's hard to play defense when you're not making an extra few bucks for each big hit.
Going to Lambeau should be the perfect opportunity to get things going, right?
Packers
After last week, the Packers have no idea what a catch is anymore. Aaron Rodgers throws seven interceptions, celebrating after each one, before realizing the real refs are back and order is restored.
Back to their normal offensive game plan, Rodgers is sacked 14 times in the second half, as the Saints line up with a new 12-DE personnel set.
Things pick up as Cedric Benson breaks free and rumbles 40 yards heading for the end zone, but the play is stopped when Mike McCarthy runs out and tackles him. McCarthy immediately benches Benson and spends the rest of the game muttering "how dare he?" over and over.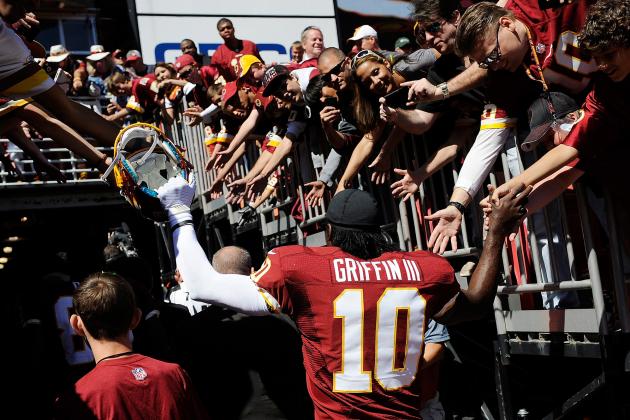 Patrick McDermott/Getty Images

Redskins
Mike Shanahan and his son Kyle, tired of hearing people criticize another team's coach criticized for being classless and being a bully, decide to step up their own game.
Calling Trent Williams in, they try to convince him to stop blocking for RGIII. This is not a problem for Williams, who has a lot of practice not blocking for people. Griffin gets injured in the first quarter and, after seeing Rex Grossman trot out onto the field, the refs just declare the Buccaneers the winner, saving us all a lot of time.
Buccaneers
To prove his critics wrong, Coach Schiano becomes convinced the "Victory Formation Blitz" is his best method of attack. Thankfully, this week it works! Gerald McCoy busts through the line and forces a fumble. Mason Foster returns the fumble for a surprise touchdown and Schiano basks in the glory of his massive superiority.
The Buccaneers lose 44-7.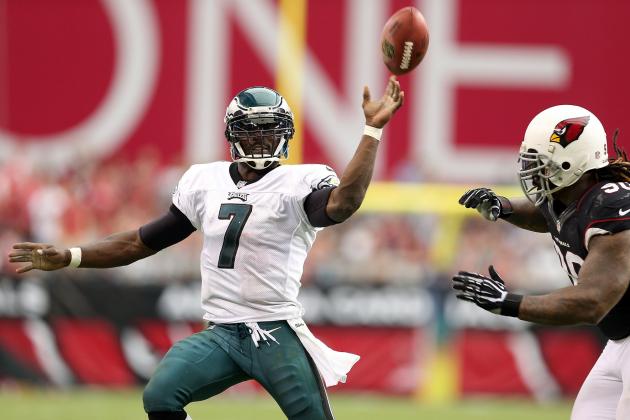 Christian Petersen/Getty Images

Giants
Before kickoff, Coughlin and Reid are seen talking at midfield. The Giants players are disconcerted when a live mic picks up Coughlin's complaining about all the "Talkie" movies out these days and that he hopes our boys can "Stamp out the Kaiser" once and for all. Reid doesn't notice anything amiss however, as he is too busy enjoying the piece of hard candy he has just received.
Eagles
After being ignored most of the week, LeSean McCoy is pleased to hear that Coach Reid has finally relented and made him a bigger part of the game plan. His joy is short lived however, after Reid calls his fourth-straight halfback pass to begin the game.
McCoy tries to explain to Reid that it's legal to just hand him the ball and let him run it, but Reid insists he knows what he's doing. "Plus," Reid adds, "you've only thrown two interceptions, so this is our best offensive performance yet!"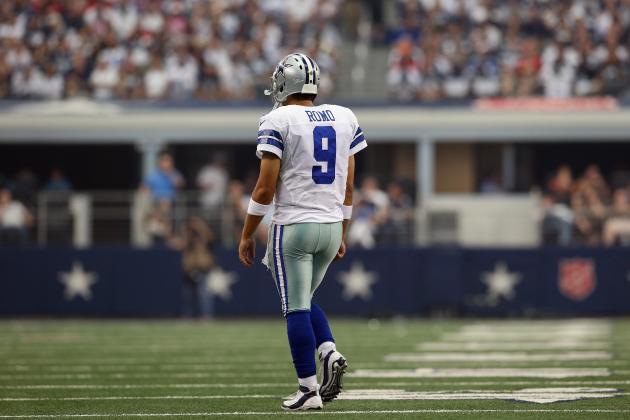 Ronald Martinez/Getty Images

Bears
Arriving early to practice, Jay Cutler is shocked to see Lovie Smith sitting in a box outside the back door. Apparently, Smith is just a drifter who's always lived outside Soldier Field who accidentally wandered into an office one day and was handed a job. The McCaskey family responds to the scandal, signing Smith to a 12-year extension.
Ironically, the most absurd part of that story is Cutler showing up early to practice.
Cowboys
Inspired by Cutler, Romo decides to get tough with his linemen as well. However, when he shoves Doug Free, the right tackle tumbles into the rest of the offensive line, knocking them all over like the world's most expensive domino game.
Forced to play without a line in front of him, Romo has the best game of his career, throwing for over 500 yards and six touchdowns.
After the Cowboys lose on a last second Hail Mary over some safety you've never heard of, the fans run Romo out of town for his terrible performance.
Michael Schottey is the NFL national lead writer for Bleacher Report and an award-winning member of the Pro Football Writers of America. Find more of his stuff alongside other great writers at "The Go Route."