UFC on Fuel TV 5: Main Card Staff Predictions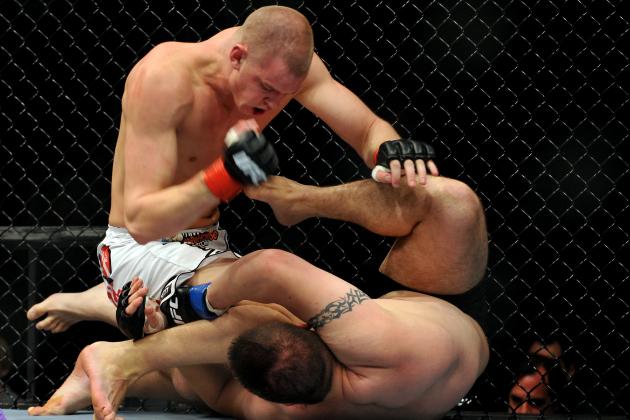 Jon Kopaloff/Getty Images

UFC on Fuel TV 5—or, as it's also known, UFC on Fuel TV: Struve vs. Miocic—is going down Saturday in Nottingham, England. The winner of the main event between Stefan Struve and Stipe Miocic will be the newest bona fide contender in the UFC heavyweight division.
Lots of intrigue across the main card, though, and with that in mind, a motley crew of Bleacher Report's finest—Jonathan Snowden, Jeremy Botter, John Heinis, Matt Roth and I—are going to set it all up and make some predictions.
Begin Slideshow

»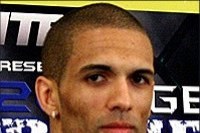 Photo credit: Sherdog.com
Snowden: We saw Che Mills in person at UFC 145. He's absolutely enormous. And, as we all know, size matters. No matter how much it hurts to hear. Mills, KO, Round 2.
Botter: Ludwig is more of a punching bag than anything at this point, and that's not a good thing when facing Mills. Mills, TKO, Round 1.
Heinis: Two slick Muay Thai specialists square off in this one, so you can just about guarantee this fight doesn't go to the ground, and it ends early. Both Mills and Ludwig are on the same level, with neither man having any success against an above average fighter.
I'm torn on who to pick here as Ludwig has looked awful recently, losing four of his past six, but I also just don't think Mills is really that impressive either. Ludwig, TKO, Round 3.
Roth: This will be a super fun fight like pretty much every fight on this card. Both fighters love to block punches with their faces and neither will go for a takedown. That means someone is going to sleep. I think that Che Mills is just a younger, better version of Ludwig. Mills by decision.
Harris: Since I'm the one publishing it this time, I'll give myself the last word. Seems fair. In any case, Ludwig's gotta get this one. I think he rights the ship here and avoids the dreaded third consecutive defeat. Ludwig, KO, Round 2.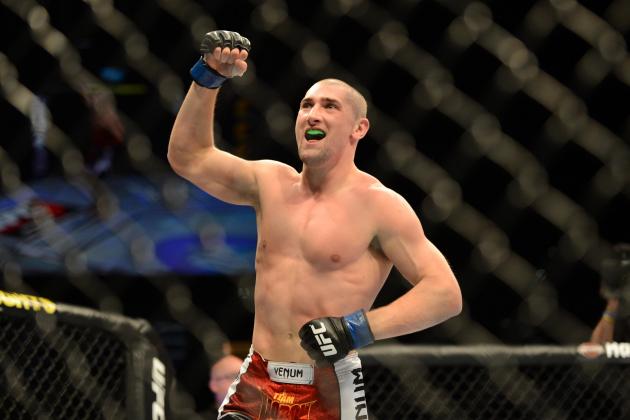 Ron Chenoy-US PRESSWIRE

Snowden: Paul Sass by submission seemingly in play here, but I like Matt Wiman by controlling the action and limiting his exposure on the mat. Wiman, decision.
Botter: Wiman seemingly has a new lease on his fighting life, but not enough to do the one thing everyone else does against Sass: get caught in a submission. And by that I mean a triangle. Sass, Submission, Round 1.
Heinis
: Paul Sass has one of the best guards in
MMA
, with 12 of his 13 wins coming via submission (nine via triangle variation), which could spell trouble for "Handsome" Matt Wiman. Wiman is a tough-as-nails brawler with an adequate grappling game, but he just isn't particularly good in any one area. Wiman has a legitimate chance of scoring a knockout at any point, as he has some power (and as far as we know, Sass' striking game is nonexistent). But I think Sass proves that Wiman is just a gatekeeper at 155.
Sass, Submission, Round 2 (triangle choke).
Roth: I love watching Matt Wiman fights. And I love watching Paul Sass fights. So it goes without saying that I love this fight. Both are super game and will gut through bad positions to win. I think that Wiman has shown to be the more all-around fighter. Matt Wiman by Decision.

Harris: The Sassangle and that one-trick pony he rode in on should get the benefit of the doubt until they demonstrate that they no longer deserve it. Submission of the Night, right here. Sass, Submission, Round 1.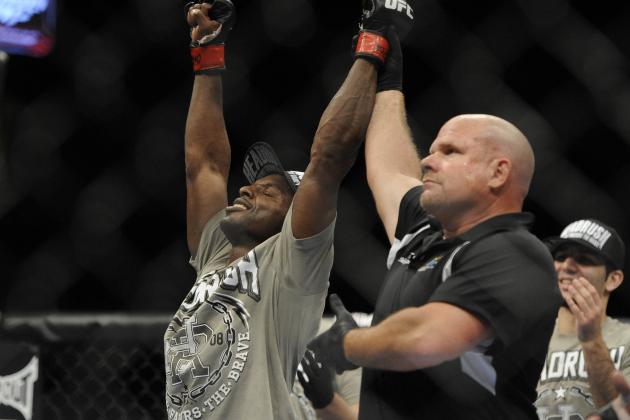 Rafael Suanes-US PRESSWIRE

Snowden: It's fun to watch a fighter like Pickett evolve over the course of his career. He may not really have one punch power, but he has the overall game to beat Yves. Pickett, Decision.
Botter: I like this fight a lot, mostly because both dudes are incredibly tough. Pickett's just a bit tougher, though. Pickett, Decision.
Heinis: This is the perfect fight to see if Yves Jabouin is ready to join the UFC's elite crop of bantamweights. Pickett brings an aggressive striking attack and very versatile submission game to the cage, while "Tiger" is more of a knockout artist (though he hasn't finished anyone in a while). Jabouin is a perfect 3-0 since dropping down to 135 pounds and seems to have rounded out his game quite a bit. But his grappling still needs work, so I think "One Punch" can score the tap here. Pickett, Submission, Round 3 (guillotine choke).
Roth: I really like this fight. There was a time when the UFC was trying to push Brad Pickett into the title picture. He was able to put together a string of impressive wins. It didn't end up working out but he definitely has skills. I just don't see the whole "One Punch" nom de guerre being all that accurate. He should able to do enough to beat Yves Jabouin. Brad Pickett, Decision.

Harris: I don't understand why everyone's still so excited about Brad Pickett. Especially when he's up against someone who can stand up to him on the ground. I guess the win over Damacio Page was good, until you realize that Damacio Page is just a poor man's Melvin Guillard. I think it's time to sound the upset alarms. Jabouin, TKO, Round 1.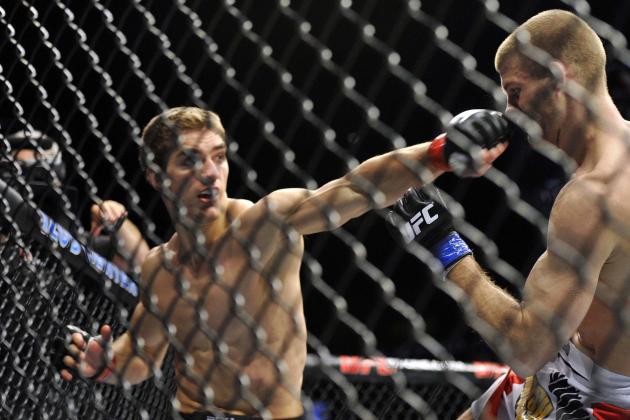 Joe Camporeale-US PRESSWIRE

Snowden: Remember when Hathaway shocked the world with an upset win over Diego Sanchez? That memory is starting to fade for me, too. Maguire, Decision.
Botter: I used to be impressed with Hathaway. I think we all were. But Maguire has shown a propensity for beating guys he probably shouldn't, and that'll happen here as well. Maguire, Decision.
Heinis: This should be a tough fight between two English fighters who know how to put on a show. Hathaway has very underrated wrestling and a diverse striking game, while Maguire has a good chin and makes use of his brown belt in Brazilian jiu-jitsu. This is another fight that's difficult, but I think Maguire's superior grappling and Hathaway's marginal knockout power allow "The One" to control the fight on the ground and earn a workman-like decision. Maguire, Unanimous Decision (29-28 x 3).
Roth: John Hathaway was able to do what many British fights find imposible: outwrestle an American wrestler. He has one loss and that's to a super game Mike Pyle. This is a pretty simple pick for me. John Hathaway by Unanimous Decision.
Harris: To borrow an idea from Bill Simmons, John Hathaway got so overrated that he's now underrated again. Sounds about right. Hathaway, TKO, Round 2.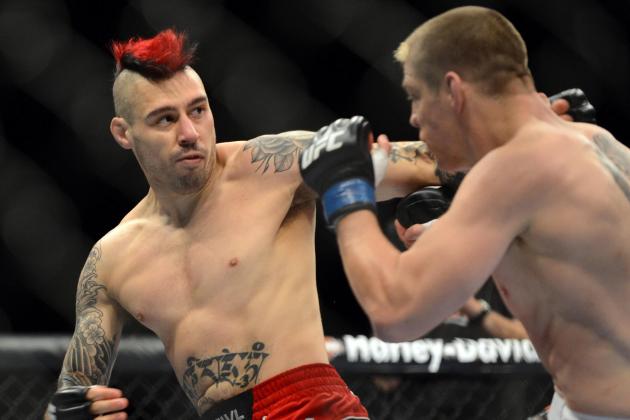 Ron Chenoy-US PRESSWIRE

Snowden: Dan Hardy has sunk pretty low since losing a title fight against GSP. If he falls below Amir Sadollah in the pecking order, it's time to consider a new career. Hardy, KO, Round 2.
Botter: This one has knockout written all over it, mostly because Sadollah is the kind of guy who will willingly stand and trade punches with Hardy. That's bad news. Hardy, KO, Round 1.
Heinis: Amir Sadollah is unquestionably the underdog here, but he could easily win this fight if he gets it to the crowd. Despite that fact, I can't imagine Dan Hardy losing in front of a home crowd. Despite heavy criticism for not getting his walking papers after four straight losses, Hardy bounced back with a vintage KO of Duane Ludwig at UFC 146.Hardy is the better striker here and Sadollah is no submission wizard, so "The Outlaw" should be able to keep this fight standing as long as he has to. Hardy, KO, Round 2.
Roth: This is going to be a really fun fight. Both guys have a penchant for putting their faces in front of punches. I think Hardy has the better chin. That wins it for him. Hardy, KO, Round 1.
Harris: Sadollah's losses: Duane Ludwig, Dong Hyun Kim and Johny Hendricks. He has always had particular trouble with good standup guys. Dan Hardy is a good standup guy. Sadollah will answer the bell, like he always does, but I think he's outgunned here. Hardy, TKO, Round 2.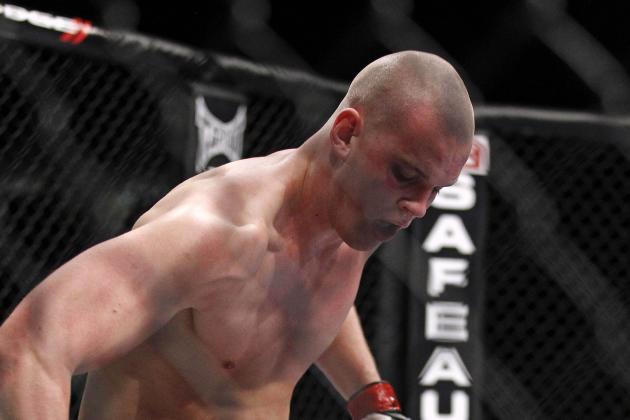 Matt Ryerson-US PRESSWIRE

Snowden: Will this be the fight where Stefan Struve finally figures it all out? Probably not. But even a flawed Struve is enough to handle Stipe Miocic. Struve, Submission, Round 2.
Botter: Struve has a world of potential but never fully uses his major advantage: reach. If he does that here, he should be able to easily handle Miocic. But I ultimately see the fight going to the ground, and I think Struve has the advantage there as well. Struve, Submission, Round 2.
Heinis: Miocic is a great wrestler with very explosive hands, but Stefan Stuve is probably the only heavyweight in the game capable of pulling guard and scoring a submission. Miocic has cruised to his perfect 9-0 record, with none of his opponents providing any sort of resistance along the way.I'm not shocked that the Croatian is favored here, but Struve knows how to execute a game plan so I doubt he has any interest in standing up in this fight. I'm predicting an upset via a spectacular submission by "The Skyscraper." Struve, Submission, Round 3.
Roth: Anyone have any idea when Struve is going to start fighting like a 6'11" tall fighter? Anyone? It's probably not going to happen but it would be nice if he would. That's not going to make much difference as he'll pull guard and triangle Miocic in the second. Struve, Submission, Round 2.

Harris: Struve is very tall. Everyone's been waiting for him to hit his stride in the standup, but he can use his length just as effectively on the ground. Miocic is good, but I don't think his strengths are stronger than Struve's strengths. This fight will determine a new contender; Struve feels more like a contender to me. Struve, Submission, Round 2.