New England Patriots: Stat Projections for Starters and Key Reserves vs. Bills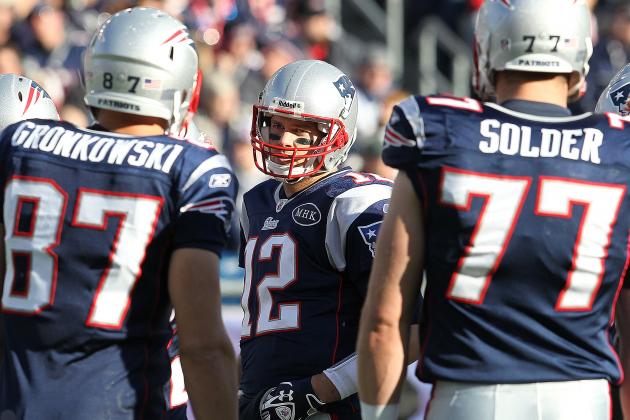 Jim Rogash/Getty Images

The New England Patriots will have to take care of business this Sunday in Buffalo if they want to avoid a three-game losing streak.
The last time the Patriots were in Ralph Wilson Stadium, they found themselves in a shootout and flew home with with 34-31 loss.
After putting up 30 hard-earned points against the Ravens, only to let them kick a game-winning field goal (or was that a missed field goal worth three points?), the Patriots will be looking to get rid of the bad taste of defeat left in their mouths.
The Bills are no slouches, so this matchup will call for key Patriots to put up some nice numbers if the team wants to come back to Foxborough with the win.
Begin Slideshow

»
Mitch Stringer-US PRESSWIRE

Everyone knows the Pats are in a tough spot, and if his recent news conference was any indication, Tom Brady knows it too (per Mike Reiss of ESPNBoston):
We have to dig ourselves out of a hole that we put ourselves into. We're sitting here at 1-2 and looking up at Buffalo and the Jets. It's frustrating when you lose, it's been two weeks in a row, and obviously nobody feels very good about it.
Despite the offense's inability to close out the game last week, Brady put together a nice performance against a defense that he's had issues with in the past, going 28-of-41 for 335 yards and a touchdown.
The offensive line will have their hands full with the likes of Mario Williams, Marcell Dareus, Kyle Williams and Mark Anderson, but if they can hold up, Brady should have another big day.
Stat Projection: 30/41, 314 yards, 3 TD, 0 INT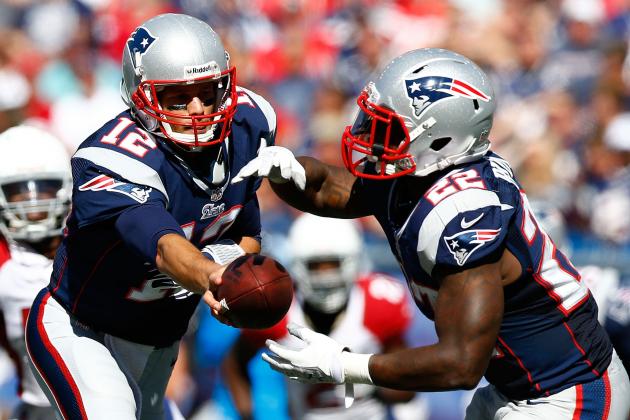 Jared Wickerham/Getty Images

After looking like the second coming of Corey Dillon through the first two weeks of the season, the Patriots barely gave Stevan Ridley the ball last week against the Ravens (13 carries, 37 yards), opting to split his carries with Danny Woodhead (15 carries, 34 yards).
The results weren't great.
This week look for the Patriots to feed their star running back the ball more against a mediocre Bills rush defense.
Stat Projection: 20 rushes, 89 yards, 1 rushing touchdown, 2 receptions, 20 yards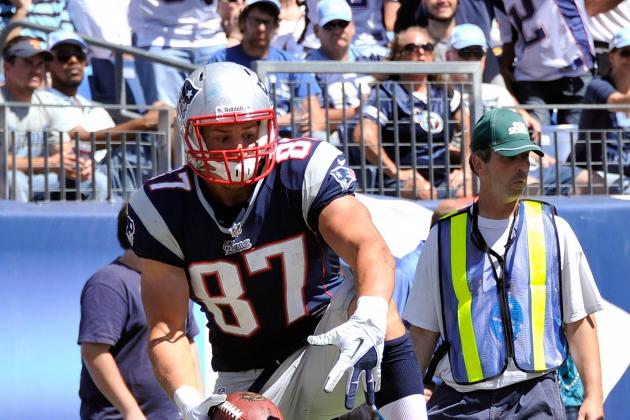 Frederick Breedon/Getty Images

Coming off the best season by a tight end in the history of the league, Rob Gronkowsi hasn't been getting the ball enough. Last week against the Ravens, Gronk had just two receptions for 21 yards.
Unacceptable.
In a recent interview, Brady hinted at making the Pro Bowl tight end a bigger part of the offense going forward (h/t Field Yates of ESPNBoston):
I've got to do a better job finding [Gronkowski]. He's obviously a big target for us and someone that is a huge part of every game. I wish I had got him the ball more the other night, there's no question about it.
Sunday's forecast: partly cloudy with a high chance of multiple Gronk spikes.
Stat Projection: 8 receptions, 94 yards, 2 TD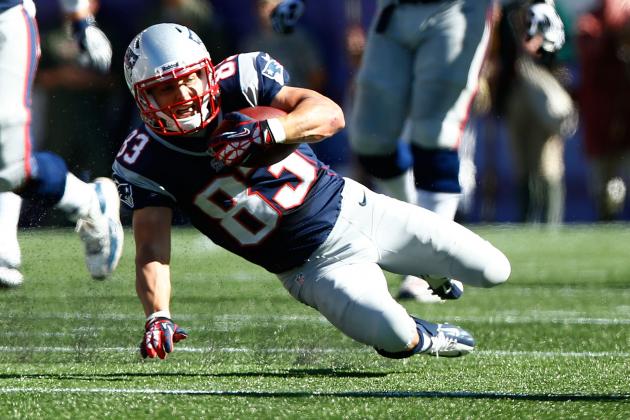 Jared Wickerham/Getty Images

After reeling in eight catches for 142 yards last Sunday night, one thing should be clear: Wes Welker is much better than Julian Edelman.
It doesn't take a genius to figure that out, but the Patriots had fans scratching their heads when they started Edelman over Welker two weeks in a row.
Who knows if Welker will return to the bench once Aaron Hernandez returns from injury, but for now, the best slot receiver of all time will be starting.
Stat Projection: 7 receptions, 72 yards, 1 TD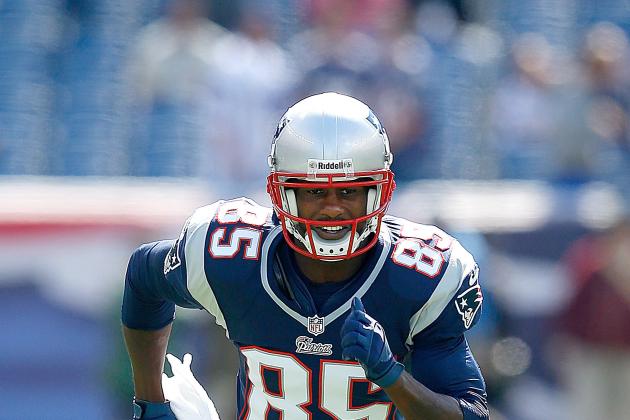 Jim Rogash/Getty Images

The Brady-to-Brandon Lloyd connection seems to be coming along nicely.
Week 1: 5 receptions, 69 yards
Week 2: 8 receptions, 60 yards
Week 3: 9 receptions, 108 yards
Each game Lloyd looks more and more comfortable catching footballs from No. 12 and that trend will continue this Sunday.
Stat Projection: 8 receptions, 88 yards, 0 TD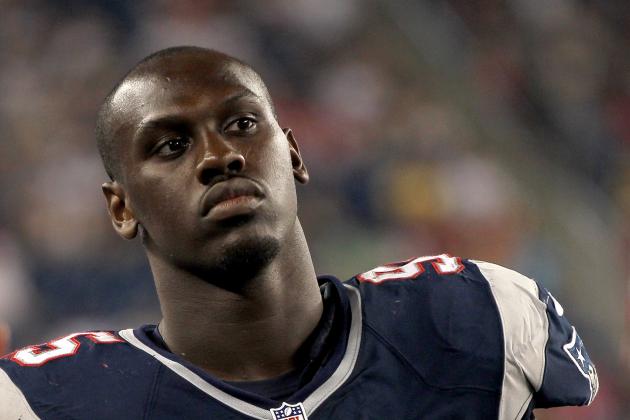 Jim Rogash/Getty Images

Chandler Jones didn't show up much on the stat sheet last week against the Ravens (2 tackles), but in his defense, it looked like he was held on almost every Patriots defensive snap.
With the real refs officially back in the fold, Jones should be getting a fair shot at terrorizing Ryan Fitzpatrick in upstate New York this weekend.
Stat Projection: 5 tackles, 5 quarterback hurries, 1 sack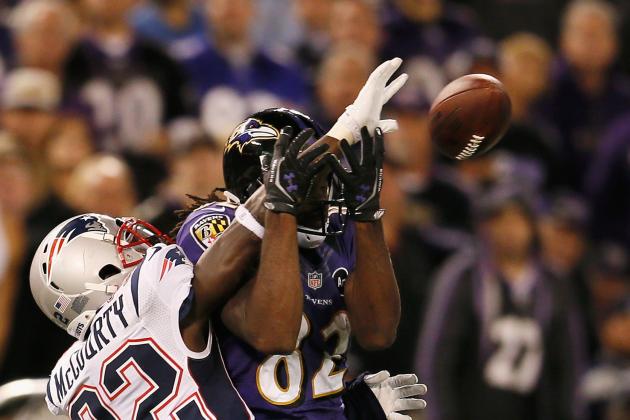 Rob Carr/Getty Images

It seemed like Patriot Nation came down too hard on Devin McCourty last week, because if it weren't for some very questionable calls by the refs, he would have had a solid game.
Yes, he missed out on two interceptions, but he was in the right position and still broke up four passes (stats courtesy ESPN).
McCourty will be looking to snatch his first INT of the season this Sunday, and he'll succeed.
Stat Projection: 5 tackles, 2 pass breakups, 1 INT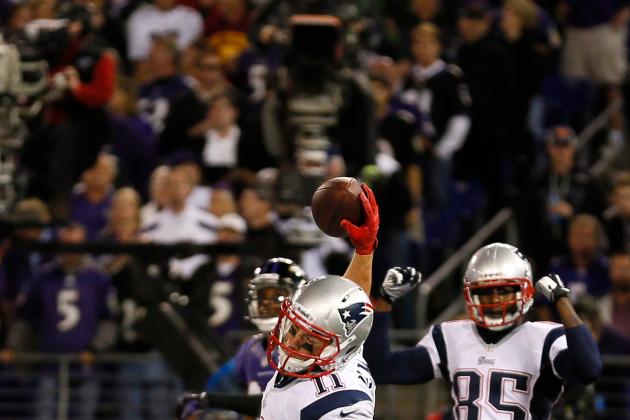 Rob Carr/Getty Images

Julian Edelman/Deion Branch:

Edelman is having his best year as a pro. However, he hasn't practiced all week (per ESPNBoston) and is unlikely to play Sunday. If he's healthy, Edelman should get the nod as Brady's top fourth option, if he doesn't play, it'll be Branch.

Whoever it is, I expect them to put up similar numbers.
Stat Projection: 5 receptions, 40 yards, 0 touchdowns
Sebastian Vollmer:

Usually the right tackle gets the opposition's second-best pass rusher. This won't be the case on Sunday as Vollmer will blocking Mario Williams for most of the day. He'll have to at least neutralize Williams if the Patriots want to move the ball successfully.
Stat Projection: 1 sack allowed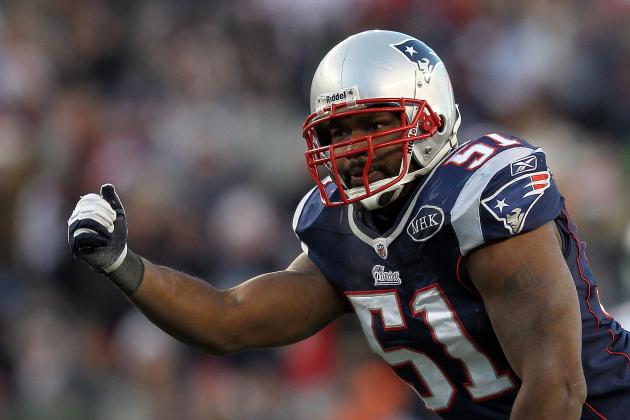 Jim Rogash/Getty Images

Brandon Spikes:

Whether it's C.J. Spiller or Fred Jackson, the linebackers will have their hands full defending the run, but given how excited Spikes will be that the zebras returned to footlocker, he should have a solid day.
Stat Projection: 5 tackles
Jerod Mayo:

Mayo already has 33 tackles on the season—that's 11 tackles a game! This tackling machine will continue his rampage this weekend, but he'll also make a big play in the passing game.
Stat Projection: 11 tackles, 1 INT
Dont'a Hightower:

New England will finally dial up a blitz designed for Hightower and the rookie linebacker will get his first sack in the NFL.
Stat Projection: 4 tackles, 1 sack
Ras-I Dowling:

After generating a lot buzz this offseason, Dowling hasn't seen the field much. However, the Bills like to run an empty set on offense, and Ras-I is a big talented defensive back (6'1'', 210 lbs). This week we'll finally get to see a healthy dose of Dowling.

Stat Projection: 5 tackles, 2 pass breakups