Ranking NFL Teams by Quarterback Situation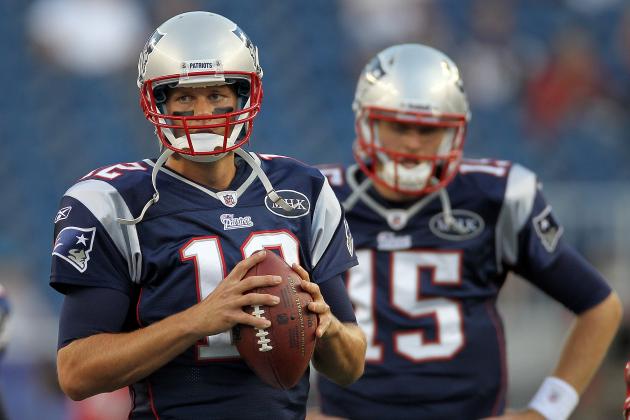 Jim Rogash/Getty Images

Even the most elite of NFL quarterbacks need to have quality backups on the depth chart.
Season long injuries have struck the likes of Tom Brady, Peyton Manning and Matthew Stafford in the past.
When that happens, it is crucial that franchises have prepared and groomed proper young backups or brought in experienced veterans that know the offense.
So, is any situation worse than the one for the Cleveland Browns?
Where do Mark Sanchez and Tim Tebow rank?
And which rookie QB is part of the best QB unit?
Let's answer these questions and more as we rank every QB situation in the NFL.
Begin Slideshow

»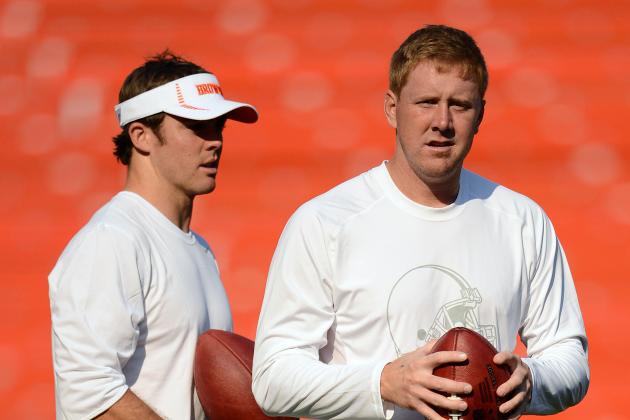 Eric P. Mull-US PRESSWIRE

Quarterbacks:
Brandon Weeden
Thaddeus Lewis
Where does one start when describing the situation in Cleveland?
Colt McCoy knows this offense and is a capable player, but he was benched in favor of 28 year old rookie Brandon Weeden.
Weeden has struggled to adjust to the offensive style of the pro game and the Browns offense in general is below average.
Weeden has a strong arm, but he can be inaccurate.
McCoy is accurate, but lacks a strong arm.
Put them together and you have a great QB, separate them and you have a bad QB situation.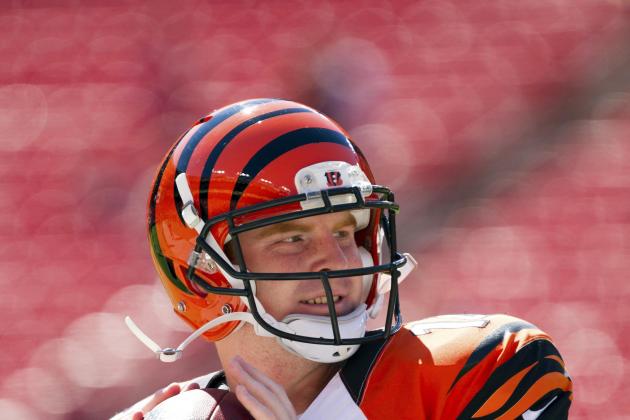 Paul Frederiksen-US PRESSWIRE

Quarterbacks:
Andy Dalton
Bruce Gradkowski
Andy Dalton is one of the best young quarterbacks in the AFC, but what happens if he goes down?
The Cincinnati Bengals have journeyman Bruce Gradkowski and no one else.
Gradkowski is not the kind of QB you want to turn to in times of need. He has played for four different teams and has thrown 21 touchdowns in 35 career games.
Yikes.
Dalton is good, but the lack of depth behind him is alarming.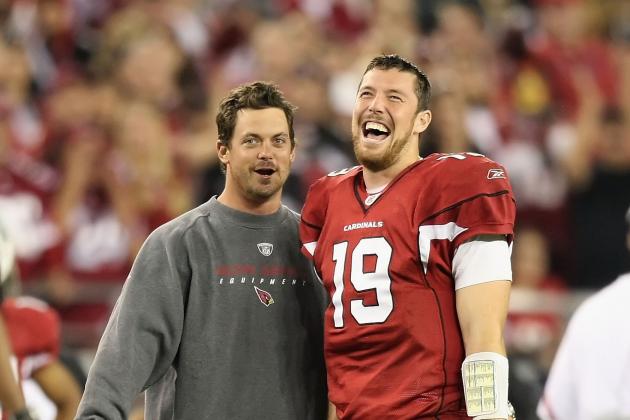 Christian Petersen/Getty Images

Quarterbacks:
Kevin Kolb
Ryan Lindley
John Skelton
The Arizona Cardinals may be 3-0, but their quarterback situation is far from ideal.
Kevin Kolb is holding down the starting job right now, but he is far from spectacular.
Arizona ranks 29th in the league, averaging just over 180 yards per game through the air this season.
Would John Skelton improve upon those numbers if he were on the field?
Unlikely.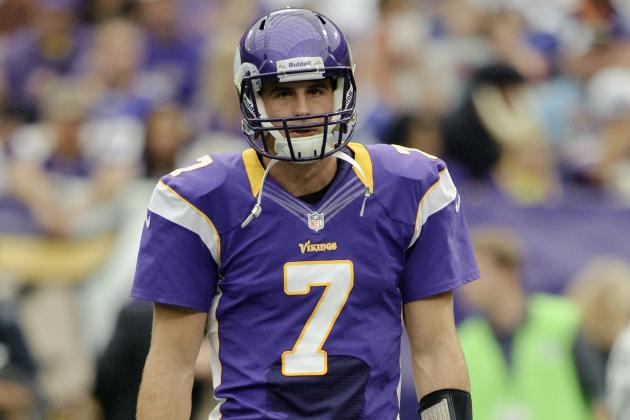 Hannah Foslien/Getty Images

Quarterbacks:
Christian Ponder
Joe Webb
McLeod Bethel-Thompson
Christian Ponder has taken great strides early in 2012, including looking better against the San Francisco 49ers' defense than Matthew Stafford or Aaron Rodgers.
However, he has still not reached his potential as a starting quarterback and Joe Webb is far from what you would call a stable reserve option.
Minnesota is towards the bottom of the league in QB situations, because they lack experience and solid depth.
It's that simple.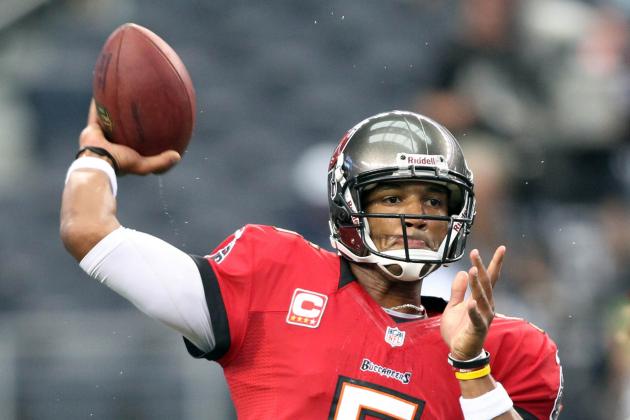 Tim Heitman-US PRESSWIRE

Quarterbacks:
Josh Freeman
Dan Orlovsky
This situation is rough.
Dan Orlovsky is nothing more than a career backup and would not even be a No. 2 option on most rosters.
Josh Freeman regressed last year after a stellar rookie campaign and he has thrown for only 491 yards through three games to start the 2012 campaign.
Tampa Bay has one of the worst QB situations in the league.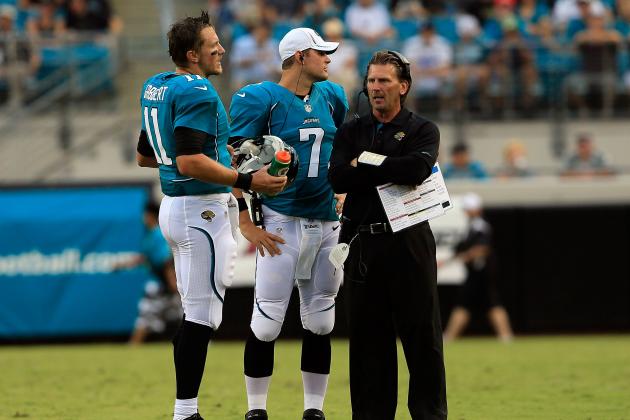 Sam Greenwood/Getty Images

Quarterbacks:
Blaine Gabbert
Chad Henne
Blaine Gabbert is much improved in 2012.
Bringing in Chad Henne as his back up, has drastically improved what may have been the worst QB situation in the league last season (other than Curtis Painter and the Colts).
Gabbert is finding confidence in the pocket and becoming much more accurate with his passes.
Chad Henne has plenty of experience as a starter with the Miami Dolphins and is a competent player to have on the bench.
The Jaguars QB situation is not great, but it is much better than just one year ago.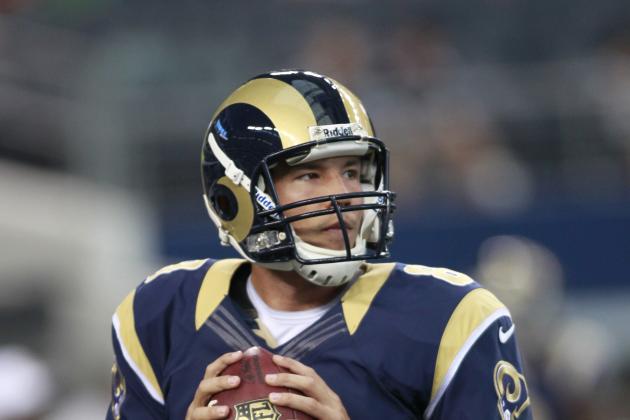 Tim Heitman-US PRESSWIRE

Quarterbacks:
Kellen Clemons
Austin Davis
Sam Bradford and the St. Louis Rams offense are coming along nicely under the new Jeff Fisher led regime.
Bradford is starting to live up to the potential that landed him as the No. 1 draft pick in 2009 and the Rams have a bright future because of that.
Kellen Clemons has been mediocre when given the keys to a franchise, but he can be a good guy to turn to for the occasional spot start.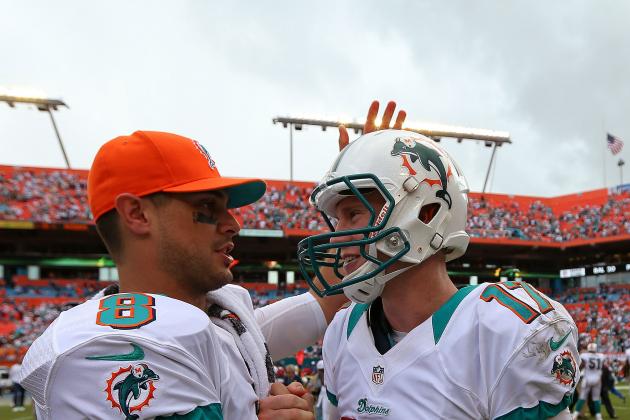 Mike Ehrmann/Getty Images

Quarterbacks:
Ryan Tannehill
Matt Moore
Pat Devlin
Ryan Tannehill was not supposed to start this season, but it is easy to see why the Miami Dolphins felt they had to get him under center.
Tannehill knows the offense better than anyone on the roster, because it came with him and offensive coordinator Mike Sherman from Texas A&M.
Matt Moore has the ability to start and has been moderately successful under center for the Dolphins in the past, in case Tannehill suddenly falls off the map.
Miami needs more weapons at receiver, but the QB situation could certainly be worse.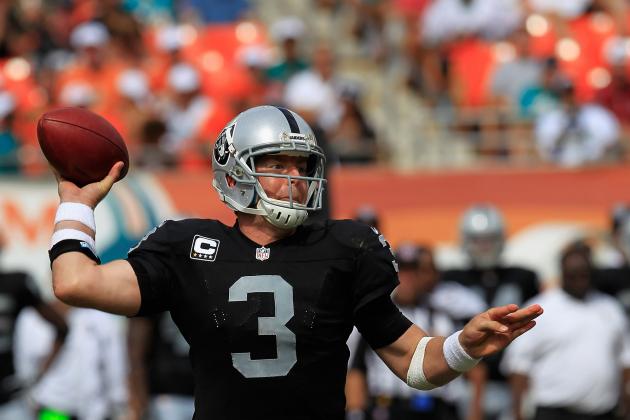 Chris Trotman/Getty Images

Quarterbacks:
Carson Palmer
Matt Leinart
The Oakland Raiders are unsure of what they will get out of Carson Palmer on a game-to-game basis.
What happens if they ever have to bring in Matt Leinart, or, even worse, Terrelle Pryor?
Palmer may be past his prime, but he can manage the Raiders offense and make sure Darren McFadden is treated as the rightful focal point.
His backups are another story entirely.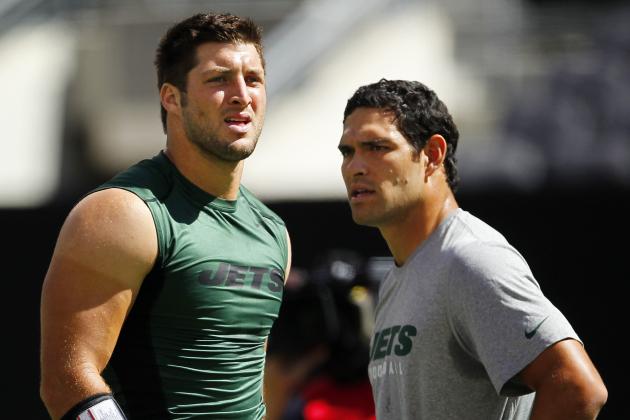 Rich Schultz/Getty Images

Quarterbacks:
Mark Sanchez
Tim Tebow
Greg McElroy
Mark Sanchez refuses to become the type of franchise quarterback that the New York Jets envisioned when they drafted him.
The gimmick of adding Tim Tebow has not added a great dynamic to the offense and together they make up a lackluster QB unit.
Greg McElroy isn't exactly helping things as the No. 3 option.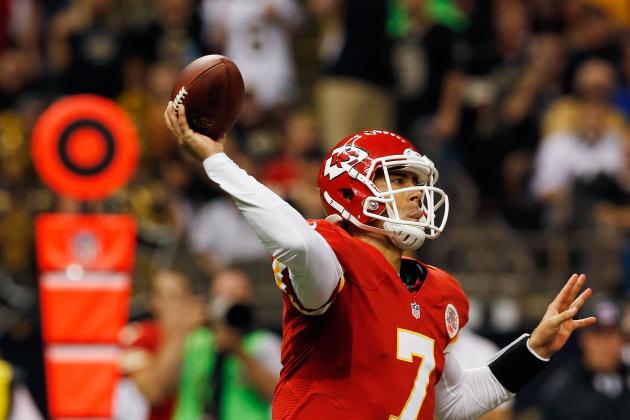 Chris Graythen/Getty Images

Quarterbacks:
Ricky Stanzi
The Kansas City Chiefs QB situation is average.
Matt Cassel is an average starter.
Brady Quinn is an average back up.
And Ricky Stanzi is an average third stringer.
Just average all around.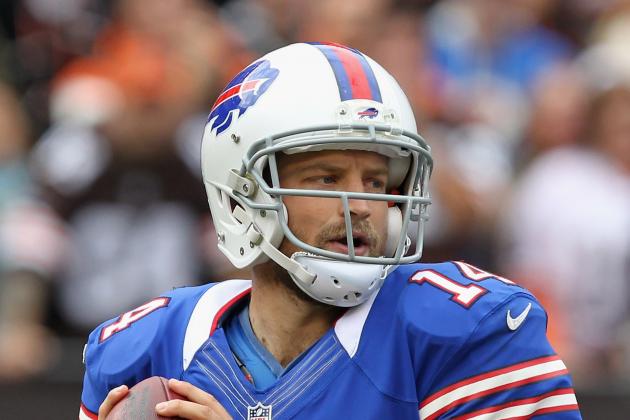 Matt Sullivan/Getty Images

Quarterbacks:
Ryan Fitzpatrick
Tyler Thigpen
Tarvaris Jackson
Tyler Thigpen sits above Tarvaris Jackson on the Buffalo Bills depth chart.
Not a terrible quarterback situation for Buffalo, especially with Ryan Fitzpatrick really coming into his own as the starter.
The Bills have an emerging passing game that can hang with the best in football.
Fitzpatrick to Stevie Johnson should be a popular touchdown call for quite some time.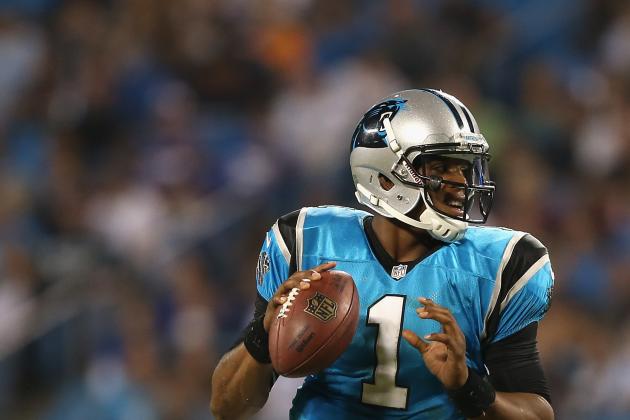 Streeter Lecka/Getty Images

Quarterbacks:
Cam Newton
Derek Anderson
Jimmy Clausen
Is Derek Anderson good? What about Jimmy Clausen?
It is hard to know what to make of the Carolina Panthers' quarterbacks, because they all seem so unstable.
Anderson had moments of brilliance with Cleveland, but that was years ago. And Clausen still has yet to really get a chance to succeed in Carolina.
Even starter Cam Newton seems to be going through a sophomore slump this season.
There are worse options than Anderson and Clausen, but there are also far better.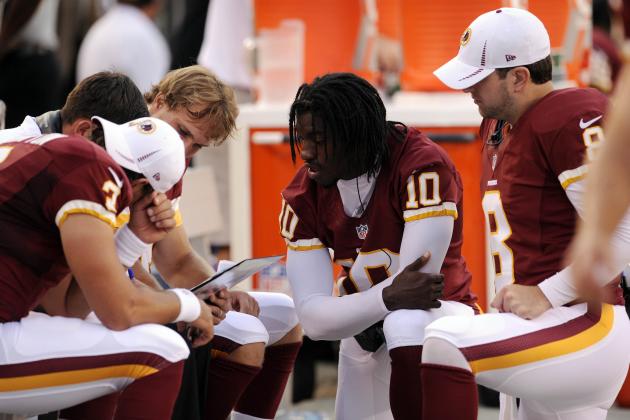 Rafael Suanes-US PRESSWIRE

Quarterbacks:
Robert Griffin III
Rex Grossman
Kirk Cousins
The Washington Redskins turned a lot of heads when they spent early 2012 draft picks on both Robert Griffin III and Kirk Cousins, but it has created one of the most intriguing young QB situations in the NFL.
Griffin III is dynamic, electric and invigorating to the Redskins offense and is leading the franchises revival.
Cousins should develop nicely and hopefully be a nice piece of trade bait for a needy team.
Rex Grossman is kind of tucked in the middle as the experienced veteran that has been good at times, but no one really wants to ever let on the field.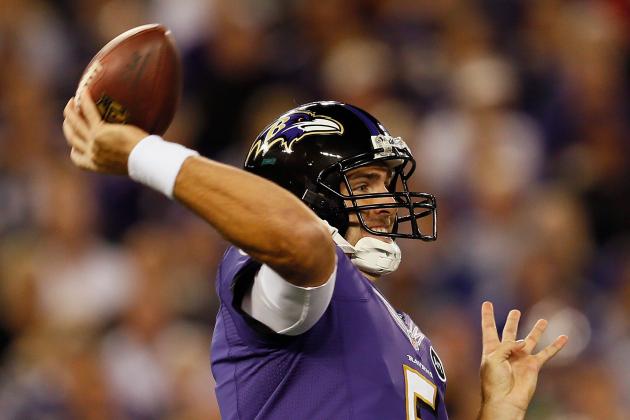 Rob Carr/Getty Images

Quarterbacks:
Joe Flacco
Tyrod Taylor
Joe Flacco throws for at least 3,000 yards every season. He has never been great, but you could always count on him to be on the field and produce reasonably well.
2012 is changing that.
Flacco has thrown for seven touchdowns through three games and has over 1,200 yards passing.
Tyrod Taylor, having never started a game, is not the best guy to have on the bench, but Flacco is as sturdy as they come.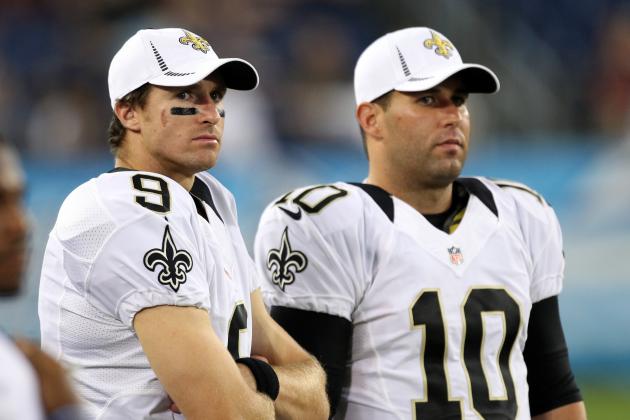 Joe Murphy/Getty Images

Quarterbacks:
Chase Daniel
New Orleans eventually needs to realize that Drew Brees will not be around forever.
That dim future was glimpsed in the offseason when he had a contract dispute, but it has been avoided for at least a few more years.
Chase Daniel is not a sound backup or future of the franchise.
New Orleans needs to fix this situation at some point.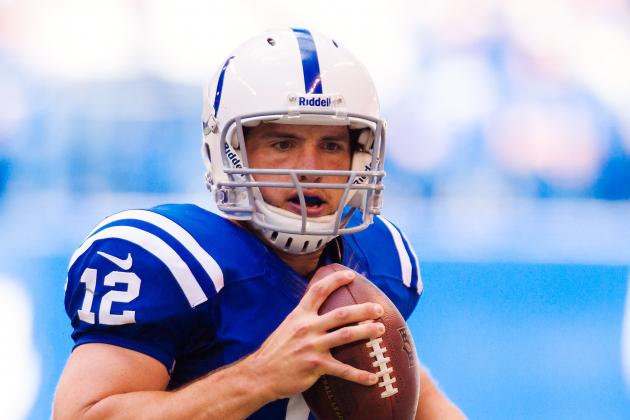 Michael Hickey/Getty Images

Quarterbacks:
Andrew Luck
Drew Stanton
Chandler Harnish
The Indianapolis Colts are set up perfectly moving forward.
Andrew Luck is their quarterback for the next 12-15 years and he has a quality back up behind him in Drew Stanton.
Stanton has a strong arm, good foot speed and could manage the Colts offense well if ever asked to step up.
Luck is the most promising QB to come out of the draft in quite some time, and will keep the Colts in the top half of the QB situations list for years to come.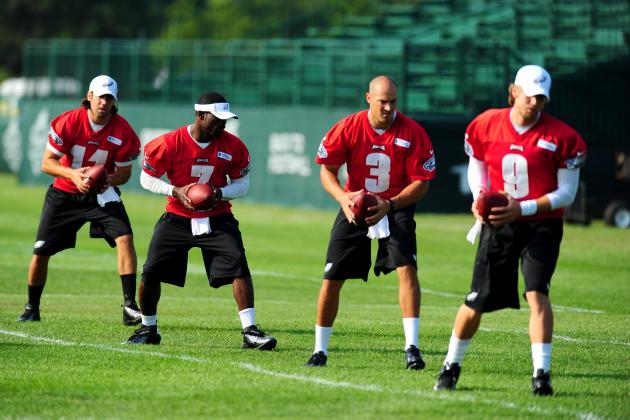 Evan Habeeb-US PRESSWIRE

Quarterbacks:
Nick Foles
Michael Vick has a tendency to get hurt each and every season. When that inevitably happens again, the Philadelphia Eagles will hand the offensive reigns over to Nick Foles.
Foles could be something down the line, but for now, he is an underdeveloped young prospect out of Arizona that is not ready to be on the field.
Trent Edwards at least has starting experience, but that doesn't mean it was ever a good experience in Buffalo.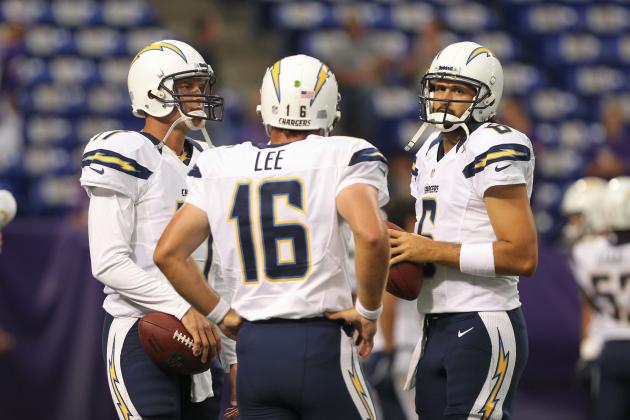 Brace Hemmelgarn-US PRESSWIRE

Quarterbacks:
Charlie Whitehurst
Jarrett Lee
There has been plenty of talk about Charlie Whitehurst's potential the last few years, but not much has been seen on that front.
Still, he has plenty of ability and is a solid backup behind Philip Rivers for the San Diego Chargers.
Rivers has struggled mightily since last season, but when he is on his game, few are better.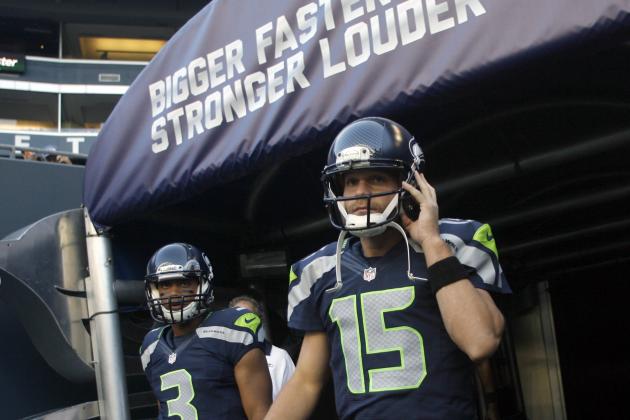 Joe Nicholson-US PRESSWIRE

Quarterbacks:
Russell Wilson
Matt Flynn
The Seattle Seahawks QB depth chart has been completely revamped since 2011, but it sure has worked out in a positive way.
Russell Wilson has impressed more than perhaps any other rookie, earning a starting job over high-priced free agent pickup Matt Flynn.
Flynn himself was a great backup to Aaron Rodgers in Green Bay and for now remains one of the best backup options in football with the Seahawks.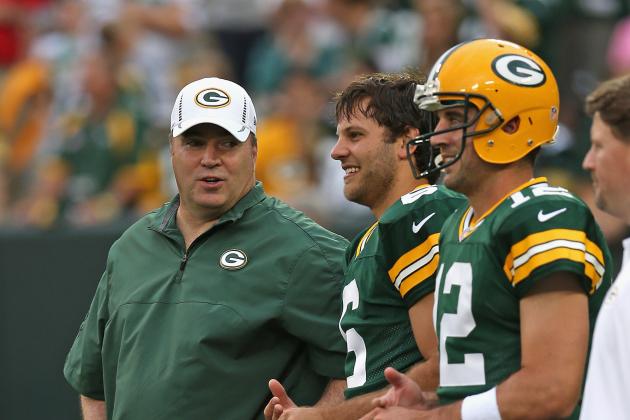 Jonathan Daniel/Getty Images

Quarterbacks:
Aaron Rodgers
Graham Harrell
With Matt Flynn on the roster the Green Bay Packers had possibly the best QB situation in all of football.
Now it is severely mediocre.
Aaron Rodgers may be the top QB in the NFL, but having only Graham Harrell and his zero career snaps behind Rodgers is not good.
The Packers need to remedy this soon, because the Seattle Seahawks proved on Monday Night Football that teams can get to the quarterback against Green Bay.
And having to turn to Harrell would be a risky proposition.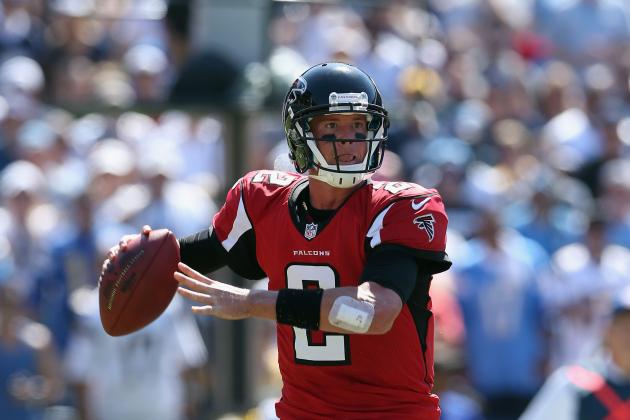 Jeff Gross/Getty Images

Quarterbacks:
Luke McCown
Dominique Davis
Matt Ryan is quickly moving into that elusive "elite" conversation.
His play to start 2012 has been nothing short of remarkable.
Having Luke McCown as a backup, gives the Falcons a reliable option that knows the offense and can manage the game if necessary.
Of course, throwing to Julio Jones and Roddy White would be nice for any quarterback.
Chris Humphreys-US PRESSWIRE

Quarterbacks:
Peyton Manning
Brock Osweiler
Caleb Hanie
Peyton Manning is healthy.
And when Peyton Manning is healthy, he is an elite quarterback that makes any depth chart instantly really good.
Yes, Brock Osweiler is a rookie and Caleb Hanie is, well, Caleb Hanie, but Manning is one of the best in the game.
This situation has to take a slight hit because of Manning's injury risk and lack of experience behind him.
But the Broncos are in a great position having Manning to lead the offense and groom the young Osweiler.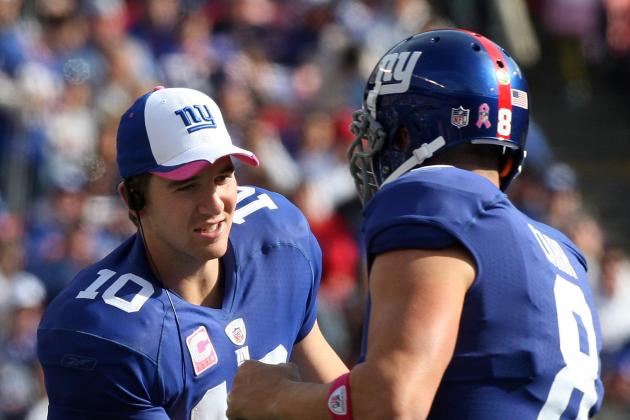 Jim McIsaac/Getty Images

Quarterbacks:
David Carr
The New York Giants have two No. 1 overall picks at QB, what could be better?
In all seriousness, David Carr is not a great No. 2 QB, but the Giants are not in a terrible position.
Eli Manning rarely, if ever, misses action and Carr has been with the team long enough to have a full grasp of the offense if his number is ever called.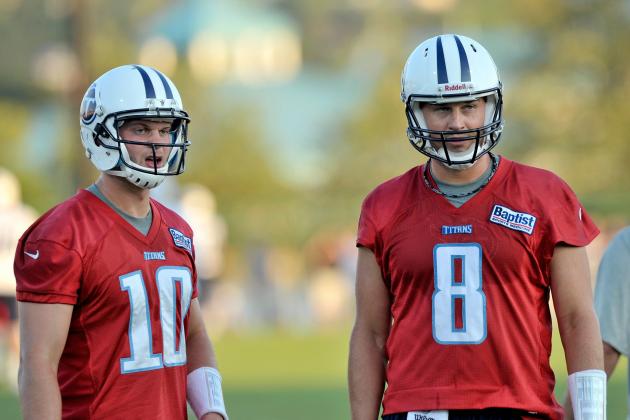 Jim Brown-US PRESSWIRE

Quarterbacks:
Jake Locker
Rusty Smith
The Tennessee Titans have an almost ideal QB situation on their hands.
Jake Locker is the future of the franchise and after sitting behind veteran Matt Hasselbeck for a season he has now assumed the starting role.
Should he slip up, Hasselbeck is still on the roster ready and waiting to step in and be a quality leader of the offense.
It's a win-win.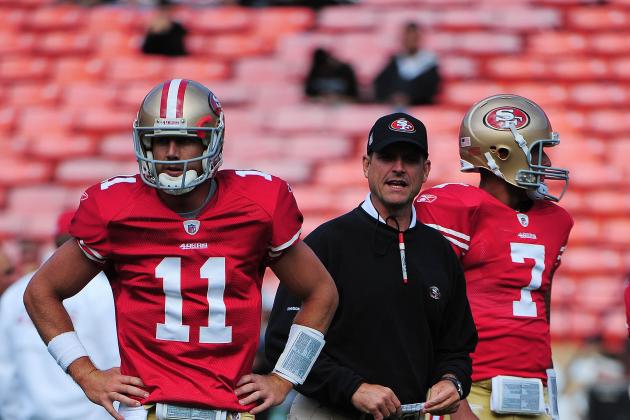 Kyle Terada-US PRESSWIRE

Quarterbacks:
Alex Smith
Colin Kaepernick
Scott Tolzien
Colin Kaepernick is one of the most dynamic quarterbacks in football, and because of that, the San Francisco 49ers have developed Wildcat type packages to get him involved in the offense.
That is a great compliment to the rock solid play of Alex Smith and the basic, but still amazingly effective offense, that the 49ers run.
Smith may never lead the league in passing yards, but San Francisco is efficient and consistently puts points on the board.
This is a QB situation that is working out for all parties involved.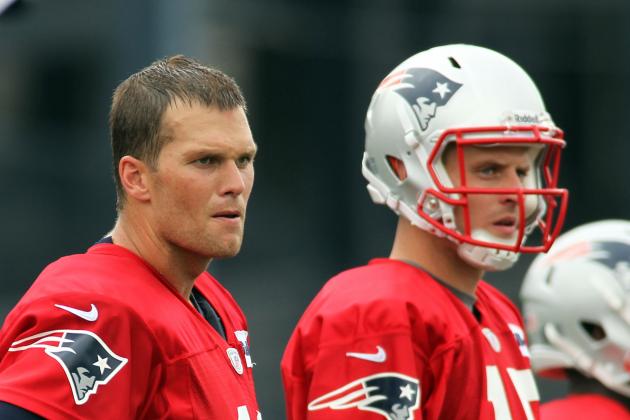 Stew Milne-US PRESSWIRE

Quarterbacks:
Tom Brady
Ryan Mallett
The New England Patriots have one of the best quarterbacks in the history of football in Tom Brady still playing at an elite level.
They also have his potential successor in place in Ryan Mallett.
The situation could not be much better for the Patriots.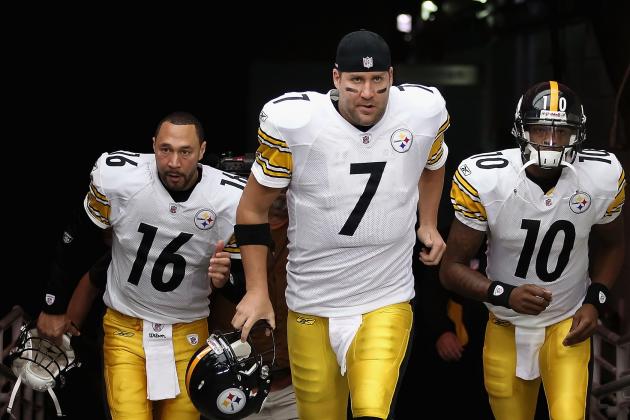 Christian Petersen/Getty Images

Quarterbacks:
Byron Leftwich
Charlie Batch
Charlie Batch has been around seemingly forever and Byron Leftwich has had a similarly lengthy run as a Pittsburgh Steelers backup.
This kind of stability behind Ben Roethlisberger is a tremendous benefit to the consistency and continuity of the offense.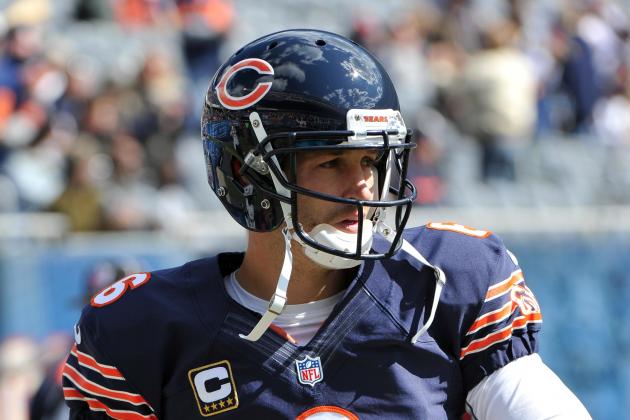 US PRESSWIRE

Quarterbacks:
Jason Campbell
Jason Campbell has been a solid starter and could be again given the right opportunity.
He was kind of forced out from Oakland to make room for Carson Palmer, despite not actually playing bad at all when he was healthy.
However, Oakland's loss makes for Chicago's gain.
Whatever your thoughts on Jay Cutler, he and Campbell make for one of the best No. 1 and No. 2 QB punches in football.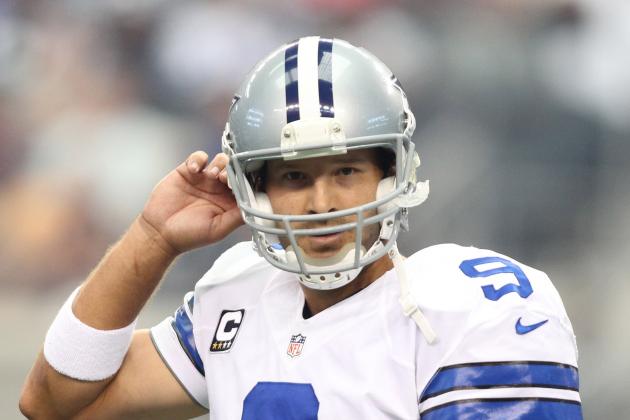 Tim Heitman-US PRESSWIRE

Quarterbacks:
Kyle Orton
Kyle Orton has more starting experience than most reserve quarterbacks in the NFL.
Knowing he can step in and be a decent signal caller, has to be somewhat comforting to a Cowboys offense that is heavily reliant on the passing game.
Feelings are always mixed on Tony Romo, but the fact remains that he consistently throws for 4,000 yards a year.
This is a really good QB situation in Dallas.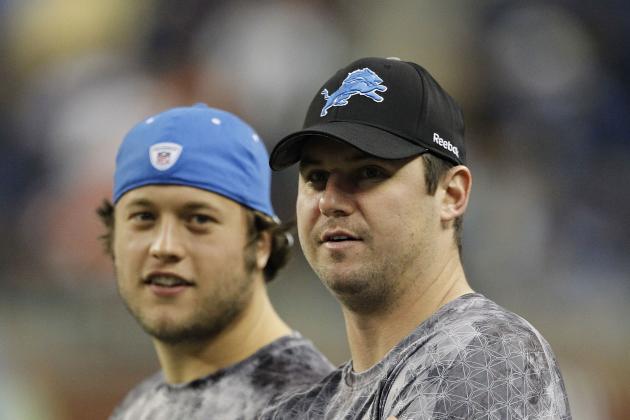 Leon Halip/Getty Images

Quarterbacks:
Matthew Stafford
Shaun Hill
Kellen Moore
Shaun Hill sure did prove his worth to the Detroit Lions in Week 3.
He threw for two touchdowns in under a quarter's worth of work and converted a Hail Mary pass to send the game to overtime.
Matthew Stafford is part of the next wave of elite quarterbacks, but he has a history of injuries.
Shaun Hill is one of the best back up QB's in football and that is an invaluable resource for an offense with an anemic running game.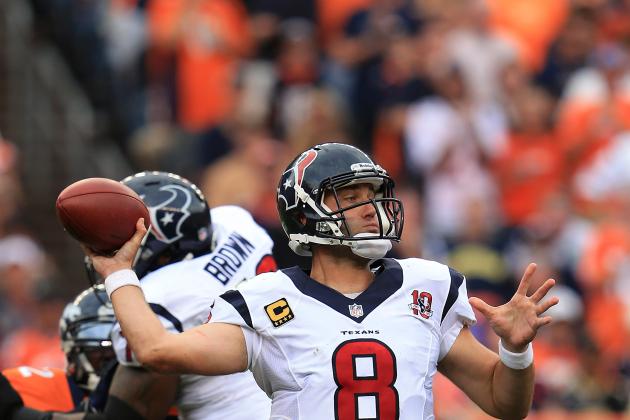 Doug Pensinger/Getty Images

Quarterbacks:
Matt Schaub
T.J. Yates
John Beck
Houston is set up well for success should Matt Schaub have to step out of the starting lineup at any point.
T.J. Yates proved in 2011 that he is more than capable of assuming a starting role and excelling in it.
Even third stringer John Beck has been a starter at the NFL level.
The Texans have the deepest and best QB situation in the league.