Brooklyn Nets: 2012-13 Regular-Season Stat Predictions for Nets' Starting 5
Chris Chambers/Getty Images
Amazingly enough, the NBA season is creeping up on us again. It feels like it was yesterday that LeBron James was jumping around like an idiot on the sidelines as he won his first NBA Championship.
The Brooklyn Nets have had anything but a quiet offseason. They were at the center of the Dwight Howard saga and even though they didn't end up acquiring him, they still made some significant moves.
With the trade for Joe Johnson, to go along with the re-signings of Deron Williams, Gerald Wallace, Kris Humphries and Brook Lopez, the Nets are in good shape to be a top team in the Eastern Conference.
With a complete team, the Nets' key players could be in line for career years. Here is a look at regular-season stat predictions for the Nets' starting five.
Deron Williams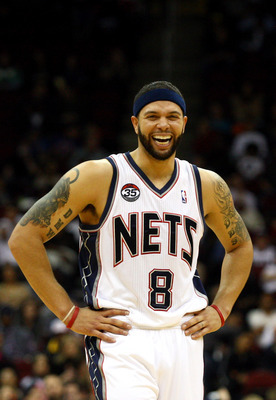 Chris Chambers/Getty Images
After all the speculation of whether Deron Williams would stay with the Nets or pack his bags and run far away, he is still with the team that took a risk and traded for him two years ago.
The Nets have made Williams their franchise player. He has put up with the Nets' rebuilding since joining the team, and he will play a crucial part in the team's success.
Williams is arguably the best all-around point guard in the NBA and he has been everything the Nets could have wanted. With the roster upgrades and healthy teammates, Williams should be leaned on less and could have the best year of his career.
2012-13 Predictions (Per Game)
19 points, 3.5 rebounds, 11 assists
Joe Johnson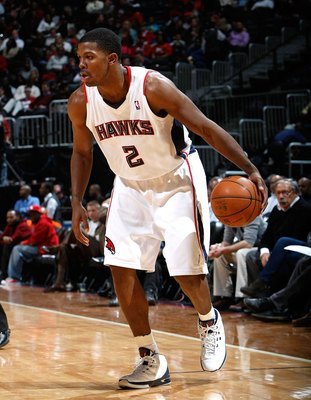 Kevin C. Cox/Getty Images
The Nets made a big trade this offseason and brought in Joe Johnson from the Atlanta Hawks. While Johnson has one of the ugliest contracts in the NBA, the Nets got themselves a proven shooting guard who can score in bunches.
With Deron Williams and Johnson, the Nets may have the best backcourt in the NBA. With Williams as his point guard, Johnson could see his stats vastly improve.
2012-13 Predictions (Per Game)
20.5 points, 4.5 rebounds, 4.5 assists
Gerald Wallace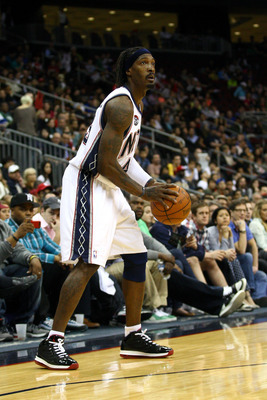 Chris Chambers/Getty Images
The most underrated and least talked-about move the Brooklyn Nets made in the past two seasons was the trade for Gerald Wallace. Wallace is a very versatile player who brings so much to the Nets.
His ability to score, rebound and play defense makes him so valuable, and he fits in perfect with the Nets' starting five. Call me crazy (maybe), but Wallace might just be the key to the Nets' success because of his versatility and how deep he makes them.
2012-13 Predictions (Per Game)
14.5 points, seven rebounds, 3.5 assists
Kris Humphries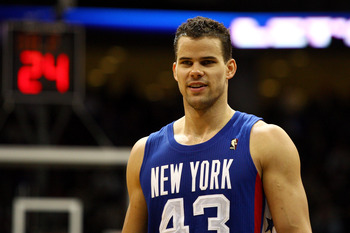 Chris Chambers/Getty Images
Most people know Kris Humphries because of his personal life and Kim Kardashian, but he has been making a name for himself on the basketball court.
Since getting legitimate playing time with the Nets, Humphries has emerged as a consistent double-double threat.
Humphries' style of play compliments Brook Lopez's style wonderfully, and the two being on the court is going to be a strong combination.
While Humphries' role on the team is going to be primarily cleaning up the boards, he could put a lot of points on the board because of the attention everyone else in their starting five demands.
2012-13 Predictions (Per Game)
11 points, 12.5 rebounds, 1.5 assists
Brook Lopez
Dimitrios Kambouris/Getty Images
After playing in all 82 games in the first three seasons of his career, Brook Lopez only managed to get in five games last year. The good thing for the Nets is that his injuries were freak injuries and shouldn't be a concern this season.
Before last season, Lopez made it a priority to put on weight and work on his defense and rebounding. If he could find a way to improve that part of his game to go along with his impressive scoring ability, he could be up there with the top centers in the NBA.
2012-13 Predictions (Per Game)
20 points, 8.5 rebounds, 1.5 assists, two blocks
Keep Reading

Brooklyn Nets: Like this team?