Week 3: 2013 NFL Mock Draft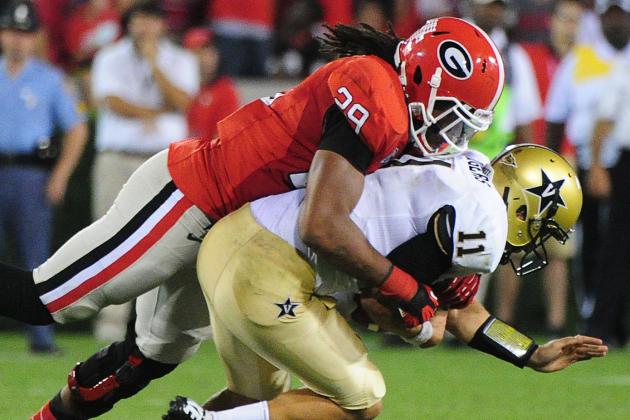 Scott Cunningham/Getty Images

A season after offenses lit the NFL on fire, the elite quarterbacks in the league are struggling to create explosive plays, and the state of football appears more balanced than in recent years as a result.
In fact, Drew Brees, Tom Brady and Aaron Rodgers are a combined 2-7 heading into Week 4, and all have struggled to score in key moments of games.
This, while teams with outstanding defenses and mediocre quarterbacks are sitting at the top of the standings.
While it's certainly too early to call that a trend, given that we're just three full weeks into the season, it does appear that teams like San Francisco, Arizona and even Seattle can win games with a great defense and a quarterback making just enough plays.
The 2013 draft is loaded with defensive talent, which means there will be plenty of chances for teams like New Orleans, which can't stop anyone, to get some much-needed help on that side of the ball.
When it comes to difference-makers on offense, they are few and far between, although this is a deep group at the quarterback position.
Plenty of player and team shuffling has taken place in the last few weeks, which, like every season, will continue right up until the last moment.
The top-rated player on the board is new, but unfortunately for Cleveland fans, the top team on the board isn't.
Begin Slideshow

»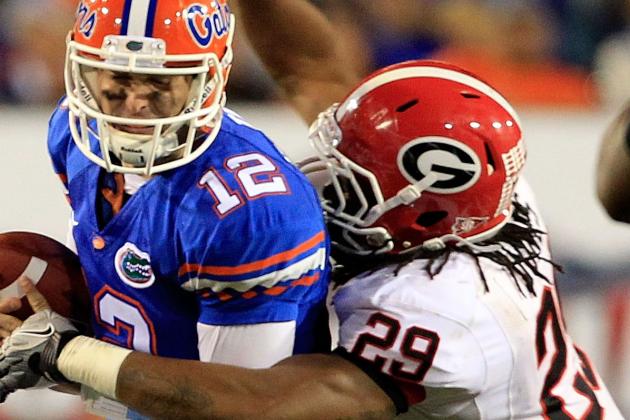 Sam Greenwood/Getty Images

Needs: WR, G/C, S, OLB, CB
Matt Barkley's grip on the top overall pick remains tenuous based both on the fact that he's no longer the top-rated player and that the team that will likely get the No. 1 pick doesn't need a quarterback (or at least likely wouldn't draft one).
The Browns, when they have Joe Haden, are a solid defense particularly against the pass. That being said, there isn't an impact player on the defense outside of Haden, and Jones brings big-play ability.
Jones is a versatile, athletic, powerful player who can play at the line of scrimmage or off as a true linebacker. With explosiveness off the edge, and devastating lateral quickness on stunts, Jones can have a Von Miller-type impact on the Browns as Miller has become the standard bearer for rush 4-3 linebackers.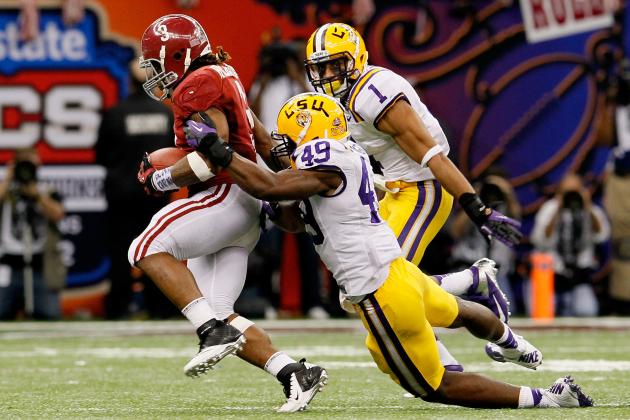 Kevin C. Cox/Getty Images

Needs: DL, DB, OL, RB, WR, LB
In a weak division, the Colts may not wind up picking this high, although it does appear that the Jaguars and Titans are both ahead of Indy at this point.
Through three weeks, the Colts haven't had a problem with pass rush, tied for 10th in sacks and 14th in passing yards. But both Dwight Freeney and Robert Mathis are too long in the tooth to be relied upon for much longer, and outside of Jones, Mingo is the most dynamic pass rusher in the draft.
Mingo is an outstanding athlete, although still raw in terms of developing his pass-rush moves, and will probably have to get bigger to play in the NFL. He uses his hands well to shed blocks and has long arms to keep linemen at bay. Mingo is considered by some scouts to be superior to Jones and is certainly in the discussion as the No. 1 overall pick.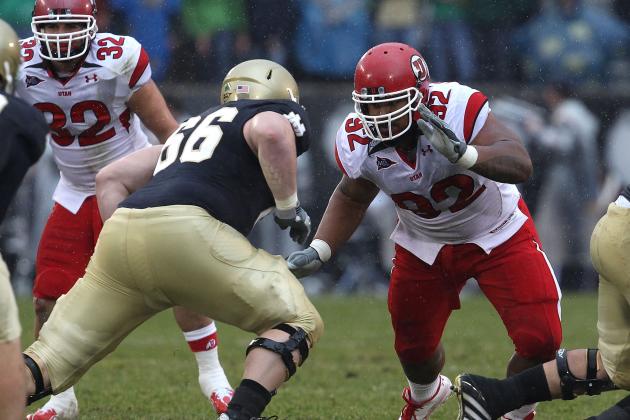 Jonathan Daniel/Getty Images

Needs: WR, DL, LB, S, TE
Miami is a missed field goal away from being 2-1 but plays in a tough division and has a rookie quarterback with little help on the outside.
Unless one of the top receivers like Keenan Allen or Justin Hunter start dominating games and slip into the top 5, I have to believe Miami would take one of the talented defensive lineman at the top of the draft.
A Miami fan got mad last time I had a defensive lineman here, but the reality is outside of Cameron Wake there isn't a playmaker on this defense.The Dolphins ranked 27th in the league in sacks with just four while playing two straight teams with mediocre offensive lines.
Lotulelei is one of the most talented and dynamic players in this draft. He's an athlete along the lines of Dontari Poe in terms of being able to move for his size but has shown more on the field as a consistent player. With Wake and Paul Soliai next to him taking up blocks, opposing offenses can't double-team everyone. Star has a chance to live up to his name in South Beach.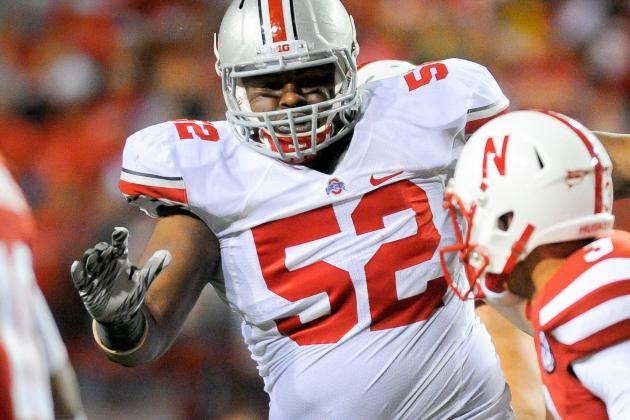 Eric Francis/Getty Images

Needs: DL, WR, DB, OL, RB
Jacksonville has wasted too many picks on defensive lineman who didn't work out, and as a result, the defense remains an issue. The Jags are 30th in the league against the run, and 21st against the pass, despite playing limited offensive teams through three weeks.
Blaine Gabbert, on the other hand, seems to be a new player after leading two comeback drives in the fourth quarter in just three weeks. If not for an inability for his defense to make a stop against Minnesota, the Jags would be 2-1.
Enter Johnathan Hankins, one of the rising stars of this draft, to the point that some scouts have him above Lotulelei. The Buckeye boasts a massive frame at over 330 pounds but has the lateral agility to fill holes and also explode up the field.
If he can develop better technique as a pass-rusher, Hankins could be a terror as he already plays with a relentless motor. I want to see more on the field in terms of production out of Hankins before I put him above Lotulelei.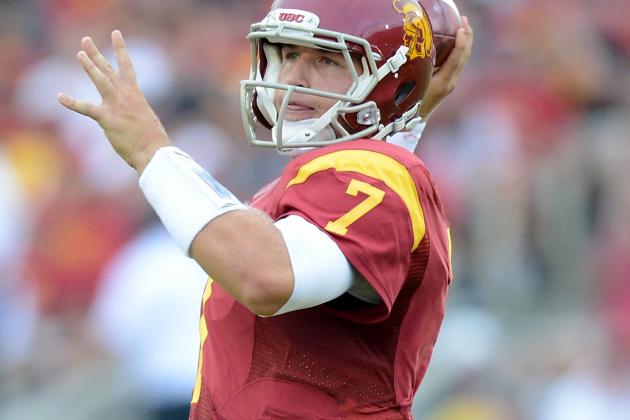 Harry How/Getty Images

Needs: OL, WR, CB, DE, OLB, TE
Oakland has more pressing needs at this point, but I would love this pick for the Raiders on a number of levels. First, it gives Oakland a long-term starter at quarterback, not to mention the only team in the division with a blue-chip young quarterback.
Second, you're bringing in a potential franchise signal-caller who doesn't have to play as a rookie. Barkley could learn from fellow Trojans Carson Palmer and Matt Leinart (it would be weird to have three USC quarterbacks, though), and he wouldn't have to carry the offense right away because the Raiders have Darren McFadden.
Despite falling out of the top spot, Barkley remains a top-five pick as the best quarterback in the draft. I'm not convinced Geno Smith can play well enough to overtake Barkley, nor do I think Smith is as prepared to start in the NFL as Barkley.
Barkley would bring star power to Oakland for the right reasons and could revitalize a franchise in need of a fresh face.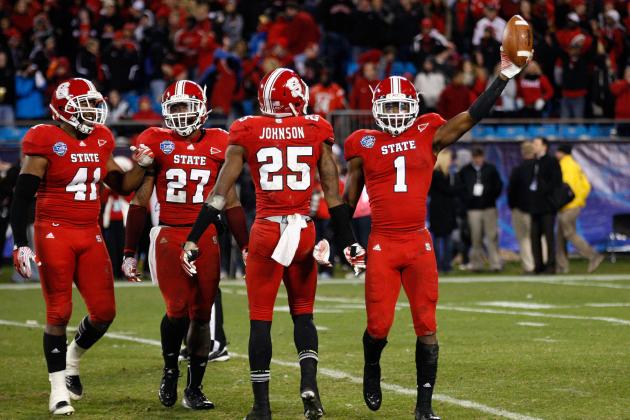 Streeter Lecka/Getty Images

Needs: OL, DB, DL, WR, OLB
It's gone from bad to worse in New Orleans where the stench of Bountygate has translated into an 0-3 start against three of the worst 10 or 12 teams in the league. Hardly a galvanizing force for the Saints.
Despite facing three bad teams, the Saints are last in yards allowed, last against the run, 30th in points allowed and 25th against the pass. Making matters worse, they've created just six sacks and one interception in three games. This defense plain stinks.
David Amerson has gotten off to a slow, though not equally slow start for North Carolina State, but remains the top defensive back in the draft. He's in the same tier of players with LSU defensive end Sam Montgomery, who may get some consideration here given the ineffectiveness of Will Smith, but Amerson makes more sense.
A zone corner with solid instincts and tremendous ball skills, Amerson will get beat when he gets too aggressive but is a difference-maker when the ball is in the air and has excellent ball skills to come away with interceptions.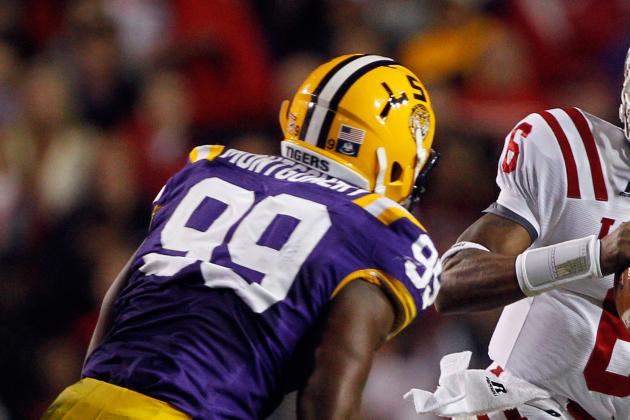 Chris Graythen/Getty Images

Needs: CB, TE, DE, OL, WR
Statistically, this is one of the worst teams in the league on both sides of the ball, but particularly defensively.
The Titans have lost defensive stalwarts Cortland Finnegan, Albert Haynesworth and others over the past few seasons and haven't replaced them with bona fide playmakers.
Sam Montgomery plays on a loaded LSU defense, so it is sometimes hard to know how good these players are on their own given the talent level around them. Montgomery is a big, physical defender who is aggressive coming off the edge and makes a living in opponent's backfields.
Montgomery is a much more productive player than Mingo, but without the supreme upside. Like Mingo, Montgomery also has top-line starter potential and would be a key for the Titans to upgrade.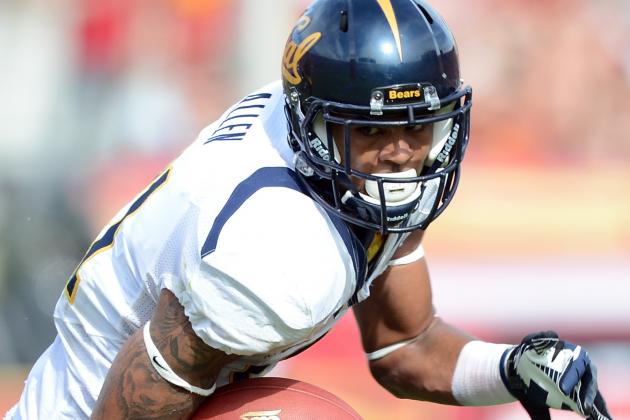 Harry How/Getty Images

Needs: CB, DL, WR, OL, TE
Defensively, Carolina simply lacks the talent to win consistently in the NFL. They have almost no weapons in the passing game outside of Steve Smith, and it's inhibiting the growth of Cam Newton.
Keenan Allen is the best skill position player in the draft and has the ability to be a legitimate No. 1 receiver as a pro. With a tall, thick body, Allen has the strength to ward off defenders and make tremendous catches in traffic, although he can be somewhat of a long-strider in his route running.
Allen compares favorably with Green Bay's Jordy Nelson as a deceptively fast wide receiver who excels at making plays over corners even in tight coverage. Particularly as a red zone target, Allen could be a huge boost for this Panthers offense and the progression of Cam Newton.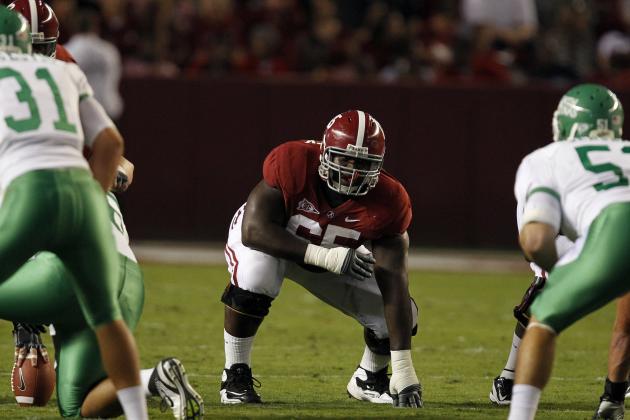 Butch Dill/Getty Images

Needs: OL, WR, LB, TE, DB
St. Louis is one of the better 1-2 teams in the league right now, and one of the reasons is because Sam Bradford is healthy, and some of the new faces on the Rams defense have helped improve that side of the ball.
That being said, there is still a dearth of talent in St. Louis, and offensive line is one of the major questions marks right now. At this point, the Rams would have their pick at the best offensive lineman in the draft, and Warmack is at the top of that list.
Fellow 'Bama lineman Barrett Jones has been a higher-profile player, but the ability of Warmack to seal his man, wall of defenders, and still have the feet to handle inside rushers have him shooting up draft boards.
St. Louis will have the luxury of two high first-round picks, which means they can afford to take a guard this high, something you don't normally see.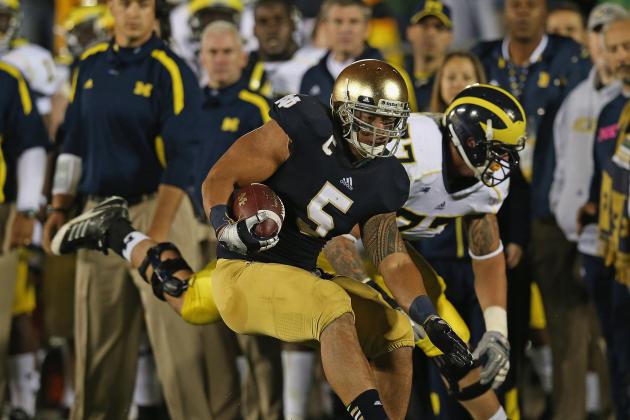 Jonathan Daniel/Getty Images

Needs: LB, DL, TE, G, WR
Through three weeks, Tampa Bay has been the worst team in the league defending the pass and and one of the worst throwing the ball. That won't win you many games with the way the league looks right now.
Despite the spending spree this offseason, the Bucs are short on talent in some key areas and have some young players like Doug Martin and Mark Barron who will only get better.
Te'o is exactly the kind of player the Bucs need with his leadership and athleticism. The Notre Dame linebacker can get sideline to sideline and with Levonte David would give them one of the fastest group of 'backers in the NFL.
With the kind of defensive tackles Tampa Bay has, it also would mitigate some of the concerns about some of Te'o's physicality.
An offensive lineman or a pass-rusher would make sense here as well.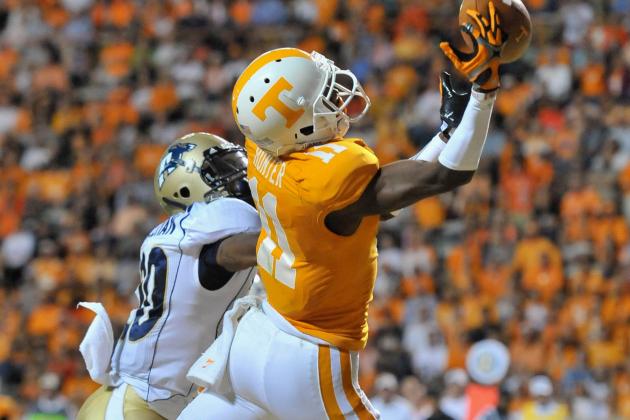 Jim Brown-US PRESSWIRE

Needs: OL, WR, LB, TE, DB
Getting this pick from the Redskins in the RG3 deal provides the Rams the opportunity to be aggressive and perhaps take a flyer here.
There are some higher-rated players at this point, but Hunter is an ultra-talented receiver from Tennessee who can fly down the field and would give the Rams a big-play threat that they don't currently have.
Hunter's hands are not quite as consistent as you'd like, but he is excellent in and out of breaks, and once he has the ball in his hands, he can get up to full speed in a hurry. Particularly on the turf in St. Louis, Hunter could be a major part of this offense with a quarterback like Bradford to get him the ball.
If they eschew the lineman with their first pick, a tackle like Luke Joeckel could make sense here if he's available.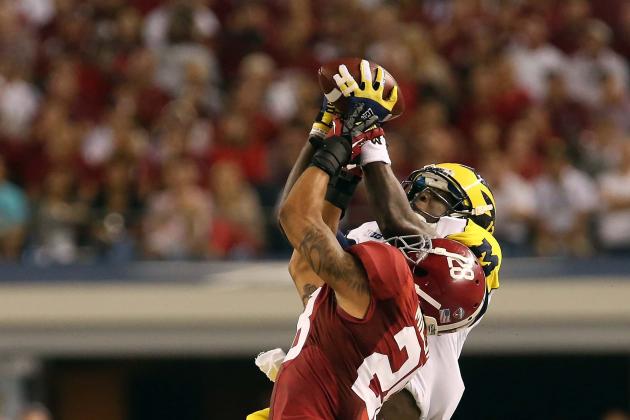 Kevin Jairaj-US PRESSWIRE

Needs: WR, CB, TE, S, QB
Kansas City has been an inconsistent team through three weeks but does have some obvious strengths and weaknesses.
For as good as the Chiefs are running the ball, they don't create explosive plays in the passing game, and if Justin Hunter is on the board, he seems like the obvious choice. If Hunter is gone, though, the Chiefs would have a more difficult decision to make given the players available.
I love Dee Milliner's toughness, physicality and instincts, and he would help make up for the loss of Brandon Carr this offseason. Milliner actually reminds me of Kansas City Chiefs corner Brandon Flowers who is one of the best in the NFL.
If the season doesn't get better for KC, I wouldn't be surprised to see the Chiefs go with a player like Geno Smith in the first round, as Matt Cassell hasn't been the player Kansas City is paying him to be.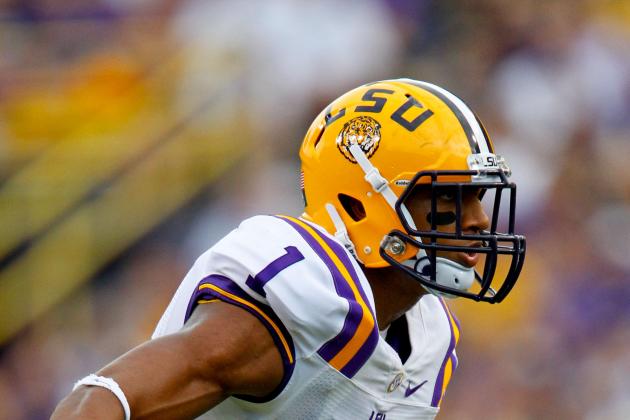 Derick E. Hingle-US PRESSWIRE

Needs: DB, LB, RB, OL, TE
There are only three teams in the league without an interception through the first three weeks, and Detroit is one of them.
Passing defense continues to be a problem in Detroit, and this year appears no different. The Lions lead the league in giving up non-offensive touchdowns, meaning they're giving them up in the return game and through turnovers.
After using a first-round pick on a tackle last year, the Lions forgo the tackle with this pick and take the best defensive back available. Reid is a big-hitter and an instinctive center fielder for LSU and fits in with the kind of defense the Lions want to play.
With Cliff Avril potentially departing this upcoming offseason, a defensive end like Bjoern Werner wouldn't be a surprise here either.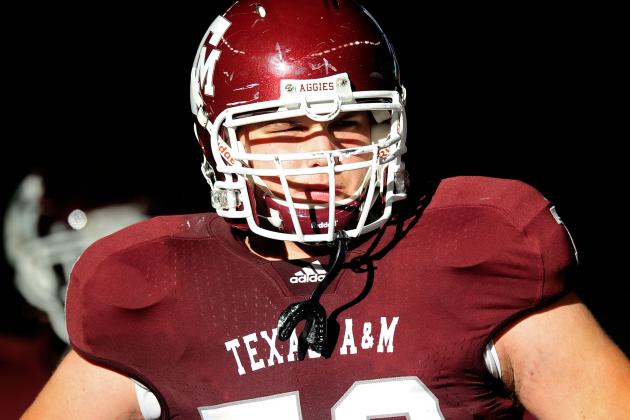 Mark J. Rebilas-US PRESSWIRE

Needs: OL, DB, RB, DL, LB
Suddenly, one of the best teams in the league at drafting and developing talent has holes all over on both sides of the ball. Losing David DeCastro before the season to a serious knee injury didn't do any favors to the offensive line, but there are problems at running back and in the secondary for Pittsburgh.
Luke Joeckel would fit perfectly into what the Steelers need as Pittsburgh transitions from a power running team to a finesse passing team. If Pittsburgh can't protect the quarterback better, they won't win in a tough division.
Joeckel isn't a physically dominating player, but sets well in pass protection and is athletic enough to play in Pittsburgh's uptempo offense.
Watching this defense fall apart without a healthy James Harrison also leads you believe that a pass-rusher like Bjoern Werner could be a dark-horse pick at this spot and would really inject some life into this aging defense.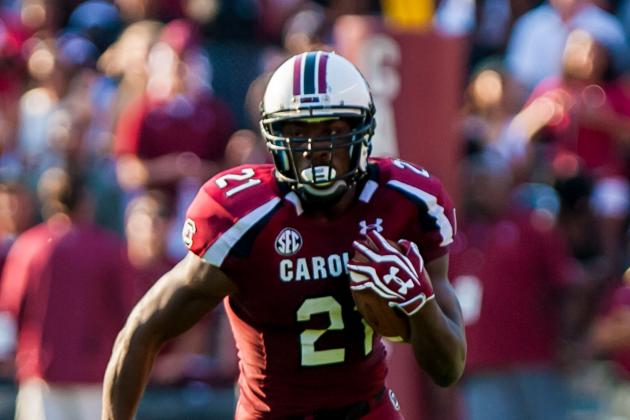 Jeff Blake-US PRESSWIRE

Needs: RB, WR, G, DL, DB, TE
The Broncos' season has been hard to judge because they've won a close game and lost two close games, after looking as if they were going to get blown out.
They appear just to be an average team, especially with Peyton Manning playing so inconsistently. One of the issues for the Broncos offense is the lack of consistent playmakers, and the running backs are among the worst in the NFL.
Lattimore hasn't been quite the same coming off injury, but appears to be getting his swagger back and is back to making explosive plays. Lattimore has the kind of power and cutting ability to really be effective in this offense and can be used in a variety of ways.
If the Broncos hadn't drafted Brock Osweiler last year, I'd say Geno Smith would certainly have to be a consideration here.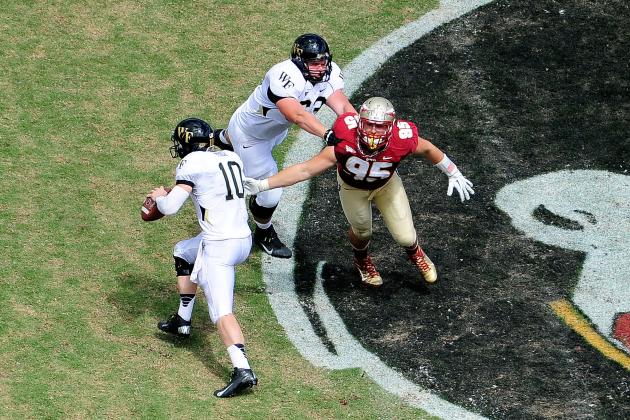 Stacy Revere/Getty Images

Needs: WR, LB, S, TE, OL, CB
Buffalo is another team that has become hard to figure out. After looking like one of the five worst teams in the league in an opening week loss to the Jets, the Bills have won two in a row, albeit to a pair of bad teams.
Once C.J. Spiller and Fred Jackson are both healthy, this will be one of the most dynamic offenses in the league, but the problem for Buffalo this season has been their inability to generate pressure despite spending heavily on pass-rushers in the offseason.
If the pass-rush situation can be worked out, a receiver like Robert Woods makes sense here, but with the pass rush struggling so mightily, the pick right now ought to be Werner, a powerful, athletic edge rusher from Florida state.
Werner is an exchange student from Germany who has burst onto the college football scene with his power and relentless rush. Werner has been a fast-rising prospect and is considered by some scouts to be a top-10 talent.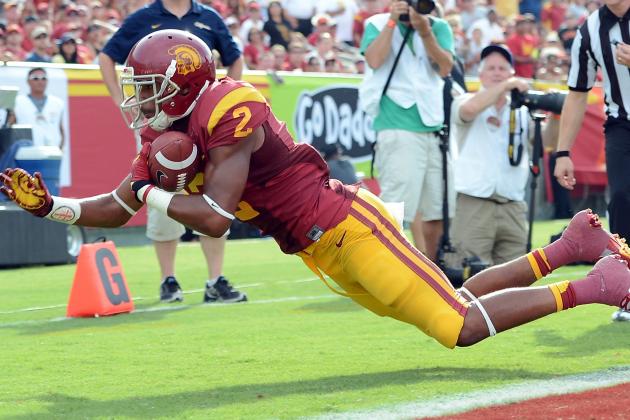 Harry How/Getty Images

Needs: WR, OL, OLB, RB, CB
Pete Carroll hasn't shown any sort of bias toward USC players since coming to Seattle, but this may be too good of an opportunity to ignore as need meets value for the Seahawks.
Seattle is a controversial 2-1 coming off the infamous Fail Mary play and won the game despite not being able to move the ball save for two drives in that game against Green Bay.
Now that the NFL has its real referees back, Seahawks receivers won't be getting credit for catches they didn't make, which means Seattle needs to find some who can make plays on their own.
Woods fits the bill and has been a dynamic big-play threat for the Trojans. He runs excellent routes and creates tremendous production for USC but doesn't catch the ball consistently and often is the beneficiary of Matt Barkley throwing him open when he can't create separation.
That is the big difference between Woods and the receivers above him in this draft, the ability to consistently separate and make catches in traffic.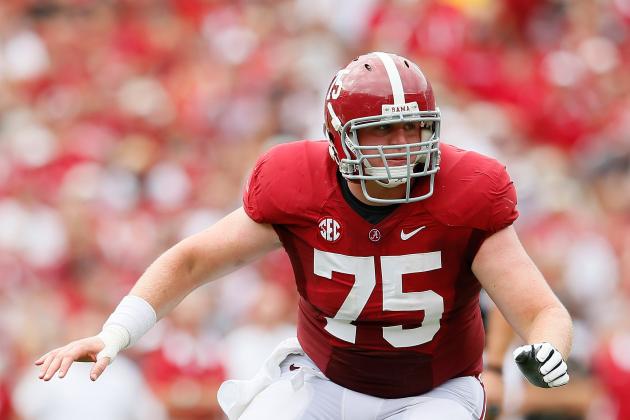 Kevin C. Cox/Getty Images

Needs: G, WR, CB, LB, RB
Minnesota may be the most misleading 2-1 team in the league despite an impressive win over San Francisco. The Vikes just barely beat the Jaguars at home and let Andrew Luck drive for the game-winning points in Week 2. So are the Vikings good? It'll be hard to tell until they get through division play.
Christian Ponder has played much better as a second-year player, but the offensive line remains a problem, particularly on the interior.
Barrett Jones can play guard or tackle and is one of the smartest, most instinctive linemen in the draft. He is a technician with his hands but also has surprisingly good feet for someone his size. He would really fit well into what the Vikings want to do with their running game.
If Robert Woods is available, he could get some consideration given how badly this passing game struggles when they can't get the ball to Harvin.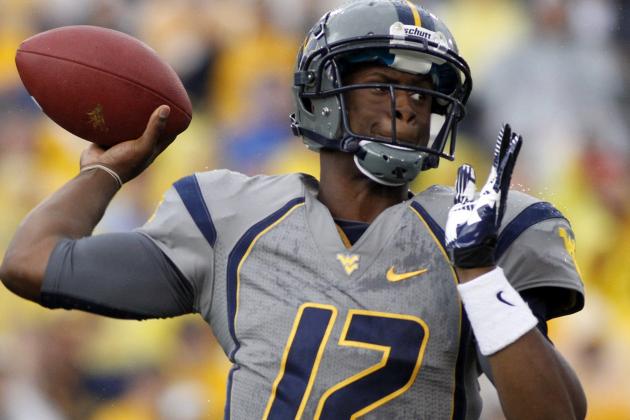 Justin K. Aller/Getty Images

Needs: WR, OL, QB, OLB, RB, S
New York is a pair of missed field goals of being 1-2 coming off a loss to one of the worst teams in the league. Instead, they're 2-1, but without their best player for the rest of the season.
It would not be surprising to see the Jets finish under .500 for the season, particularly with Sanchez playing so poorly. In fact, I believe Tim Tebow will get a start or two at some point this season, and the Jets have to realize Sanchez just isn't an NFL quarterback if you want to win a championship.
Geno Smith is, in a way, the player the Jets wished Tebow would be (but clearly isn't). He's an athletic passer who can also make plays with his feet. His rise up boards has been due to WVU's outstanding early start and his strong play.
Smith has a good arm and can make the NFL throws, something no quarterback in New York can say. There are some mechanical issues with his motion and his footwork, but they're no worse than that of Tebow or Sanchez and Smith is more talented than both of them.
There are some talented offensive linemen who will be available here as well, something the Jets definitely could use, but without a playoff run this season, patience with this group of quarterbacks will run thin.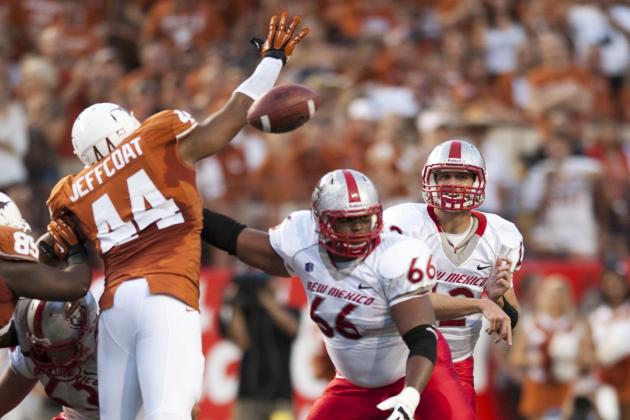 Cooper Neill/Getty Images

Needs: WR, S, OLB, RB, TE
After being demolished by the Ravens to open the year, Cincinnati has found its rhythm a little bit the last few weeks, particularly offensively.
The Bengals got into the playoffs last year by having a defensive mentality and have continued to put pressure on opposing quarterbacks but haven't been able to get enough stops.
To me, this is a luxury pick for the Bengals, but at the same time Jeffcoat is essentially a more talented Manny Lawson who starts for Cincy.
Jeffcoat is a speed rusher on the outside and is built like a linebacker. He would need to improve in coverage, but his athleticism is certainly there and as a pass-rusher off the edge, Jeffcoat is a terror.
There isn't really value at the other positions available, although to put Tyler Eiffert on this team with Jermaine Gresham would give the Bengals a similar tight end duo to New England.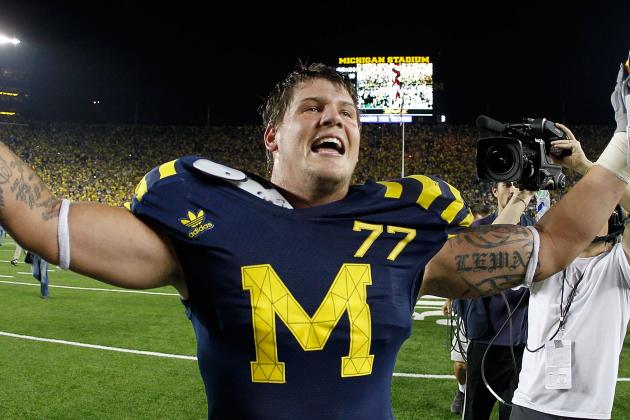 Gregory Shamus/Getty Images

Needs: OL, OLB, DB, RB, QB
Philadelphia could easily be 0-3 and hasn't played well at all through three weeks. Somehow, the Eagles are in the top 10 in both passing and rushing offense but tied for last in points, underscoring their inability to score in the red zone.
One of the serious issues on this team for several years has been the inability to keep Michael Vick upright. The offensive line has been a disaster and getting an upgrade is of the utmost importance to be more consistent scoring points.
Lewan fits the needs of the Eagles as a long, athletic lineman who plays with a mean streak and loves to compete. There isn't a lot of toughness and nastiness on this offense (unless you count DeSean Jackson's sour puss act), and Lewan would help change that.
If Vick continues to struggle and Nick Foles gets some time at quarterback, it becomes even more important to get a young tackle to pair with him.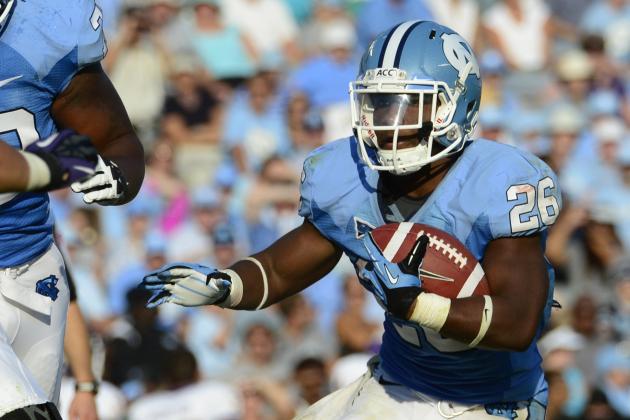 US PRESSWIRE

Needs: OL, CB, RB, ILB, SS
San Diego may cruise to the division title in the AFC West but does not appear to be a dominant team by any means. Despite spending big on receivers this offseason, the Chargers have struggled to score points, and Phillip Rivers hasn't been sharp.
Another injury to Ryan Matthews may have the Bolts rethinking their long-term commitment to him and could have the Chargers looking into other options.
Mainly to blame for the offensive struggles are the failures of this offensive front to consistently win its battles.
Brennan Williams can change that, with his size and strength upfront. Williams doesn't play on an elite offense or an elite team, but he has elite tools for a man his size and could be a starter right away for the Chargers.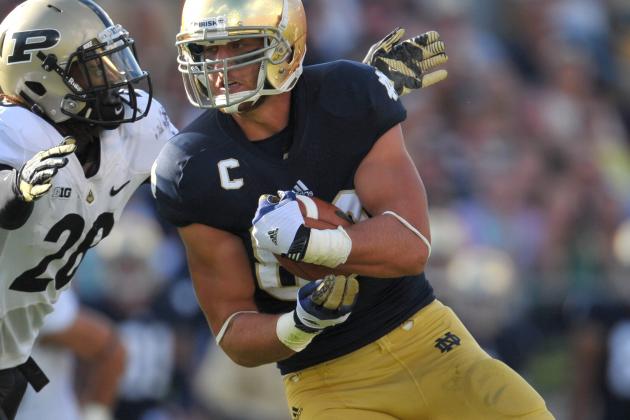 Matt Cashore-US PRESSWIRE

Needs: OL, S, TE, CB, LB
It's not secret that the offensive line is holding Chicago's team back. The defense has been stellar again this season, and Jay Cutler finally has a few weapons, but the Bears can't find a way to protect him.
With no value at lineman here, the Bears do the next-best thing and take Tyler Eifert who can help in protection and would be used a safety valve for Cutler at the tight end position.
Eifert is not an explosive athlete like some first-round tight ends, but he is big, physical and has terrific hands, particularly in traffic.
If there is a piece to this offense missing, besides some consistency from Jay Cutler, it's at tight end. The best offenses in the league have elite tight ends, and Chicago simply doesn't stack up, but adding Eifert would change that.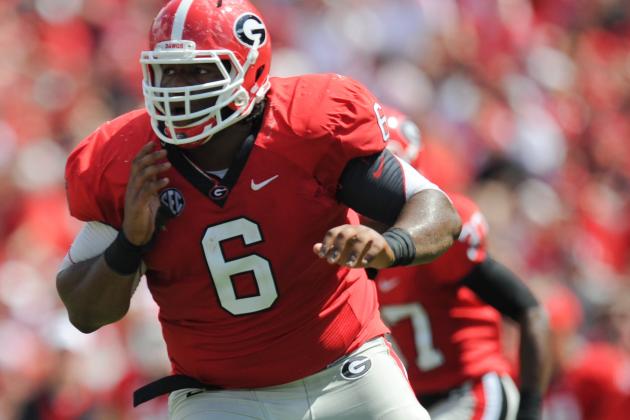 Kevin Liles-US PRESSWIRE

Needs: G, S, WR, DL, TE, LB
Dallas has made major strides to improve one of the most anemic pass defenses in the league last season with Morris Claiborne and Brandon Carr helping the Cowboys to the league's No. 1 ranking in passing defense through three weeks.
Actually, the biggest problem for the Cowboys has been scoring points, something they have rarely struggled to do under Tony Romo.
The offensive line remains a problem, and the skill position players are inconsistent. On the other hand, this defensive line lacks elite talent, and getting a player like John Jenkins could be a boost, particularly on the interior for this front seven.
Jenkins is absolutely massive and could be a nose tackle in the NFL but also has the skill to generate push and pressure over the center, even with double teams. With as good as these Cowboys linebackers are, getting a player who can eat up blockers could make this defense even better.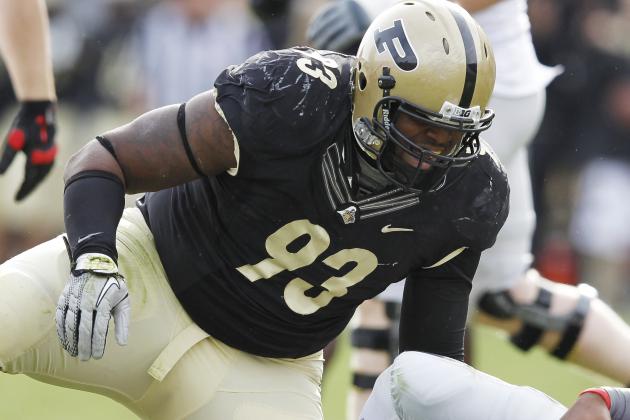 Joe Robbins/Getty Images

Needs: CB, OT, RB, S, DE
New England has suffered a pair of tough late losses and appears to be a team poised to get it going as it gets healthy and finds its rhythm.
Chandler Jones and Dont'a Hightower have breathed life into a defense left for dead last season, but the Patriots still have struggled to stop opposing passing offenses.
Poor cornerback play has been a big part of that, but also the fact that the rookie Jones has been the only player able to create pressure has been another reason.
Short would bring pass rush to the interior of this line next to the stalwart Vince Wilfork who is getting up there in age. Short can control blockers and actually has long arms to control offensive linemen.
If there's one player who could most benefit from the disciplined atmosphere in New England, it's Short.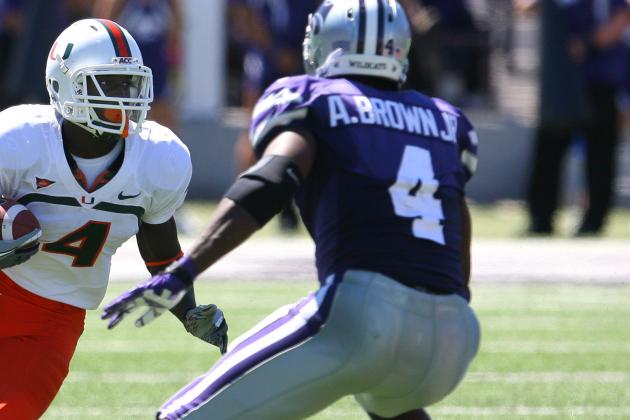 Scott Sewell-US PRESSWIRE

Needs: OL,LB,RB,S,QB
Green Bay suffered one of the worst losses in recent NFL history on Monday night after being on the wrong end of the replacement officials incompetence.
The good news is at 1-2, the hardest stretch of the Packers' schedule will be over once they play New Orleans this Sunday. Additionally, the defense is playing like one of the beasts in the league, going from worst to first against the pass.
If there is one weakness defensively, it's at inside linebacker where the loss of Desmond Bishop has been glaring. Neither A.J. Hawk nor D.J. Smith is athletic enough to stay with linebackers and running backs.
Brown would solve those issues as a rangy, athletic linebacker who will need to put on weight to play inside in the NFL. Luckily, the size of Green Bay up front with Ryan Pickett and B.J. Raji could mitigate those issues.
Don't be surprised to see the Packers roll the dice with one of the quarterbacks in this draft, particularly if they make another deep run in the playoffs.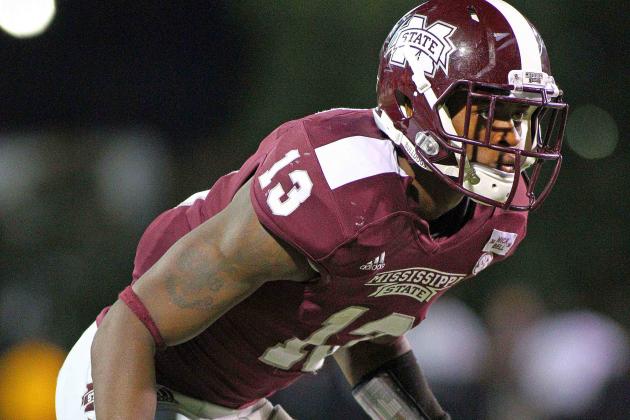 Spruce Derden-US PRESSWIRE

Needs: DB, OL, LB, DT, TE
It's hard to know if the Giants are as good as they looked last Thursday against Carolina (a team who isn't very good) or as bad as they looked in the first two weeks.
The answer, as it usually does, lies somewhere in the middle, but New York has to be considered one of the favorites in the NFC, despite their recent post-Super Bowl struggle.
New York has been able to effectively stop opposing offenses despite not having elite corners and that appears to be changing somewhat this season.
Banks is a legitimate first-round talent and can play against both the run and pass. There are some questions about his top-end speed, but when you consider the pressure the Giants are able to generate, you don't expect Banks to have to cover for very long.
A defensive tackle like Jesse Williams makes some sense here as well.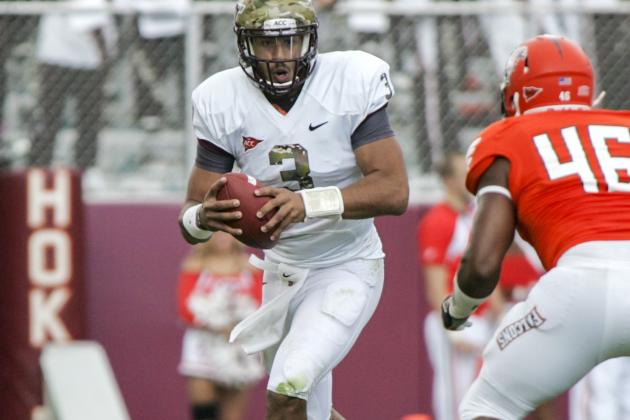 Peter Casey-US PRESSWIRE

Needs: QB, OL, TE, LB, CB
Arizona is the surprise team of 2012 and with a pulverizing defense, it seems unlikely they'll fall off much as the season wears on.
On the other hand, you can only hide your quarterback so much. Kevin Kolb has been decent and actually looked good against Philadelphia but doesn't appear to be the answer long-term.
Logan Thomas makes so much sense for this team because he doesn't have to start right away. Let him sit behind Kolb for a season and see if Kolb can get it done. If he can, then you have a contending team without a glaring weakness. If he doesn't, you have Thomas waiting in the wings.
Thomas is an excellent athlete for his size and can make all the throws. He seems a little bit like a bigger Christian Ponder to me, and Ponder was a top-10 pick. There are some issues with accuracy, but when you have big receivers like Michael Floyd and Larry Fitzgerald, you don't have to be perfect with your throws.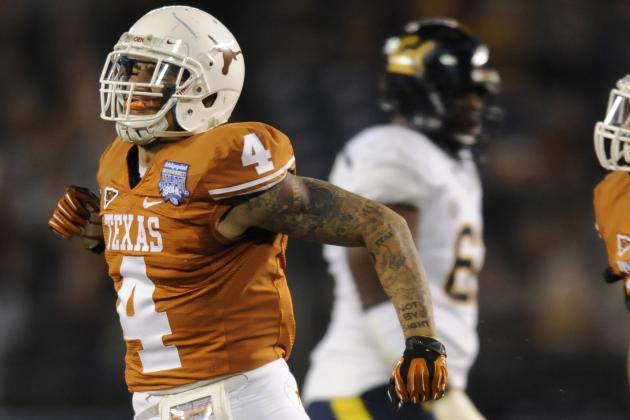 Christopher Hanewinckel-US PRESS

Needs: DB, QB, OL, TE, S
San Francisco is one of the most balanced teams in the league, but spotty quarterback play remains a problem. When Alex Smith is playing well, this is a tough team because the defense is so dominating, but they can't overcome an off day from the defense.
If I were them, I'd draft Tyler Wilson and let Smith start for a year or two while Wilson learns the offense. But if the team is confident, it can win a championship with Smith, then a player like Vaccaro makes a lot of sense.
This secondary tackles extremely well and is physical at the point of attack but isn't the best cover group in the league. Vaccaro is a safety who can play in coverage and against the run, making him an upgrade over Donte Whitney, who is more of an enforcer in the secondary.
Vaccaro is continuing to rise up draft boards and may not even be available this late in the draft.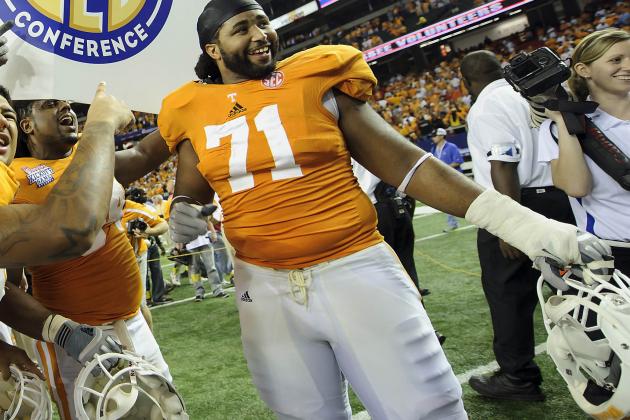 Paul Abell-US PRESSWIRE

Needs: OL, CB, S, WR, RB
Baltimore is one of the Super Bowl front-runners right now, with Joe Flacco leading a potent offense and the defense looking every bit as effective without Terrell Suggs.
The offensive line is the only weak point on this team as the Ravens can't consistently win up front. Ray Rice would be even better if he had a line to consistently open holes.
Thomas is an athletic lineman with nimble feet who would fit in with the blocking scheme of the Ravens which doesn't require big, bruising offensive linemen.
A talented receiver like Terrance Williams could supplement the eventual loss of Anquan Boldin, whose skills are already diminished.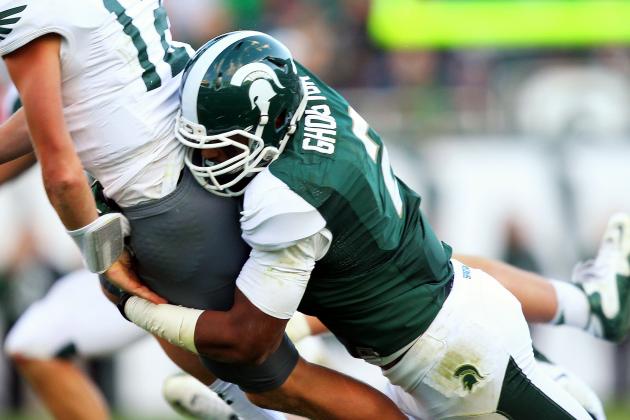 Mike Carter-US PRESSWIRE

Needs: OL, DT, TE, LB, CB
We've seen this kind of early success from Atlanta before, only to watch it flame out in the playoffs. Atlanta does have a different look about it this season due to the emergence of Julio Jones as an elite playmaker and the continued maturation of Matt Ryan.
There are still some questions about the defense, although the secondary has been outstanding, and the linebacking group has some standouts.
Up front, however, the Falcons need some help, and Gholston would bring them versatility and major upside. The Michigan state star could play end in the 4-3 and inside on passing downs to rush the passer and has a ceiling similar to Justin Tuck.
If there were an offensive lineman here worth taking, the Falcons would have to consider that.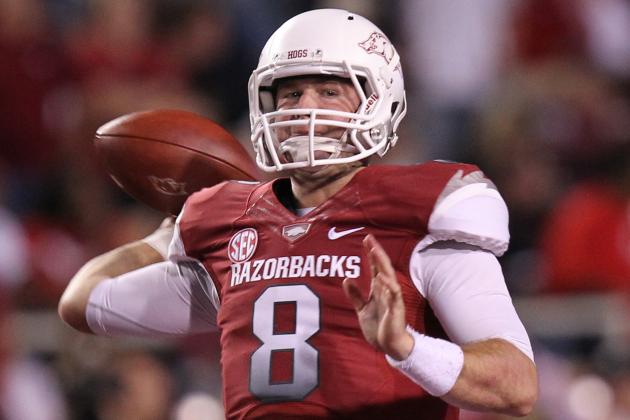 Nelson Chenault-US PRESSWIRE

Needs: S, WR, OL, ILB, QB
Houston has to be considered the favorite for the 2012 championship given the way Matt Schaub is playing on offense.
We knew this defense was outstanding, but J.J. Watt has taken it to a whole new level, and they can shut down both the running and passing games.
Why a quarterback? The reason is simple: the Texans saw what happens when you don't have solid backup options, and developing a quarterback has to be a priority for a team with the injury history Schaub has.
There aren't glaring weaknesses anywhere on the roster which allows the Texans to go with Wilson, who is probably more NFL-ready than Logan Thomas. Some injury issues have driven Wilson down the board, although some scouts still believe he is a top-five talent.
His ability to create plays with his feet and arm are where the NFL is heading and would be a steal for the Texans here.