Ryder Cup Format 2012: Complete Rules and Points System Primer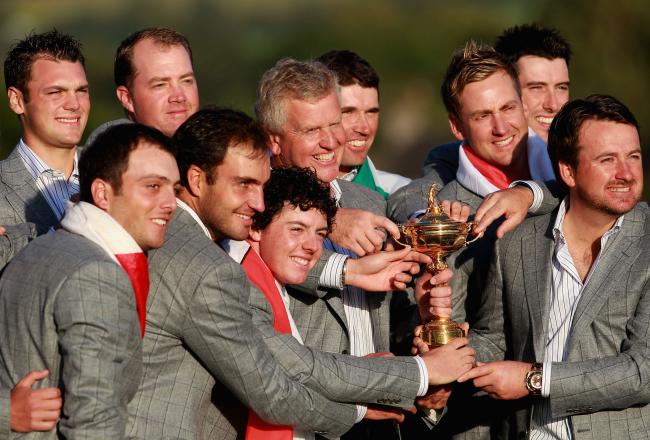 Andrew Redington/Getty Images
It has finally arrived, the 2012 Ryder Cup.
So, after Justin Timberlake kicked off the historic tournament in grand fashion behind an orchestra on Thursday, it's time to get down to business: Team USA vs. Team Europe.
We have the usuals, such as Tiger Woods, Luke Donald, Lee Westwood and Phil Mickelson. We also have some promising newcomers, such as 2012 U.S. Open champ Webb Simpson, Brandt Snedeker, Jason Dufner and Keegan Bradley.
But for those who haven't kept up on the Ryder Cup throughout the years, the rules and points system can be confusing at first.
That's why I'm going to break it down for y'all.
Basics
First off, there are 12 players on each team. A total of 28 matches are played in the tournament. That includes 12 singles matches, eight "foursomes" and eight "fourballs."
Points System
There are a total of 28 points up for grabs (one point per match). If you win an 18-hole match, you get one point for your team, regardless of the number of strokes you win by. If both golfers tie after 18 holes, each team gets 0.5 points.
Format
Each hole in a match is an individual event. No matter how many strokes you win by in a particular hole, you simply get what is called a "1 Up." If you get a "1 Up" on the first hole, then the other team gets a "1 Up" on the second hole, the match is even at that point. By the end of the match, whoever is ahead is the winner.
Foursome
In the "foursome" format, a pair from each team competes against each other (for example, Tiger Woods and Steve Stricker vs. Rory McIlroy and Graeme McDowell).
Each team alternates shots in the foursome format. That is, Tiger would drive off the tee, then Stricker would hit the second shot, then Tiger would have the third shot, and so on and so forth.
Fourball
The "fourball" format is the same, except for one minor wrinkle: no alternate shots. Each player from each team plays the hole himself. Each team takes the best score and puts it up against the best score of the other team.
Winner This Year
Last but not least, Team Europe wins the tournament in the event of a 14-14 tie this year (tie goes to the reigning champion). That means Team USA must score at least 14.5 points to emerge victorious.
Any other questions?
Leave your questions below in the comments section.
This article is
What is the duplicate article?
Why is this article offensive?
Where is this article plagiarized from?
Why is this article poorly edited?