The Top NFL Prospect on Each Top 25 Team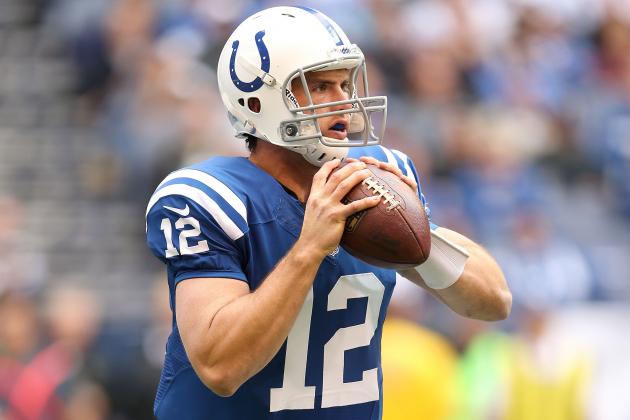 Andy Lyons/Getty Images

NFL draft weekend is roughly seven months away, but it's never too early to start keeping track of your favorite team's prospects.
While many people will be running mock drafts and rankings of draft picks, this article will simply cover the best prospect of each AP Top 25 team.
In one simple slideshow, here is each team's top prospect. Some of these picks may surprise you, so feel free to voice your opinion in the comment section.
*Player dimensions and projected draft numbers from NFLDraftScout.com
*Statistics from ESPN.com
Begin Slideshow

»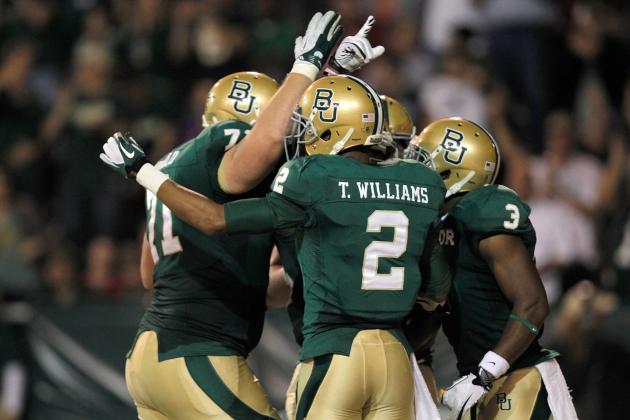 Sarah Glenn/Getty Images

Terrance Williams had a stellar season in 2011, hauling in 59 passes for 957 yards and 11 touchdowns in Baylor's huge season that ended with an Alamo Bowl win.
Williams has already caught 17 passes for 353 yards and four touchdowns this year. That's on track for a 1,000-yard season with 12 touchdowns.
Baylor will be sad to see him leave, but he's projected as a first-round selection. He will at least leave the Bears with some bragging rights on the way out.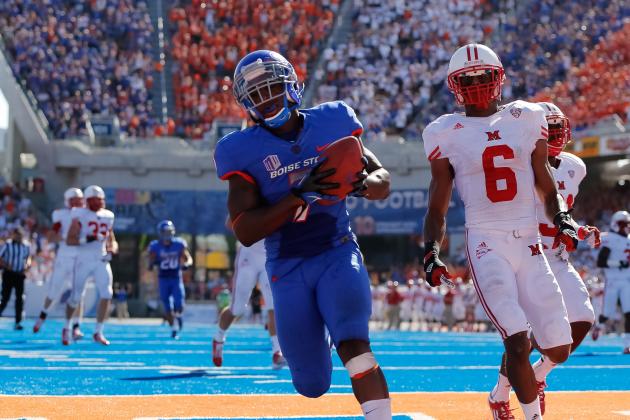 Otto Kitsinger III/Getty Images

D.J. Harper is a 205-pound senior that carries the rock for the Boise State Broncos.
He's a solid tailback that will get his shot at the NFL in 2013 after getting picked in one of the later rounds. After a 115-carry season in 2011 that saw him rack up 557 yards and nine touchdowns, he is in prime position to raise his draft stock in 2012.
With Kellen Moore gone, the Broncos' success could very well hinge on his play. He reeled in 19 passes last year to tack 140 more yards onto his production as Boise headed to the Las Vegas Bowl for its last win of the Kellen Moore era.
If Harper produces under pressure, his draft stock will rise steadily through 2012. With 282 yards on 62 attempts, he is certainly on track to shatter his numbers from last season.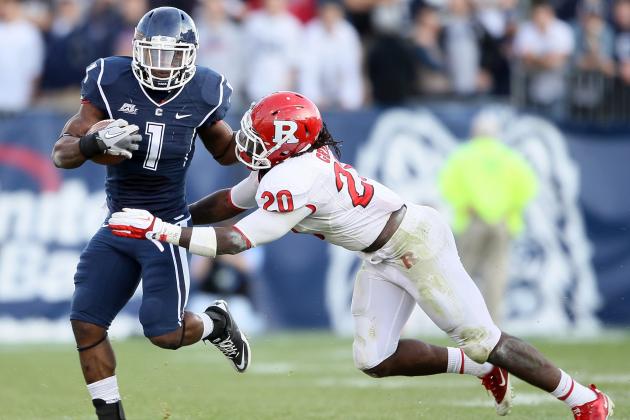 Elsa/Getty Images

Khaseem Greene is a senior linebacker for the Scarlet Knights. The Knights are charging the hill of the Big East, and Louisville and Rutgers have already emerged as favorites for the title.
Greene already has 24 solo tackles and two sacks in 2012. If those stats hold up, he should finish with 72 tackles, not including the postseason.
Greene would be a solid addition to an NFL roster, and he has plenty of time to improve his stock before 2012 comes to a close. He's currently projected for the third round.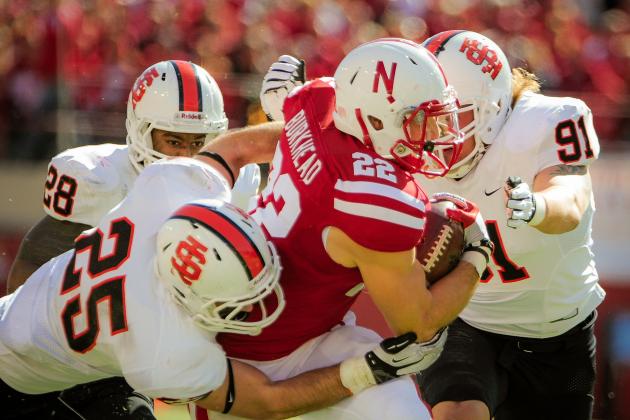 Eric Francis/Getty Images

Rex Burkhead is not projected to be the highest-drafted 'Husker at the moment, but it's due in part to the fact that he missed two games this season.
Last year, he amassed 1,357 yards on 284 carries as Nebraska made its way to the Capital One Bowl.
If Burkhead can stay healthy and become a large part of Nebraska's offense again, his draft stock will rise. He may be projected to go in the fourth or fifth round right now, but that's written in warm Jell-O at this point in the season.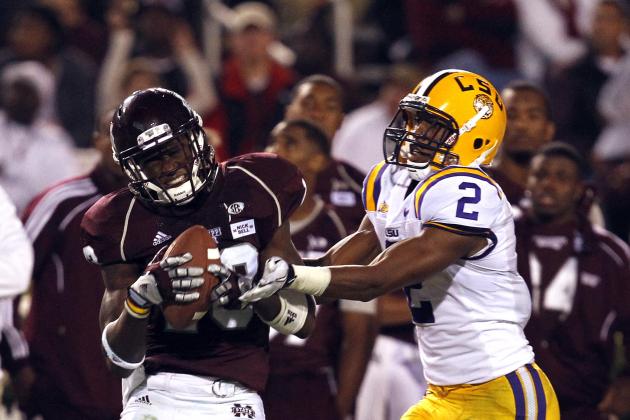 Butch Dill/Getty Images

Johnthan Banks is a corner for Mississippi State and is currently ranked third at his position.
After hauling in five interceptions and racking up 46 solo tackles last year, he's become a corner that quarterbacks avoid passing around.
Last year, he was one of two players in the nation to return both a punt and an interception for touchdowns. Mississippi State always seems to be one offense short of a national championship.
Banks is a projected first-round pick. That projection should hold true as long as he stays healthy.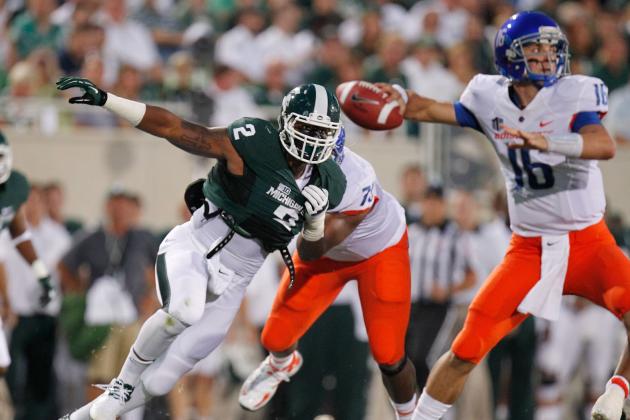 Gregory Shamus/Getty Images

William Gholston has already collected 14 tackles in 2012, and three of those were behind the line.
Gholston may only be a junior, but his projected selection spot may convince him to leave the Spartans a year early. He's slated to go early in the second round, but could earn his way up the lists starting against Ohio State this Saturday.
Gholston could move himself into the first round with great showings against conference opponents in 2012.
If he projects into the first round, he may just decide to play on Sundays next year.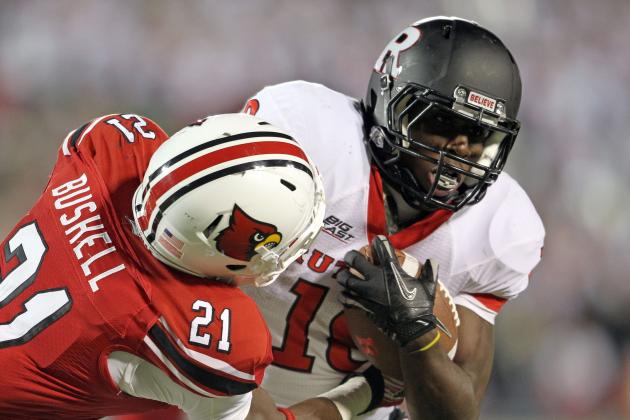 Andy Lyons/Getty Images

Adrian Bushell holds a corner at Louisville, the current Big East favorite.
He's made 21 tackles so far in 2012 and shows no signs of backing off. While he hasn't forced any turnovers yet, the season is still only four weeks young, and any turnovers would raise his stock markedly.
He earned himself some extra attention with two blocked kicks in 2011 and was named Big East Special Teams Player of the Week for Nov. 7 and Nov. 21.
Bushell has plenty of season to work with as far as raising his NFL stock, but he's already the best prospect at Louisville for the 2013 class.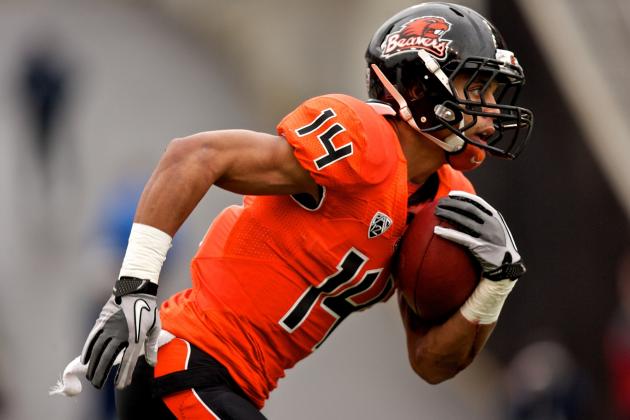 Craig Mitchelldyer/Getty Images

Jordan Poyer has three touchdowns in his career as a cornerback at Oregon State. He scored two of them off interceptions and another as a punt returner.
He was selected as a first-teamer to Phil Steele's Preseason All-Pac 12 squad and is on the Lott Trophy watch list for the 2012 season.
If the Beavers continue to shut down ranked offenses throughout the 2012 season, his projected selection spot could rise from early in the fourth round to early in the third round.
If he's a large part of that defense, it could get even higher than that.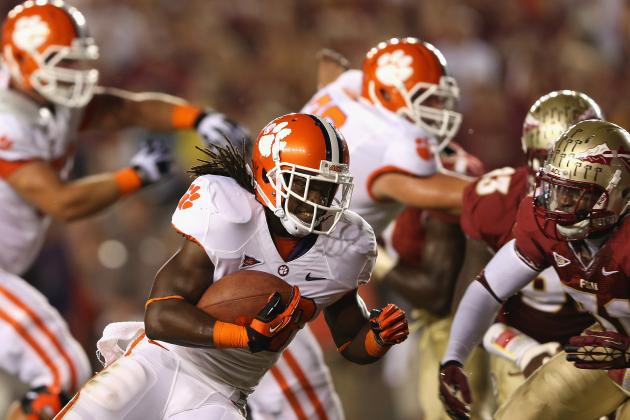 Streeter Lecka/Getty Images

Andre Ellington has shredded defenses for 383 yards on 67 carries already this season, and only four games have been played.
Though he has only four receptions, he's averaging a gaudy 21.8 yards for each catch and has found the end zone six times (five on the ground).
Ellington may not have the name that Sammy Watkins has, but he's a steady ball-carrier and will get drafted somewhere in the second round.
Tajh Boyd and Watkins may make runs for the honor of highest-drafted Clemson Tiger before the year is over, but it's Ellington by a mile so far.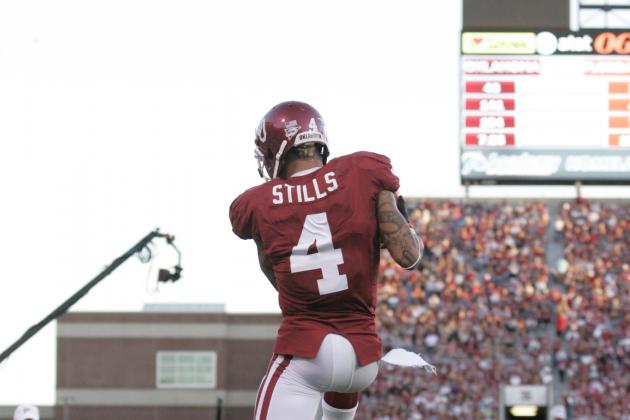 Brett Deering/Getty Images

Kenny Stills is the guy that makes Landry Jones look good so much of the time. Stills accounts for 301 of Landry's 772 passing yards and has done it on only 22 receptions.
He's also responsible for 40 percent of Jones's five touchdown passes. Jones may have previously been the headliner of the Sooners, but the scouts will recognize the skills of Stills and draft him early in the second round or better.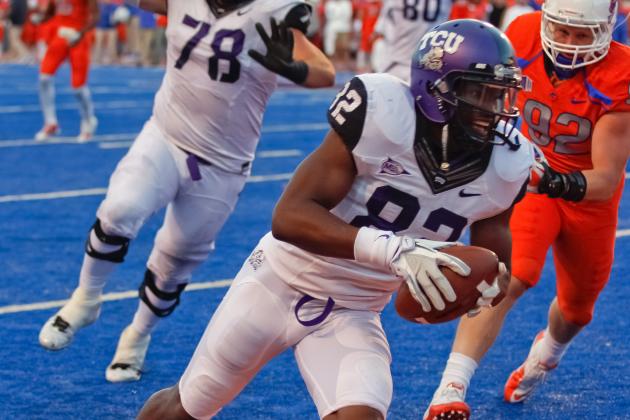 Otto Kitsinger III/Getty Images

TCU's Josh Boyce is a quietly effective wideout, raking in 190 yards and three touchdowns on 13 receptions so far this season. Brandon Carter may get more attention and have more yards, but he's only a sophomore, so he'll have to wait a year to make this list.
In the meantime, Boyce will continue to catch touchdowns and be a major player on a TCU squad that's ranked in the AP Top 25.
Boyce may or may not declare for the draft, but if he can move up from fourth- to third-round pick, he'll likely go ahead and jet.
We will see a clearer picture as the season progresses.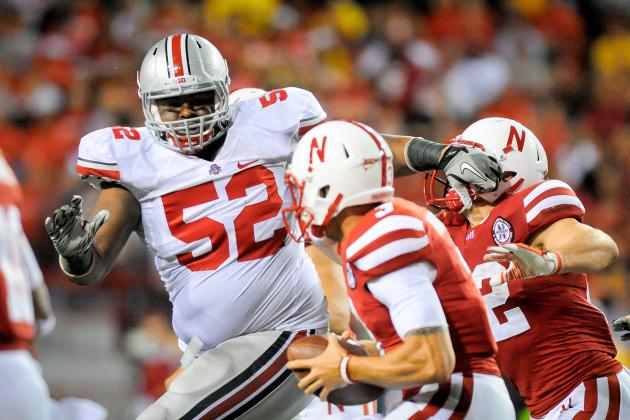 Eric Francis/Getty Images

Johnathan Hankins isn't just the highest prospect at Ohio State, he's a projected top-five pick and is the best player in the nation at defensive tackle.
After throwing down 32 solo tackles (14 for loss) in 2011, he has emerged as the headliner of the Buckeyes defense.
Hankins will not last long at Ohio State because he's currently watching Matt Barkley and Montee Ball during their "unfinished business" seasons. He probably realizes that it's best to get out while you're a top-five pick.
How much higher can you get, and is it worth risking injury for another year? His answers are:
1. Not much.
2. No.
Hankins will leave the Buckeyes in good hands, but he will depart nonetheless.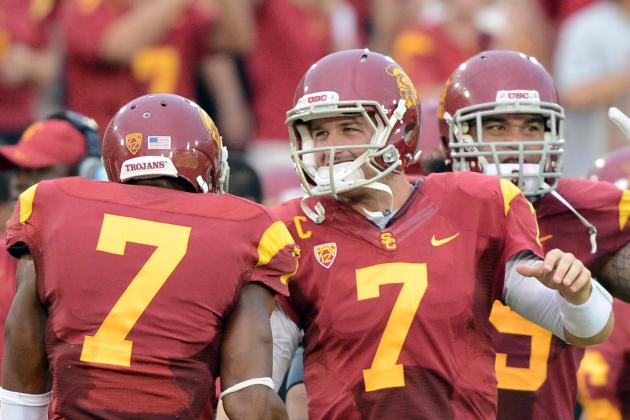 Harry How/Getty Images

Matt Barkley was the preseason favorite for the Heisman Trophy. His season is far from lost, but it took a huge hit when he failed to knock Stanford off once again this year.
While that has opened the door for players like Robert Woods, Barkley still remains projected as one of the top in his class.
Barkley is on track for his second straight 3,000-yard season and is still completing over 60 percent of his passes.
Barkley still has a shot at the Rose Bowl, and that would be a great way to finish his collegiate career. He'll have to get through either Oregon twice or Stanford once to earn that trip, but he has the talent to do it.
Scouts recognize this, and regardless of what happens, Barkley should be one of the top drafted quarterbacks in 2013. He's just got to keep his interceptions under control from here on out.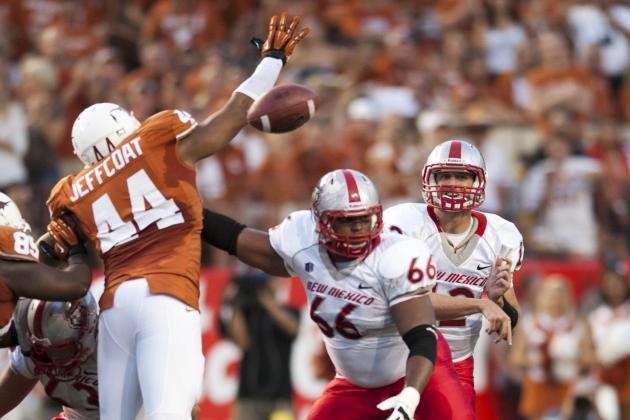 Cooper Neill/Getty Images

Texas Longhorns defensive end Jackson Jeffcoat plays like anything but the junior that he is.
He has made eight solo tackles and earned two sacks already this season and is playing like this is his year.
As the third-ranked player at his position, he's expected to be picked up in the first round in April. Jeffcoat earned his attention through last year's 7.5-sack performance that included 32 solo tackles.
Alex Okafor is the closest Texas player behind him, and he's projected as an early second-rounder. Watch out for this on-field battle throughout the year. It should be an interesting tale.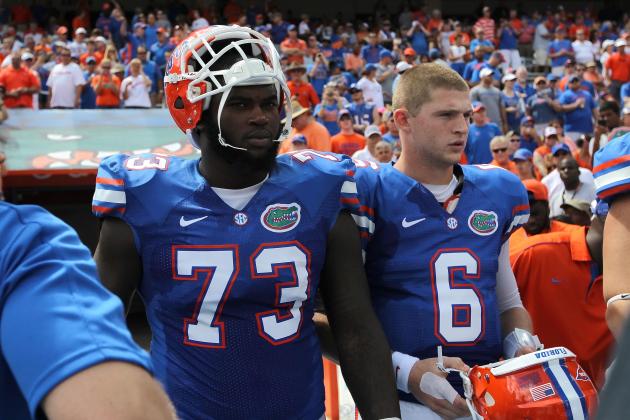 Kim Klement-US PRESSWIRE

Sharrif Floyd is a junior on a team that is performing much better than expected in 2012.
The Gators defensive tackle is currently ranked seventh at his position, but the increased exposure stemming from the Gators' still-undefeated season will give him the perfect opportunity to earn his way out of the bottom of the second round.
The only sacks of Floyd's career so far came in the 2011 season's Gator Bowl, but he added 46 tackles, 6.5 tackles for loss and a blocked kick to his resume as well.
There is still a ton of season left, but if he can make the grades, he could make the first round late. (Jesse Williams of Alabama is the sixth-ranked defensive tackle and is projected as the 38th pick at the moment, which is early in the second round.)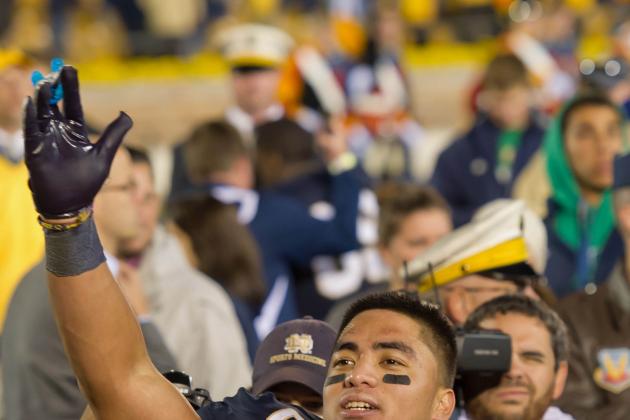 Matt Cashore-US PRESSWIRE

Manti Te'o has been all over the sports networks this week for his performance against the Michigan Wolverines on Sept. 22.
Te'o reeled in two interceptions off budding has-been Denard Robinson and threw in eight tackles while he was at it.
After his 102-tackle performance in 2011, the Irish faithful are eager to see what he will do this year. After all, he had zero interceptions last year, and he's clearly improved in that regard.
While the Irish will be sad to see him leave, he's a senior. They would much rather he go to the NFL than not. The good news for them is that he's already projected to be whisked up in the first round.
He would have to practically fall of the face of the planet not to get drafted at all.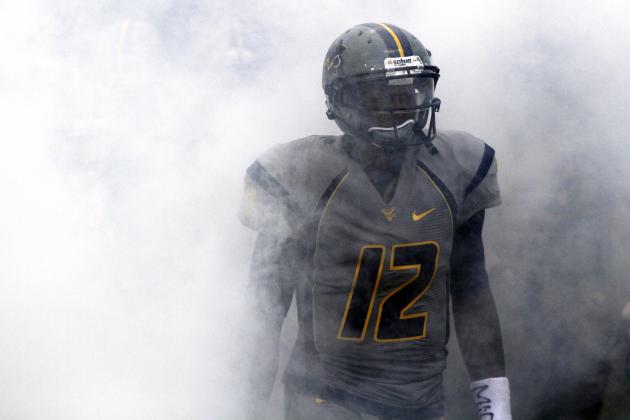 Justin K. Aller/Getty Images

Current Heisman favorite Geno Smith will be the top-drafted Mountaineer in the 2013 draft. His prowess at quarterback will carry him into the NFL.
He's currently being called to go in the top 10, but that could rise or fall in the coming weeks. If the Maryland game was a fluke, he's likely to go that high.
In the meantime, he has put up a mind-blowing completion percentage of 81.4 for a total of 1072 yards. With numbers like that, even a couple of losses won't hurt him too much. At least, if the losses aren't entirely his fault.
He's got some wiggle room, but completing 80 percent of passes has to make him the highest-picked Mountaineer.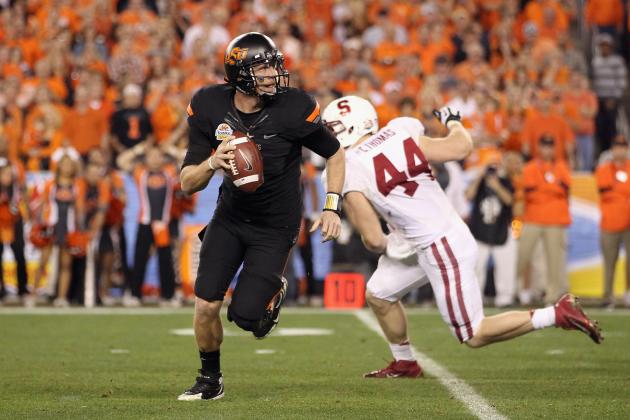 Christian Petersen/Getty Images

Chase Thomas is a senior linebacker at Stanford. His quiet performances make him an under-the-radar pick, but he's earned his spot here.
He's the No. 5-ranked outside linebacker in the nation and dropped then-Heisman favorite Matt Barkley for a sack two weeks ago at Stanford.
He has 15 solo tackles this year, which is on par with his 33 from last year. He also had 8.5 sacks last year.
His draft stock is not likely to move out of the second round, as he would have to pass Arthur Brown (Kansas State) and C.J. Mosley (Alabama) to make it into the first round. However, there are only four weeks gone right now, and nothing is impossible.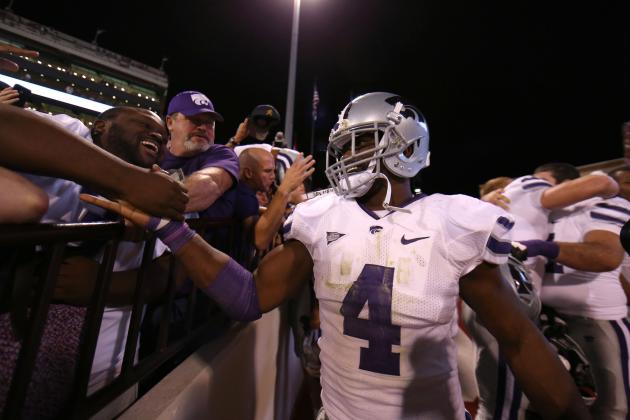 Matthew Emmons-US PRESSWIRE

Arthur Brown of Kansas State is the No. 4-ranked outside linebacker of the 2013 class, but he could be passed in draft ranking at any moment by fellow senior Collin Klein.
While Klein's position may not even be worth mentioning right now, look for that to change as the NFL rookies get evaluated throughout the 2012 pro season.
Either way, Arthur Brown is projected to go around 50th in the draft, and that will be higher than Klein.
Brown destroyed offenses last year to the tune of 101 tackles. He will be a valued addition to the NFL after some training and coaching.
Kansas State fans will want to pay close attention. If Collin Klein leads the Wildcats close to the Big 12 title this year, it could be interesting to see which prospect is first off the board.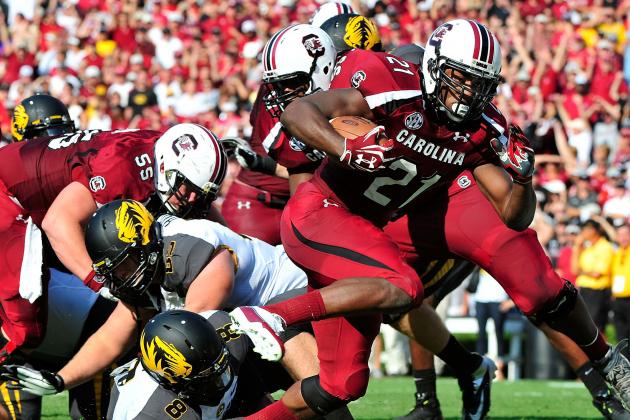 Grant Halverson/Getty Images

Marcus Lattimore is the Gamecocks' go-to tailback and is currently assessed as a late first-round pick.
While he sat out the second half of 2011, he did put up 818 yards before leaving the Mississippi State game on Oct. 15.
While he's started slowly in 2012 (after the 100-yard Vanderbilt performance), he's still already racked up 320 yards. He has nine or 10 games left this season to prove that he's rebounded from the injury.
If he can do that, he'll rise up the draft steadily. He's already the top tailback in the class, so he doesn't have to worry about anyone else but himself.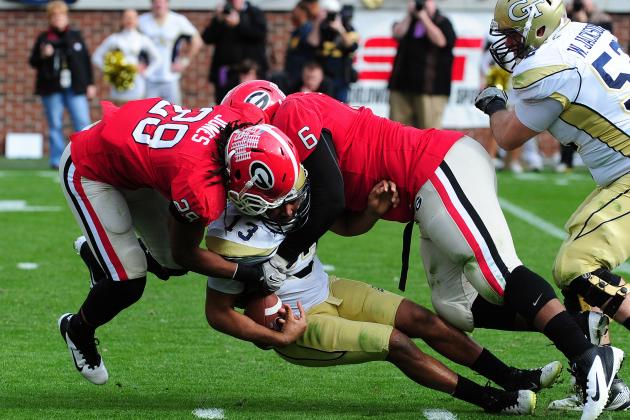 Scott Cunningham/Getty Images

Jarvis Jones made headlines against Missouri with his 21-yard interception return against the Tigers.
Jones is currently the second-ranked outside linebacker of the class, behind only LSU's Barkevious Mingo.
Regardless of what happens between the two, they are both currently expected to be top-three selections.
Jones has 3.5 sacks through just three games. (He sat out against Florida Atlantic in Week 3.) If he continues on that path, he could pass Mingo, especially if someone takes down the mighty LSU Tigers.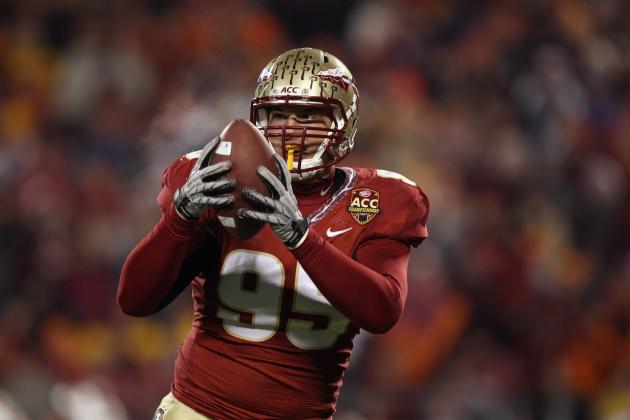 Streeter Lecka/Getty Images

Bjoern Werner may not be a household name yet, but Florida State looks like it's going to cruise most of the season with a top-five ranking.
Werner is the top-rated defensive end in the country and a projected seventh pick, but he has Sam Montgomery (LSU) right behind him in both categories (No. 2 and an expected eighth pick).
Werner has 6.5 sacks on the season, and the only team whose quarterback he didn't sack was Clemson. Werner has 15 tackles, and 12 of them are solo.
You can put this guy out on an island and get results. Sam Montgomery has his work cut out for him if he wants to pass this guy.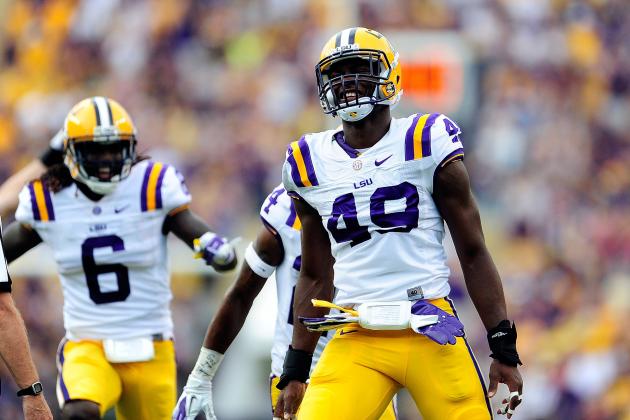 Stacy Revere/Getty Images

So, with all that talk about Sam Montgomery, he would have to be the top prospect at LSU, right?
Nope, it's Barkevious Mingo. Mingo is slated to be the first overall selection of the 2013 draft, with Matt Barkley and Jarvis Jones rounding out the top three.
Mingo plays defensive end in Baton Rouge, and Jarvis Jones is currently his biggest competitor for the top spot in the draft.
Montgomery is his biggest in-house competition, and it will be a battle all season long.
Mingo's place at the top of the class is shaky, but his position in the first round is not. He's an excellent pass-rusher and can be an NFL great with some good coaching.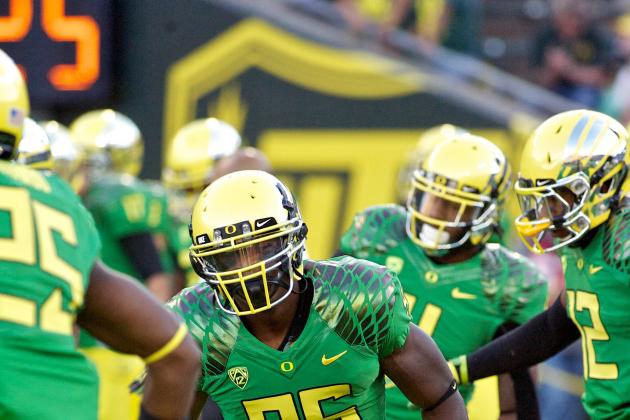 Craig Mitchelldyer/Getty Images

Oregon defensive end Dion Jordan is the 11th-ranked player at his position.
However, against Arizona, the Ducks defense earned themselves some rare airtime. If the senior defender can keep racking up tackles (18 so far this season), he will likely earn his way out of the third round and into the second.
At 6'7" and 241 pounds, it's really only the perception of the Ducks defense that stands in his way. As an All-Pac-12 First Team selection by the coaches and Phil Steele in 2011, his draft stock will rise simply by repeating that performance in 2012.
If he can improve on his 39-tackle run from last year, the sky's the limit. If he performs well on the national stage against USC (probably twice) and potentially the SEC champion in the BCS title game, he could make a strong case for the first round.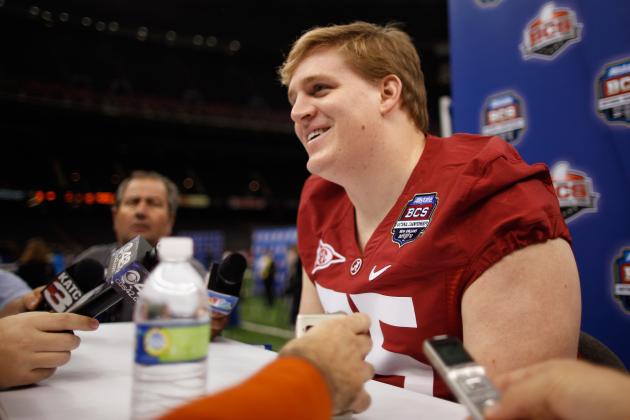 Chris Graythen/Getty Images

Barrett Jones isn't even the top-ranked prospect at his position. Why is he here?
He won the Outland Trophy last year at the left tackle position after starting 10 games in that spot. In 2010, he won All-American (third team) honors from the AP at right guard.
Jones currently plays center for the Tide and could be the only offensive lineman in the history of college football to earn All-American honors three years in a row playing a different position each year.
Chance Warmack may be the top offensive guard in the nation right now, but that's because Jones isn't a guard.
Dee Milliner is the nation's top cornerback right now and is ahead of Jones in the projected draft standings. The difference is versatility. Any pro team that needs to buff up its offensive line would benefit greatly by picking up Jones.
Of course, it's still early in the season, and nothing is certain.