Cleveland Browns vs. Baltimore Ravens: Live Score, Video and Analysis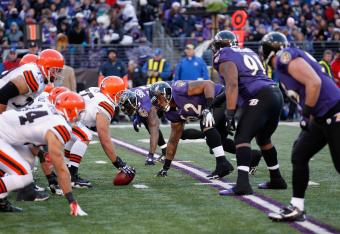 Rob Carr/Getty Images
The Ravens defeat the Browns 23-16 on a rainy night in Baltimore.
Flacco and Weeden combine for 676 passing yards but only one total touchdown pass. Weeden played much better than I expected and the Browns kept this game close all the way to the end.
Ravens defense isn't what it used to be. That much is obvious. They allowed an inferior team to stay close at home which never used to happen.
This Browns team played extremely well and I like the direction they are going. Still need some playmakers at the wide receiver position before they can compete in the AFC North but they are clearly headed in the right direction.
Ravens win 23-16 after a Brandon Weeden pass sails out of the endzone as time expires. Ravens have now beaten the Browns in nine straight games.
Browns take a shot at the endzone by Jordan Norwood can't hold on. 0:15 remaining.
Browns start from the 10 yard line with a minute remaining. No timeouts.
Huge numbers for Ravens WR Anquan Boldin tonight.
Anquan Boldin just continues to make plays. He comes up with another great grab down the sidelines. He has 9 catches for 131 yards.

— Baltimore Ravens (@Ravens) September 28, 2012
As a Ravens fan I can't stand Michael Oher. Always seems to get penalties at the worst times.
It's the Phil Dawson show in Baltimore. He hits a 52 yard field goal to make the score 23-16 with 4:33 remaining in the game.
Greg Little drops a pass that Weeden put right in his hands. Five drops so far tonight for the Browns. 4th down.
ALOT of talk about "elite" quarterbacks tonight. All the "elite" quarterbacks have something in common. They've all won Super Bowls. If you haven't you aren't considered elite in my book.
Phil Dawson with another field goal for the Browns. This one for 50 yards. Ravens lead 23-13 with 12:10 remaining in the 4th quarter.
Cary Williams with the 61 yard interception return for the touchdown. Ravens now lead 23-10 with 0:15 remaining in the 3rd quarter.
Ravens rookie kicker Justin Tucker misses a 47-yard field goal in the rain. Score remains 16-10.
Ravens offensive line is getting worked here in the 3rd quarter. Can't block anyone. Matt Birk especially.
Now the Ravens are driving. Anquan Boldin has six catches, all of which have been in the 3rd quarter.
That Browns touchdown drive of 94 yds in first half is the longest given up by the Ravens defense since week 14 of the 2010 season.
Eddie Money really freaks me out in these Geico commercials. Anyone else?
Phil Dawson nails a 51 yard field goal to make the score 16-10. Ravens lead with 7:02 left in the 3rd quarter.
Weeden's pass to Norwood is incomplete on 3rd down. Dawson on for the field goal attempt.
Browns offense is moving the chains again. Weeden and Richardson are getting yards on nearly every play.
One yard touchdown run for Joe Flacco after an 84 yard drive. Ravens lead 16-7 with 9:53 remaining in the 3rd quarter.
At halftime the Ravens lead the Browns 9-7. Baltimore will honor Jamal Lewis during halftime as they induct him into their Ring of Honor. It's still anyone's game here which bodes well for the Browns. The longer they can stay in this game the better their chances of an upset.
Ngata with a sack of Brandon Weeden. With Terrell Suggs out with an injury the Ravens need Ngata to be their pass rushing force since nobody else has stepped up thus far this season.
After looking horrible for the entire game, the Browns offense just drove 94 yards for that touchdown. Still anyone's game at this point.
Trent Richardson with a one yard touchdown run cuts the Ravens lead to two points. Baltimore leads 9-7 with 2:32 remaining in the 2nd quarter.
Beautiful catch by Greg Little. It was a 43 yard pass from Brandon Weeden. First trip into Ravens territory.
Browns get a first down pass from Weeden to Ben Watson to move the chains. Ravens defense has been close to an INT several times on this drive.
This article is
What is the duplicate article?
Why is this article offensive?
Where is this article plagiarized from?
Why is this article poorly edited?