Dallas Cowboys Projected Starters Against the Chicago Bears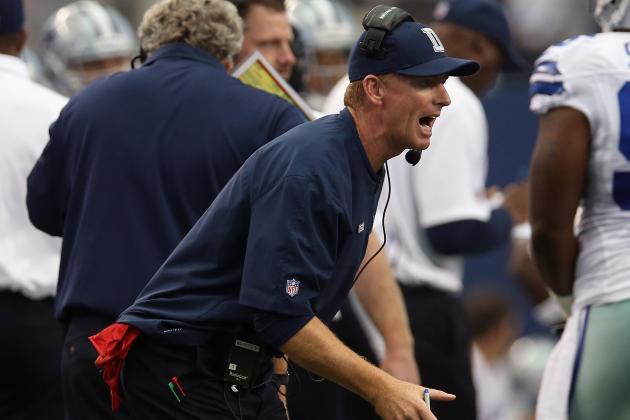 Ronald Martinez/Getty Images

This upcoming Monday night, Cowboys fans get the pleasure of hearing "Chucky" (Jon Gruden) and "JAWS" (Ron Jaworski) commentate against the Bears on a national stage.
Lots of lingering injury issues through Week 4, but luckily for the Cowboys, the bye week is just around the corner. It came just in the nick of time because the Cowboys face the Baltimore Ravens right off the bye-week.
The full injury report can be seen by clicking on these little blue letters (courtesy DallasCowboys.com).
Begin Slideshow

»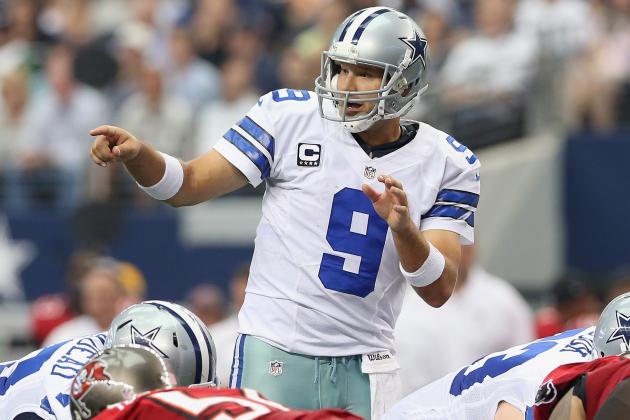 Ronald Martinez/Getty Images

Tony Romo got knocked around quite a bit in each of the past two games, and at one point, #Cowboysnation held its breath when it looked like Romo was out cold as he took a vicious hit to the head.
With subpar play (by Romo's standards) the past two weeks, there is nowhere to go but up for the QB position. Although Romo has not cost the Cowboys any games, so far, look for Chicago's front four to force him into a mental error or two.
With two of the league's top defenses facing off, this will be a battle of turnovers and special teams.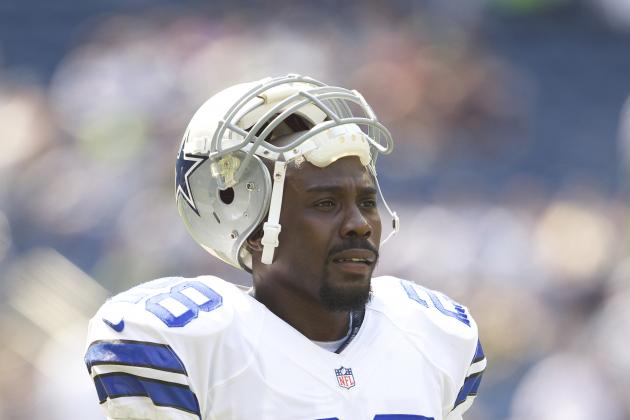 Stephen Brashear/Getty Images

Murray will get the start again this week. His situational backup will be Felix "Butterfinger" Jones. Maybe the front office knows something that we don't (it seems they did with Mike Jenkins) and keeping Felix will pay off with Murray's injury history.
Look for Garrett to ring the Murray bell this week as he racks up 25-plus carries. Lawrence Vickers deserves some mention, as this game will feature an excellent matchup between the fullback and inside linebacker, Brian Urlacher.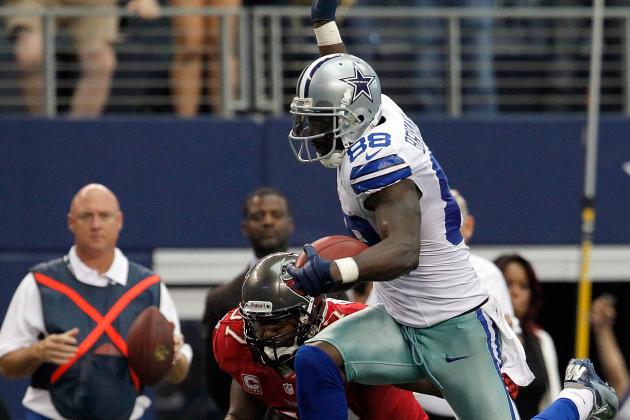 Tom Pennington/Getty Images

Dez Bryant came to life last week in terms of production, but sadly, still hasn't reached the potential that every football fan knows he is capable of. Will this be the game that Dez figures it out?
It looks like Garrett placing a "pitch-counter" on Miles Austin's practice reps is paying off dividends, as the hamstring injury seems to be a non-issue three weeks into the season. Don't expect to see Ogletree or any of the other receiving corp as this will be a game full of Garrett's favorite personnel group, "22."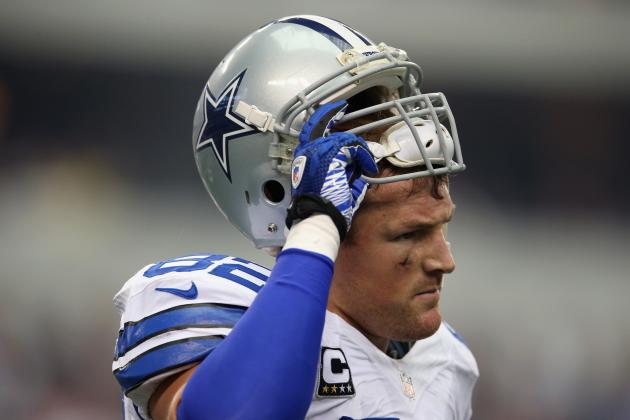 Ronald Martinez/Getty Images

Witten is too good of a player to consistently play this inconsistent. Look for John Phillips to record a decent number of snaps, as this game will be a battle of the trenches with lots of handoffs to DeMarco Murray. James Hanna might surprise us with yet another fantastic athletic catch.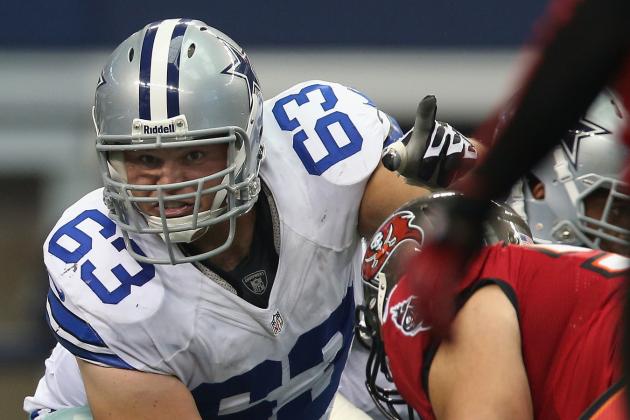 Ronald Martinez/Getty Images

Although this will be the same lineup that played in all but three snaps of Week 1, Week 2 and Week 3, look to see another poor outing.
Offensive line coach Bill Callahan was confident in his abilities and schemes, stating in an interview that he "...sent four kids to college on that zone running game." (courtesy Dallascowboys.com) He believes there will be improvement, but "talk is cheap," according to Callahan, so we will just have to wait and see on Monday night.
Tony Romo should sponsor a offensive-line camping trip, so that they can get to know each other. Anything at this point to get everyone on the same page and build rapport should be attempted.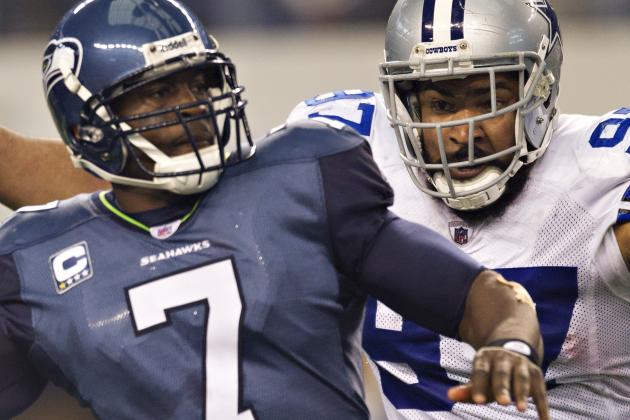 Wesley Hitt/Getty Images

Linebackers will all be set and the same, as there are no injuries to report. Anthony Spencer is listed as questionable with shoulder injury, but expect to see No. 93 on the field. Up front, look to see Sean Lissemore make another start, with the rest of the D-line rounding out with Jason Hatcher and Josh Brent.
Ratliff is still recovering from a high ankle sprain suffered during the preseason, but you have to wonder if the Cowboys can escape from this Monday night game sitting a 3-1, not having Ratliff wear down the first four games will leave him rested down the stretch.
DeMarcus Ware is listed as probable with a hamstring continuing to nag him, and Marcus Spears is in the same status with a knee injury. Don't expect those injuries to hold them out, though.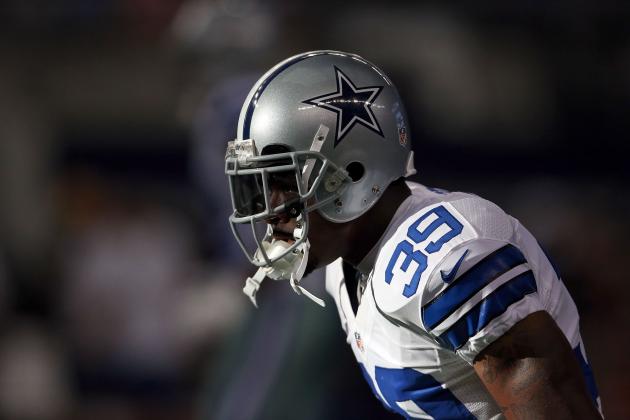 Ronald Martinez/Getty Images

Back from injury, Sensabaugh will take his usual spot, but due to the horribly timed Achilles injury for Barry Church, look to see special teams captain Danny McCray make his first career start and excel.
Morris Claiborne and Brandon Carr will round off the defensive secondary but look to see Carr move to safety again in sub packages in order to get Mike Jenkins on the field and cover the fact the Cowboys are becoming depleted at the safety position.
Jerry Jones, Stephen Jones, Jason Garrett and the rest of the Cowboys' front office look extremely smart for keeping Mike Jenkins. Even with injuries in the secondary, it will be able to shut down even the most prolific passing attacks.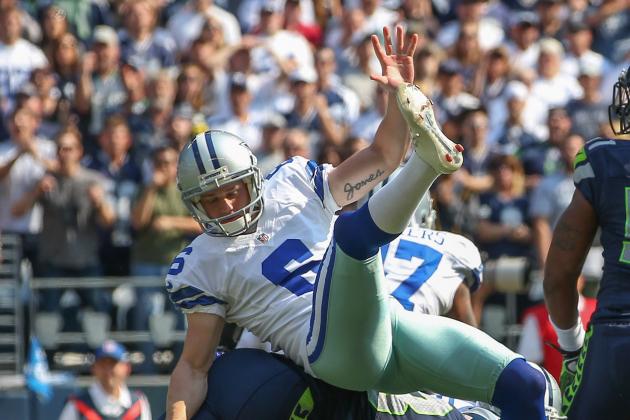 Otto Greule Jr/Getty Images

With the injury to Chris Jones from the "nearly blocked" punt last week against Tampa Bay, the Cowboys signed former Bills punter Brian Moorman. This is merely a stop-gap measure, as Chris Jones should be ready to go for Baltimore after the bye week.
Moorman was recently released by the Buffalo Bills and will also be able to fill in as a holder for Dan Bailey on field goals. Look for Dwayne Harris to take the majority of the punt returns, with Dez Bryant sneaking in at critical moments.