5 Bold Predictions for Notre Dame vs. Miami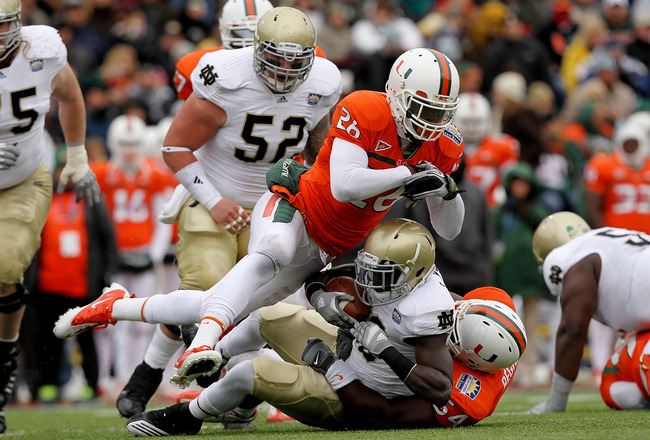 Ronald Martinez/Getty Images
There aren't too many people that would have thought Notre Dame would have jumped out to a 4-0 start and been considered a Top 10 team the first month into the season. Looking at the schedule before the games kicked off, it was almost a certainty that the Irish would have had at least one loss as we entered the month of October.
Thanks to terrific play on both sides of the ball, Notre Dame is playing its best football under head coach Brian Kelly and really looks like a BCS contender early on. But before we can declare this team a true contender, there are still eight tough games this club must overcome in the next couple of months.
The next contest that is on tap for the Irish is a trip to Soldier Field to play the Miami Hurricanes in the annual Shamrock Series. While this may no longer be the same Miami squad we all witnessed back in the 1990s, this is still a 4-1 football team that recently knocked off an above-average Georgia Tech squad.
Notre Dame has had a week off to prepare for the Shamrock Series game, which gives us plenty of time to break things down and begin making predictions.
Here are five bold predictions for the Notre Dame Fighting Irish when they take on the Miami Hurricanes in Week 6.
Irish Will Rush for Well over 200 Yards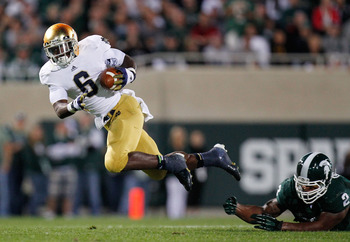 Gregory Shamus/Getty Images
Notre Dame looked to have a solid rushing attack in Week 1 against Navy, as the Irish racked up 293 yards on the ground. Since that remarkable performance, the running game has died down, as they are averaging less than four yards a carry and haven't scored more than one rushing touchdown in each of the last three games.
Good news is that Miami is absolutely horrible in stopping the run. Well, actually, the Hurricanes have one of the worst defenses in the ACC, allowing 494 total yards per game. The rushing defense is ranked 11th in the conference, allowing 225 yards on the ground. Even Bethune-Cookman (of all teams) was able to generate over 200 on the ground against this brutal Hurricanes defense.
With a solid three-headed monster in Theo Riddick, Cierre Wood and George Atkinson III, Notre Dame should have no problem moving the football on the ground. Look for the Irish to rush for at least 200 yards for the fifth time under head coach Brian Kelly.
Notre Dame Will Shut Down Duke Johnson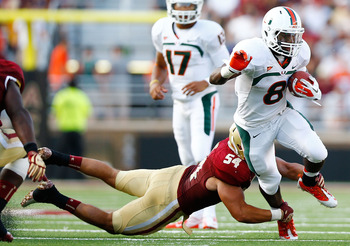 Jared Wickerham/Getty Images
In the first national televised game for the Miami Hurricanes, true-freshman running back Duke Johnson will be out to prove himself in a big way. For those of you that still haven't heard about this guy, he has been kind of amazing lately.
The former 5-star recruit is averaging 6.9 yards a carry and has picked up 20 first downs for this Miami offense. He has scored five touchdowns on the ground, one touchdown receiving and even returned a kickoff back for six points as well. He does everything for the Hurricanes offense and is somebody this Notre Dame defense needs to be aware of at all times.
But haven't the Irish seen this before?
Michigan State was a team that relies heavily on running back Le'Veon Bell and the Irish have been the only team so far this season that prevented a touchdown from the junior back. Michigan quarterback Denard Robinson did everything for the Wolverines offense and the Irish forced him into five turnovers and won the game.
The front seven of Notre Dame can compete with any other squad in the country and it simply will not let a freshman player take over the game by himself. This will be the just the third game in the young man's career where he is held under 100 total yards.
Everett Golson Will Play the Entire Game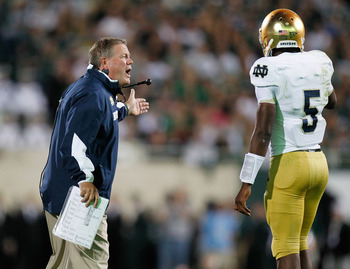 Gregory Shamus/Getty Images
Is there a quarterback controversy in South Bend?
Everett Golson has been starting the games, but it seems like a more experienced Tommy Rees is the guy that is finishing them lately. Every time the Irish offense stalls, or the game gets a little too close for comfort, head coach Brian Kelly turns to Rees to bail his team out of trouble.
In the game against Michigan, Golson only threw the ball eight times, two of which resulted in interceptions. However, despite the hideous performance last week from the first-year starter, the redshirt freshman has not played that bad in his first few games.
Golson has completed seven passes that have produced more than 25 yards, he improves his completion percentage to 62 percent in the second half and he has done a good job of protecting the football (not counting last week's game, of course).
The Miami defense is allowing nine yards per completion and 269 yards in the air. I expect to see Golson make the throws that he is asked to make in this game and prove to the coaching staff that Rees will not be needed in this contest.
Notre Dame Wins in a Blowout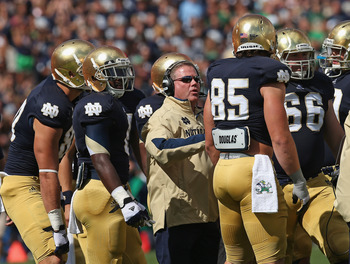 Jonathan Daniel/Getty Images
We have been blessed with many great matchups between these two programs, as the rivalry was labeled "Catholics vs. Convicts" back in 1988. So I'm sure when many saw this matchup on the schedule, they were just hoping for a terrific contest between two of the more popular schools in college football.
Not so fast.
While both programs are still trying to get back on their feet, it is clear that Notre Dame is easily a couple of steps ahead. Miami was absolutely destroyed by Kansas State in Week 2 and the Hurricanes needed overtime against Georgia Tech, despite picking up 12 more first downs and out gaining the Yellow Jackets by nearly 200 yards.
The Irish are on a mission this season and everything seems to be clicking at exactly the right time for head coach Brian Kelly and company. When you add everything together and include the fact that the Irish had an extra week to prepare, this game will result in at least a three touchdown victory for the team in South Bend.
National Championship Talk Will Be Louder Than Ever Before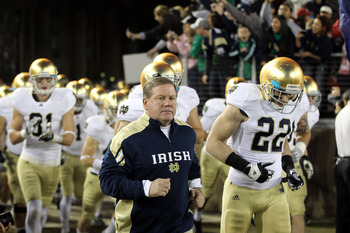 Ezra Shaw/Getty Images
In case you haven't heard, Notre Dame has begun the season with a 4-0 record, which includes two solid victories over Michigan State and Michigan. And while the talks of a possible BCS bowl are no longer whispers, Irish fans aren't exactly ready to begin screaming about a national championship berth just yet.
After this game, Notre Dame fans will be able to taste the big game on the tip of their tongues. Sure, the Irish still have tough meetings on the schedule against teams such as Stanford, Oklahoma and USC, but everything seems to lineup perfectly for this program in Week 6.
Many games against ranked opponents will be played before this game, such as West Virginia-Texas, Georgia-South Carolina and LSU-Florida. That also doesn't include the many upsets that could take place, as we have seen many in the first month of the season. With a team that is already ranked inside the Top 10 of the AP Poll, there is no telling where Notre Dame could be ranked after this Hurricanes game is over with.
There are many people out there that haven't bought into the play of the Irish just yet, but things are slowly beginning to work in this programs favor. And with several ranked teams destined to fall in the next week, a high ranking is in the cards for this team, which will come with a lot of fans asking—why not us?
Keep Reading

Notre Dame Football: Like this team?