St. Louis Rams: 4 Keys to Beating the Seattle Seahawks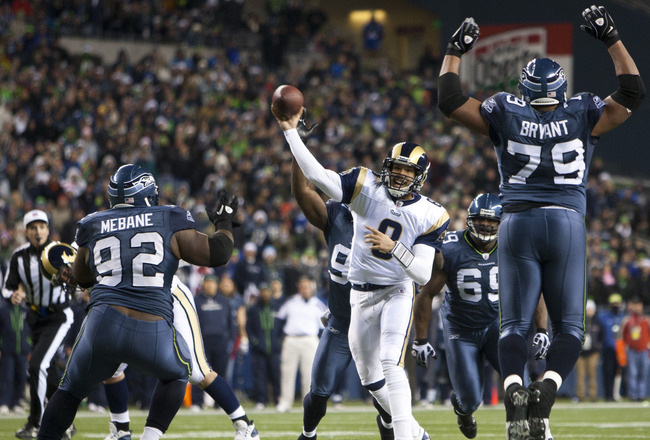 Sam Bradford
Jay Drowns/Getty Images
Rams fans have seen a little bit of everything in the first three games of the season.
This week, they'll face their first division test of year at home against Seattle. The Seahawks come in off a short week and have surprised people in the last two weeks with wins over Dallas and Green Bay, both at home.
So what do the Rams need to do to ensure a win in their first division game of the season? Let's find out.
Protect Sam Bradford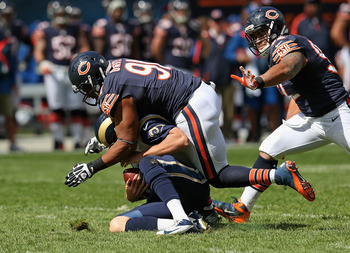 The offensive line was no where to be found in Chicago.
Jonathan Daniel/Getty Images
Everyone knows about the offensive line struggles the Rams had last week in Chicago. Sam Bradford never looked comfortable because he had to rush his throws due to minimal pass protection. He was sacked six times. Rodger Saffold and Scott Wells have now been out for a few weeks, and the current unit has been able to get multiple practices in together.
In an interview with KMOX.com's Nate Grimm, G/C Robert Turner said "the longer you play together, the better you know each other and the more of an understanding you have of where guys are going to be."
Seattle has had its way with opposing quarterbacks, sacking Aaron Rodgers eight times on Monday night. Rodgers is a relatively mobile quarterback. Bradford is the farthest thing from mobile.
The Seahawks defense also doesn't give up a whole lot of yards either. For the Rams to have any chance to win, the o-line will have to give Bradford plenty of protection. It won't be easy, especially on blitzes with Chris Clemons and Bruce Irvin on the defensive line.
The Run Game Needs to Perform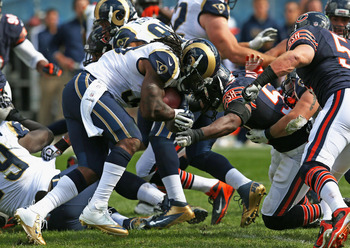 S-Jax isn't himself right now.
Jonathan Daniel/Getty Images
The Rams are 20th in the league in rushing through three weeks. They should be much higher considering Steven Jackson has only played two full games. Daryl Richardson broke out in Week 2, but surprisingly didn't see a lot of looks in Chicago.
Everyone seems to think Jackson will break out of his early season rut. Fans have chalked it up to the fact that he never starts well. I'm not saying there's no chance of him turning things around, but 3.4 yards per carry isn't promising.
The fact is, Jackson has showed his age like no one else on this team through the first three weeks. In addition, the AP reported that Jackson missed practice for the second straight day Thursday (h/t ESPN.com).
Richardson needs to be a more focal part of this running game right now. He's young, and he's showed potential in the first few weeks. I'm not saying Jackson shouldn't play at all, but Richardson needs to be more involved.
Whoever is running the ball for the Rams on Sunday will have their plate full of Seahawk defenders. This team gives up 59 yards per game on the ground. That wasn't a typo.
Granted, they've only faced one top back in DeMarco Murray. Still, the Rams should be scared because of their inconsistency in the back field. Another telling stat: Seattle has allowed 12 rushing first downs in the first three games. The Rams have only moved the chains 15 times on the ground.
Slow Down Seattle's Rushing Attack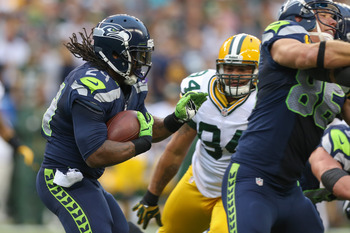 Lynch poses a ground and pound threat out of the Seattle backfield.
Otto Greule Jr/Getty Images
St. Louis' rush defense will be dealing with Marshawn Lynch on Sunday afternoon; no easy task. Lynch grounded and pounded his way to 85 yards on the ground or more in the first three games of the year.
He's only 5'11'', but his 220-pound frame makes him hard to bring down. In addition, Lynch is a workhorse back. He averages 24 carries per game.
The Rams have given up over 120 yards per game on the ground. Believe it or not, the running ability of opposing quarterbacks hasn't helped them. They gave up 82 yards to Robert Griffin III and one run of over 20 yards to Jay Cuter.
Enter Russell Wilson, second-leading rusher on the Seahawks. He's only got 66 yards in three games, but that's because he's only ran with the football 15 times. Look for him to try and take advantage of the holes in this rushing defense. The Rams need to be ready for two running threats on Sunday.
Take Advantage of Russell Wilson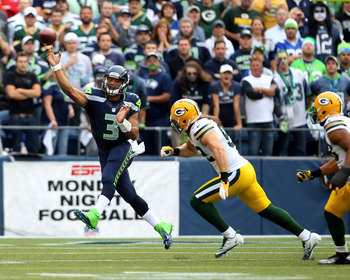 Wilson is proving to be a very serviceable NFL QB.
Kevin Casey/Getty Images
The former Wisconsin QB is the second rookie gunslinger the Rams will be matched up against this year. The first time, Robert Griffin tore up the St. Louis D for nearly 300 total yards and two rushing touchdowns. Luckily, Sam Bradford threw for over 300 yards and a few scores of his own.
Russell Wilson isn't quite Robert Griffin III in terms of natural ability, but his intangibles are off the charts. He has just one interception in three games, and as mentioned, he can run the football when necessary.
Getting to the quarterback isn't something the Rams defense has been very good at doing this year. They only have four sacks in three games. The Seahawks offense is very beatable if they can get to Wilson, who's been sacked six times.
Keep Reading

St. Louis Rams: Like this team?