WWE: 5 Reasons Why the Reality Era Is Now Upon Us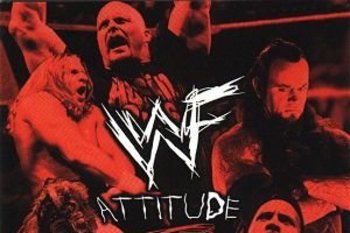 Photo courtesy of Technologytell.com
The attitude era was one of the greatest periods in WWE history. But let's face it, it isn't coming back.
And quite frankly, it shouldn't.
Trying to recreate such an iconic age would most likely result in substandard version doomed for failure, considering the success before was based on unique characters such as Stone Cold Steve Austin and The Rock.
Nonetheless, it's time for a change in the WWE.
The current PG era has now been in existence for just more than four years. Its inception was widely regarded to have started in June of 2008 (via WWE.com).

Historically, the typical length of each notable era from the last two decades is between three and five years.
The New Generation existed around 1992 and the Montreal Screwjob was in 1997. The Attitude era graced our televisions until Wrestlemania X-Seven in 2001, and Ruthless Aggression was the dominant concept from 2002 to 2006.
Thus, if recent trends are anything to go by, the PG era has just about run its course.
Of course, it is not as straightforward as this. The periods tend to merge into one another with the definitive lines between each age somewhat blurry and difficult to pinpoint exactly.
But in my eyes, the WWE is now entering a period that been steadily manifesting itself for more than a year now.
It's a period otherwise known as the Reality Era.
This article gives five key reasons why this era is now upon us.
Summer of Punk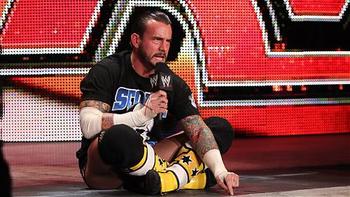 Photo courtesy of Wrestlingforum.com
Arguably the most salient feature of the Reality Era is the "blurring of the lines" between what is real and what is kayfabe.
No event achieved such ambiguity as CM Punk's now infamous "Shoot Heard 'Round the World" back in July of last year. The promo was later revealed to be a worked-shoot, but at the time, it had become one of the most controversial pieces of WWE history.
This suspense of disbelief revolutionised the company, and it didn't stop there.
There were equal degrees of uncertainty surrounding the expiration of Punk's contract on July 17, and even the outcome of his match with John Cena at the Money in the Bank pay-per-view on the same night. (Via wrestlezone.com)

Punk did eventually return to the company, but much of the momentum gained from the brilliant "Summer of Punk" soon petered out as he engaged in a storyline regarding conspiracy theories and involving Triple H and Kevin Nash.
But the legacy of the summer of 2011 lived on, and fans still fondly remember the events leading up to that incredible Money in the Bank PPV in Chicago, Ill.
It was entertaining, exciting and perhaps most importantly, unpredictable. It was also the catalyst for the Reality Era movement, and helped set the wheels in motion for what could be one of the WWE's most innovative and game-changing periods.
Triple H's Role and Lawsuits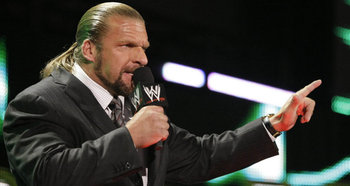 Photo courtesy of Skysports.com
If "blurring the lines" is the most prominent feature of the Reality Era, then incorporating real-life themes or events into WWE storylines is a close second.
Triple H has been involved in WWE's backstage matters for a long time now, but it is only within the last year or so that his Executive position has been used by the company as a storyline.
In becoming the Executive Vice President of Talent in 2011, Triple H soon found himself returning to the ring as an authority figure, where he was given the role of Chief Operating Officer.
He was featured prominently on WWE programming throughout the rest of 2011, and the "best for business" gimmick has been used during blockbuster feuds with The Undertaker at WrestleMania and Brock Lesnar at SummerSlam.
While referring to The Game as the WWE COO may not be as convincing as CM Punk's aforementioned actions, it is still evidence of the company using real-life events in on-screen developments.
Instances such as the supposed lawsuit that Lesnar was filing against Triple H and the company were, of course, kayfabe, but played on genuine events in order to create rivalries and further the reality-based concept.
Such methods are still being used at present with the likes of David Otunga and Wade Barrett being given gimmicks that reflect their actual past, and are a key part of the Reality Era concept.
Social Media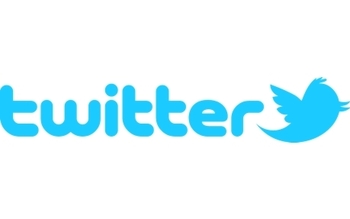 Photo courtesy of Inthestands.co.uk
The push on social media outlets such as Twitter, Facebook and now Tout has been one of the most noticeable characteristics of the fledgling Reality Era.
However, particularly within the IWC, such social awareness has not been too well received.
Many complain that the use of Twitter and Tout are taking up too much time on WWE television, and that the use of "Social Media Ambassadors," many of which have no affiliation with professional wrestling whatsoever, is pointless and sometimes cringe-worthy.
But it seems to be part of a larger plan, and a very effective one at that.
It's no secret that for some time now, Vince McMahon has wanted the WWE to infiltrate the entertainment world's mainstream. Initiatives such as the XFL, Raw guest hosts and the switch to a PG rating are testament to this.
But where many methods have previously failed, the embracement of social media could well be Mr. McMahon's elusive winning formula.
The way that technology, and indeed society, is developing would suggest that services such as Twitter are becoming key components of the modern age. The likes of Facebook and Myspace were successful in their own rights, but typically restricted to more casual use.
Twitter, on the other hand, is becoming a globally accepted tool used by friends, news companies, businesses, politicians and institutions.
Therefore, it is of benefit to the company in the long term to get on board with such a wide-reaching service. With ratings and viewership decreasing in recent years, the WWE needs to increase its fan base more than ever, and the use of social media could be the solution that the company craves.
Paul Heyman's NFL Reference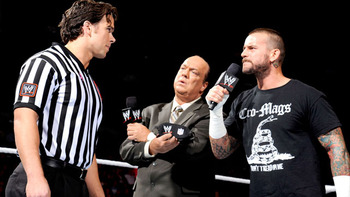 Photo courtesy of WWE.com
This may be a minor point, and one that was not particularly well-received by some of the WWE Universe's British contingent such as myself. But it was effective nonetheless.
After recent developments in American Football by simply producing the blindfold adorning the NFL logo, Paul Heyman, though admittedly under orders from McMahon no doubt, made the WWE relevant.
And via what means did this mainstream relevance show itself? You guessed it: Twitter.
The site was awash with comments criticising the refereeing decisions from the NFL and making references to the WWE. And while many Tweets may have been somewhat back-handed, it was mass publicity for Mr. McMahon nonetheless.
Plenty of professionals weighed in with their opinions, though much of the general mood can be summarised in a tweet from American sportscaster Sean Grande:
I'm switching over to Monday Night Raw.Bottom line...better officiating.#MNF#HochuliHochuliHochuli

— Sean Grande (@SeanGrandePBP) September 18, 2012
Once again, this may have been something of a tongue-in-cheek statement, but the fact that WWE was even being mentioned speaks volumes of how effectively the company's latest publicity stunt was executed.
While such an event could have taken place during any era of WWE programming, it seems very much in keeping with the traits of the Reality Era.
It is instances like this that can underline this period, helping propel the company to new heights and achieve success for a number of years to come.
Brock Lesnar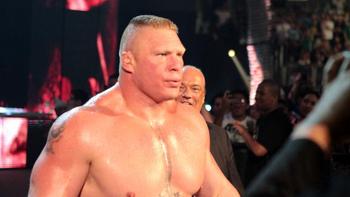 Photo courtesy of WWE.com
In my opinion, this man is key. He personifies the Reality Era.
It's no secret that the WWE has been reluctant to feature Lesnar prominently, favouring instead to save his limited number of contractual appearances to build a decent WrestleMania feud perhaps. As a result, his return to the company has been less successful than first anticipated.
But nonetheless, his time spent in the UFC makes him unique, and he is genuinely one of the most feared men in the WWE today.
Such is his physicality; it is sometimes difficult to determine what is real or fake with Lesnar. Hence he fulfils the Reality Era requirement of "blurring the lines" in a way that possible no one else can.
For example, when he bloodied John Cena on Raw and then again at Extreme Rules, the wounds were not in the conventional "blading" area in the middle of the forehead. This suggested an element of shoot-fighting to some of Lesnar's skirmishes with Cena—an aspect made more noticeable by basing his new moveset on MMA techniques such as the Kimura Lock.
Whether the use of blood was intentional or not, this was suspense of disbelief at its finest. Fans questioned if Lesnar was indeed legitimately fighting Cena.
It is examples like these that can help the Reality Era really take off in the WWE.
Now I am by no means suggesting WWE should become a shoot-wrestling company, but for Brock Lesnar, this "legitimacy" certainly works. The company should embrace and exploit that in order to benefit the product.
I know he announced his "retirement" from the company after SummerSlam, but I don't buy that for one second. Brock will be back. And hopefully he will be featured on a more regular basis, enabling him to prove to everyone that Lesnar could once again be the Next Big Thing.
Conclusion
Photo courtesy of WWE.com
While the Reality Era may not have completely taken off in the WWE yet, I certainly feel that it is the destination at which the company will soon find itself in the very near future.
And though the WWE product remains PG-rated, I feel that it has been far less tame as of late—another factor that suggests we may be about to complete the fully-fledged transition to the Reality Era.
The foundations have been laid, and the time is right to officially complete the evolution into a new period of WWE history led by the likes of CM Punk and Brock Lesnar in their own unique ways.
Sure, the early signs may be that the Reality Era is not as aggressive, controversial or edgy as eras gone by, such as the Attitude years that graced our television screens in late 90s. But in business, one must develop and continue to adapt in order to survive.
Some things are better left in the past, remembered eternally in all their glory; legendary moments that may never be surpassed and will forever remain untarnished.
Thus the move to a new, more innovative age is a much better move by the WWE than simply trying to recreate the fondly remembered times of years gone by.
After all, the only constant is change.
But what do you think? Should the Reality Era be persevered with? Have we already completed the transition to this new age? Or should the current PG era remain unchanged? Comment below with your thoughts on this matter.
Keep Reading