In a recent interview, Tony La Russa claimed that he would not have handed Albert Pujols the 10-year, $254 million deal that the Los Angeles Angels handed him last winter, claiming that it was "not smart" for them. He even went as far as to say that he wouldn't risk more than "five or six years on anybody".
La Russa's firm stance on the issue may be a little over the top; after all, some contracts that younger players earn are starting to look like nice bargains.
The Pittsburgh Pirates inked NL MVP candidate Andrew McCutchen to a six-year, $51.5 million deal with a club option for a seventh year before the season started, and that's looking like a solid deal for the face of their franchise.
The Tampa Bay Rays, well-known for their ability to sign young players to club-friendly deals, signed franchise player Evan Longoria for six years and $17 million, with club options for 2014, 2015, and 2016.
So in short, not all long-term contracts are bad. In fact, some are very efficient. However, when you start spending $100 million or more on one player, the risk tends to outweigh the reward.
The biggest contract in MLB history, as we all know, is Alex Rodriguez of the New York Yankees, who signed a 10-year, $275 million contract with the Bronx Bombers, keeping him under contract through 2017.
There are a few problems with this contract. For one, his production may have been embellished based on his steroid use in the past. Secondly, A-Rod is 37, but he is under contract for five more years.
Realistically, he's not going to be able to play third base during that entire stretch of time. He might be able to move to first, except that Mark Teixeira and his eight-year, $180 million deal are occupying that side of the infield.
So in short, at the end of this contract, the Yankees will have a $30 million designated hitter.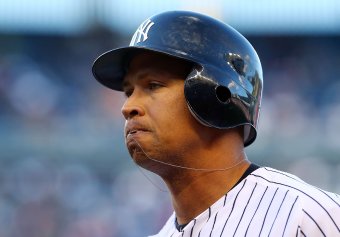 Jim McIsaac/Getty Images
The same may happen to the Angels. Pujols is 32, meaning he will be 41 when this contract ends. The last three or four years of this contract, maybe even longer, he will be a mere shell of his former self.
Just look at A-Rod's statistics over the last few years. This season's stat-line of .272/.347/.436 is hardly impressive. He's also missed time due to his hand injury, and will likely miss more time in the future as his body begins to break down.
In 2011, he hit .276, and in 2010, he hit .270. He hasn't hit .300 since 2008. If you told me I had to pay $30 million for someone hitting .270 over the last three years, I couldn't fathom taking you seriously.
Pujols will likely decline as well. Overall, as La Russa points out, $100 million (or $200 million) contracts to players in their 30s just aren't worth it.
Look at some of the recent examples: Johan Santana (six years, $137.5 million), Alfonso Soriano (eight years, $136 million), Vernon Wells (seven years, $126 million), Barry Zito (seven years, $126 million), Jason Werth (seven years, $126 million). The list goes on.
Sooner or later, names like Pujols are going to appear on this list, and unfortunately for Angels fans, La Russa will be getting the last laugh.