The Complete Bettor's Guide to NFL Week 4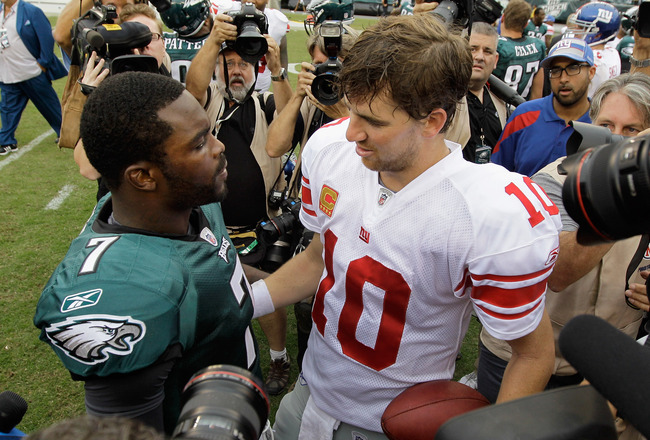 Rob Carr/Getty Images
Week 4 won't be as crazy as Week 3 was in the NFL, right?
No way.
The regular officials are back, so that'll have to lead to more sanity.
We can only hope the officiating is improved, but sanity?
Here's to another absolutely bonkers weekend in the NFL.
With the current betting lines out and the injury reports surfacing, I give to you the complete bettor's guide to NFL Week 4.
Cleveland Browns at (-13) Baltimore Ravens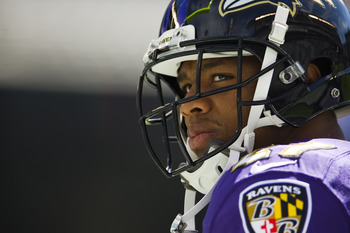 Howard Smith-US PRESSWIRE
The Lead
A typical Baltimore Ravens and Cleveland Browns matchup this evening.
Joe Flacco's crew is superior at just about every position. OK, every position. It'll be a physical matchup, but at home, the Ravens can't lose to the Browns, can they?
News
Cleveland enters this tough contest without three notable players and its best defender. According to the team's official website, linebacker James-Michael Johnson, wideout Mohamed Massaquoi, and tight end Alex Smith are out with injury.
Cornerback Joe Haden will serve the third game of his four-game suspension.
Baltimore is rather healthy, with offensive tackle Jah Reid listed as questionable. Linebacker Brendon Ayanbadejo and cornerback Lardarius Webb are probable on the Ravens' website.
Prediction
There's a significant talent disparity in this game, and it starts at the quarterback position. The Ravens will physically overmatch the Browns offense, and Ray Rice should have another huge game.
Ravens 31 Browns 14
New England Patriots (-4.5) at Buffalo Bills
Mitch Stringer-US PRESSWIRE
The Lead
Over the last eight years, this was an easy win for the Patriots. They typically covered the spread, too. As we learned last year when Tom Brady traveled to Buffalo, it's no longer a cinch for New England. Even crazier is the fact that the Pats enter this game 1-2.
The availability of Fred Jackson and/or C.J. Spiller is huge.
News
Not only are the Patriots 1-2, they've lost two straight. They can't lose three straight, right? They're already without tight end Aaron Hernandez, and they could be without receiver Julian Edelman and guard Logan Mankins, two players who didn't practice Wednesday.
The Bills' confidence is high after two rather comfortable wins over the Kansas City Chiefs and Cleveland Browns, but are still hoping running backs Fred Jackson and/or C.J. Spiller will be healthy for Sunday's showdown. Jackson returned to practice on Wednesday, but isn't 100 percent. Spiller's nursing a sprained AC joint in his shoulder but did practice on Thursday.
Prediction
People are making a bit too much of the Patriots being mad that they've lost consecutive games. Both teams want and need this game badly. However, Brady was crisp against the Baltimore Ravens and expect a similar up-tempo attack to be utilized against Buffalo's young cornerbacks.
Patriots 34 Bills 27
Minnesota Vikings at Detroit Lions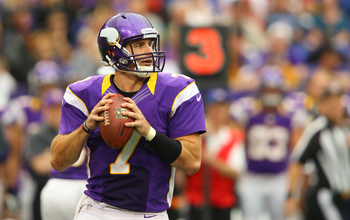 Adam Bettcher/Getty Images
The Lead
The Vikings had the most impressive win of Week 3, decisively toppling the mighty 49ers at home, 24-13.
Christian Ponder is playing like one of the best quarterbacks in football, and the defense is noticeably more stout from defensive tackle to safety.
For the Lions, they've underwhelmed to start the year. Teams are taking away Calvin Johnson, and Matthew Stafford hasn't been as sharp through three games.
News
Both teams are relatively healthy for this one, which should provide a highly competitive game. Who would have thought Ponder's QB rating would be more than 20 points higher than Stafford's at this point in the season?
Prediction
With bruiser Mikel Leshoure carrying the load for the running game, Detroit is more balanced offensively. It stays away from the huge mistakes that haunted them against Carolina and win by a score against the Vikings.
Lions 31 Vikings 24
Carolina Panthers (+7.5) at Atlanta Falcons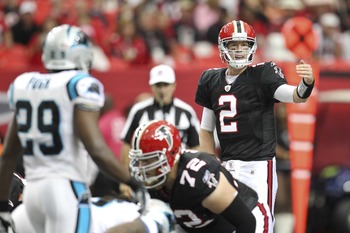 Daniel Shirey-US PRESSWIRE
The Lead
Two NFC South clubs moving in opposite directions. Following a Week 2 dismantling of the Chargers in San Diego, many believe the Falcons are the most complete team in football. Matt Ryan is everyone's early season favorite for the MVP award. He has thrown eight touchdowns, one interception and has a 114 QB rating through three games.
Cam Newton was visibly distraught after the Panthers were spanked by the New York Giants last Thursday, and he's taken a great deal of flack for it.
He can silence his growing population of critics by leading Carolina to a victory on the road this week.
News
Newton has disappointed early in his sophomore campaign, but the Panthers defense has struggled dramatically thus far in 2012. They allow the 28th-most yards per drive and have surrendered 4.5 yards per rush to opposing running backs.
A week removed from his DUI arrest, Falcons running back Michael Turner toted the rock 14 times for 80 yards with a touchdown in Week 3.
Prediction
The Panthers can't play worse than they did against the Giants. No way. Cam rallies the troops, but there simply isn't even collective talent on Carolina's roster right now. However, Carolina covers the current spread.
Falcons 35 Panthers 28
San Francisco 49ers (-4.5) at New York Jets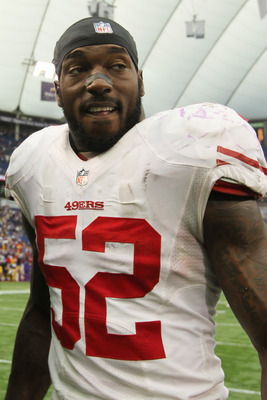 Brace Hemmelgarn-US PRESSWIRE
The Lead
Last week against the Minnesota Vikings, the 49ers looked like the 2008 squad that went 7-9. Christian Ponder didn't have much trouble moving the football against San Fran's vaunted defense, and Alex Smith wasn't nearly as effective as he was against the Green Bay Packers and Detroit Lions to start the year.
The 2-1 Jets, for the most part, have exceeded expectations but need more help from a stagnant running game that's averaging a mere 3.3 yards per rush through three games.
News
The Jets squeaked by the Miami Dolphins in South Beach, but the win came at a cost. Cornerback Darrelle Revis is lost for the year, and Joe McKnight is making the switch from running back to cornerback.
San Francisco is relatively healthy, but certainly has to make adjustments if it wants to get past a Jets team with solid defense on the road.
Prediction
Though the 49ers are known for their bruising running game, a unit that's averaging 5.4 yards per carry in 2012, it'll be the efficiency of quarterback Alex Smith that'll be the deciding factor in this one. No Revis, no good for Gang Green.
49ers 23 Jets 17
San Diego Chargers (-1) at Kansas City Chiefs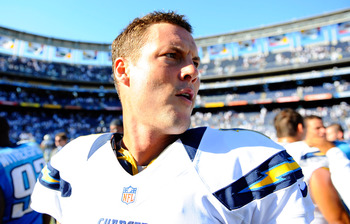 Christopher Hanewinckel-US PRESS
The Lead
The Chargers had a chance to prove their doubters wrong against the Atlanta Falcons in Week 3, a real opportunity to make everyone believe they've matured beyond their inconsistent ways of the past.
Unfortunately, they were destroyed 27-3 at home, and now we're left to wonder what Chargers team will emerge in Week 4 on the road in Kansas City.
The Chiefs rumbled for nearly 275 yards rushing against the Saints en route to a stunning victory in New Orleans. Actually, after watching the Saints through three weeks, was it really that stunning?
News
Running back Peyton Hillis was spotted in a walking boot at Wednesday's practice, but the Chiefs are relatively healthy. Following an abysmal six-carry, three-yard performance against Buffalo, Jamaal Charles exploded for 233 yards in New Orleans.
Ryan Mathews is fully recovered for the Chargers, but he carried the ball only 10 times for 44 yards against Atlanta in Week 3.
More touches this week?
Not if his fumbling ways continue.
Prediction
Neither team is stellar, and both certainly have their weak spots, but the Chargers' defensive front seven should be able to bottle up Charles on their way to a big road win.
Chargers 27 Chiefs 24
Tennessee Titans at (-12) Houston Texans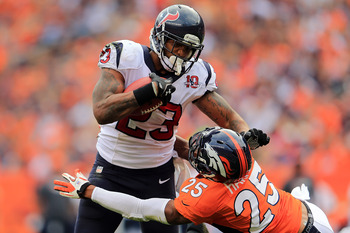 Doug Pensinger/Getty Images
The Lead
Some way, somehow, the Titans snuck past the Detroit Lions in an absolutely wild game that needed overtime to decide the winner.
The Texans were impressive in Denver, riding an exquisite run-pass balance and stingy defense to the win.
They remain the only unbeaten in the AFC, and J.J. Watt is garnering early Defensive Player of the Year consideration.
News
There aren't any significant injuries to speak of in this battle, but one has to wonder how long the Tennessee coaching staff will continue to use Chris Johnson as the team's feature back. Through three games, he has an almost unfathomable 33 carries for 45 yards.
Prediction
This one's easy. Too much defensive pressure from the Texans and too much Arian Foster against a run defense that allows over 150 on the ground per game.
Texans 34 Titans 20
Seattle Seahawks (-2.5) at St. Louis Rams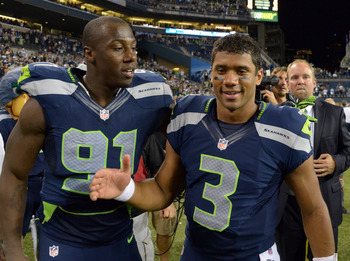 Kirby Lee-US PRESSWIRE
The Lead
The Seahawks may be the most fortunate 2-1 in NFL history, and they get the regular officials back for a road test against a competitive and often overlooked St. Louis Rams team.
Seattle's defense is for real.
The Seahawks boast an ultra physical defensive front and have some of the most aggressive and fundamentally sound secondary members in football.
The Rams were thrashed by the Bears in Chicago, but they did outlast Robert Griffin III and the Washington Redskins in Week 2.
News
Running back Steven Jackson didn't practice Wednesday, as he continues to nurse a groin he injured early in the season. The Seahawks recently received good news, as slippery slot target Doug Baldwin returned to practice in fully capacity on Wednesday. He missed Week 3's epic game against the Green Bay Packers with a shoulder injury.
Prediction
After watching what Seattle's defensive line did to the Packers and Aaron Rodgers, it's easy to predict an easy win for the Seahawks. But their offense is far from in sync, and the Rams secondary should be able to shut down Seattle's wideouts.
However, Marshawn Lynch and Co. will leave St. Louis a winner in a defensive clash.
Seahawks 20 Rams 17
Miami Dolphins at (-5.5) Arizona Cardinals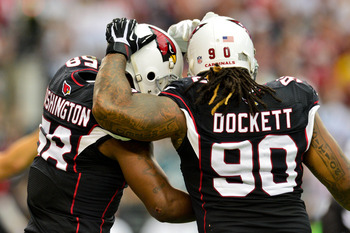 Matt Kartozian-US PRESSWIRE
The Lead
The Cardinals are the league's most surprising club and have impressive wins over the Patriots in New England and Philadelphia Eagles at home.
They've done it with an imposing defense and surprisingly admirable quarterback play from Kevin Kolb, who has four touchdown passes, zero interceptions and a fine 108.6 QB rating in relief of the injured John Skelton.
Miami's lone win came against the lowly Oakland Raiders, but it was a field goal away from being the New York Jets in Week 3.
News
Dolphins beat writer Ben Volin said via Twitter that he has "little doubt Bush will play against the Cardinals." Miami should again look to feature its running game with its most elusive runner in the lineup.
The Cardinals' Darnell Dockett didn't practice on Wednesday due to the hamstring injury he suffered in the fourth quarter in Week 4.
If he can't go, it'll be a huge hit to Arizona's defensive front.
Prediction
Vegas has the right idea here, as this game should be closer than many expect. But if Dockett can play, the Cardinals should win by a touchdown.
They have an abundance of defense talent and should be able to slow down Miami's running game while making enough plays on offense.
Cardinals 27 Dolphins 20
(line courtesy of gamblerspalace.com)
Oakland Raiders at (-6.5) Denver Broncos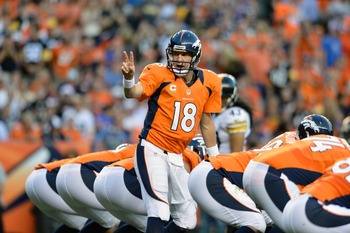 Ron Chenoy-US PRESSWIRE
The Lead
The Raiders scored a huge win against the Pittsburgh Steelers at home, giving Dennis Allen his first victory as an NFL head coach.
Carson Palmer certainly looked comfortable in the pocket, and the defense held when Oakland needed it most.
Denver is coming off two losses to two of the league's unbeatens and kept it close against both the Atlanta Falcons and Houston Texans in the fourth quarter.
News
Running back Willis McGahee's status is still uncertain for Sunday, but expect Peyton Manning to throw it frequently against a defense that has allowed an average of 265 yards passing a game in 2012.
Prediction
Even without Darrius Heyward-Bey, the Raiders have enough offensive weapons to move the ball against the Broncos. But Manning will have a huge afternoon in Denver, which will lead to a victory by 10 points.
Broncos 34 Raiders 24
(line courtesy of gamblerspalace.com)

Cincinnati Bengals (-3) at Jacksonville Jaguars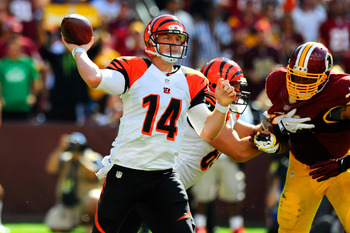 Dale Zanine-US PRESSWIRE
The Lead
The Bengals defense has been inexplicably porous to start the year, but the second-year duo of A.J. Green and Andy Dalton have combined for 21 completions, 311 yards and two scores through three games.
Jacksonville could easily be 2-1, but a heartbreaking defeat to the Minnesota Vikings in Week 1 has it at 1-2 heading into this contest.
News
Blaine Gabbert looks to be much more comfortable under center this season. Though his completion percentage is still lower than the Jaguars would like (50.6 percent), he has tossed four touchdown to no interceptions and has a respectable 85.8 QB rating.
The Bengals are allowing the 29th-most yards per drive this season, but they've registered 11 sacks in three games.
However, they must improve upon the 34 points per game they've allowed thus far.
Prediction
A high-scoring affair, one in which the superior talented Bengals win. Too much Green.
Bengals 38 Jaguars 34
New Orleans Saints at (-8) Green Bay Packers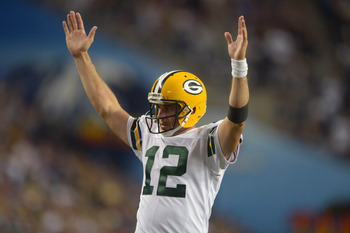 Kirby Lee-US PRESSWIRE
The Lead
Aaron Rodgers hasn't been Aaron Rodgers yet to start the year, and the New Orleans Saints, a team that went 13-3 in 2011, already have three losses.
Crazy, this NFL.
Something just hasn't been right in Green Bay or New Orleans.
News
The Packers are looking to put the Monday Night Football catastrophe behind them, and the Saints, well, they're just looking for a win.
Brees has seven touchdown passes in three games, but he also has tossed five interceptions and has a un-Brees-like 77 QB rating.
But what's really hurt the Saints is their putrid defense.
Only the Titans have allowed more yards per drive through three games, and after Week 3's abomination against the Chiefs, New Orleans is surrendering more 215 yards on the ground.
Prediction
Playing inspired against a clearly flawed defense, Rodgers and Co. finally get the offensive pistons firing en route to a statement win.
Packers 41 Saints 24
Washington Redskins (+3) at Tampa Bay Buccaneers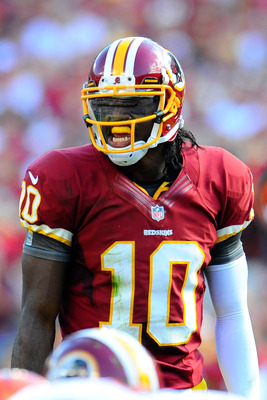 Dale Zanine-US PRESSWIRE
The Lead
The Redskins have been competitive in each of the first three games in the Robert Griffin III era, but haven't received the defensive performances needed to win consistently.
For the Buccaneers, a 1-2 record has been the direct result of sporadic play from Josh Freeman and the defense.
News
Pierre Garcon practiced on Thursday, and he could be on the field on Sunday for Washington. The Buccaneers placed defensive lineman Adrian Clayborn on IR this week after he suffered a knee tear in Week 3.
Prediction
RG3 is growing accustomed to shootouts, and he does enough against a susceptible Buccaneers defense to get his second win.
The Buccaneers run a conservative offense, and Doug Martin and Vincent Jackson should have big days. Give me Griffin III over Josh Freeman at this point.
Redskins 34 Buccaneers 28
New York Giants at (-1) Philadelphia Eagles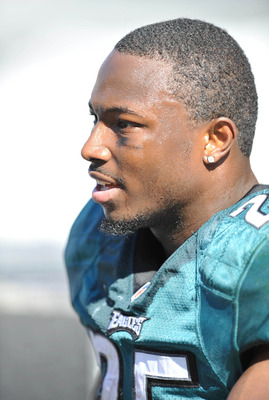 David Richard-US PRESSWIRE
The Lead
The Eagles turned the ball over nine times in the first two weeks, but emerged victorious in each contest. On the road in Arizona in Week 3, a late first-half turnover dealt a crushing blow to their chances to stay unbeaten.
New York was stunned by Dallas in the season opener, but the reigning Super Bowl champions have shined in its last five quarters, especially signal-caller Eli Manning.
News
Hakeem Nicks and Jeremy Maclin, two banged up wideouts that mean a great deal to their respective teams, look to be ready for this weekend's NFC East clash.
Prediction
The Eagles lean on their All-Pro running back LeSean McCoy to temper the Giants' assailing pass rush and calm the nerves of the fans in Philly with an enormous win in a tight game.
Eagles 27 Giants 24
Chicago Bears (+3.5) at Dallas Cowboys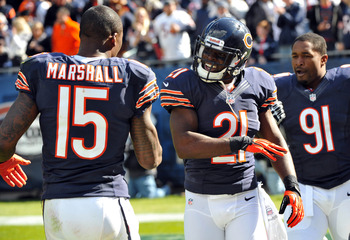 US PRESSWIRE
The Lead
No team's more up-and-down than the Chicago Bears, and a lot of that has to do with their quarterback Jay Cutler.
Then again, the Cowboys have the tendency to look like legitimate Super Bowl contenders one week, then look totally out of sync the next week against a weaker opponent.
News
Michael Bush injured his shoulder in Week 3, but according to Bears beat writer Vaughn McClure, he'll be good to go against the Cowboys.
Prediction
You may not know this, but the Bears are leading the NFL with 14 sacks through three games. Julius Peppers, Henry Melton and Co. will wreak havoc on Tony Romo, leading to costly interceptions.
A tightly-contested battle that goes Chicago's way.
Bears 30 Cowboys 27
Keep Reading