Iowa Football: 5 Keys to the Game vs. Minnesota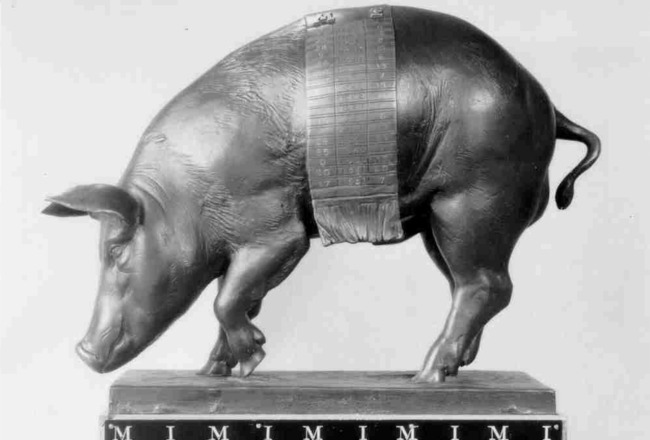 The Iowa Hawkeyes head into this week's game against the Minnesota Gophers in a battle for Floyd of Rosedale as touchdown favorites. Unlike previous years, Minnesota is playing very well while Iowa seems to look weak this year.
It's usually the opposite in the matchup, but a slow start has limited Iowa's offense.
Minnesota comes in riding some good performances from backup quarterback Max Shortell . Although he doesn't have the running ability of Marquis Gray, his passing numbers have been great. Currently, he's thrown four touchdown's and only one interception through two games started.
The Golden Gophers are 4-0 and have won the previous two meetings in upset fashion against the Hawkeyes. They are looking to retain Floyd once again. They have been a pleasant surprise in the Big Ten led behind Head Coach Jerry Kill.
One of the biggest questions in the Big Ten for this week is: How fast are the Hawkeyes fading and can they rebound from a bad loss?
Here are five keys that Iowa needs to complete if they want to etch a win in a rivalry game this season.
1. Keenan Davis and Company Have to Show Up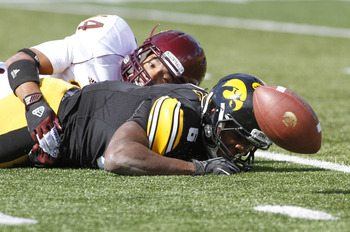 Matthew Holst/Getty Images
In my previous article this week, I gave the receiving corps a D grade a quarter of the way through the season. If they want any chance at victory, the receivers are going to have to play on a much higher level.
Keenan Davis looked much better last week against Central Michigan. If he can continue the upward trend by making a big play this week, his previous failures will be long forgotten.
Big Ten play is where things really count, and in their opener the rest of the receiving unit must show up as well. Kevonte Martin-Manley has looked average and will need to contribute more as the possession-type receiver he is.
The biggest thing, though, is how can Jordan Cotton develop as the No. 3 wide receiver? He had quite a few targets last week and produced well; now James Vandenberg will be looking his way more and more. If Iowa wants success in the passing game, Martin-Manley and Jordan Cotton must step up.
2. Weisman Has to Rush for at Least 150 Yards Again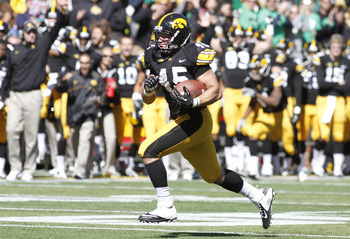 Matthew Holst/Getty Images
Mark Weisman has carried Iowa the previous two games.
With over 350 combined rushing yards and six touchdowns, Weisman has looked nothing like what was previously predicted from the Air Force transfer.
Coming out of nowhere after a Damon Bullock and Greg Garmon, (stop reading AIRBHG) Iowa has a running back that is looking to make it a third straight game without injury for the first time in what seems like awhile.
If he can continue his domination, he'll most definitely retain the starting position as long as he can stay healthy.
Minnesota will try to gameplan their defense heavily to stop Weisman, but the offensive line and converted fullback Weisman will have to keep firing on all cylinders to guarantee a Hawkeye victory. Allowing 128.5 yards rushing per game, Minnesota has been average in stopping the run, but Iowa will have to best that average by 20 or more yards for a chance to bring home Floyd.
3. Pressure from the Defensive Line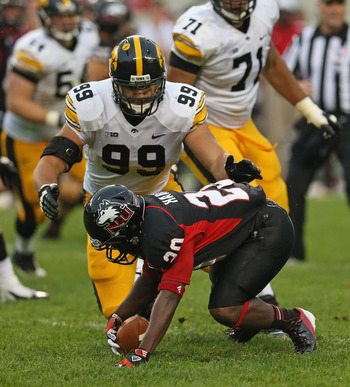 Jonathan Daniel/Getty Images
The defensive line has been mediocre in hurrying quarterbacks to make errant throws. Without this pressure, it has left the defensive backs in a world of hurt because of the long plays caused by the lack of pressure.
Steve Bigach and Joe Gaglione both need to step up and live up to their potential by wreaking havoc on Minnesota's backup quarterback Max Shortell. Although he has performed well through two games, they have played relatively weak opponents and Shortwell hasn't seen a Big Ten defensive line yet.
Iowa's defensive line needs to get pressure to show the Big Ten that there's a reason Shortwell is a backup.
4. Continued Performance from Mike Meyer
David Purdy/Getty Images
The kicking game has perhaps been the best part of the offense. The kicking unit has looked exceptionally smooth, and Mike Meyer has progressed heavily since his freshman year. As far as kickers go, this is what you want—someone who you can depend on to kick the game-winner.
Meyer has shown this year that he's capable of it.
Mike Meyer is 9/10 with a 50-yard long and is as confident as ever. With Iowa's offense sputtering as it has been, Meyer will likely be called upon multiple times and will have to be perfect on the day for Iowa to have a chance.
Although Iowa is a touchdown favorite, I have a feeling it'll be a lot closer than that. With a field goal either way deciding the game, the kicking game will have to be on top of things.
5. A Little Excitement from Kirk Ferentz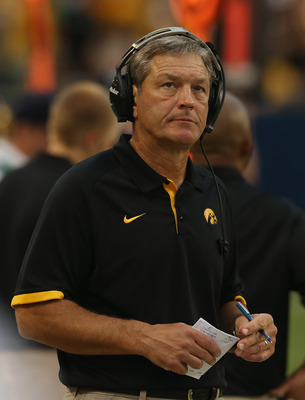 As we all know, this is Kirk Ferentz' happy face.
Jonathan Daniel/Getty Images
A trick play or fake punt and Kinnick may fall dead silent. Fans all around would require immediate medical services from the absolute shock of doing something that most college teams at least have in their playbooks.
Ferentz is very old school about the way he runs his team, but times are changing, and he's going to have to adapt if he wants to keep his teams competitive in the Big Ten.
This week's coaching opponent Jerry Kill comes from the MAC, a conference where exciting football is pretty commonplace despite them being mid-majors. Kill has instituted a little bit of that excitement in his Minnesota offense, and they have the ability to explode at any point.
If they can catch Minnesota off guard once, it could be the difference between a win and a loss.
Keep Reading

Iowa Hawkeyes Football: Like this team?