Week 4 Picks: Predicting Each NFL Game Against the Spread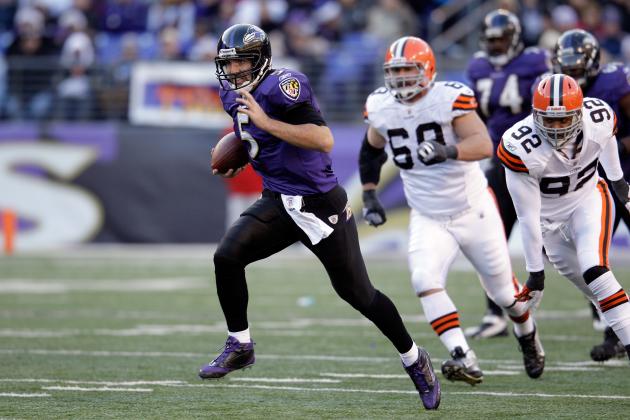 Rob Carr/Getty Images

Week 4 opens up on a brighter note than Week 3 ended: The regular referees are back! While that doesn't mean we've seen the last of bad calls, there's certainly a better chance that we won't have games dominated by incompetent officiating.
As great it is to have the regular refs back, it's sad that it took a calamity on national television like the final play of Monday night's Green Bay Packers Packers–Seattle Seahawks game to close the deal. It's sad that it took Twitter meltdowns, thousands of phone calls to league offices and days of the NFL getting blasted on sports talk radio to reach this point.
Regardless, the real refs are back and it will be interesting to see the reaction they get when they make their debut this week. It will be even more intriguing to see how fans react when human error rears its ugly head on the watch of the NFL's more seasoned officials.
The fourth week of the season provides us with some exciting games. The Packers and New Orleans Saints will have a rematch of last year's season opener. Both teams are bit more underwhelming this time around than they were the last time they met, but it should be a fun duel between two explosive offenses.
There will also be a couple division games worth watching. The Philadelphia Eagles renew their rivalry with the New York Giants for the first time this season. The Kansas City Chiefs and San Diego Chargers will do battle a week removed from Kansas City finally getting in the win column. You should also keep an eye on the Detroit Lions–Minnesota Vikings and Atlanta Falcons–Carolina Panthers clashes as well.
We open the week with a Cleveland Browns–Baltimore Ravens game that won't be the faint at heart. Also, not for the faint at heart were my picks last week. Thanks to some mild upsets, yours truly finished with a laughable 6-10 record in Week 3. That drops the season record to a putrid 21-24-2. Naturally, I blame the replacement refs.
Let's see if I can fare better this time around. As always, the lines are brought to you by USA Today's Danny Sheridan.
Begin Slideshow

»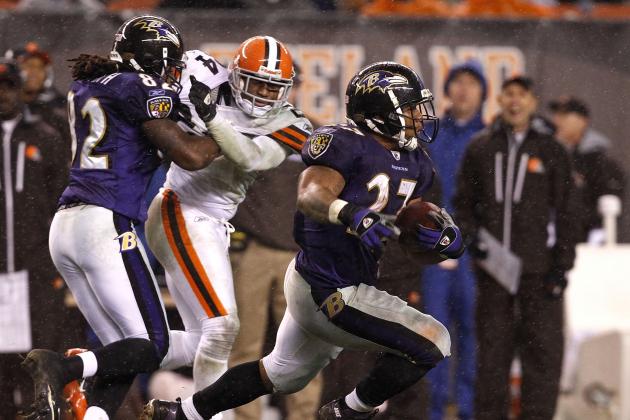 Matt Sullivan/Getty Images

The Pick: Baltimore
An emotional win last week for Baltimore and WR Torrey Smith, who lost his brother in a motorcycle accident less than 24 hours before kickoff. Smith had the best game of the season so far despite debate as to whether he'd even play. The Ravens' late-game rally against New England was similar to the one they made against the Patriots in the AFC Championship, except this time, they managed to sink the game-winning field goal.
This week, they get a Cleveland team that's still struggling to find themselves on either side of the ball. Rookie QB Brandon Weeden is still proving to be wet behind the ears while large deficits are keeping the Browns from unleashing RB Trent Richardson. Richardson shouldn't expect much room to run against a stout Ravens run defense.
Eleven-and-a-half points is a fairly large spread even for a team as good as the Ravens playing a team as bad as the Browns. The Ravens are coming off playing a late Sunday night game and have to get back on the field four days later. The short week always seems to lead to one team mailing it in early. I don't believe it will be Baltimore but I wouldn't be shocked if fatigue sets in and the Ravens sputter a little bit.
I still like Baltimore by at least two touchdowns. The Browns have a hard enough time scoring points against bad teams. They are really going to struggle against this Ravens defense. The Ravens will take Richardson out of the equation and force Weeden to beat them, which we know he cannot do.
With CB Joe Haden still on suspension, the Browns defense will have a long night trying to quell Baltimore's no-huddle offense. They'll also be force-fed a healthy dose of Ravens RB Ray Rice, who tends to have his best games against Cleveland.
After giving up 30 points on Sunday night, I think the Ravens defense will bounce back. The short week will wear on them, so I'm ruling out a shutout. Still, Baltimore is too good on both sides of the ball for this to be close.
Score: Ravens 27, Browns 6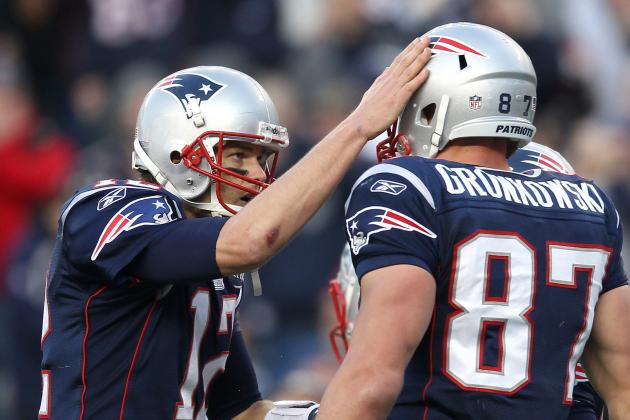 Jim Rogash/Getty Images

The Pick: New England
Frustration set in for the Patriots last week, who lost Sunday night's game on a field goal by Ravens rookie Justin Tucker. It was New England's second straight loss, and the game closed with the image of the Patriots head coach chasing down and then grabbing an official.
That snapshot combined with the travesty of Monday night will be the two pictures that will forever be etched in our brains when we tell the story of the replacement refs' horrid three-week run.
This week, I fully expect New England to take out its anger on Buffalo. Division games always tend to be taken more seriously, and the Patriots are not going to let themselves lose three straight. It also helps the Pats that electric Bills RB C.J. Spiller is likely out with a bum shoulder.
Spiller was initially expected to be out for a couple weeks, but shoulder injury wasn't as bad as first diagnosed, and there's a chance he might play. I consider that very unlikely. A better possibility is the return of RB Fred Jackson, who was dangerously close to being this year's version of Wally Pipp.
With Spiller out of the lineup, the Bills are going to have a tough time matching the Patriots on offense. Tom Brady is dangerous when he plays with a chip on his shoulder, and New England has won 20 of the last 22 meetings between these two teams.
I see Patriots rookie DE Chandler Jones continuing to add to his stellar debut season and hammering away at Bills QB Ryan Fitzpatrick. Fitzpatrick gets careless with the ball here at least twice and the Patriots take advantage. After only being targeted a couple times against Baltimore, expect TE Rob Gronkowski to get back into the swing of things.
Score: Patriots 31, Bills 13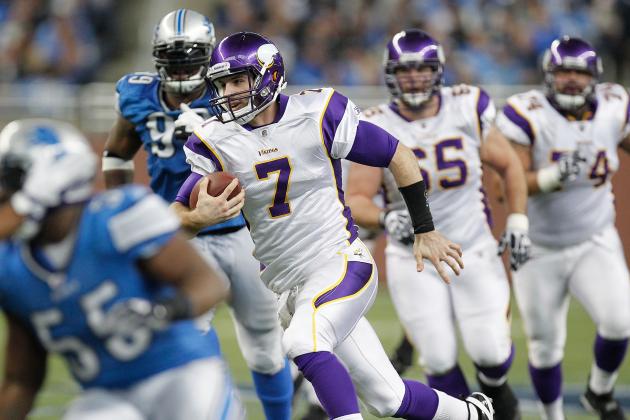 Gregory Shamus/Getty Images

The Pick: Minnesota
(Note: USA Today didn't have a line for this game. I'm assuming it's because the status of Lions QB Matt Stafford, who is nursing a hamstring injury, is still up in the air. Instead, I went with ESPN's line, who has Detroit favored by 5.)
You hate to completely lose faith in a team after three games, but I think the honeymoon is over for the Detroit Lions. Even with RB Mikel Leshoure breathing life back into the running game, Detroit looks sunk. The offense doesn't have the same explosion it had last year, even with last week's 40-point outing. The defense can't stop the pass or the run. At 0-3 in a tough division, I think the Lions will be on the outside looking in this postseason.
The Vikings, meanwhile, pulled off an upset not many saw coming against San Francisco last week. I don't want to over-exaggerate here and compare Vikings QB Christian Ponder to reigning MVP Aaron Rodgers, but I see a little A-Rod in Ponder's game. He's smart. He has a good arm and he can make plays with his feet without relying too much on scrambling.
Ponder has some fine weapons around him in WR Percy Harvin and emerging TE Kyle Rudolph, not to mention RB Adrian Peterson. With the Lions' run defense struggling, I expect A.P. to have a better outing this week after being stifled by the Niners' tough run defense. That will open up things for Ponder to roast a terrible Lions secondary.
My gut tells me Stafford plays in this one, but I can understand Detroit wanting to keep their young QB out of harm's way against this Vikings front four. Backup QB Shaun Hill is more than capable of getting the job done and, this early in the season, there's no need to rush Stafford back if he isn't 100 percent.
I think this one becomes a bit of a shootout, but Minnesota's balance on offense gives them the edge.
Score: Vikings 28, Lions 24
Jared C. Tilton/Getty Images

The Pick: Atlanta
If you're a Panthers fan, you had to hate the way your team lay down against the Giants last Thursday night. You also hope that QB Cam Newton responds better going forward after being chewed out by WR Steve Smith. We knew Newton would be hard-pressed to duplicate last year's stellar rookie season. Now, it's time to see how he reacts to things not coming so easy for him.
Things appears to be coming easy for the Atlanta Falcons though. They are one of three undefeated teams in the NFL, and their defense seems to be finally matching up with their offense. Even without a vaunted pass rush, Atlanta manages to force turnovers and provide opportunities for their explosive offense.
QB Matt Ryan is your early MVP right now, and he has a bevy of weapons to pick defenses apart with. WR Julio Jones is having a big year, and we've seen strong outings from WR Roddy White and TE Tony Gonzalez in recent weeks.
The guy to watch this week, as well as throughout the season, is Falcons backup RB Jacquizz Rodgers. With starter Michael Turner starting to decline, it's only a matter of time before the lightning-quick Rodgers gets the bulk of the action on the ground. Why wouldn't that happen this week against a Panthers defense that made Andre Brown look like Jim Brown last week?
I think Newton recovers nicely from last week's terrible performance but still makes enough mistakes to allow Atlanta to put this out of reach. Watch out for Steve Smith here, as well. After ripping Newton last week, Smith has pressure to go out and perform like a captain should. Plus, somebody has to take advantage of the Falcons losing CB Brent Grimes eventually.
Score: Falcons 34, Panthers 17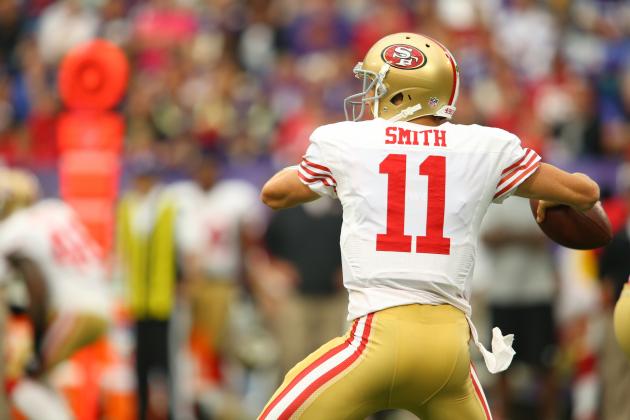 Adam Bettcher/Getty Images

The Pick: San Francisco
This game plays into San Francisco's hands well. The Niners are excellent against the run and the ground game is New York's main point of attack. Plus, Niners QB Alex Smith will be able to move the ball through the air better with Jets CB Darrelle Revis out for the season with a torn ACL. The Jets also seemed to have trouble stopping the run against Miami last week, which will allow SF to have more balance.
I don't want to call this one a walk in the park for San Francisco because I thought they would handle Minnesota easily and that came back to bite me. Still, it's hard to see New York being able to get enough big plays against this San Francisco defense. The presence of QB Tim Tebow has done to QB Mark Sanchez what many had anticipated: applied pressure to the Jets' incumbent starter.
With the Jets unable to run, it's really on Sanchez to get the Jets going. After an offensive explosion in Week 1, Gang Green's offense has went back into hiding. I don't see them coming out this week either. I expect Smith to manage the game better this time around and spread the ball out. With no Revis to worry about, there will be less reluctance to go deep.
Given the Jets' offense woes and the Niners' defense prowess, a shutout here is possible. Still, I'll give the Jets the benefit of the doubt and say they score at least once.
Score: Niners 21, Jets 7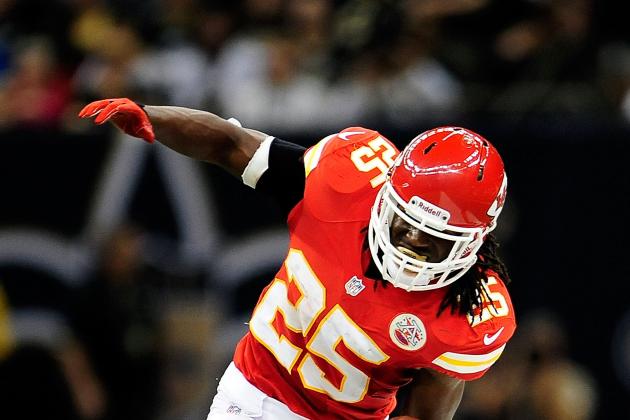 Stacy Revere/Getty Images

The Pick: San Diego
Either the Saints are worse than I anticipated or the Chiefs finally put it all together last week. If it's a case of the latter, I might regret taking San Diego here. The Chiefs have always had potential as a young team with stars on both sides of the ball. For some reason, they disappoint more often than not.
The Chargers have been disappointing in their own right. Even at 2-1, San Diego hasn't looked all that impressive. They took advantage of Oakland's long-snapper issues in Week 1. They demolished a terrible Titans team in Week 2, and they got handled by a superior Falcons team last week. There's a strong possibility they drop the ball here against a game Chiefs team.
Chargers RB Ryan Mathews should see more work this week. In his return from a broken clavicle last week, Mathews ran well in his 10 carries but had a costly fumble in the red zone. The Chargers may take away his touches on the goal-line(sorry, fantasy owners), but I expect San Diego to lean on him a bit more this week.
The Chiefs have a dangerous weapon of their own at running back. Jamaal Charles announced to the world he's completely back from last year's knee injury by rushing for 233 yards last week. Granted, it was against a porous Saints run defense. If Charles is in charge again this week, this will be a fun game between two balanced offenses.
I think this comes down to turnovers though. Chargers QB Philip Rivers was a little wild with the ball last season but has been more careful this year. I'd put my money on him over Chiefs QB Matt Cassel, who seems to be keeping the seat warm for Brady Quinn these days.
Begrudgingly, I'll take the Chargers here but I don't feel good about it given what I've seen from both teams so far.
Score: Chargers 27, Chiefs 20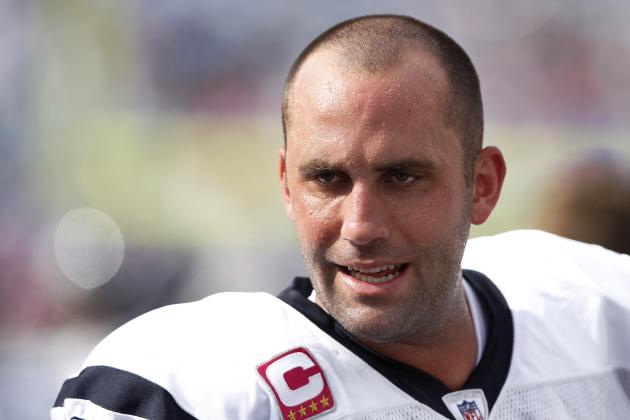 Joe Robbins/Getty Images

The Pick: Houston
I like everything I've seen out of Houston so far this season. They are aggressive on defense, and they've shown they can beat you on offense on either the ground or through the air. After the run game did most of the heavy lifting the first two weeks, Texans QB Matt Schaub decided to unleash the passing game last week. It might have cost him an earlobe, but it was his best performance in a while.
The Titans won a shootout last week with Detroit, but they did it with RB Chris Johnson continuing to be on the "Missing Persons" list. CJ2K hasn't even managed to be CJ100 so far this season as he's yet to rush for 100 yards total this season after three weeks. The question now isn't whether Johnson can bounce back but rather, should the Titans strongly consider shopping him around?
It will be tough to find a deal given how Johnson's performed for the better part of the last year and a half. Still, they need to let someone else take control of this running game. It's time to cut the cord on Johnson, even if it means taking less back in return.
Tennessee's wait for Johnson to shake off the cobwebs will probably last another week. Houston is too good on defense and Johnson is too average of a back these days to be an exception. We saw what Houston was able to do to Peyton Manning last week against the Broncos, so Titans QB Jake Locker will be in for a rough afternoon.
I think the theme continues for Houston like it has all season. They'll stifle Locker on defense while forcing the Titans to pick their poison on offense. With the passing game the focal point last week, I think we'll see a bit more balance this week with RB's Ben Tate and Arian Foster getting significant work.
Score: Texans 35, Titans 10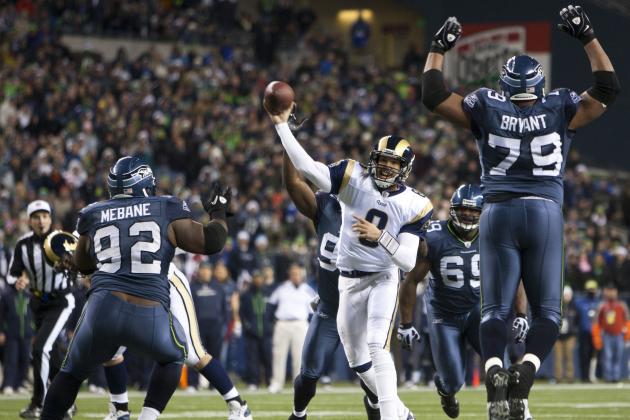 Jay Drowns/Getty Images

The Pick: Seattle
The sad part about Seattle's win-that-wasn't on Monday night was that it overshadowed a stellar defensive performance by the Seahawks. Who would have thought they'd sack Aaron Rodgers eight times... in the first half?
While the Seahawks should have lost to Green Bay, don't let that travesty blind you. The Seahawks are better than you think. There aren't many teams that can get that kind of pressure by rushing only four guys. QB Russell Wilson manages the game well and will only get better as time passes.
As for the Rams, they could very well be the worst team in the NFC. They aren't terrible, but they seem to be the only team that hasn't progressed in a very competitive conference. Even your bottom-feeders like Washington and Minnesota have put together solid performances this season.
If Seattle was able to exploit Green Bay's offensive line, I'd like to think they'll have the same ease this week against St. Louis. The Rams will lean more on the running game than Green Bay did to keep QB Sam Bradford from getting beat up, but it's on RB Steven Jackson to carry the offense.
This game will be heavy on defense with neither team having a stellar offense. It will be interesting to see if karma comes back to haunt the Seahawks after the replacement refs gift-wrapped a win for them last week. Still, barring some kind of twist of fate, I think Seattle will win a defensive struggle here.
Score: Seahawks 17, Rams 13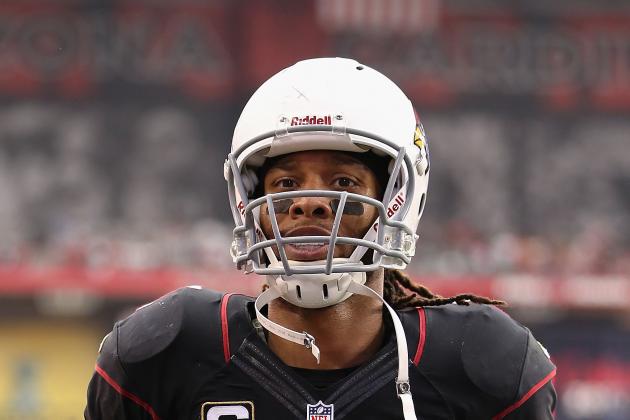 Christian Petersen/Getty Images

The Pick: Arizona
Apparently, Cardinals QB Kevin Kolb is at his best when an injury forces him into the starting lineup. After making a name for himself filling in for Donovan McNabb in Philadelphia, Kolb is finally living up to expectations in the desert after taking over for an injured John Skelton.
As impressive as Kolb has been for 3-0 Arizona, the story for the Cardinals is their defense. CB Patrick Peterson is blossoming into the league's best cornerback and the Cardinals' pass rush is pretty fierce. Eagles QB Michael Vick felt their wrath last week, and the same will hold true this week for Dolphins rookie QB Ryan Tannehill.
This game wreaks of shutout. Tannehill has been abysmal so far in his debut season. He's completing just over 50 percent of his passes and has one touchdown to four interceptions. With RB Reggie Bush slowed by a knee injury that isn't expected to keep him out of the lineup, it's hard to forecast where the offense will come from for Miami.
Miami's inability to move the ball will give Arizona more opportunities to work out the kinks in their own offense. The best thing about Kolb's comeback is that it allows us to once again enjoy the theatrics of WR Larry Fitzgerald, who seemed to be in hiding the past few years due to poor QB play. We'll also get to see what RB Ryan Williams can do, with Beanie Wells out for a while. Williams has some real potential if he can stay healthy and hold on to the football.
With the way Arizona's playing, it's hard to see Miami stopping the Cardinals' momentum. Granted, you could have said that about a lot of games that ended in upsets this week, but Arizona may be this year's Niners. They apply pressure on defense while doing just enough on offense, which will be evident against a bad Miami team.
Score: Cardinals 24, Dolphins 0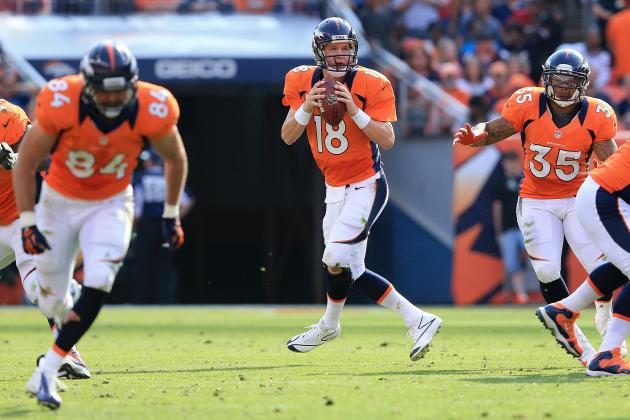 Doug Pensinger/Getty Images

The Pick: Oakland
In this game, a veteran QB will take the field having completed over 60 percent of his passes and thrown for nearly 900 yards in just three games. That guy will square off against the Broncos and QB Peyton Manning. QB Carson Palmer is starting to shown flashes of the guy who looked like he would lead the Bengals to big things a long time ago.
As for Manning? Well, there's been some ups and downs. It's interesting that Broncos coach John Fox was so dead-set on getting rid of his weak-armed former QB, Tim Tebow, and replace him with a declining legend whose arm strength appears to be dwindling. It's risky to bury Manning just yet but, each week, we see the concerns critics had about Manning's return. His passes lack zip and he doesn't have the same precision on his deep ball.
Those things can't be said about Palmer, who has made the most of an unheralded receiving core. Palmer has slightly better numbers than Manning through three games and the Raiders are riding high following last week's upset against Pittsburgh. The win over the Steelers may take some of the air out of Denver's defeat of Pittsburgh in Week 1, depending on how you feel about Pittsburgh going forward.
As for this game, I'm going to sit back and wait for Manning to wow me. I wasn't a huge advocate for him making a comeback from neck surgery, given the risk involved, and he hasn't done anything to change my mind. As crazy as this is to say, Palmer seems like the steadier QB.
The Broncos might be able to win this one, but I think it will be close. It's hard to like Denver by a touchdown with the way Manning's throwing the ball. I like Oakland for the straight up win or, at the very least, covering the spread.
Score: Raiders 28, Broncos 20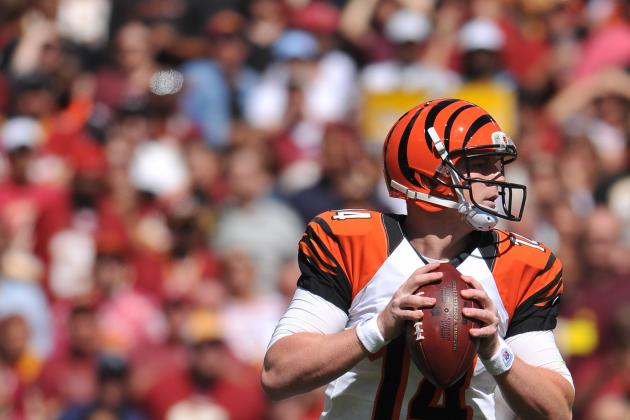 Larry French/Getty Images

The Pick: Cincinnati
I loved everything about Mohamed Sanu's touchdown pass to A.J. Green to open the game against the Redskins last week. I think Sanu is a sneaky weapon for the Bengals because he has great hands and can be utilized in a number of ways.
I also like what I've seen out of QB Andy Dalton in his second year. The offensive line seems to be protecting him better and that's given him more time to unleash the deep ball to guys like Green or find TE Jermaine Gresham over the middle. I doubted Cincy in the preseason, but they are quickly making me a believer, especially if they can get "The Law Firm" going on ground.
I'm not nearly as impressed by Jacksonville. QB Blaine Gabbert just doesn't look like the answer to me, and I keep waiting for him to build an accord with rookie WR Justin Blackmon. With the way RB Maurice Jones-Drew runs and how defenses respect him, the Jags' passing game should be better. I realize it's early to close the book on Gabbert but I remain unconvinced.
I think this game will be a big one for the Bengals' defense. DE Michael Johnson has been on a tear as of late and I expect that to continue here. I see Johnson and company pressuring Gabbert into some bad throws while the Dalton-to-Green combination makes Jacksonville pay on the other side of the ball.
Gabbert outplayed Dalton the last time these two teams met but I don't see that being the case here.
Score: Bengals 30, Jaguars 16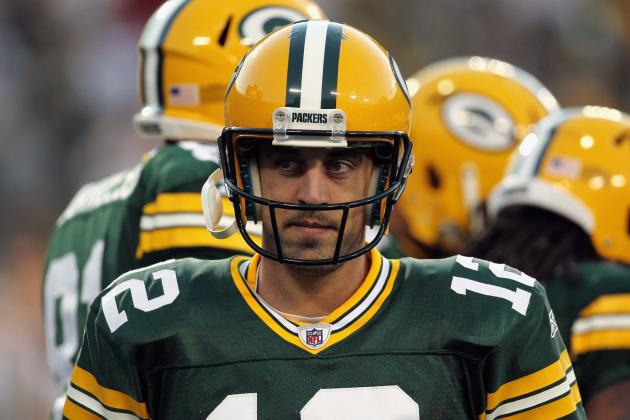 Jonathan Daniel/Getty Images

The Pick: Green Bay
As a Packers fan for two decades, it's hard for me to speak objectively about Monday night's fiasco without being biased or violating Bleacher Report's policies on profanity. I will say that Green Bay getting hosed the way they did took away from the real issue at hand, which is that Green Bay played poorly and deserved to lose.
They deserved to LOSE. They did not deserve to get robbed. The Packers put themselves in a position to let the game come down to the final play against an inferior team. The offensive line let Aaron Rodgers get battered, and in turn, the offense sputtered. The records will show that Seattle won and Green Bay lost because of terrible officiating, but the truth is, the Packers did this to themselves.
With all that being said, if Monday's night loss woke Green Bay up and they begin to play like the dominant team many expected them to be, the loss to Seattle may work to the benefit of Packers fans. The offense has been sleepwalking through three weeks. The defense has had its moments, but it still isn't where it needs to be.
If the Seattle fiasco sharpened Green Bay's focus, then look out. That doesn't bode well for the New Orleans Saints, who have been dreadful so far this season. Conventional wisdom suggests that if Green Bay was able to beat New Orleans at their best last season, the Packers should be able to topple the Saints when they are playing at their worst.
I expect the Packers' vaunted offense to come alive against a Saints defense that let Jamaal Charles look like Gale Sayers last week. The Saints are a ship without a captain and it has been obvious in their play this season. Whatever frustration wasn't taken out by the Packers on Twitter Monday night will certainly be taken out on New Orleans on Sunday.
Score: Packers 38, Saints 28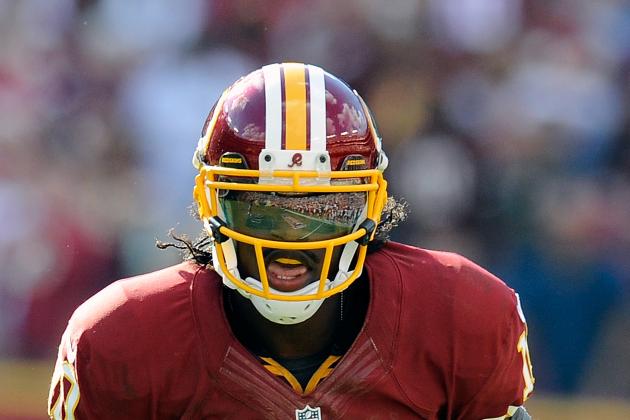 Patrick McDermott/Getty Images

The Pick: Tampa Bay
The case can be made that Washington should be 3-0 right now. Costly penalties have really hurt the Redskins the past two weeks in close games that they should have won. The fact of the matter is they didn't win those games. Good teams don't continually shoot themselves in the foot and the Redskins aren't a good team. At least, they aren't one yet.
The Tampa Bay Bucs aren't a good team either but they manage to keep pace with whatever team they face. Defensively, they can be stifling and coach Greg Schiano has done a good job in molding this group into a solid defensive unit. The loss of DE Adrian Clayborn is going to hurt, but I think the Bucs can still keep it close.
That, in large part, is why I like Tampa Bay here. If it comes down to a close game, I have trouble taking Washington to win it. Robert Griffin III has been sensational this season but he's just one man. The defense struggled with LB Brian Orakpo out and that was evident in Cincinnati's four touchdown passes last week.
For the Bucs to win this one, QB Josh Freeman must exploit the Redskins through the air. Freeman managed just 110 yards passing last week against Dallas. He has the worst completion percentage in the NFC and the fifth-worst passer rating in the NFL. Freeman needs to step it up and there's no better time than against a Redskins defense that has given up the most passing touchdowns this season.
This one comes down to which team shows the most maturity and quells the issues that have ailed them. Will Washington finally win a close one or will Tampa Bay's offense finally wake up? I'm going with the latter.
Score: Bucs 21, Redskins 17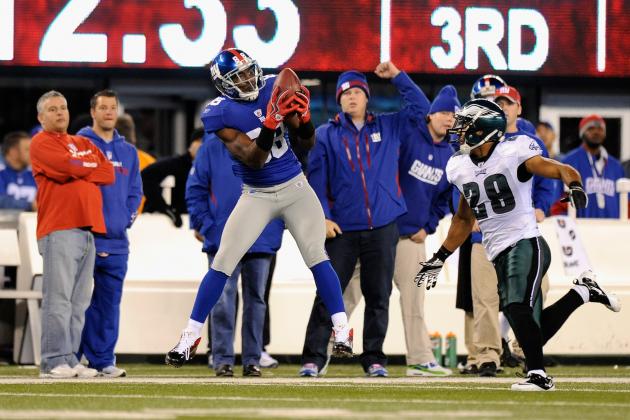 Patrick McDermott/Getty Images

The Pick: New York
We are once again treated to a Manning brother in primetime as the always entertaining Eagles-Giants rivalry takes center stage on Sunday night. The Giants will be coming off 10 days of rest and a trouncing of the Carolina Panthers. QB Eli Manning has already eclipsed the 1,000-yard mark in passing yards and the team may have found something in RB Andre Brown.
As for the Eagles, I think it's only a matter of time before rookie QB Nick Foles is starting for this team. QB Michael Vick has not been the guy who lit it up in 2010. The offensive line is failing to protect him and Vick's turning the ball over way too much. Some lucky breaks are the only thing keeping Philadelphia from being 0-3.
The Eagles won't have the same fortune against the Giants. If Vick was having trouble staying upright before, he's really going to have a long night against New York's lethal pass rush. Making matters worse for Philly, the Giants will get RB Ahmad Bradshaw and WR Hakeem Nicks back. New York didn't seem to miss them last week against Carolina but their returns makes this offense much more formidable.
I like the Giants big in this one. The Eagles have huge protection issues and the Giants have too much balance on offense for Philly to keep up. If Vick can use his feet to buy some time, the Eagles have a shot. I don't see it happening. Vick spends way too much time in the pocket waiting for the deep ball to develop and he's getting clobbered.
Score: Giants 35, Eagles 19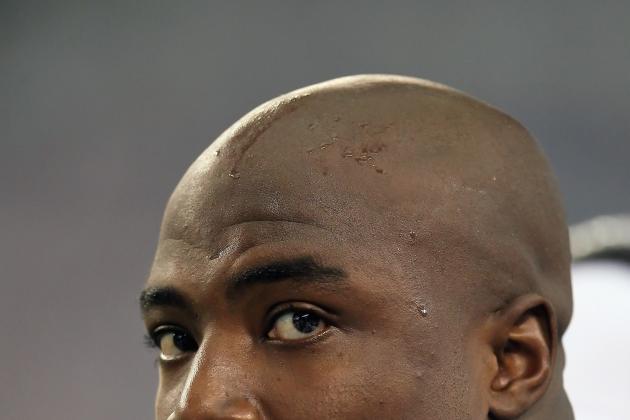 Jeff Gross/Getty Images

The Pick: Dallas
This won't be a fun night for Bears QB Jay Cutler. With the way Chicago's offensive line has played, he may be in for a Monday night pounding similar to what Aaron Rodgers received last week. The Cowboys' pass defense has gotten significantly better, particularly in the secondary. That means Cowboys LB DeMarcus Ware has more time to wreak havoc on Cutler.
The key for Dallas will be avoiding penalties. They had 13 penalties last week against Tampa Bay, including six false starts. Sloppy play has been the Cowboys' Achilles' heel this season. Dallas needs to quit crippling themselves with silly penalties. They also need WR Dez Bryant to step it up. Bryant has yet to touch the end-zone this season in what should have been his breakout year.
There are too many factors going against Chicago here. Even with Matt Forte coming back, the Bears will need to make plays through the air to keep up with Dallas. Cutler tends to disappoint in nationally-televised games and that should still be the case against Dallas' pass rush.
I think Cutler and Cowboys QB Tony Romo trade interceptions early but Romo eventually finds his groove and shines under the bright lights. I think RB DeMarco Murray has a big game but Bryant's scoreless streak extends one more week.
Score: Cowboys 31, Bears 17