10 Most Undervalued Young Guns in the NBA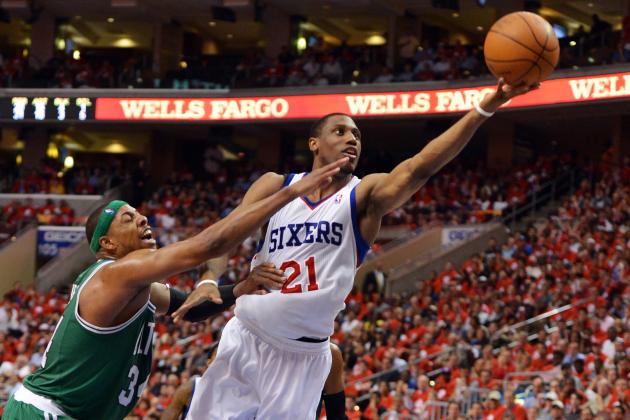 Drew Hallowell/Getty Images

An NBA roster is constructed with the intention of achieving the maximum level of success. In order to reach such a high plateau, the proper acquisition of players must be achieved by a general manager and the utilization of each individual's skill set must be found by a head coach.
Due to the difficulty of such a process, talented players are often buried by depth or simply undervalued by their coaching staff or fan base.
Although their names may be familiar, the following slides will outline who the undervalued young guns are. Some will suffer from their position on a depth chart, while others will have contributed at a high level but gone unnoticed.
For some, their contributions that range beyond a stat sheet simply are not visible to a wide population. Due to this fact, they help make up the 10 most undervalued young guns in the NBA.
Begin Slideshow

»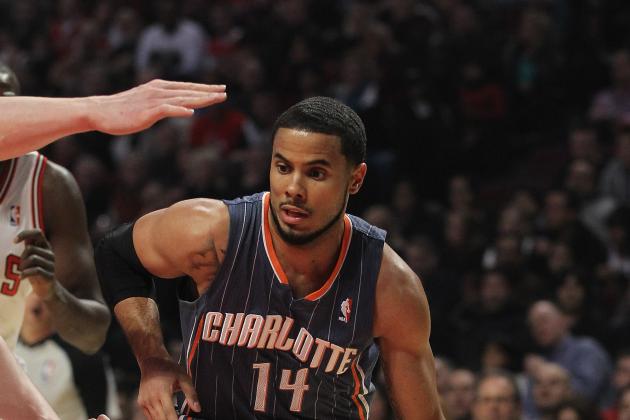 Jonathan Daniel/Getty Images

Position: Point Guard
Age: 24
Experience: 4 Seasons
As a member of the Charlotte Bobcats, D.J. Augustin was often lost in the obscurity of a hopeless franchise. A less than favorable Win-Loss record often kept the former Texas Longhorn out of the public eye, in turn causing the masses to miss out on one of the premier talents at the point guard position.
With a move to the contending Indiana Pacers, however, we're all about to learn what his coaches have been telling us since college: D.J. Augustin can flat out ball.
Despite splitting the point guard duties with rookie Kemba Walker and playing alongside a weak supporting cast, Augustin managed to average 6.4 assists per game during the 2011-12 regular season. That placed him in the same ball park as Andre Miller and Ty Lawson, who both shared a similar situation.
They'll soon learn that Augustin has much more in common than splitting the facilitating duties, however, as he makes his leap to elite.
Admittedly, D.J. Augustin is of the shoot-first nature. His 11.1 points per game came on a none-too-impressive 37.6 percent shooting from the floor, which offers cause for concern. The fact is, Augustin had very few alternatives and often found himself in poor position to score.
His career 37.4 percent shooting from distance reflects better on his shooting ability, and his natural habitat of attacking the basket should raise his field goal percentage.
With both David West and Roy Hibbert available to run the pick-and-roll, Augustin should find himself in a promising position next summer.
General managers are always looking for point guards, and D.J. Augustin will prove to be capable of big things as he wrestles for the starting job with George Hill.
Expect big things out of D.J. Augustin and some well-deserved recognition in 2013.
2011-12 Season Averages
14.17 PER, 11.1 PPG, 6.4 APG, 2.3 RPG, 0.8 SPG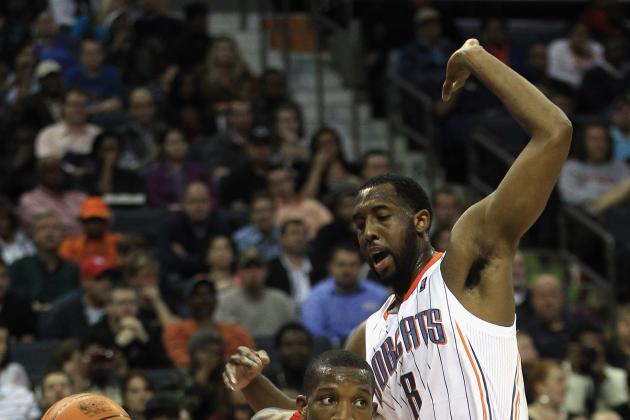 Streeter Lecka/Getty Images

Position: Point Guard
Age: 22
Experience: 2 Seasons
Eric Bledsoe spent a majority of the 2011-12 regular season riding the pine and learning from the veterans who play alongside him. Once the postseason rolled around, however, Bledsoe erupted with consistently brilliant play.
His defensive tenacity, explosive athleticism and underrated ball handling skills were on full display as he carved up the Memphis Grizzlies' and San Antonio Spurs' perimeter.
Bledsoe posted 23 points in Game 1 of the Western Conference Semi-Finals and 17 in Game 4. He shot a combined 18 of 26 during those two games, also swiping three steals in each outing.
Those performances, as well as his all-out energy in the other nine postseason games, seem to have gone unnoticed.
Not only have the Los Angeles Clippers re-signed Chauncey Billups, but they've acquired Jamal Crawford to make playing time at the two guard positions virtually unattainable.
Quite the undervaluing of a premier talent.
In an ideal world, Bledsoe would be the sixth man on a contender. He has the energy necessary to lift his teammates, as well as the defensive prowess to lock down a player at either guard slot.
The question is, when will we finally see Eric Bledsoe receive a true opportunity to shine? As long as Vinny Del Negro is in charge, we may not see it happen in Los Angeles.
2011-12 Season Averages
11.24 PER, 11.6 MPG, 3.3 PPG, 1.7 APG, 1.6 RPG, 0.8 SPG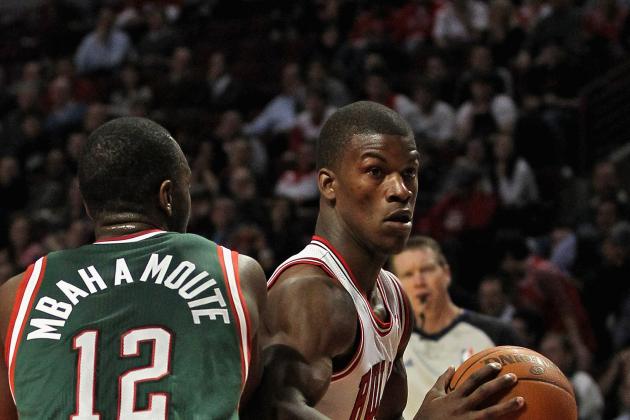 Jonathan Daniel/Getty Images

Position: Shooting Guard
Age: 23
Experience: 1 Season
The first of two second-year players on this list is Marquette alum Jimmy Butler. The hard-nosed defender is as versatile a swingman as any you'll find, which has made him a fan favorite in Chicago.
Unfortunately, the Chicago Bulls need a shooting guard who can pour in 20 points a night. They also have All-Star Luol Deng at small forward. Although Butler one of the most well-rounded players on the roster, playing time simply isn't available.
When Butler is on the floor, he and Taj Gibson work off of each other to perfection. Both are all-out defenders with outstanding motors, thus complementing each other as a potentially elite perimeter-to-paint defensive tandem.
On the offensive end, Butler's ability to handle the ball and pass presents a tough matchup for the average 2 or 3. Although he's not the most polished scorer, he is respectable in every facet of the offensive game.
For that reason, it's fair to question why the Bulls have not appointed him as the second string shooting guard. Instead, they've brought in Marco Belinelli to fill that role.
Until he receives the opportunity he deserves, Butler remains a mainstay on this list.
2011-12 Season Averages
12.48 PER, 8.5 MPG, 2.6 PPG, 1.3 RPG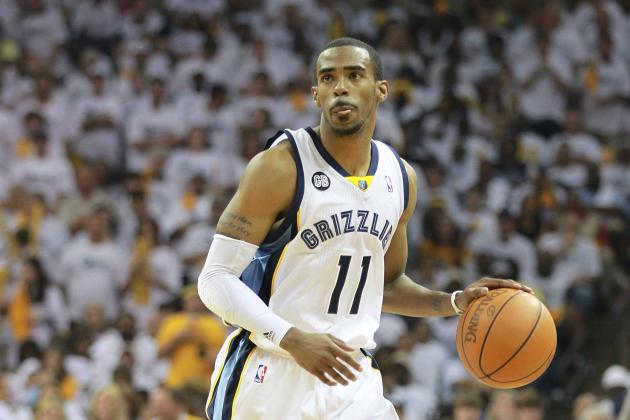 Andy Lyons/Getty Images

Position: Point Guard
Age: 24
Experience: 5 Seasons
Mike Conley Jr. has evolved into one of the top perimeter defenders in the NBA. He's also proven capable of running an offense with efficiency, as he is able to facilitate and shoot at an admirable rate.
Nevertheless, he's hardly ever mentioned in the "top point guard" conversations. Quite the puzzling development for a player who held his own against Chris Paul and the Los Angeles Clippers in last year's playoffs.
Matched up against CP3, Mike Conley Jr. posted averages of 14.1 points and 7.0 assists per game. He also forced Paul into 3.6 turnovers per game, further proving why he is one of the elite defenders at the point guard position.
During the regular season, Conley Jr. was on par with the middle-of-the-pack point guards by averaging 12.7 points and 6.5 assists per game.
What separates him from the average, however, is the fact that the former Ohio State Buckeye averaged 2.2 steals per game, good for second in the NBA.
He also shot 37.7 percent from distance and posted an exceptional 1.02 steal to personal foul ratio.The latter number ranked sixth amongst all NBA players and offers insight into how mature and intelligent of a player Conley has become.
In 2012-13, we may even begin to offer him praise for what he should already be heralded for.
2011-12 Season Averages
16.79 PER, 12.7 PPG, 6.5 APG, 2.5 RPG, 2.2 SPG, 37.7% 3PT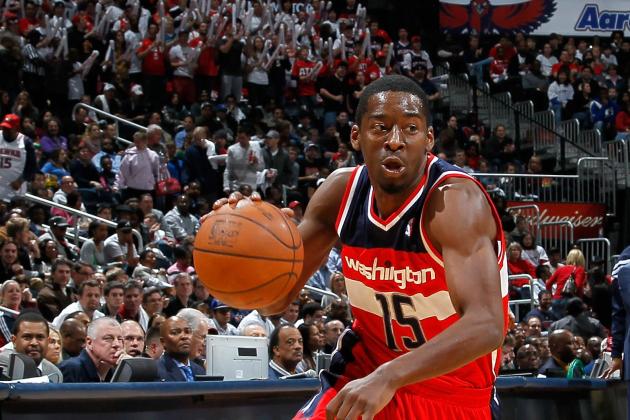 Kevin C. Cox/Getty Images

Position: Shooting Guard
Age: 23
Experience: 2 Seasons
With the arrival of Bradley Beal, the Washington Wizards' fan base has begun to label Jordan Crawford as an expendable commodity. The truth of the matter is Crawford is one of the best up-and-coming scorers in the NBA.
In two short seasons, Crawford has already registered 28 games with at least 20 points. As soon as he develops consistency and a better sense of shot selection, that number is certain to rise.
When Crawford is hot, he is lethal from three-point range and a ferocious slasher. He's a threat to drop in multiple three-point field goals and is more than capable of throwing down a dunk to remember.
Unfortunately, he lacks even the slightest consistency. For every game that he'll drop in three three-pointers, he'll go 1-for-7 the next time out; a direct cause of his dismal 28.9 percent shooting from beyond the arc.
It is not a reflection on his abilities, however, as Crawford is more than capable from that range.
The question at hand is whether or not Crawford can be a starter at the NBA level. He has the potential to be an elite scorer and contributes well in the facilitating category, as well. Jordan Crawford is not the best defender, however, and that area of his game must improve.
Regardless, Crawford should either start or be the sixth man on any team he plays for. Anything less, which some expect in Washington, would be borderline ignorance.
2011-12 Season Averages
14.61 PER, 27.4 MPG, 14.7 PPG, 3.0 APG, 2.6 RPG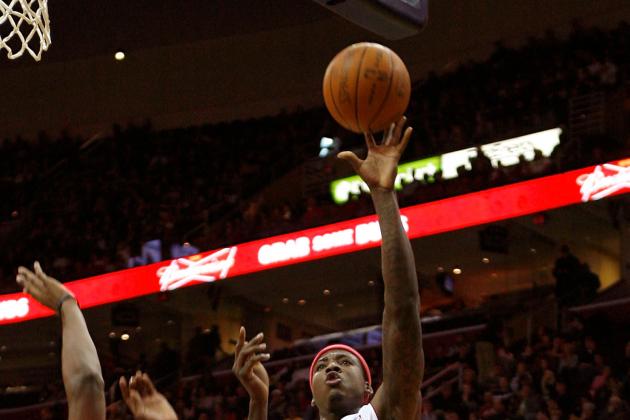 Mike Lawrie/Getty Images

Position: Power Forward
Age: 23
Experience: 2 Seasons
Ed Davis of the Toronto Raptors is the type of player who contributes consistently yet garners no attention. In a frontcourt that includes Andrea Bargnani, Jonas Valanciunas and Amir Johnson, it's not too hard to see why.
With that being said, Davis is the best rebounder on the Toronto Raptors' roster. He averaged 6.6 rebounds per game in 23.2 minutes of play, which equals 13.7 rebounds per 48 minutes.
That number has Davis within the Top 25 rebounders in the NBA.
Admittedly, the southpaw has a long way to go before we can refer to him as a star on the rise. His rebounding ability consistently has improved, however, and his defensive prowess has risen tremendously under head coach Dwane Casey.
Should this progress continue, we could see Ed Davis become one of the better power forwards in the NBA. Until then, he'll remain one of the most underrated and under-appreciated players in the league.
As for what to expect until then, look for Davis to continue to play intelligent basketball. Although he's prone to mistakes that a majority of young players commit, he's a responsible scorer whose motor has become rather consistent on both ends of the floor.
That was especially evident during the final month of the season when he posted six double-figure rebounding games, including a 24-point, 12-rebound performance in the final game of the season. Could momentum carry Davis to an even larger role in the rotation during 2012-13?
If it doesn't, his name would move to the top of this list.
2011-12 Season Averages
14.22 PER, 23.2 MPG, 6.3 PPG, 6.6 RPG, 1.0 BPG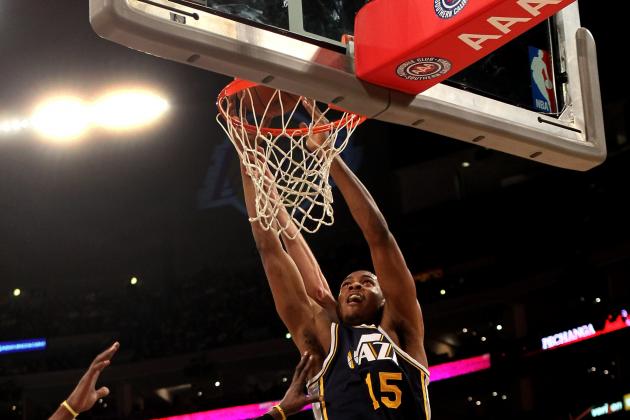 Stephen Dunn/Getty Images

Position: Power Forward
Age: 21
Experience: 2 Seasons
When the New Jersey Nets selected Derrick Favors with the third overall draft choice in the 2010 NBA Draft, many questioned the validity of such a selection. When Favors was named as the key component of the infamous Deron Williams trade, the pressure grew even larger.
In two seasons, Favors quietly has proven the doubters wrong. Nevertheless, he's gone unnoticed and without the praise he deserves.
His 6.5 rebounds per game came on an average of just 21.3 minutes of playing time. That equates to a rate of 14.7 rebounds per 48 minutes, which ranks 15th in the NBA.
Considering Favors plays in a frontcourt that consists of both Al Jefferson and Paul Millsap, that number looms even more impressive.
What's become quite evident about Favors is that he has all the makings of an elite defensive player. His size and build make him virtually impossible to bully in the paint, while the timing on his shot blocking attempts has grown to unbelievable proportions.
His final month of the season should offer insight to that growth. Favors posted double-doubles in seven out of 13 games, despite averaging just 25.1 minutes per game.
His marquee game came against the Phoenix Suns when he posted 13 points, 11 rebounds and five blocks.
It should be noted that this game clinched the Utah Jazz's postseason berth. Talk about clutch.
2011-12 Season Averages
17.05 PER, 21.3 MPG, 8.8 PPG, 6.5 RPG, 1.0 BPG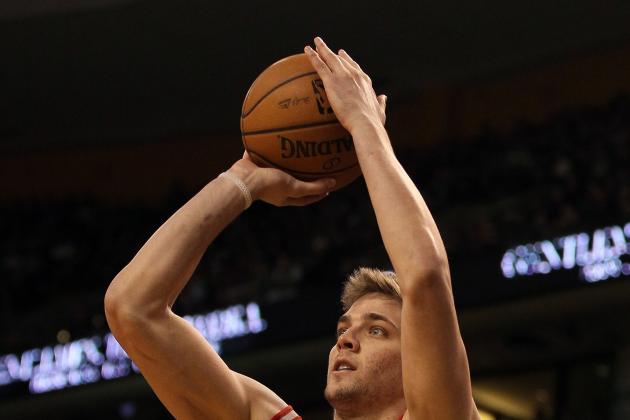 Elsa/Getty Images

Position: Small Forward
Age: 23
Experience: 1 Season
The intention of this article was to focus on players other than those who were rookies in 2012. The fact that Chandler Parsons received such minimal attention for his contributions to the Houston Rockets, however, is criminal.
He may not have the flashy numbers, but Parsons started 57 games and was consistently tasked with defending an opposing team's best scorer. With the defensively inept Kevin Martin alongside him, it's not to difficult to imagine why.
With that task bestowed upon him, Parsons held his own as well as any rookie could. He never backed down from a challenge, and mixed press and distance defense with efficiency.
His 1.2 steals per game were also a great reflection of how sound the former Florida Gator was at forcing turnovers.
As he enters his second year in the league, Parsons remains one of the most under-appreciated players in the game. With such a weak roster in Houston and virtually no chance at making the postseason in 2012-13, don't expect that to change any time soon.
Chandler Parsons is your quintessential coach's favorite that the fans always forget.
2011-12 Season Averages
13.33 PER, 9.5 PPG, 4.8 RPG, 2.1 APG, 1.2 SPG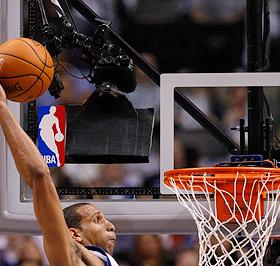 AP Photo/Tony Gutierrez
Position: Forward/Center
Age: 24
Experience: 4 Seasons
Brandan Wright is far from the first name you think of when speaking about players on the rise.
You also don't think of him as the 22nd most efficient player in the NBA, but that's exactly what he was in 2012 as he posted a PER of 21.66; higher than Josh Smith, Pau Gasol, Ersan Ilyasova and Kevin Garnett.
Although he clearly has a long way to go to reach the level of the players listed, Wright has become one of the most reliable players in the game. Despite this elite level of efficiency, his playing time has been inconsistent and offers a poor representation of what he's capable of.
Wright is an excellent finisher in the paint who utilizes his body well as he attacks the basket. Although he is not the most polished offensive player, his shot selection and ball security skills have improved with each passing season.
His career-best true shooting percentage of 63.2 was met by a career-low 6.9 turnover ratio offer support for that claim.
At 24, it's fair to assume that Wright will benefit from the lessons he learned in Dallas a season ago. With the arrival of both Chris Kaman and Elton Brand, however, it appears as if minutes will be scarce this season.
Fortunately, Wright has three frontcourt veterans in Dirk Nowitzki, Kaman and Brand to learn from. Expect big things in 2014.
2011-12 Season Averages
21.66 PER, 16.1 MPG, 6.6 PPG, 3.6 RPG, 1.3 BPG, 61.8% FG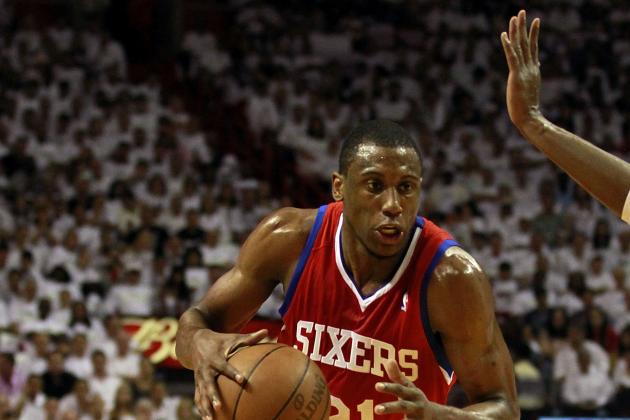 Marc Serota/Getty Images

Position: Forward
Age: 24
Experience: 5 Seasons
Through his five years in the NBA, Thaddeus Young has been one of the most versatile forwards in the game.
He's thrived and gone toe-to-toe with the best of the best at both small forward and power forward, all the while sitting behind Andre Iguodala and Elton Brand for the starter's slots.
With Brand and Iguodala both leaving the Philadelphia 76ers, it appeared as if Young would finally get his chance. With Doug Collins moving Evan Turner to the position of starting 3 and Spencer Hawes to power forward after the addition of center Andrew Bynum, it appears as if Young will remain a reserve.
One can only wonder what it will take for Collins to realize how dominant a force Thaddeus Young can be.
Young is a phenomenal finisher who can finish with both hands. The lefty is one of the best at pulling his opponents out of position, which results in ferocious slams and awe-inspiring lay-ups. One way or another, this power dribbler can blow by any opponent and impress as well as any in transition.
On defense, Young is a matchup nightmare for any scorer. Despite lacking the size necessary to defend a 4, he consistently contains his opponents. Young is excellent at defending the pick-and-roll and has no trouble defending the post or perimeter.
To put it simply, there isn't anything that Thaddeus Young can't do. The question is, when will Doug Collins allow him to showcase what he can accomplish?
2011-12 Season Averages
18.93 PER, 27.9 MPG, 12.8 PPG, 5.2 RPG, 1.2 APG, 1.0 SPG, 0.7 BPG