Stanford vs. Washington: Why Pac-12 Battle Will Be Closer Than You Think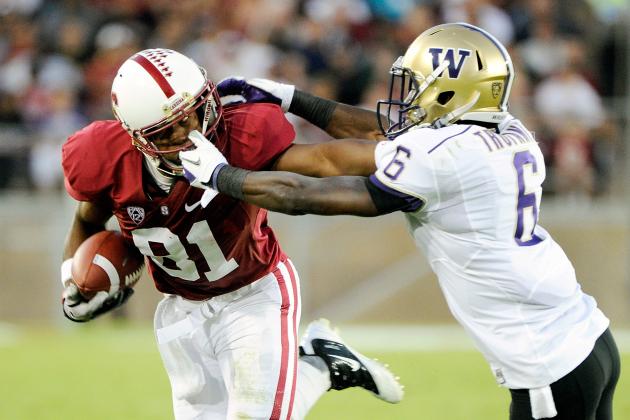 Thearon W. Henderson/Getty Images

While the rest of the college football world is focused on games such as Michigan State-Ohio State and Wisconsin-Nebraska, we have been rewarded with a solid matchup between Stanford and Washington on Thursday night.
The Cardinal are coming off a huge upset victory over USC, while Washington is still trying to get on its feet after an average 2-1 start to the season. With Stanford quickly jumping back into the Top 10 and still looking like a competitive football team, many think this will be an easy victory for head coach David Shaw and company. After all, the school has won six of the last seven meetings against the Huskies.
But, while these two teams may be heading into different directions, here are five reasons why Washington is not a team to sleep on and will give this Stanford club a run for its money.
Begin Slideshow

»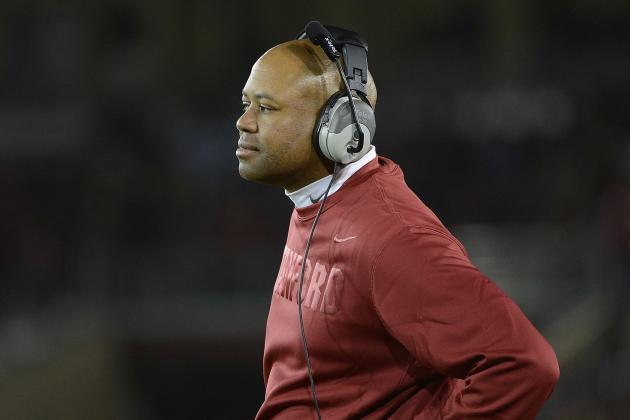 Thearon W. Henderson/Getty Images

The Cardinal have probably played the best game we will see them play all season against USC a couple of weeks ago. Despite racking up eight penalties, missing field goals and turning the ball over a couple of times, Stanford did a good job on both sides of the ball.
As far as Washington is concerned, this team has gotten off to a much slower start to begin the 2012 season. But if there is anything we know for sure, it is that the Huskies are a much better team than what they have shown the first month of the season. Just ask LSU head coach Les Miles after his Tigers gave Washington a 41-3 beat down in Week 2.
"That team is good. They have a great coach. They're going to get it in gear and beat somebody big this year. You watch," Miles said, according to Ted Miller of ESPN.
There is no better way to backup those words than upsetting a Top 10 team on a Thursday night, when the entire college football world is watching. Both teams have had over a week to prepare; Stanford will likely receive the best shot that the Huskies have to offer tonight.
Christian Petersen/Getty Images

Despite Stanford averaging 30 points per contest, this is not an offense that you can count on consistently to move the football. Andrew Luck is no longer on this football team and neither are many of the other weapons that helped average nearly 500 yards of total offense last season.
Stanford is barely converting 30 percent of their third downs, the offense is averaging less than 20 first downs a game, the passing game is ranked 90th in the country, while the running game is ranked 77th.
Quarterback Josh Nunes is completing only 53 percent of his passes and has thrown three combined interceptions in the last two games.
Washington has yet to become that scoring machine many thought the Huskies would be this season, but if there is ever the perfect time for a breakout game, it is certainly tonight. Stanford better do a better job of executing on the offensive side of the ball or we could witness an upset in the Pac-12 this evening.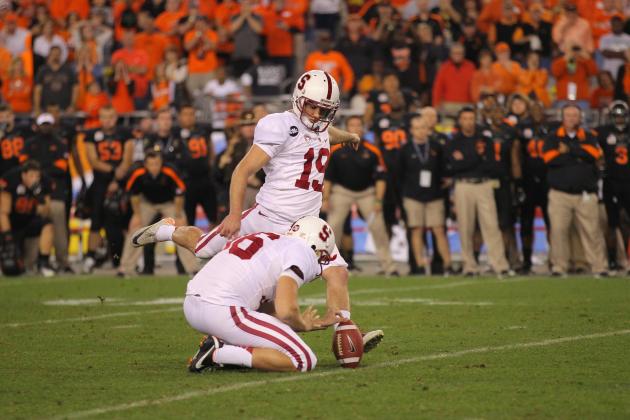 Doug Pensinger/Getty Images

Poor special teams play likely cost Stanford a chance to win the BCS Fiesta Bowl last season. Well, that horrible special teams play has certainly carried over to this season.
Kicker Jordan Williamson has only made five of his nine field goal attempts and has also missed an extra point. In the upset victory over USC, the junior kicker missed all three of his field goal attempts, keeping the game tighter than it should have been.
With a Stanford offense that struggles to move the football consistently (Total offense ranked ninth in the Pac-12), the Cardinal need to take advantage of any way to put points on the board. And with a Washington offense that has the ability to strike quickly and often, the special teams better improve because it could be the difference in this ball game.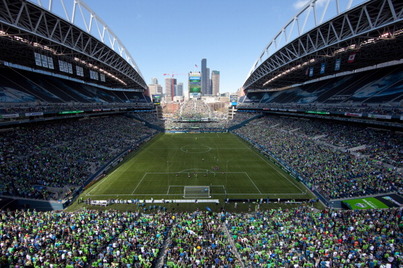 Otto Greule Jr/Getty Images

When you are a team that is trying to pull off an upset, there is nothing better than knowing you have the home crowd behind you. But Washington won't just have your typical average crowd cheering them on; this game will be played in CenturyLink Field, which arguably provides the best home atmosphere in all of football.
Good thing is that this game will not have replacement referees, but it will include over 60,000 screaming Husky fans that are hoping to see that marquee victory. Another thing to note is that this will be the first away game for first-year starting quarterback Josh Nunes. As far as loudness is considered, there is not a tougher place to play than where he will be playing tonight.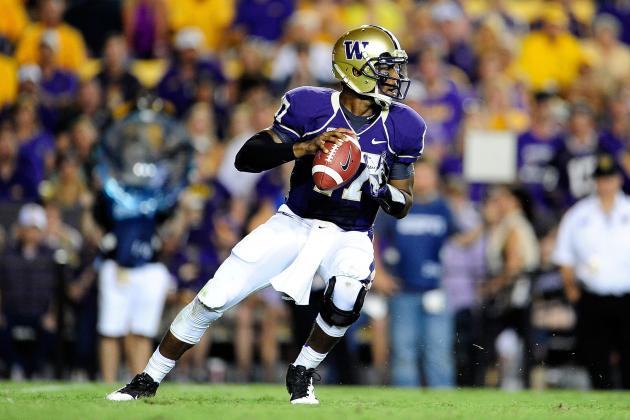 Stacy Revere/Getty Images

This is a chance for Stanford running back Stepfan Taylor to really emerge as a Heisman candidate, but he is not the only one looking to have a big game. Quarterback Keith Price is one of the more underrated quarterbacks in college football, and is still looking to have that breakout game.
After throwing for over 3,000 yards and 33 touchdowns last season, the junior hasn't gotten off to the fast start that many expected of him in 2012. His completion percentage has dropped to 62 percent, Washington is 11th in the Pac-12 in passing offense and he is only completing 50 percent of his passes in the fourth quarter.
With this being a home game for the Huskies and Price having yet to play a game he is capable of, this is his chance to show the college football world that he is beginning to arrive. With some of the performances he had last season, I wouldn't bet against the Washington signal-caller.