SEC Football: Picks for Every Week 5 Game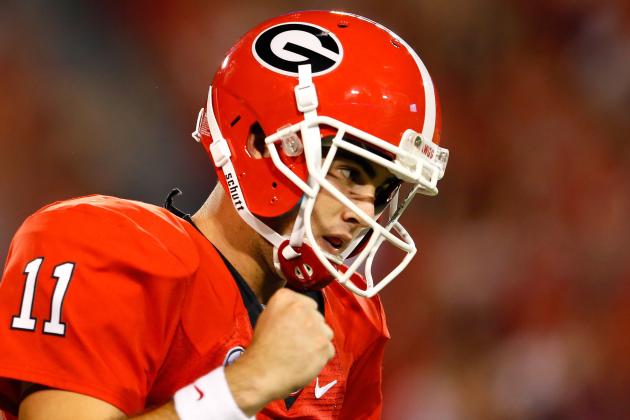 Kevin C. Cox/Getty Images
Georgia QB Aaron Murray
The first round of SEC bye weeks means that the conference slate for Week 5 is relatively thin.
What it lacks in quantity, it makes up for in quality.
Texas A&M will play its first SEC West game as an SEC member against the reeling Arkansas Razorbacks, while Tennessee travels to Athens to play the Georgia Bulldogs in the biggest game of Vols head coach Derek Dooley's career.
Who are your winners and losers in the SEC in Week 5? My picks are in this slide show.
2012 Record: 38-7 (14-23 ATS)
All lines courtesy: VegasInsider.com
Begin Slideshow

»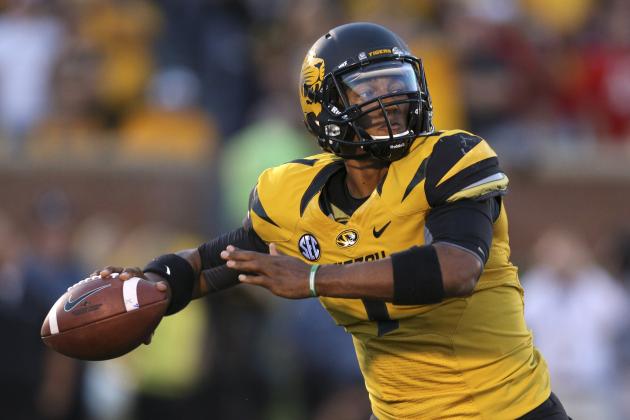 Ed Zurga/Getty Images
Missouri QB James Franklin
Saturday, Sept. 29 at noon ET
Sorry, Missouri, but no SEC program is: A) supposed to play at UCF and B) be underdogs against UCF.
Ever.
But that's the position that Missouri finds itself in, fresh off a 31-10 dismantling at the hands of South Carolina in its first SEC road game.
The Tigers have to be feeling a bit of buyer's remorse right now. Their first two SEC games were against two of the better defenses in the conference.
While those contests didn't end the way they hoped, head coach Gary Pinkel and offensive coordinator David Yost can use them as learning experiences, because the rest of the SEC is sure to follow the same game plan against the potent Tiger attack.
Quarterback James Franklin and running back Kendial Lawrence will get back to track against a flimsy UCF run defense, and the Tigers will win in a shootout.
Score Prediction: Missouri 38 - UCF 35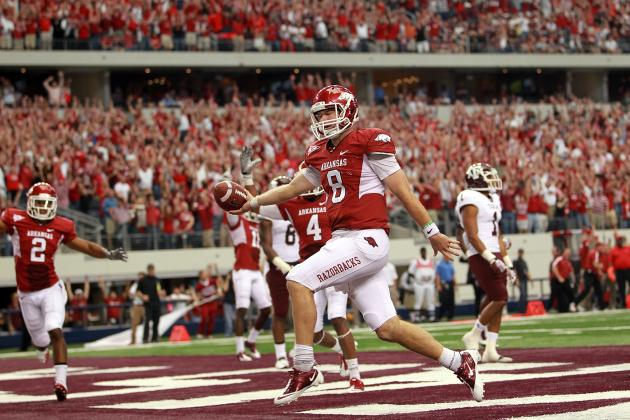 Ronald Martinez/Getty Images
Arkansas QB Tyler Wilson
Saturday, Sept. 29 at 12:21 p.m. ET
Raise your hand if you thought Texas A&M would be nearly a two-touchdown favorite over Arkansas this time last month.
(Put your hand down...no you didn't.)
The Razorback season of tumult makes a trip to College Station on Saturday for a date with the Aggies, in a game that both teams desperately needs to win.
Arkansas sits at 1-3 and is in need of any kind of spark to get its season turned around, and a road win over Texas A&M would certainly qualify as a spark.
For the Hogs to stand a chance, they desperately need to play disciplined defense. While everyone points to head coach John L. Smith's antics and quarterback Tyler Wilson's injuries as the primary reasons why Arkansas has struggled, it's the offensive line and defense that has let Arkansas down—and those were Bobby Petrino problems too.
Texas A&M has a dynamic offense led by quarterback Johnny Manziel and currently lead the SEC with 16 sacks, despite playing one fewer game than the rest of the teams in the conference.
This one will get ugly.
Score Prediction: Texas A&M 42 - Arkansas 17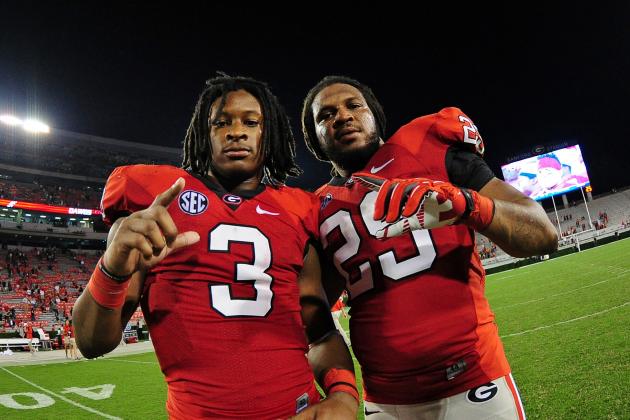 Scott Cunningham/Getty Images
Georgia RB Todd Gurley (left) and LB Jarvis Jones (right)
Saturday, Sept. 29 at 3:30 p.m. ET
This is a statement game for both teams.
For Tennessee, it's the biggest game of head coach Derek Dooley's career. It's a very volatile atmosphere in Knoxville right now. The high of the hot start of the season has been replaced by the low of blowing a second-half lead at home against Florida and struggling with Akron.
With a bye week and games vs. Mississippi State, Alabama and South Carolina coming up, the Vols desperately need to turn things around vs. the Bulldogs.
Rajion Neal looks like a capable running back and the potent passing attack led by quarterback Tyler Bray certainly can make this interesting, but the Vols have been outscored 50-47 in the last five quarters by Florida and Akron, so stopping Georgia will be Job No. 1.
The Bulldogs come in with an underrated offense but a lot of momentum, after throttling Vanderbilt last weekend. Todd Gurley has established himself as an every-down back, and the return (we assume) of safety Bacarri Rambo and linebacker Alec Ogletree should translate to more offensive snaps for cornerback/wide receiver Malcolm Mitchell.
Georgia was picked as the SEC East favorite due in large part to the schedule, but a statement can be made with a big win over an improved Tennessee team.
Score Prediction: Georgia 31 - Tennessee 20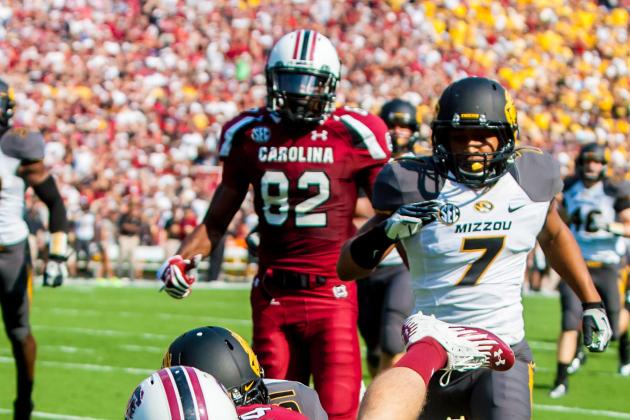 Jeff Blake-US PRESSWIRE
South Carolina QB Connor Shaw
Saturday, Sept. 29 at 7 p.m. ET
South Carolina quarterback Connor Shaw was outstanding last week, finishing the day vs. Missouri 20-of-21, which included connecting on his final 20 passes of the afternoon.
While we all marveled at his efficiency, he has yet to establish a downfield threat, and that's something that South Carolina needs to do this weekend vs. Kentucky.
I suppose it might not matter much if Ace Sanders continues to return punts to the 50-yard line, but you can't count on that. Expect a little more fun 'n' gun out of Spurrier this week.
On the other side of the ball, Kentucky ranks 12th in the SEC in total offense and is having all kinds of quarterback issues. Joker Phillips expects Maxwell Smith to return after spraining his AC joint.
If he can't, Morgan Newton proved that he can't be relied upon against Florida and I doubt Kentucky wants to send true freshman Jalen Whitlow out against South Carolina's defense.
South Carolina will cruise.
Score Prediction: South Carolina 45 - Kentucky 9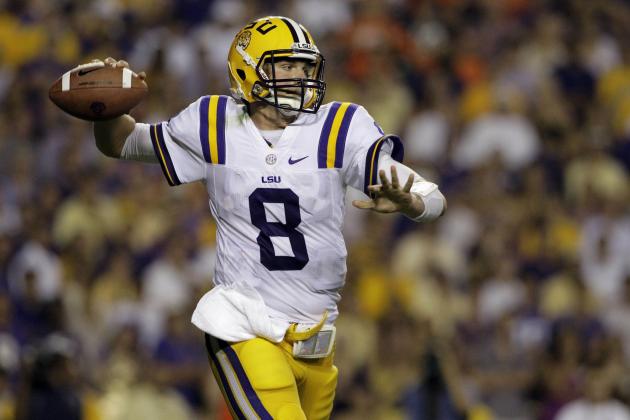 John Reed-US PRESSWIRE
LSU QB Zach Mettenberger
Saturday, Sept. 29 at 7 p.m. ET
Usually, this kind of out-of-conference cupcake would be a snooze-fest.
In the case of LSU...well...it still is.
But that doesn't mean that it's useless, because after escaping Auburn with a 12-10 win last week, LSU has some things to work on—particularly its pass protection and quarterback Zach Mettenberger's decision-making.
Hindsight is 20/20, but if you caught Tiger head coach Les Miles in an honest moment, I bet he'd tell you that he should have given Mettenberger more of the playbook in the first three games, because the junior college transfer looked lost on the Plains.
But it's nothing to worry about until it becomes a trend, and LSU's job this week is to ensure that doesn't happen.
Mettenberger will light up Towson and the Tigers will roll.
Score Prediction: LSU 55 - Towson 7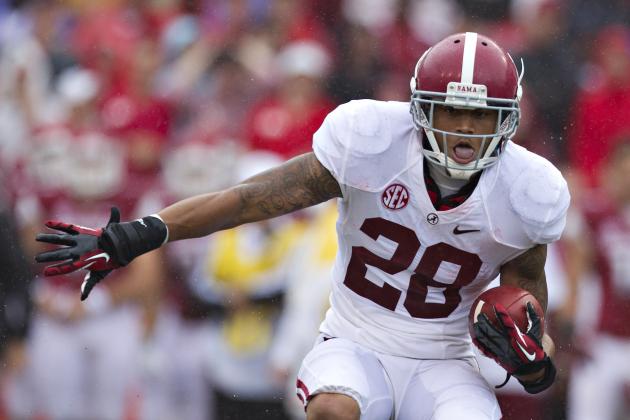 Wesley Hitt/Getty Images
Alabama DB Dee Milliner
Saturday, Sept. 28 at 9:15 p.m. ET
The Week 5 slate closes with a late-night tilt in Tuscaloosa between the 3-1 Ole Miss Rebels and the 4-0 Alabama Crimson Tide.
Obviously, Vegas isn't impressed considering the line for this one is Alabama by 30. That's probably a bit too high.
Ole Miss is a potent offense that can sling it around the yard, especially if quarterback Bo Wallace comes back at 100 percent following the shoulder injury he suffered vs. Tulane.
Head coach Hugh Freeze told the Jackson (Miss.) Clarion-Ledger that Wallace "will try to go" on Saturday. If he does, that gives Ole Miss a puncher's chance to keep it close, because he's the straw that stirs the drink.
Ole Miss can hit some home runs and hang around, but Alabama will pull away.
That 30-point spread is too much though. Even if Alabama dominates from beginning to end, the Tide will shut it down before reaching that point.
Score Prediction: Alabama 35 - Ole Miss 10