Philadelphia Flyers: Best Goal Scorers in Franchise History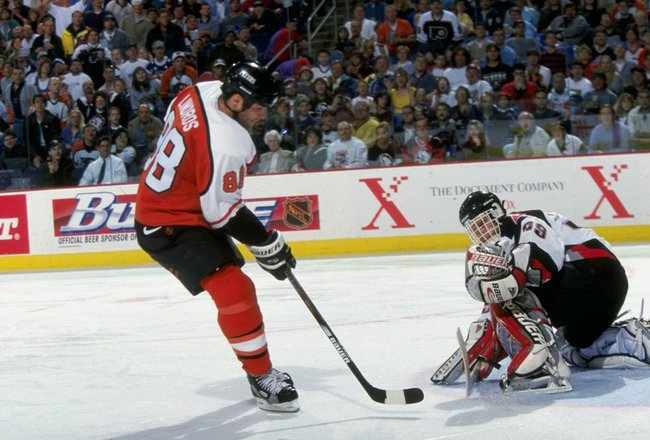 Craig Melvin/Getty Images
Outside of the Original Six, the Flyers are one of the most storied franchises in the NHL. Their successes and failures loom large across the history of the game.
As is the case with most teams, the goal scorers tend to be the players that get the glory.
Sure, the Flyers have had solid goaltenders like Bernie Parent and Ron Hextall, defensemen like Mark Howe, grinding leaders like Rod Brind'Amour and fighting legends such as Dave Schultz, but it's the players that put the puck in the net that make the money and get the brightest light shone upon them.
For a franchise that has been around since the late 1960s, the Flyers have surprisingly never had a player hit the 500 goal mark wearing orange and black, and only one player has ever topped the 400 goal mark.
What follows is the list of the greatest goal scorers that the Flyers have ever seen.
Jeff Carter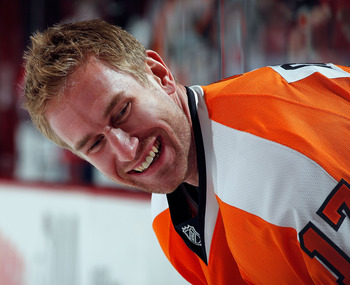 Paul Bereswill/Getty Images
Jeff Carter was marketed as a key player for the Philadelphia Flyers—a player, along with Mike Richards, that was going to lead the Flyers to the Stanley Cup.
We all know how that turned out. Richards was traded to the Kings and Carter as traded to the Blue Jackets in June of 2011. Another trade sent Carter to the Kings, and in a cruel twist of fate for the Flyers, both players won the Cup with the Kings in 2012.
Why were expectations so high for Carter? Well, he was a goal scorer in junior and by all indications was going to carry that talent with him to the NHL.
For the most part, he did, scoring 181 goals with the Flyers. The problem with Carter was that he took a lot of shots to score those goals, connecting at a rate of 10.73 percent, not a terribly high percentage for a player counted on to score goals.
Bobby Clarke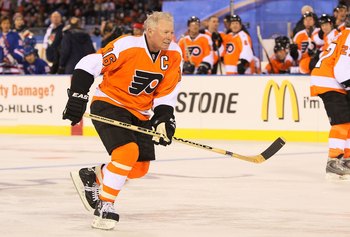 Jim McIsaac/Getty Images
Bobby Clarke is recognized as one of the best players and leaders to ever play in the NHL.
The thing with Clarke was that while he had some skill, he was not an overwhelming talent. Instead he was a force of nature—tenacious, strong-willed and fearless—the type of player that inspired others. The perfect leader.
He did score goals, 358 of them in 1144 games for the Flyers to be exact, but that's not what he is most remembered for.
Instead, he is the standard by which every leader and captain is judged by. Since he wore the "C," not one player has been able to come close to his level. Sure, some have been more talented and some have scored more goals, but none have inspired the team or the city the way No. 16 did.
Simon Gagne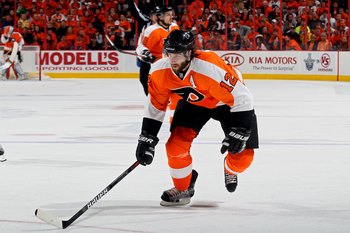 Jim McIsaac/Getty Images
Simon Gagne was also a member of the 2012 LA Kings team that won the Stanley Cup, a fact that has to be bittersweet for the Flyers.
Gagne was drafted in the first round of the 1998 NHL entry draft by the Flyers and broke into the NHL during the 2000 season, posting 20 goals and earning a spot on the NHL All-Rookie team.
Gagne would never play a full 82-game schedule with the Flyers, but he would rack up 259 goals during his tenure with the Flyers, a long relationship that ended with Gange's trade to the Tampa Bay Lightning in July 2010.
The trade was probably not one the Flyers wanted to make, but one that they had to pull the trigger on, as they found themselves over the salary cap.
Eric Lindros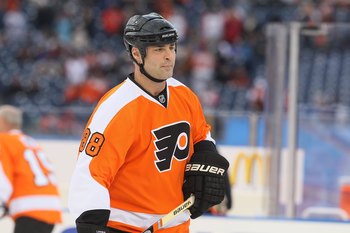 Jim McIsaac/Getty Images
Eric Lindros was supposed to be the next big thing when he made his NHL debut during the 1993 season. He was, after all, a player that scored 71 goals and 78 assists in 57 games for the Oshawa Generals of the OHL.
Lindros charged out of the gate hot, scoring 41 goals in his rookie season and earning a berth on the NHL All-Rookie team.
He would then score 44 goals in his sophomore year, but the hard-charging style of play that allowed him to run over players in the OHL was met with some resistance in the NHL, most notably by players such as Scott Stevens and Darius Kasparaitis—players that let him know that he was now playing against full-grown men.
That resistance, coupled with his reckless play, resulted in a lot of injuries. The most games Lindros ever played in a season in Philly was 73, during the 1996 campaign, a year in which he scored a career-high 47 goals.
All told, Lindros would pot 290 goals in the orange and black, a number that was surely lower than what the team expected when they traded Peter Forsberg, Ron Hextall, Chris Simon, Mike Ricci, Kerry Huffman, Steve Duchesne, two first-round picks and $15 million cash to obtain his rights.
John LeClair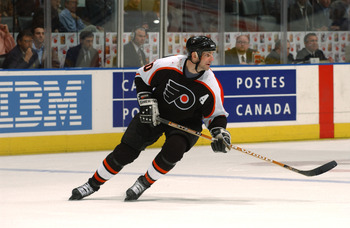 Dave Sandford/Getty Images
John LeClair was not known as a goal scorer when he was obtained by the Flyers in a trade with the Montreal Canadiens. In fact, he had only scored 49 goals for Montreal over parts of four seasons.
He would top that number in his first full season alone, putting up 51 goals in 1996. LeClair would actually score 50-plus goals in three consecutive seasons, following those years with two seasons of more than 40 goals.
Was LeClair a pure goal scorer? Nope. But once he planted himself in front of the net he was hard to move—a "garbage" goal scorer, but a goal scorer nonetheless. In the end he would score 333 goals for the Flyers, netting most of those while playing on the "Legion of Doom" line with Eric Lindros and Mikael Renberg.
Tim Kerr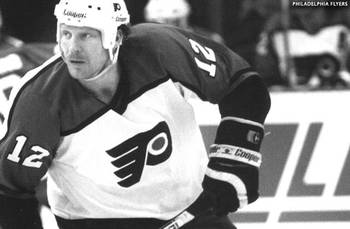 CSNPhilly.com
Another player that played in the "dirty areas" was Tim Kerr. Kerr, like LeClair, would park himself in front of the net and score his goals from in close, taking a tremendous amount of punishment in the process and missing significant time due to injury.
When he was healthy, however, he was a monster. He had back-to-back seasons of 54 goals and back-to-back seasons of 58 goals for the team from 1984 through 1987.
Kerr scored a total of 363 goals for the Flyers.
Mark Recchi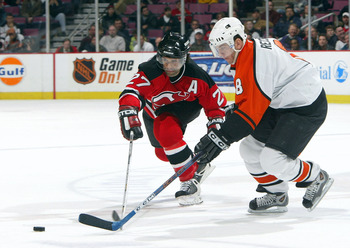 Ezra Shaw/Getty Images
Mark Recchi would spend time with seven NHL teams over his long and illustrious career, and the fans of any team that he spent a significant amount of time with fell in love with him.
He was never the biggest player on the ice, but was always one of the most talented.
Recchi had two stints with the Flyers, scoring 232 goals with the team and putting up the only 50-goal scoring season of his career while wearing the orange and black during the 1993 season.
Danny Briere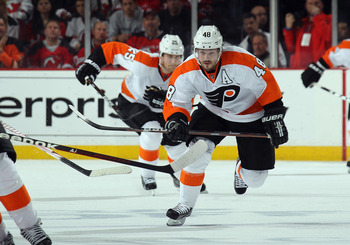 Bruce Bennett/Getty Images
Danny Briere joined the Flyers for the 2008 season. While he has never really lit it up during the regular season, he has proven his worth during the playoffs, where he seems to find another gear.
Briere showed that gear during the 2012 postseason. Having scored only 16 goals in 70 regular season games, Briere went on to net 8 goals in just 11 playoff games.
Some Flyers fans may bemoan the salary that the team pays Briere, but you won't hear a peep out of those Flyers supporters when the playoffs roll around.
Reggie Leach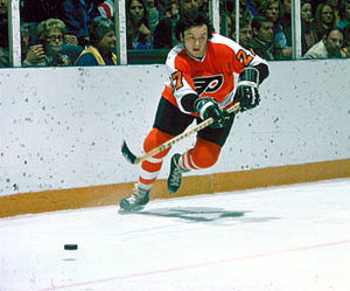 Hockey Hall of Fame
It's hard to imagine how good Reggie Leach could have been if he had fully applied himself during his early years in the NHL.
Leach was probably the most talented player the Flyers had during the 1970s. He was a natural goal scorer with a great shot. Unfortunately, he was his own worst enemy when it came to his affinity for drinking and not working as hard as he could or should on his game.
His best year came in 1976, when he scored 61 goals and added a record 19 during the playoffs. After that, he would more often than not score between 25 and 35 goals, with one 50-goal season thrown in there.
Leach was pretty good on talent alone—had he given more of an effort or been able to overcome his off-ice issues he could have been one of the all-time greats.
Brian Propp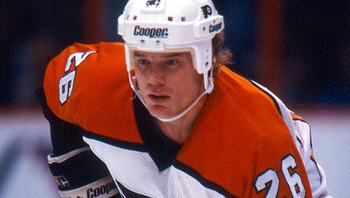 Flyers.com
369 goals in 790 games puts Brian Propp in the No. 2 all-time position in Flyers goal scoring.
Propp only scored less than 30 goals in two seasons for the Flyers. The first came in 1988, when he netted 27, and the second was in 1990, a season in which he was traded to the Boston Bruins after playing 40 games for the Flyers.
Propp was a consistent goal scorer that could be counted on to play in any situation and score.
Rick MacLeish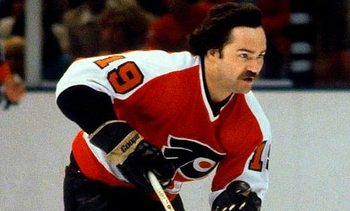 reclinergm.com
Rick MacLeish was one of those naturally gifted players that some teammates and almost all opponents hate.
Opponents detested him because he seemed unstoppable and could move towards the net and score with ease.
Teammates had issues with him because he sometimes didn't work as hard as they believed he could, relying mostly on his natural talent—talent that allowed him to score 328 goals for the Flyers.
Bill Barber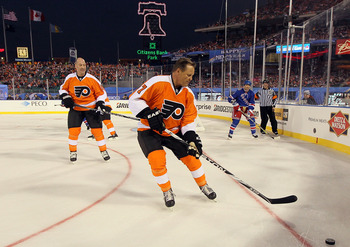 Jim McIsaac/Getty Images
Bill Barber played his entire 903-game NHL career with the Flyers. During those games, he amassed 420 goals. He is the only player in Flyers history to hit 400 or more goals.
The thing with Barber is you can't really pin down what made him great. Maybe it was his wrist shot, maybe it was his ability to be at the right place at the right time, maybe it was the fact that he played on a line with Reggie Leach and Bobby Clarke and maybe it was a combination of all of the above.
Whatever it was that made him great also made him the best goal scorer the Flyers franchise has ever seen.
Keep Reading

Philadelphia Flyers: Like this team?