Southampton FC: 7 Reasons Why the Saints Will Avoid the Drop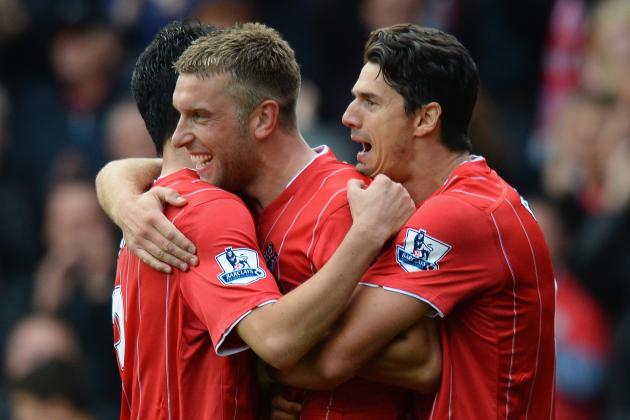 Mike Hewitt/Getty Images
Southampton will hope celebrations like this become more common as the season goes on.
What a difference a week makes.
A week ago, the South Coast was filled with doom and gloom and rumors were swirling about Nigel Adkins being on the hot seat as Southampton sat at the foot of the table with no points from their first four games.
One week later after a 4-1 victory over Aston Villa, things are looking up. Southampton are out of the relegation zone and are even ahead of Liverpool in the table.
While there is a long way to go, there are plenty of reasons why you should expect to see Southampton stay out of the drop zone and in the Premiership next season.
Begin Slideshow

»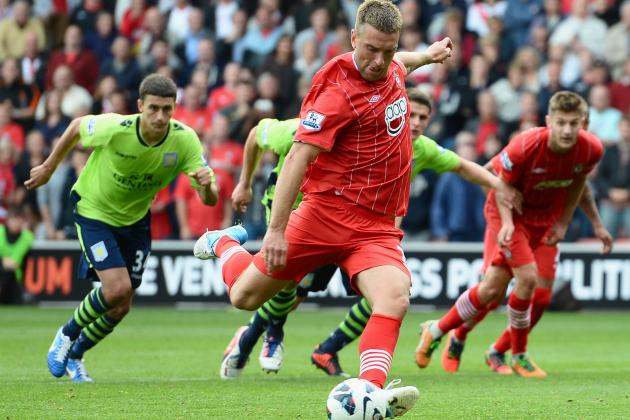 Mike Hewitt/Getty Images
Rickie Lambert already has four goals in five Premier League matches.
Sure, Rickie Lambert tore up the lower leagues. But there's no way a 30-year-old Premier League rookie would continue his torrid goal-scoring pace. Right?
Think again, Lambert is actually exceeding the pace he set with Southampton in the lower leagues. Since signing with Southampton in 2009, Lambert scored 88 goals in 158 appearances, a rate of 0.55 goals per match in his three years in League One and the Championship.
In his five Premier League appearances, Lambert has already racked up four goals. And the goals haven't all been against the minnows, Lambert has breached the defenses of Manchester City and Manchester United. His four goals only trail Robin van Persie's five in the race for the Golden Boot.
While expecting Lambert to continue his nearly goal-per-game pace in the Premier League might be a bit much to ask, 20 goals doesn't seem to be out of the question. Considering Southampton only paid £1 million for him back in 2009, Lambert might be considered one of the great steals in football history.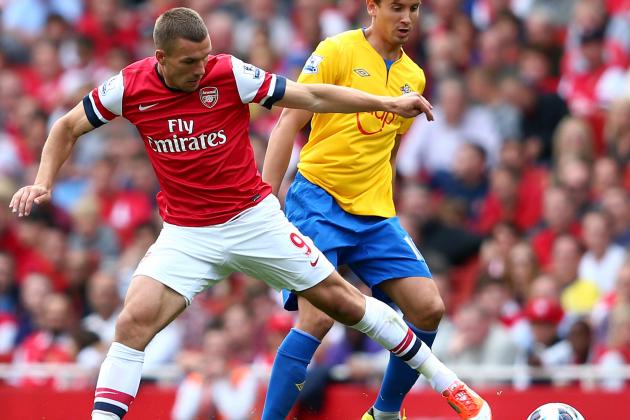 Clive Mason/Getty Images
Gaston Ramirez has shown his class since donning a Southampton jersey.
While Gaston Ramirez's Southampton career has only totaled 135 minutes on the pitch, the class the Uruguayan brings to the attack is obvious.
While Ramirez hasn't found the scoresheet himself yet, he's created chances for his teammates. The game-winning goal by Nathaniel Clyne in last week's 4-1 victory was set up by Ramirez with a deft, one-touch, over-the-top through ball.
The third goal in the Aston Villa match also had Ramirez's fingerprints on it. After Adam Lallana won a header in midfield, Ramirez flicked a pass out to a streaking Rickie Lambert with a half-volley. Lambert then found Jason Puncheon cutting into the area, and Puncheon's strike was deflected in for an own goal.
It would be easy for a No. 10 to just hang out in the offensive half and rarely help out in the defensive third, but Ramirez has shown the willingness to help out on defense. Ramirez also tracks back deep in the midfield to get an attack started.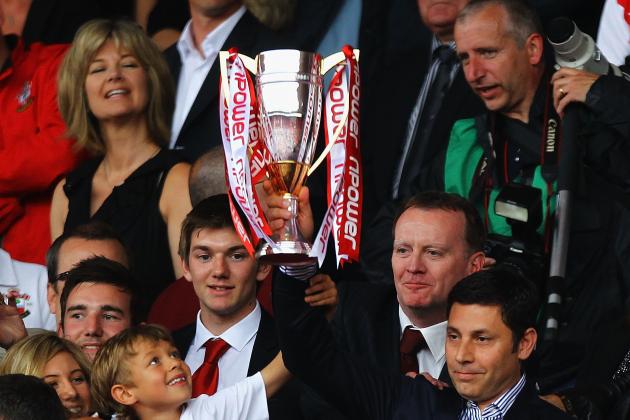 Matthew Lewis/Getty Images
Nicola Cortese seems to have the unlimited ability to spend the fortune of Markus Liebherr's estate.
At the beginning of the season, there was a bit of a question about the amount of money Southampton chairman Nicola Cortese would have available to invest from the late Markus Liebherr's estate. The estate, which still owns the club, was reported by The Telegraph to be worth €3 billion (£2.38 billion or $3.86 billion).
Any doubts about the limits of investment should be set aside after Southampton's transfer deals in the summer. According to transfermarkt.co.uk, the total amount spent on Gaston Ramirez, Maya Yoshida, Emmanuel Mayuka, Paulo Gazzaniga, Nathaniel Clyne, Steven Davis and Jay Rodriguez totaled £33.44 million. A staggering number considering Southampton's previous record signing was £4 million for Rory Delap in 2001, a record that was broken twice in a matter of weeks.
Nigel Adkins and Cortese have been quick to patch any holes in the lineup that may be weak. The free-agent signing of goalkeeper Artur Boruc last Saturday to challenge Kelvin Davis and Paulo Gazzaniga would confirm that. If there are areas that need strengthening in the January window, Cortese won't hesitate to splash the cash to boost the squad.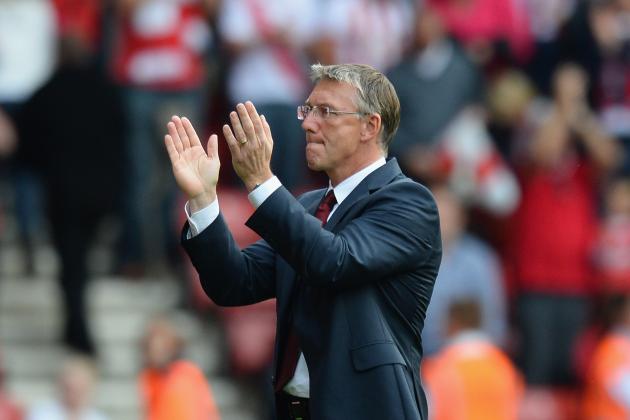 Mike Hewitt/Getty Images
Nigel Adkins hasn't taken a conservative approach to his tactics in the Premier League.
Despite the slow start, Nigel Adkins has been relishing his opportunity to manage in the Premier League.
Most managers would take a more conservative approach to their first matches in the Premier League, keeping things tight and hoping to keep things respectable. Nigel Adkins has done the opposite and has been known to throw out a 4-3-3 from the start.
Adkins got his start with Bangor City in the Welsh Premier League, and won the title twice before leaving the club in 1996. Since being promoted from Physio to Caretaker Manager to full-time Manager at Scunthorpe in 2006-07, Adkins has guided Scunthorpe and Southampton to promotion four times in six years.
Adkins didn't start at the bottom, but it was pretty close to it. When you don't have Premier League pedigree, you relish the opportunity when you get it.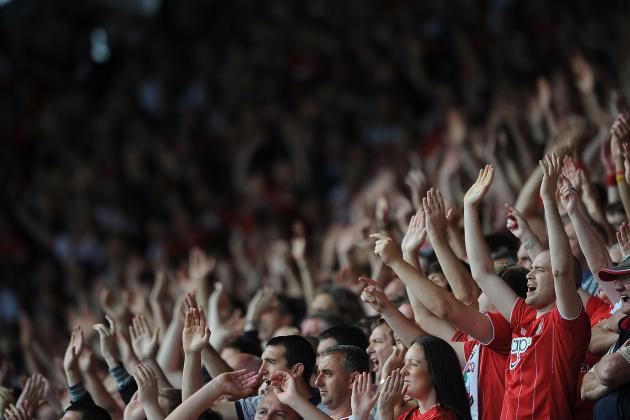 Christopher Lee/Getty Images
Southampton fans have stuck with the team during their seven-year absence from the Premier League.
Southampton's St. Mary's Stadium is in the bottom half of the Premier League as far as seating capacity goes, but don't let the small size fool you into thinking the passion of the fan base isn't there.
The capacity of just over 32,600 is actually quite large considering the Southampton urban area itself only has around 304,000 people. That means 10 percent of the area population is showing up for a match, given Southampton's current average attendance of 30,642.
The fans are quite supportive, even when times aren't so good. Last season in the Championship, Southampton were second in average attendance, with 26,419 people turning up per match.
Despite the four straight losses to start the league campaign, fans were heard chanting "There's Only One Nigel Adkins" in support of the manager. Adkins twice rose from the bench to applaud the fans during the match thanking them for the support.
When you are in danger of losing the club you love, as Southampton fans were in danger of in 2009, you treasure what you have even more. In administration, relegated to League One and within weeks of facing a winding up order, Southampton were rescued by Markus Liebherr. Four straight losses is a drop in the bucket compared to extinction.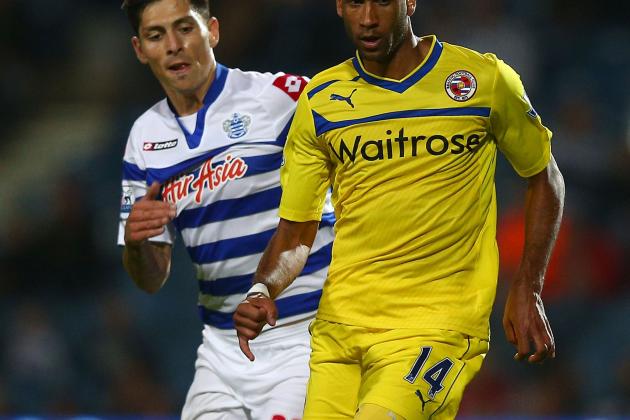 Clive Rose/Getty Images
Facing off against clubs like Queens Park Rangers and Reading shouldn't intimidate Southampton.
When you look at the entire Premier League, there are some clubs that just don't have the reputation of Southampton. Southampton was a founding member of the Premier League and have Premier League-level training facilities and one of the best youth academies in England.
Clubs like Stoke City, Norwich City, West Bromwich Albion, Fulham, Wigan Athletic, Reading, Swansea City and Queens Park Rangers don't exactly have reputations that strike fear into a side. Add in the recent struggles of Aston Villa and Sunderland, along with fellow promoted side West Ham United, and that's 11 teams that Southampton should have confidence in getting points off when they face them.
That's not saying Southampton are going to finish ahead of all of those 11 sides. But the primary goal this season is to finish ahead of three of those sides. With the talent and resources Southampton have, that should not be too big of an ask.
If it comes down to the last day of the season, Southampton are famous for pulling off the great escape.
The most recent great escape actually kept Saints in the Championship. In 2008, they needed a win to prevent a drop into League One, and Southampton defeated Sheffield United 3-2 on the strength of two Stern John goals to stay up.
In 1999, It was Marian Pahars who scored both goals at The Dell to keep the Saints up by defeating Everton 2-0. In 1996, a draw against Wimbledon gave Southampton enough points to stay in the top flight.
If the Saints need three points on the final day, it seems set up for another great escape. Southampton will close their season at St. Mary's against Stoke City, who will likely have little to play for.
Sometimes it doesn't hurt to have some divine intervention.