NBA Southwest Standings 2012-13: Why San Antonio Spurs Will Take Division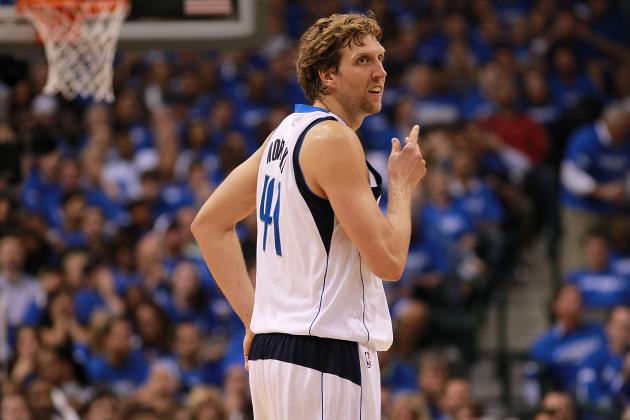 Ronald Martinez/Getty Images

The NBA's Western Conference is highly competitive and of its three divisions, the Southwest is the one full of the most talent.
Of the five teams within that division, three made the postseason last year. Even more impressive, four teams finished over .500. Nothing against the Pacific or Northwest Divisions, but the Southwest has a talent level that is hard for any division in the NBA to match.
Best of all—thanks to the equal revenue sharing legislated by the new CBA—each of these five teams has a legitimate chance of contending for the playoffs in 2012-13. Not every team will make the postseason, but each will certainly put up a fight.
Keep in mind, the Southwest is home to the Dallas Mavericks, just two years removed from their first NBA championship. Now that Dirk Nowitzki once again has a pretty reliable center in Chris Kaman and a good supporting cast on top of that, there's no reason to believe that the Mavs won't once again make some noise this season.
Of course, being that this is the Western Conference, Dallas making the playoffs out of the Southwest is anything but guaranteed. In fact, the final Southwest standings may have the biggest surprises in the entire NBA.
Begin Slideshow

»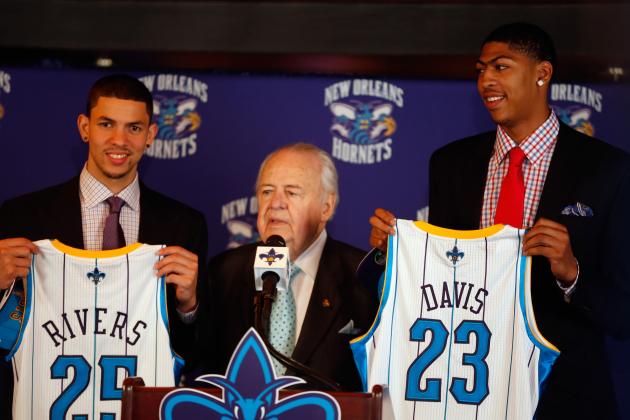 Chris Graythen/Getty Images

2011-12 Record: 21-45
Last year was a tough one for the Hornets, as it was their first without star point guard Chris Paul.
To add insult to injury, the main piece of the trade for the Hornets, guard Eric Gordon, appeared in just nine games due to various injuries. Yet, in the games in which he did appear, Gordon was very impressive, and the team's future looked even brighter once Tom Benson purchased the team towards the end of the season.
Using the first overall pick in the draft on center Anthony Davis and the 10th overall on guard Austin Rivers has surely given the fans more reasons to be optimistic, but the truth is that the Hornets aren't ready to compete for a playoff spot just yet. Both Davis and Rivers played only one year of college level and will surely take some time to adjust to the NBA.
That isn't to say that the Hornets don't look better than they do last season. Besides Davis and Rivers, the team was able to bring back Gordon and also brought on board reigning Most Improved Player Award-winner Ryan Anderson, who will add some scoring and size to the power forward position.
But New Orleans has a shallow bench and an inexperienced point guard in Greivis Vasquez, who—despite having a lot of talent—still has a lot to learn about running an NBA offense.
New Orleans will surely finish in last place again, albeit with a slightly better record than last year's.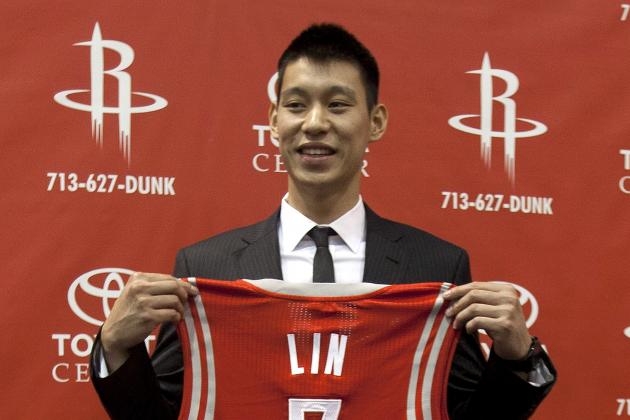 Bob Levey/Getty Images

2011-12 Record: 34-32
While the Hornets will probably improve despite finishing last in the division, the Rockets will finish fourth and with a worse winning percentage than last year.
It's not that the team is bad or needs an overhaul, but it seems as though GM Daryl Morey went into freakout mode after just barely missing the playoffs last season and stockpiled the team with youth.
You see, the Rockets had three first-round picks last year and used them on the following players: forwards Terrence Jones and Royce White and guard Jeremy Lamb. To get one of those draft picks, Morey traded dominant center Samuel Dalembert to the Milwaukee Bucks and now, the team is stuck with the less-than-average Omer Asik at center. Unless rookie Donatas Motiejunas proves to be the real deal, the Dalembert trade could end up hurting the team.
However, let's not forget that the Rockets seem to have put a lot of eggs in the Jeremy Lin basket, having signed the former Knick to a three-year, $25 million contract even though he has just 64 career games on his resume.
Keep in mind, Morey traded away a fine point man in Kyle Lowry to make room for Lin. Should Lin's hype from last season not carry over into the new campaign, that's a lot of money to have on the books.
Also, let's not forget that shooting guard and leading scorer Kevin Martin reportedly wants out of Houston. Should he be dealt before the trade deadline, the Rockets will be relying heavily on young and inexperienced players.
Without reliable leadership—combined with the possibility of Lin not living up to the hype—Houston may be doomed.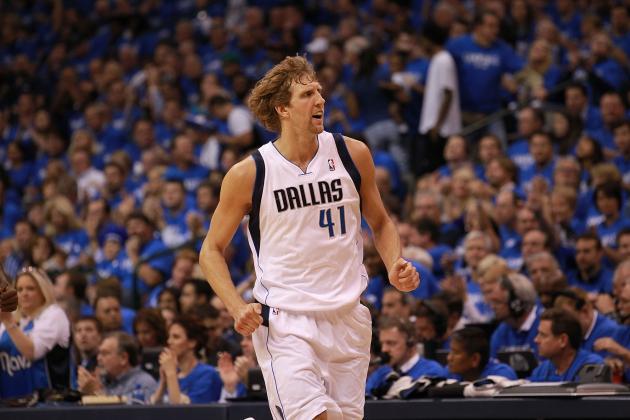 Ronald Martinez/Getty Images

2011-12 Record: 36-30
Though they were fresh off their first championship last season, the Mavericks really felt the loss of center Tyson Chandler.
Without a solid defensive presence in the middle, the team's play suffered, and they made the playoffs as a No. 7 seed before being swept by Oklahoma City in the first round.
However, the team once again has a reliable center this year in Chris Kaman, who has proven to be a fine scorer and defender when healthy. Playing for the Hornets last year, he averaged 13.1 points, 7.7 rebounds and 1.6 blocks per game. In Dallas, that will be just what the offense needs so that star Dirk Nowitzki doesn't have to shoulder too much of the scoring responsibility.
Also helping Dallas out will be the new starting 2-guard, O.J. Mayo, who will provide solid three-point shooting and a career mark of 15.2 points per game. The presence of him, Kaman and new point man Darren Collison will surely help the Mavs get back into championship contention.
That said, only question remains. Will the new additions to the roster help the Mavericks get back on top?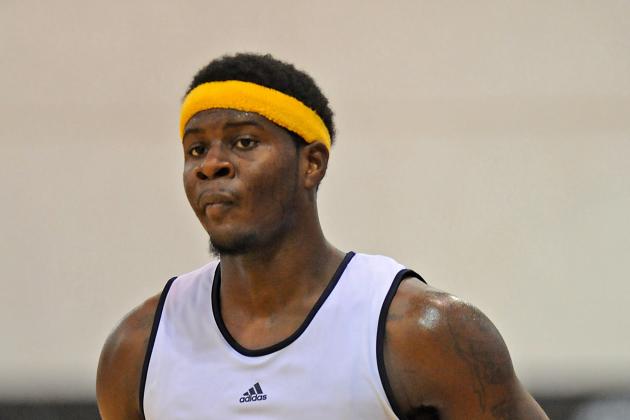 Jayne Kamin-Oncea-US PRESSWIRE

2011-12 Record: 41-25
The Grizzlies are a team that just continues to get better and better, and this season should be no exception.
Every key member, from star scorer Rudy Gay to big man Marc Gasol, is returning. The return of a healthy Zach Randolph will be a huge boost.
The only major loss was that of sixth man O.J. Mayo, but head coach Lionel Hollins may be able to solve that problem from within.
Second-year player Josh Selby, despite being a non-factor in 2012, was co-MVP of this year's NBA Summer League. In five games, the former Kansas Jayhawk averaged 24.2 points and 2.4 steals per game, shooting an incredible 56 percent from the field and 64 percent from three-point land. Not much stock should be put in summer-league numbers, but they're still quite impressive and a testament to just what Selby could do if given regular playing time.
Thus, though he may not have much size at 6'2", Selby is still a phenomenal athlete. If Hollins gives him regular minutes and he excels, then the Grizzlies could very well make a play for the Southwest Division crown.
Unfortunately, their age will hold them back yet again, as the division title will go to another city.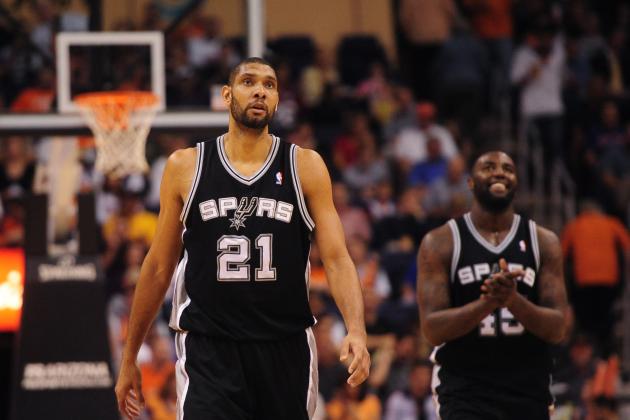 Mark J. Rebilas-US PRESSWIRE

2011-2012 Record: 50-16
Say what you will about the Spurs getting old, the fact remains that the core players have been playing together for a long time and have won three championships since 2003.
Even in the years that they weren't the last men standing, the Spurs have continued to successfully ride the trio of Duncan, Parker and Ginobili while slowly getting younger players and key reserves more involved.
In fact, the Spurs did a fine job of incorporating these reserves last season. After getting upset as a No. 1 seed by the No. 8 Grizzlies in 2011, the team worked hard to add to depth to the 2011-12 squad. As a result, bench players like Stephen Jackson, Patty Mills, Gary Neal and others helped San Antonio get to the Western Conference Finals, where they lost to the Oklahoma City Thunder.
The new season should be no exception, as no key players have left and Tim Duncan is back on a new three-year contract. Sure, the Spurs may be old, but they simply know how to play together and have a knack for winning games.
With the current formula working, they will once again have a great season and finish atop the Southwest Division's standings.